A Comprehensive Look Into the Purple Return Policy
Sending an item return request and having it denied can be demoralizing. If you've been unsuccessful with returning your Purple purchase, reading this article may change your fortunes.
In this Purple return policy guide, we will cover:
Return policies for each Purple item category on offer
Methods to initiate and conduct the Purple item return process
The Purple Return Policy Essentials
Purple has numerous items for sale, and each comes with its unique return terms and conditions. We will outline each specific Purple return policy so that you can be sure how to return your purchase.
Purple Mattress Return Policy
You can return Purple mattresses from all mattress lines—Basic, Hybrid, and Hybrid Premier—within 100 calendar days from the date of the purchase. The company suggests a trial of at least 21 days so that your body has enough time to adjust to the mattress. Even after you try it out, the mattress must be undamaged and clean to be eligible for a return.
All mattress returns will be refunded at the full price of the product.
The Purple Pillows Return Policy
For the entire Purple pillows line—Basic, Harmony Pillow, TwinCloud, and Cloud—you have 100 days from the purchase date to return them to the vendor.
Similar to Purple mattresses, the brand suggests keeping your pillows and trying them out for at least 30 days to allow your body to adapt to them.
The only other condition you must fulfill for your Purple pillows to be returnable is that you keep them in undamaged and clean condition.
The Purple Bedding Return Policy
All items from the bedding line—including Mattress Protector, Blanket, and Duvet—are returnable for a full refund within 30 days of the purchase. You must also keep them undamaged and clean to be able to return them.
The Purple Bases Return Policy
If you bought one of the items from the line of Purple bases—Platform Base, Bed Frame, Foundation, or Headboard—you can return it for a full refund in 30 days.
Keep your Purple base clean and undamaged to keep it eligible for a return.
How To Initiate an Item Return With Purple
You can start a Purple item return request in the following ways:
By calling Purple Customer Care at 888-848-2305
By emailing them at returns@purple.com (for non-mattress returns only)
Please note that you, as a customer, are responsible for return shipping costs.
A Step-by-Step Purple Return Process
There are two return methods for Purple items:
Via carrier service
In person
Carrier Service Returns
Once you get in touch with the Purple Customer Care department, the customer representative walks you through a couple of return options, including working with Purple Returns Team and having carrier services pick up your item.
You should do the following:
Pack up your Purple item in its original packaging and deliver it to the carrier or prepare it for a pick-up
Send the disposal receipt you got when purchasing the item to the Purple Customer Care representative
The customer care rep processes the return and initiates the refund once the carrier service brings the item to their premises. The full refund will reach your original form of payment within 15 business days.
In-Person Returns
When returning your Purple product in person, you should locate the retail location nearest to you on the vendor's Store Locator page and bring your item there.
DoNotPlay Will Help You Return Your Purple Items With Ease!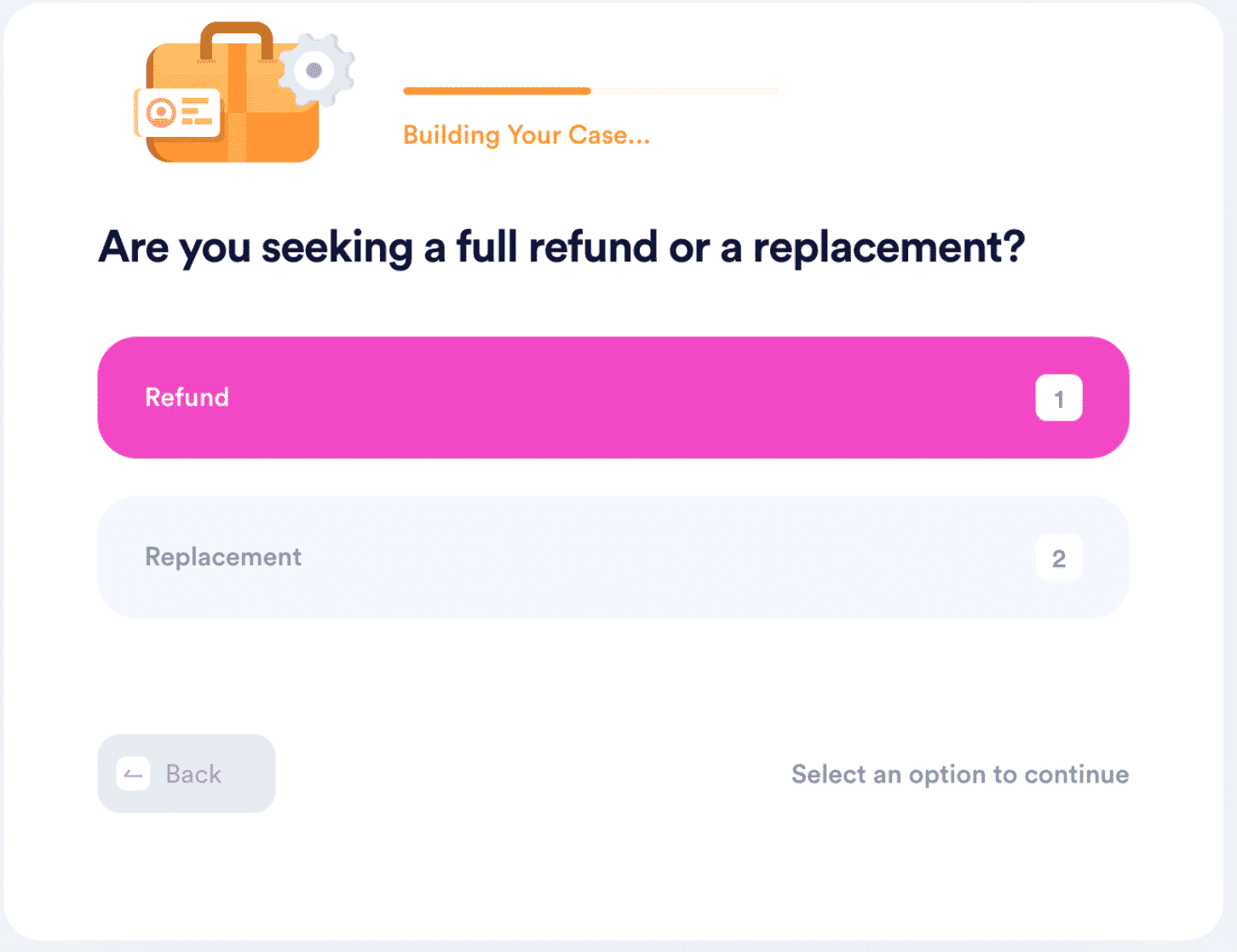 Need help navigating the Purple return process? This is where the DoNotPay app comes into play. It will draft and send an item return request letter to the company.
All you need to do is follow these steps:
Pick the Return My Purchase feature
Answer several questions regarding your purchased item and upload the image of the item
Click Submit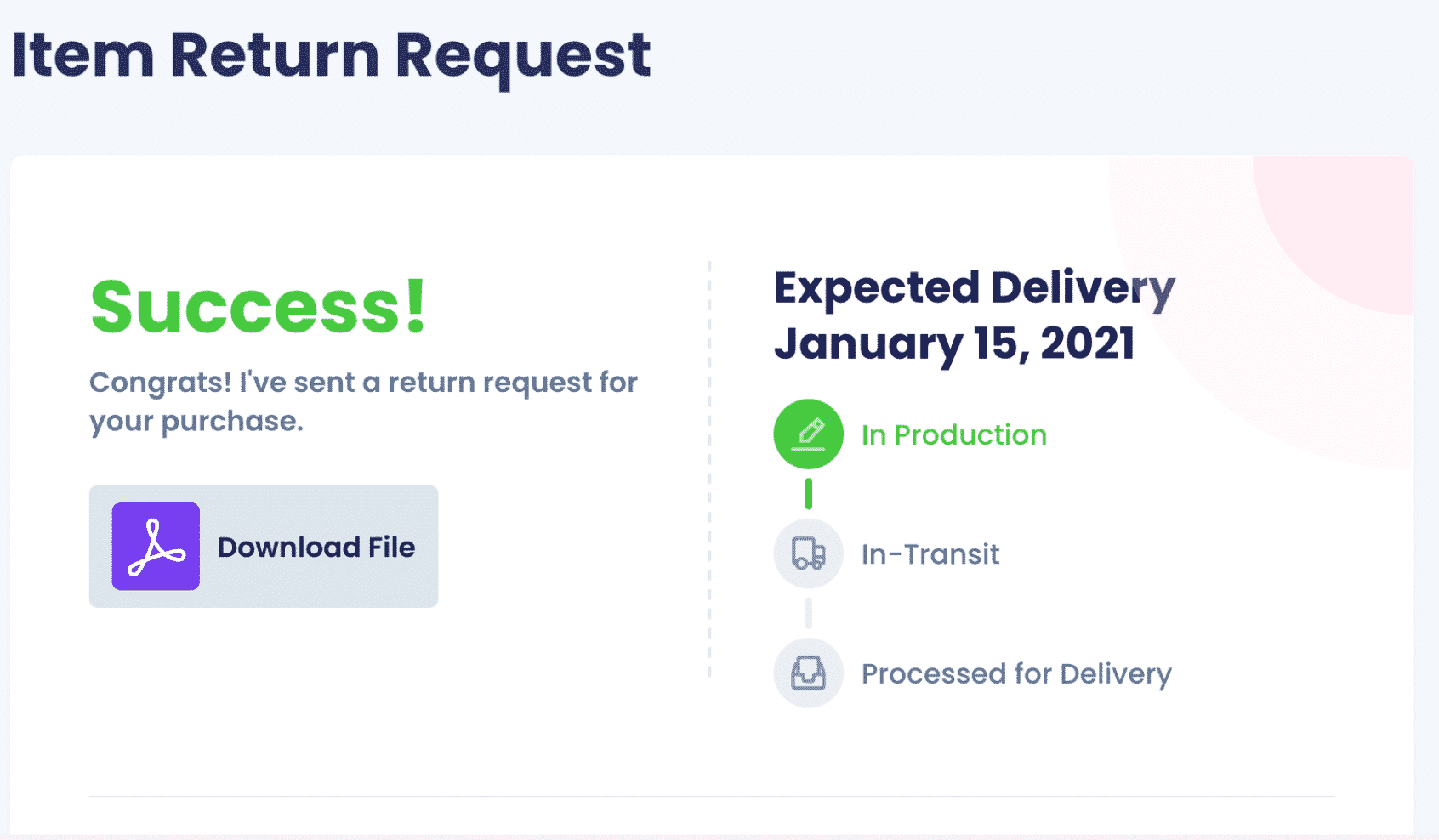 Our app can help you initiate a return with multiple companies, including the ones in the table below:
The Company Doesn't Want To Refund the Damaged Item? We'll Help You Get Money in Other Ways
If the company you're dealing with refuses to issue a refund, you can take it to small claims court with your personal robot lawyer assistant. We'll create any legal document you may need for the lawsuit, have it notarized remotely, and fax it to anyone you specify in our short questionnaire. Is there anything else you'd like us to help you with? No problem—rely on our AI-powered products to save the day:
Our Array of AI-Driven Products Doesn't Stop There
You can count on DoNotPay to lend a helping hand no matter what kind of struggle you're dealing with. Need financial assistance? Check out how our app can lower your utility bills and property taxes, appeal your parking tickets, get you a refund from any company or airline, find your unclaimed money, get you free raffle tickets, check your gift card balance and turn it into cash, and so much more! Dealing with a noisy neighbor or a creepy stalker? Report them using our app! Want to get a refund for a late or missing parcel? Say no more—we'll help you get what's rightfully yours in mere minutes.