The ABCs of P.C. Richard's Return Policy
You have recently bought a P.C. Richard & Son product that you're already regretting? No matter if it didn't fulfill your expectations or you found a defect with it, we can help!
This simple guide walks you through the nooks and crannies of the P.C. Richard & Son return policy. As a bonus, we will also inform you of DoNotPay's capabilities that let you in the blink of an eye!
The Essentials of P.C. Richard & Son Return Policy
First things first: to be eligible for a P.C. Richard & Son item return, you must file a return request within 30 days of purchase.
To make your items eligible for a return, exchange, or store credit, you should:
Keep the original sales receipt
Present the receipt along with the returned merchandise
Preserve the item in new or good-as-new condition
Send it in its original packaging with all the accessories
What P.C. Richard & Son Return Policy Exceptions Are There?
Not all items are covered by P.C. Richard & Son return policy. Below is the list of goods that are non-returnable if opened and used post-purchase:
Home appliances
Air conditioners
Snowthrowers
Lawnmowers
Generators
TVs 50" and above
Apple iPods and iPads
Computers
Video game systems and games
Smartwatches and fitness bands
Prepaid cards
Gift cards
Box springs and adjustable bases
Mattress protectors and pillows
Bedding accessories
Recliners
Drones
Health and beauty products
Recliners
P.C. Richard & Son Refund Process
The company will apply refunds to the credit card you used to make the original purchase, while refunds of cash, check, or debit card purchases will be paid by check through the brand's controller's office.
The payment processing may take up to 14 days.
How To Initiate a P.C. Richard & Son Return Process
You can initiate your item return or exchange process with P.C. Richard & Son via several methods:
Contact the company's customer service at 1-877-727-1909
Email them at support@pcrichard.com
Submit the return request via an online form
Once you do that, you can choose among three return methods:
In-store returns
Mail returns
Local and freight deliveries returns
In-Store Returns
You can return your purchased P.C. Richard & Son product to the exact store where you bought it originally.
You can accelerate the item return processing if you bring a copy of your invoice and use the same method of payment that you used when you bought the item. For example, if you paid with your credit card when buying the item, you should use the same credit card for the item return and refund as well.
Mail Returns
If you want to return your purchased P.C. Richard & Son goods via mail, make sure you send the product in its original packaging along with the bill and any other documentation that you may have received with it.
It may take three to five business days for your return to be processed by the company.
In case you wish to conduct an item exchange via mail, the company will send the new item within two business days after they get your returned item.
Local and Freight Deliveries Returns
If you are unable to hand in your return request in person or via mail, P.C. Richard & Son provides yet another option—local and freight delivery item pick-up.
For local deliveries, the company's customer service agent will call you to arrange the most convenient date for picking up your return. For freight deliveries, a company representative will get in touch with you within 24 hours to arrange the pick-up date.
| Can You Initiate a Return With P.C. Richard & Son Via | Yes/No |
| --- | --- |
| DoNotPay | Yes |
| Email | Yes |
| Phone | Yes |
| Mail | Yes |
| In person | Yes |
Return Your P.C. Richard & Son Item in a Few Clicks With DoNotPay

Feeling anxiety just thinking about the potentially gruesome item return process? Relax knowing that DoNotPay has your back!
Our versatile app takes on the entire item return request procedure. All you need to do is supply a few answers to our chatbot's questions about your item.
The entire process takes a minute or two of your time and consists of these steps:
Choose the Return My Purchase feature
Answer a few chatbot questions (optionally, you can upload the photo of a product in case it has certain defects that you want to show to the vendor)
Tap Submit, and that's it!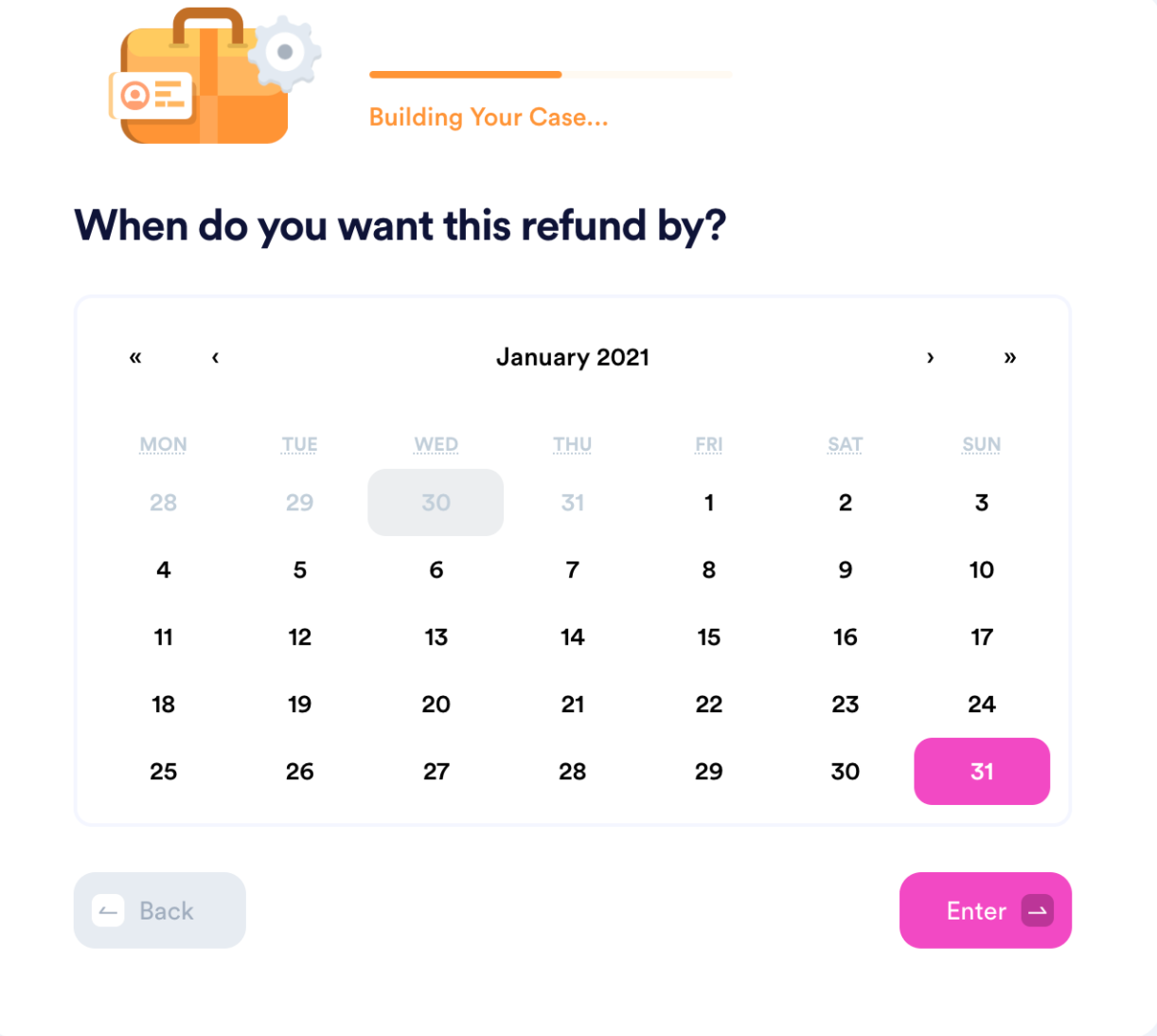 DoNotPay submits your return request to P.C. Richard & Son and forwards you a delivery label that allows you to send your item back free of charge.
You Can Return Products to Many Other Companies With DoNotPay
DoNotPay covers a wide array of return policies by numerous brands, including the ones in the table below:
Has Your Return Request Been Declined? You Don't Have To Settle
With DoNotPay by your side, you can rest assured that you'll get what's rightfully yours. We'll draw up a refund request letter in your stead and send it to the company in question. If it refuses to cooperate, our app will help you take it to small claims court. We'll fill out all the necessary court forms, generate any legal document you need, get it notarized remotely, and fax it to any recipient of your choice. You're not alone in your fight for justice! If you're dealing with anyone else who's difficult—be it a creepy stalker, neighbor, coworker, or email or text spammer—you can count on us to safeguard you.
Looking for Any Other Type of Assistance?
The best part of subscribing to DoNotPay for a low monthly fee is that you get access to all of its products. You can use them to: