Do You Need Services of a Notary Public in Orlando? We Can Help!
If you're wondering how to notarize your documents in Orlando, you've come to the right website!
DoNotPay will help you find the best notary public in Orlando, and we can also help you get a notary signature online.
Which Services Does a Notary in Orlando Perform?
Notary service in Orlando is regulated by state law. Notaries in Orlando, according to Florida law, should perform six basic duties:
Take

acknowledgments

Notarize

copies

of documents

Formalize marriages

Certify

car titles

Administer oaths or affirmations

Verify contents of safe deposit boxes
They notarize various legal documents, including wills, affidavits, and high school diplomas.
What Does a Mobile Notary in Orlando Do?
A mobile notary is a notary public that will leave their office and come to an address that you choose. They can meet you at your home, office, or any other location you specify.
In addition to the usual notary fees, mobile notaries will charge you for their travel expenses, which aren't regulated by the law of Florida.
Check out the table below for information about the usual notary fees in Florida:
| | |
| --- | --- |
| Notary Service | Notary Fee |
| Any Notarial Act | $10 |
| Wedding Ceremony | $30 |
Notary's travel expenses depend on the distance and the means of transport, and it's difficult to calculate them beforehand.
How To Find a Notary Public in Orlando, FL
You can spend countless hours on the internet searching for a suitable notary in Orlando. Some online platforms can help you find a notary near you, but you should also know that various businesses and institutions offer notary services to their clients.
Check out the table below to see what options you have in Orlando:
How To Use Online Platforms To Find a Notary
The steps below are general instructions on how to find a notary via online platforms:
Visit the website

Type in your address or a ZIP code

Tap on

Search
The platforms will find notary public offices that are in your vicinity.
Use an Alternative to a Notary Public Office To Get Your Documents Notarized
The idea that you can get your documents notarized in a bank, a UPS store, or a AAA branch doesn't cross some people's minds. The truth is that many of these businesses and institutions have a notary on their staff because they need to notarize documents daily.
Follow the steps to find an alternative to a notary public's office:
Ask at your bank, UPS office, or AAA branch if they have a notary

Visit the designated location

Get your documents notarized
Can I Use Online Notary Services in Orlando?
Since the COVID-19 outbreak, many everyday tasks have changed. Notarization during the pandemic isn't the exception—currently, 28 states allow remote online notarization (RON).
RON enables you to use online notary services from the safety of your home, and luckily, Florida is among the states that allow it.
Online notarization makes matters exceedingly easier for both notaries and people who need notary services. The reasons online notarization is better than in-person notarization are:
You don't have to print out paperwork

You won't have to pay for gas

It will save you time and energy

You'll be safe at home

You can choose the time of your online video appointment
DoNotPay Helps You Avoid the Administrative Hurdles and Save Time
If you want to make the notarization process effortless, you should go with DoNotPay! Our platform can help you have any document notarized in under five minutes. After you , follow these steps:
Enter

Notarize Any Document

into DoNotPay's search bar

Upload your documents

Type in your email address

Click on

Proceed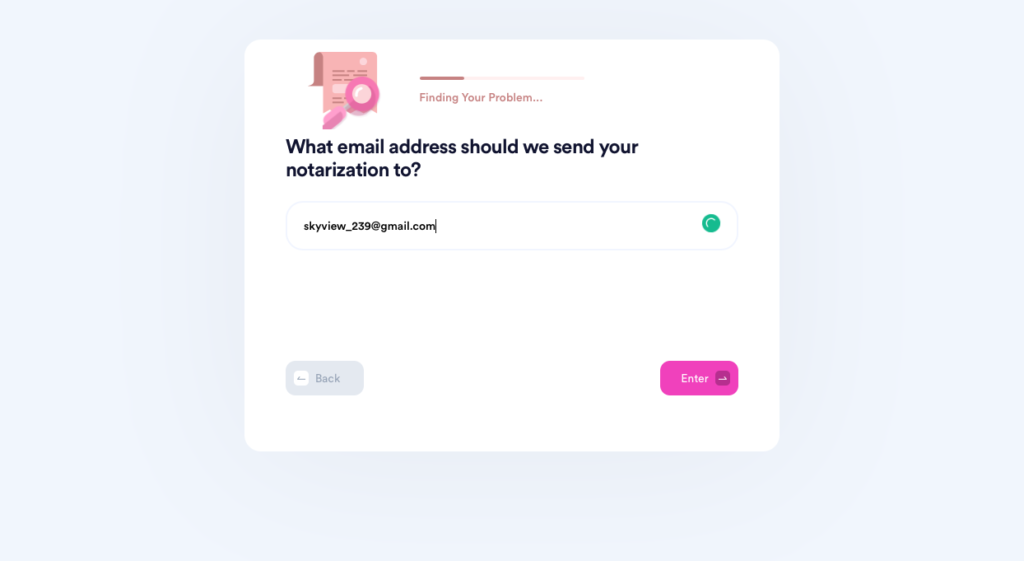 DoNotPay will send you a link that you can use to make an online appointment with your notary. During your live video appointment, the notary will:
Verify your identity

Witness your signing

Seal the document with their

electronic

signature
If You Need Additional Documentation, Create It With DoNotPay
Our platform offers a Standardized Legal Documents product that goes perfectly with the Notarize Any Document feature. This product is useful because you can create 15 different legal documents (and counting!) using DoNotPay.
If you can't find the document template you need, we have a learning center that will help you draft contracts on your own.
to access the Standardized Legal Documents product along with other user-friendly tools that will make your everyday tasks easier.
The documents we can help you generate include:
General Business Contract

Bill of Sale

Non-Disclosure Agreement

Non-Compete Agreement

LLC Operating Rules Agreement

Independent

Residential Lease Agreement

Estoppel Certificate

Intent To Purchase Real Estate

Quitclaim Deed

Child Care Authorization Form

General Affidavit

Child Custody Agreement (Parent Plan)

Promissory Note

Prenuptial Agreement
DoNotPay Is Here To Stay
Our platform offers a vast range of services where anyone struggling with bureaucracy can find a ready-made solution.
DoNotPay's power is no child's play—with our help, you will be able to demand compensation for canceled or delayed flights, nail difficult government-issued tests, and sue people and companies in small claims court!
Our constantly-growing portfolio includes features like finding the best clinical studies in your area or drafting all kinds of legal documents without hiring expensive lawyers!
Our App Makes Internet a Safer Place
DoNotPay understands how important it is to avoid dangers lurking on the web. We have come up with numerous easy-to-use features for fighting scam emails, shady SMS texts, and malevolent robocalls.
With our Virtual Credit Card generator, you can sign up for any free trial without compromising your finances. The Burner Phone feature protects your privacy by hiding your real phone number on various websites. Scared of online stalking? Prevent it with DoNotPay!
When online shopping turns into a nightmare, we will help you get your money back, contact customer support without hassle, or cancel any subscription that didn't live up.
All that browsing doesn't come for free. If you need help with your internet bill, check out what DoNotPay has in store.