Find Unclaimed Money in Hawaii Quickly and Easily
There's an estimated $58 billion in unclaimed money currently being held by federal and state organizations. One in ten Americans have money that they've never claimed, and most claims are worth more than $100. There have been individuals who were able to claim millions! You likely have unclaimed money that you're entitled to!
What Is Unclaimed Money?
Unclaimed money refers to any asset that the owner has never claimed. If the rightful owner doesn't request the asset within a certain time, it is deemed unclaimed. The time that has to lapse depends on the type of asset and the state in which the money is located.
In Hawaii, there is more than $150 million in unclaimed funds held by the government. Unclaimed funds are sometimes also referred to as 'lost' money or even 'found' money. Each state has its own rules regarding claiming the assets. In Hawaii, the Department of Budget and Finance holds any unclaimed property.
Types of Hawaii Unclaimed Money
There are different types of unclaimed money. When you look into funds that you don't know about, you can look for these:
| | |
| --- | --- |
| Types of Unclaimed Money | Description |
| Unclaimed wages | Funds that you earned on your job but never picked up after quitting |
| Checking and savings accounts | A positive balance in an old bank account that you have forgotten about |
| Uncashed checks | A check that someone used to pay you, made out in your name that you've never cashed |
| Certificate of deposit | A type of investment with a fixed term and interest rate |
| Bonds | Money that a company or a government department owe you |
| Stocks | Shares of the company that belong to you. In return for your investment in the company, you're entitled to share in the profits, referred to as dividends |
| Money order | An order of payment for a specified amount |
| Insurance proceeds | Money from an insurance claim |
| Refunds | Funds that you never claimed from a company for services not rendered, or defective goods |
Why Do Rightful Owners Not Claim Money?
There are a few reasons why people don't take ownership of assets they are entitled to.
The rightful owner:
Is unaware that there are assets to claim

Passed away and has no heirs, or heirs could not be found

Doesn't think that the amount is insignificant

Is not familiar with how to claim the assets
The Owner Is Unaware That There Were Assets To Claim
This often happens when the rightful owner changes their address or phone number. It becomes difficult for the entity that owes them money to reach the owners. This often happens in the case of unclaimed wages and checking and savings accounts.
The Rightful Owner of the Assets Is Deceased
The money can become unclaimed when the owner of the assets is deceased, and the company or government department doesn't have contact details of the next-of-kin.
The Recipient Believes the Amount Is Insignificant
In case the rightful owner is notified of the assets in their name but thinks the amount is insignificant, they may not consider it worth the effort of putting in a claim.
The Owner Doesn't Know How To Claim the Assets
When the recipient thinks the process of putting in a claim for their assets is complicated, the money often stays unclaimed. The process can be confusing, especially with numerous sites that advertise shady money-retrieval services.
How Can You Find Hawaii Unclaimed Money?
Since each state has its own rules regarding unclaimed money, there is no federal database where you can search for unclaimed assets in your name. In Hawaii, unclaimed funds that are less than $100 will automatically go to the government.
Here is how to start a search for funds in your name:
Visit the Department of Budget and Finance

Phone 974-4000 to request a name search
If you request a name search using the hotline, remember to explain your reasons. Take note to ask for further instructions if there are unclaimed funds in your name.
There are also a few agencies that can help you find unclaimed assets in your name. These agencies ask for a fee to help you recover your unclaimed funds, and you will have to provide personal details such as your Social Security number.
Let DoNotPay Find Your State of Hawaii Unclaimed Money
One of the easiest methods for finding unclaimed money is DoNotPay. You can find any money in your name by filling in some information.
Open DoNotPay in your

Access the

Missing Money

feature

Provide your personal information when prompted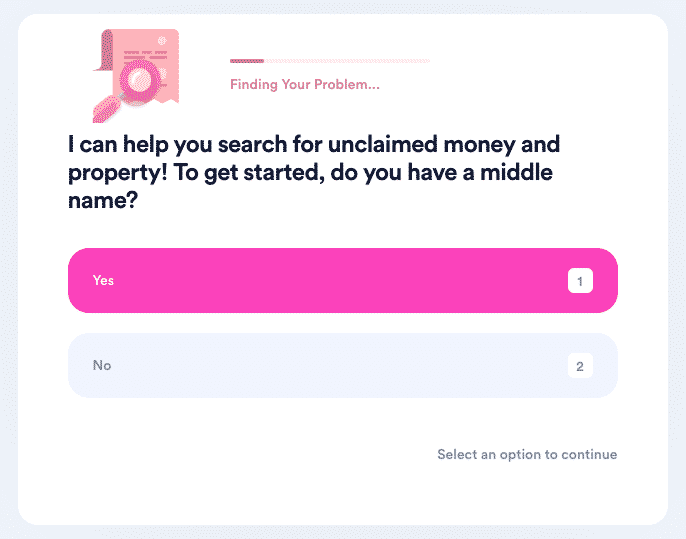 To enable us to search multiple databases efficiently, give your middle name and all your previous addresses to our chatbot. If you have unclaimed assets, DoNotPay's Claim My Property feature will help you by putting in the claim on your behalf.
Is There a Time Limit on Unclaimed Money in Hawaii?
No, the government will keep unclaimed money indefinitely. As soon as you become aware of any unclaimed money in the state of Hawaii, you can put a claim in, and the government will release the funds if it finds you to be the rightful owner.
Protect Yourself Against Unclaimed Funds Scams
There have been reports about an email scam in Hawaii involving unclaimed assets. People received an email that looked like it was sent from the Hawaii Unclaimed Property Branch of the Department of Budget and Finance.
The Department has advised that it would never send an email to notify the public of unclaimed funds. Here are a few factors to take into account to avoid becoming a victim of a scam:
Never pay to claim the money

—If you're considering hiring through an agency, it will usually take a percentage of recovered assets. It's easy to spot a scam if the agency asks you to make a payment upfront

Expect state agencies not to reach out to you

—It's unusual for any state agency to track you down for unclaimed money. You have to initiate the search

Don't share your personal information with unknown third-parties

—This is particularly significant if an agency contacts you and asks for your information

Do your research

—If a private agency contacts you saying you have unclaimed money, find out more about it before trusting the information. If an agency is working for attorneys, it must be registered
DoNotPay Can Help You With Various Issues
DoNotPay is a virtual lawyer that's been designed to help you with different problems and make your life easier.
Learn about claiming an inheritance and how long you can expect to wait to receive the money. Our app offers tips and tricks on how to find unclaimed money from specific banks, like Bank of America or Western Union.
Open DoNotPay in your to access tips and tricks to help you with things like:
Disputing speeding tickets

Contesting traffic tickets