Skip a Trip to a Notary in New Orleans East—There Is a Better Way!
Struggling with getting documents notarized is common and understandable. Finding a notary and paying them a visit takes quite some time, but don't fret—we have a simpler solution!
The State of Louisiana allows remote online notarization (RON), so why not make use of it?
to book a virtual meeting with a 24/7 online notary in New Orleans East in under five minutes!
Remote Online Notarization in Louisiana Explained
Remote online notarization (RON) is a notarization method that allows the signer to appear personally before the notary using the internet instead of going to their office. It is accomplished by using secure and government-approved audiovisual communication technologies.
Even though the State of Louisiana introduced remote online notarization (RON) due to the COVID-19 pandemic, it is now here to stay.
The entire online notarization process in Louisiana typically includes the following steps:
The signer creates an account on an online notary platform

They upload the document that needs to get notarized

The signer schedules a virtual appointment with an

online notary

Both parties log on to the approved platform and start the meeting

The notary verifies the identity of the signer and witnesses the signing over a webcam

The notary inserts their official digital seal and signature

They create a notary record
Before they begin with notarization, the notary has to inform the government about performing remote online notarization.
Need To Book a Meeting With an Online Notary in New Orleans East Fast? Use DoNotPay!
You don't have to spend hours looking for an online notary in New Orleans East—DoNotPay can do it for you!
All of our online notary partners provide their service 24 hours a day, seven days a week—and yes, holidays are included! Our online notary app is reliable, practical, and time-efficient. See it for yourself— from a web browser, and follow these steps:
Choose the

Notarize Any Document

product

Upload the document that you want to get notarized

Enter your email address
We will send you a link that you should follow to set up a meeting with an online notary.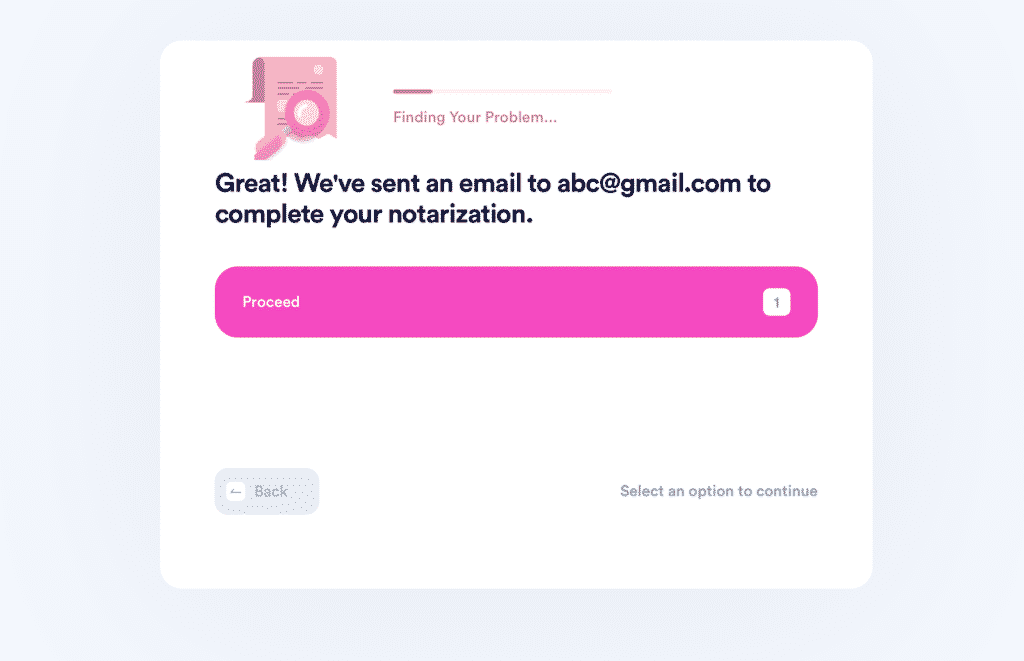 Registering for DoNotPay enables you to access our other handy products. For dealing with paperwork, we recommend the Online Fax and Standardized Legal Documents products. This way, not only can you send documents and get them notarized, but you can also create them on your own! Some of the contracts and legal documents that DoNotPay helps you draw up include:
Non-Compete Agreement

Promissory Note

Bill of Sale

General Business Contract

Operating Agreement

Quitclaim Deed

General Affidavit

Non-Disclosure Agreement

Residential Lease Agreement

Intent To Purchase Real Estate

Independent Contractor Agreement

Estoppel Certificate

Prenuptial Agreement

Child Care Authorization Form

Child Custody Agreement
What To Expect From the Notarization Process
A notary's job is to be an impartial witness during the signing of a document—be it a will, trust, contract, car title, or power of attorney. Notaries also have to verify the signers' identities. By doing all of this, notaries detect and prevent fraud.
A Louisiana notary is authorized to carry out the following notarial acts:
Notarization usually consists of the following parts:
Verifying the identity of the signer

—The notary must inspect the signer's ID (or another government-issued identification document) and ask them a couple of questions to confirm their identity

Determining whether the signing is voluntary

—The notary should detect if the signer is under coercion

Inspecting the document

—Before notarizing the document, notaries must scan the document for blank spaces or other irregularities

Establishing that the signer is capable of signing the document

—The signer must be sober, mentally stable, and aware of the document's content

Witnessing the signing

—The signer should sign the document in front of the notary, not beforehand

Creating a notary certificate

—After completing all of the previous steps, the notary should write a notary journal for themselves and a notary certificate or statement for the signer. The statement must include:

Venue—where the notarization took place

Body—the main information about the notarial act

Notary's seal
Where Can I Find a Notary in New Orleans East on My Own?
Those who opt for traditional notarization can find a notary by browsing the web, flipping through the phonebook, or consulting this table:
Search for Notaries Online
Find a Notary in Public Places

Banks

(e.g.,

Wells Fargo

and

Bank of America

)

Courthouses

City clerk offices

Real estate agencies

Money transfer stores

Police departments

Accountant offices

Insurance agencies
DoNotPay Is a Time-Saving App
How many customer service reps do you have to deal with only to file an insurance claim or book your DMV appointment?
DoNotPay helps you sort out these tasks and much more in only a few clicks.
Get your revenge on robocallers, report text scammers, find validated clinical trials, claim your warranties, get in touch with your loved ones in prison, and protect your creative content—all in less than five minutes.
No more hours-long phone calls, emails, or in-person visits.
We cover everything from freeing your inbox from spam to providing excellent prep tests for government exams! Save time with your all-in-one app!
Keep Your Money Safe With DoNotPay
Don't let greedy companies threaten your consumer rights by holding back refunds, refusing to cancel your subscriptions, or charging you after your free trial ends.
DoNotPay helps you try out different services without providing your credit card info or phone number—you will never again have to deal with unexpected post free trial charges!
Our app also helps you avoid paying unnecessary parking tickets, delay challenging bills, or waive your college application fees.
If any company refuses to issue you a refund or an airline won't compensate for canceled flights, we can help you sue them in small claims court.