The Essentials of Finding a
Notary in Greenville, PA
Do you prefer in-person notarization, or would you rather get your documents notarized online? Both options are available under Pennsylvania law—you only need to find a notary of your choice and make an appointment.
If you are not sure where to start, don't worry—DoNotPay has got you covered. We will explain the essentials and help you book a notary in Greenville, PA, in a flash!
What Are the Authorities of a Notary Public in Greenville, PA?
A notary public's duty in Greenville is to witness the signing of legal documents. Apart from notarizing documents—such as deeds, powers of attorney, or medical consent forms—per request, notaries are also authorized to perform the following acts:
Certifying or attesting a

copy

or deposition

Taking

acknowledgments

Administering oaths and affirmations

Taking verifications on an oath or affirmation (including an

affidavit

)

Noting a protest of a negotiable instrument
To notarize documents lawfully, notaries public in Greenville need to ensure that specific criteria are met. They have to confirm your identity by checking your ID and ask a series of questions to assess whether you are mentally stable and aware of what you are signing. The document you present mustn't have any blank spaces and missing pages to be accepted for notarization. Your signature has to match the one on your identification document. 
If a notary determines that everything is in order, they will notarize a document with a signature, stamp, and seal. 
Different Notarization Methods in Greenville, PA, Explained
Before choosing a notary service in Greenville, you need to know what each notarization method entails. Take a look at brief explanations of the four main notary types in Greenville, PA:
Where To Find a Notary in Greenville, PA?
Finding a notary public can be one of the most challenging steps in the notarization process. You can narrow down the search by using one of the methods from the table below:
Notarization Method
Find a Local Notary by

In-person

Checking if local businesses have an on-site notary. You can explore your local:

UPS

stores

Law offices

Courthouses

Banks

or other financial institutions

AAA

branches

Public libraries

Real estate agencies

Tax preparation firms

Visiting reliable notary search websites, such as:

Online 

Subscribing to DoNotPay

—we can help you get in touch with an online notary in no time
Turn to DoNotPay To Have Your Documents Notarized Online
While many countries have established online notarization as a temporary measure due to the COVID-19 outbreak, Pennsylvania has accepted it as a permanent option.
It is in high demand for various reasons, including:
Protecting people's health during the pandemic

Scheduling an appointment without a hitch (online notaries are available

24/7

)

Saving money otherwise spent on mobile notaries' travel expenses

Getting an encrypted electronic signature, stamp, and seal
It won't be necessary to look for an online notary on your own—DoNotPay will find one for you in minutes!
Follow these steps to make that happen:
Open our app

in a web browser

Go to the

Notarize Any Document

product

Upload the document you want to get notarized

Provide your email address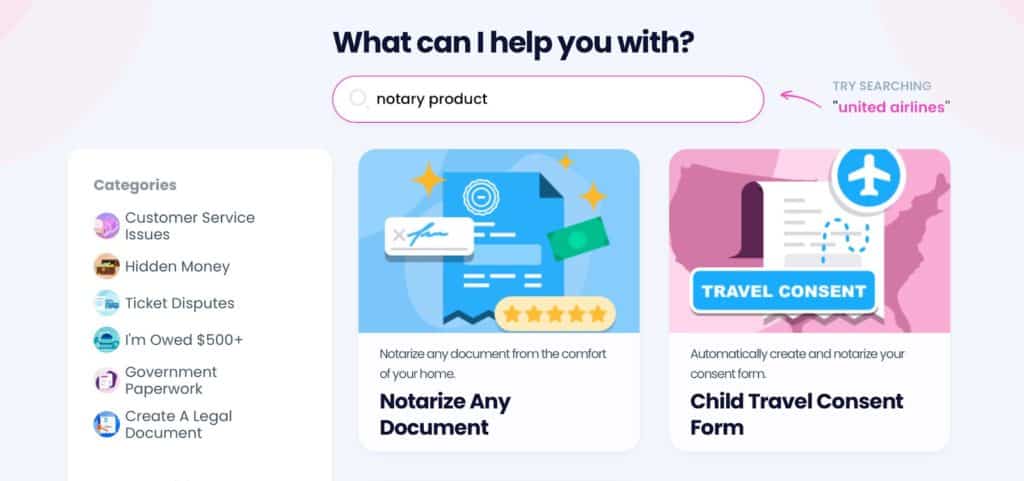 You will soon receive a link via email. Follow it to set up an appointment with the notary at a suitable time. After that, a notary will:
Meet you on a video call

Witness you e-sign the document

Notarize it remotely and send it back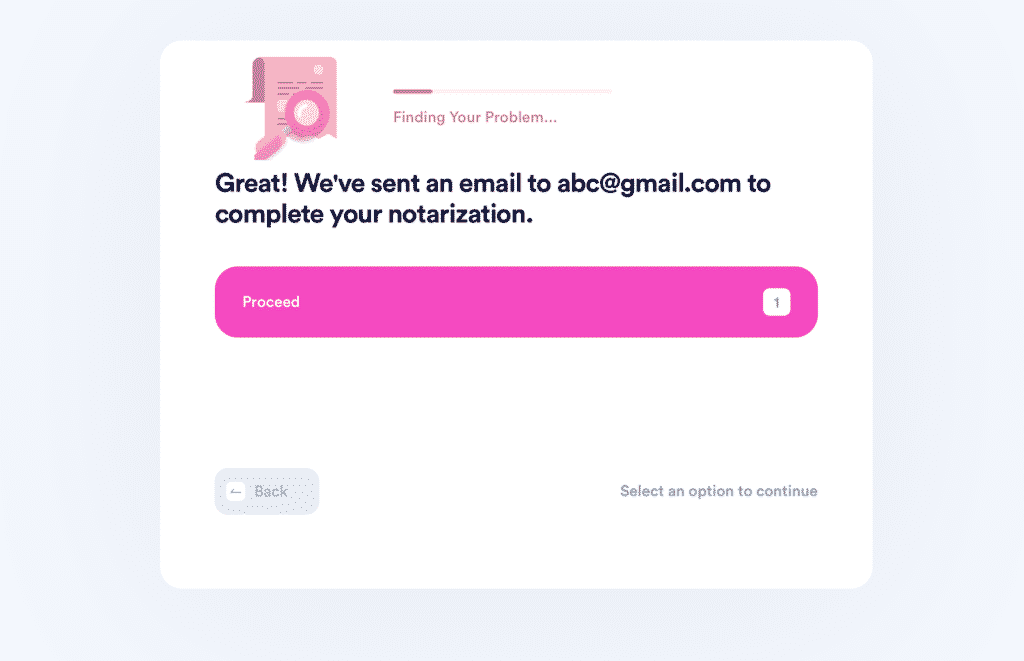 Enjoy DoNotPay's Other Nifty Products 
One of the greatest perks of our app is access to our other products. For the same low monthly subscription price, you can use our Standardized Legal Documents and Online Fax tools to: 
Create numerous

legal documents

, including:

Fax

the document to the recipient without using a fax machine
Let DoNoPay Help You With Your Paperwork
Why waste time on bureaucracy if you can rely on DoNotPay to handle pesky tasks for you? Cancel all your subscriptions at once, find unclaimed funds in a matter of minutes, appeal parking tickets hassle-free, and discover the best way to get your documents notarized remotely. 
In case you need help paying bills or you want to earn some money by participating in paid clinical trials, DoNotPay is here to help you out! 
Fighting workplace discrimination is of utmost importance, but the entire procedure seems rather complicated. The same goes for the crime victims compensation application in most states. DoNotPay is here to change that. We will help you file a report, request compensation, and create numerous other documents, including demand letters for neighbor complaints.
Keep Your Online Safety in Check!
While internet safety should be one of your top priorities, staying anonymous while surfing the web is almost impossible. If you want to avoid giving out your number when registering for services, you should try out our Burner Phone product. 
DoNotPay can also protect your credit card info, name, and email address, all through our handy virtual credit card. Sign up for free trials without worrying about unexpected charges.
With our app, you will learn how to deal with stalkers and harassers and how to access public records the easy way. 
DoNotPay offers many other useful products that can help you prepare for government tests, have your college fees waived, and manage any annoying issue in minutes.