Finding a Notary in Colorado Springs Made Easy
Getting a document notarized doesn't have to be as time-consuming as it used to be. We'll walk you through all your options of notarizing a document in Colorado Springs. The most convenient method is remote online notarization, and if you opt for it, you don't have to waste your time looking for a notary from Colorado Springs.
, and we'll help you find and book an appointment with an online notary in a matter of minutes.
What To Expect From Notarization
A notary is authorized to witness the signing of documents—such as wills, affidavits, and powers of attorney—and officially make them notarized.
Notaries perform different notarial acts, including:
Taking

acknowledgments

Attesting to or certifying a

copy

Administering oaths or affirmations
Regardless of the type of notary service, you can expect the following during your notary appointment:
The Notary Will

Brief Description

Verify your identity

You must have your ID or another type of acceptable identification with you. The notary will check your ID and ask you several questions

Establish your willingness to sign the document

You need to confirm that you understand the content of the document and that you're not forced to sign it

Make sure you are of sound mind

The notary needs to ensure you are not intoxicated or mentally unstable

Witness the signing

The notary watches you sign the document

Sign the document

The notary adds their

signature

and a seal (if it's an electronic document, so is the seal and signature)
Types of Notaries in Colorado Springs
You have different options when it comes to choosing a notary. Here's a breakdown of the most common types:
Is There a
Mobile Notary
in
Colorado Springs
?
Yes, there is. Mobile notaries visit their clients to perform in-person notarization. Although this type of notarization is convenient, you still have to meet the notary at a designated place or your home. You also have to pay additional fees, such as travel and administrative expenses.
How Much Is Notarization in Colorado?
In Colorado, there is a maximum notary fee that notaries can charge for their services. Check out the prices in the table below:
Notary Service

Notary Cost

Jurat

Acknowledgment

Oath or affirmation

Up to $5

Electronic notarization

Remote online notarization

Up to $10
How Can I Find a Colorado Springs Notary on My Own?
If you want to book a notary appointment by yourself, you can try searching for notaries online or checking certain places with notary services:
Public Places
Websites

Public libraries

Courthouses

Real estate agencies

Banks

(e.g.,

Wells Fargo

and

Bank of America

)

AAA

locations

Tax preparation firms

Accountant offices

Insurance companies

Money transfer stores
It's best to call or visit the places that may offer notary services to check. Sometimes, you have to be a client or pay extra if you are not.
Skip the Hassle—Get Documents Notarized Online With DoNotPay
Getting a document notarized online is by far the most convenient method. If you , we'll find a notary in your stead and help you schedule your appointment in a few clicks. Here's how it works:
Navigate to the

Notarize Any Document

product

Upload the document you want to notarize

Type in your email address

Click on the link you receive via email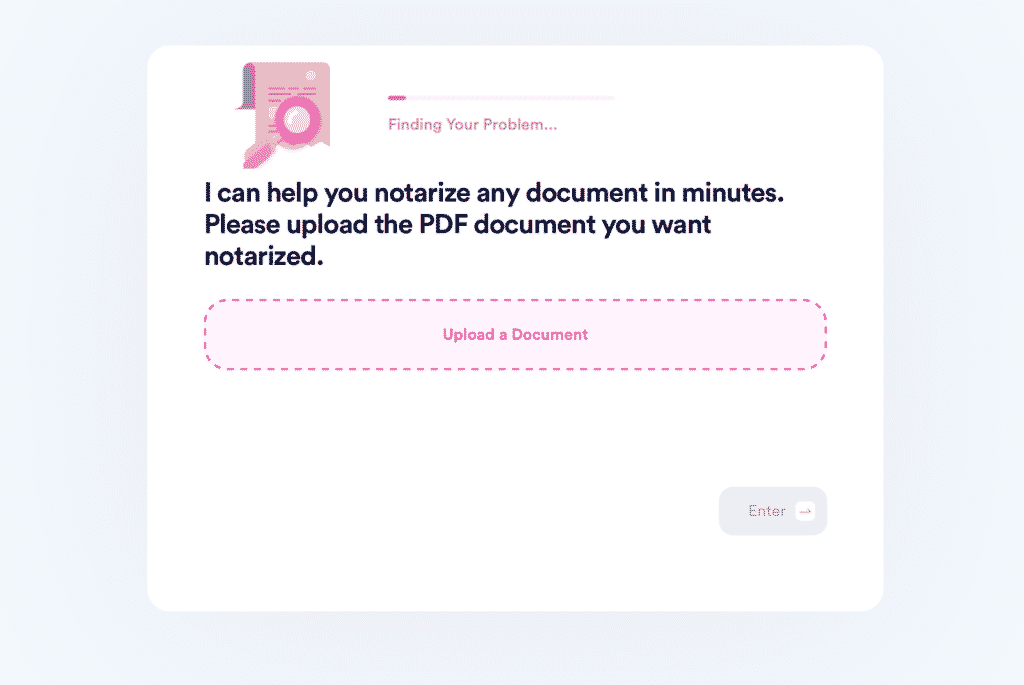 Once you tap on the link, follow the prompts to choose the date and time of your remote notary appointment. Remember to have your ID ready, and don't sign anything until the notary tells you to.
Have Your Cake and Eat It Too—Use DoNotPay To Draw Up Legal Documents and Get Them Notarized
Aside from doing all the work when it comes to finding you a notary, there's more DoNotPay can do for you. Our AI-powered app boasts numerous nifty products, including:
Standardized Legal Documents

—drawing up various documents on your behalf

Online Fax

—faxing your documents securely online
Before you turn to our help for your notary needs, you can start by using DoNotPay to create contracts and agreements, such as:
Quitclaim Deed

Intent To Purchase Real Estate

Estoppel Certificate

Parenting Plan (Child Custody Agreement)

Bill of Sale

Non-Compete Agreement

Prenuptial Agreement

General Affidavit

Promissory Note

Independent Contractor Agreement

Residential

Lease Agreement

Non-Disclosure Agreement

LLC Operating Agreement

General Business Contract

Child Care Authorization Form
Use Our Robot Lawyer To Eliminate Pesky Tasks
Administrative tasks are often time-consuming, which is why many people give up on them before even trying to tackle them. Requesting refunds, canceling services, signing up for clinical trials, reporting stalkers and robocalls, and trying to find unclaimed money are all processes that would usually take a long time to resolve.
With the help of DoNotPay, though, all of these admin hurdles become a piece of cake. In just a few minutes, our app can assist you in appealing parking tickets, getting in touch with your imprisoned loved one, getting an extended warranty, reporting copyright infringement, and so much more!
Don't Break the Bank—Sign Up for DoNotPay!
Our app can save you lots of money by helping you get a refund from any airline, sign up for a free trial without your credit card info, earn off persistent and illegal spam emails, and get an application fee waiver for a college you apply to.
With DoNotPay, you can even schedule a DMV appointment or jump the phone queue when getting in touch with a customer service representative without breaking a sweat!