Everything About the Notarized Odometer Statement
Odometer frauds have become quite frequent on the second-hand car market. This is why many buyers nowadays request a notarized odometer statement as proof of vehicle mileage. Whether you want to sell your car or transfer the ownership to another person, this disclosure will fortify your deal with the other party and make it transparent.
Our guide teaches you all about the odometer statement and explains the entire notarization procedure in detail. Use our tips and learn how to get a notary's signature swiftly and with no effort!
What Is an Odometer Statement?
An odometer statement is a document that outlines the total mileage of a vehicle according to the numbers on its odometer.
The document prevents owners from misleading buyers by selling vehicles with high mileage at high prices. The Truth in Mileage Act states that no owner can sell the vehicle or transfer the ownership without providing this statement to the buyer. The violation of this federal law may lead to penalties or imprisonment.
Even though this law applies to most vehicles, there are certain exceptions. Below is the table with more details:
Vehicles That Require an Odometer Statement
Vehicles That Don't Require an Odometer Statement

Passenger vehicles

Trucks whose Gross Vehicle Weight Rating (GVWR) doesn't exceed 16,000 pounds

Motorcycles that are less than ten years old

Motor homes

Pickup trucks

Snowmobiles

Vehicles that are ten or more years old

All-terrain vehicles

Trucks whose Gross Vehicle Weight Rating (GVWR) exceeds 16,000 pounds

Vehicles that aren't self-propelled
What Does the Notarization of Odometer Statements Look Like?
Getting your odometer statement notarized involves a few phases:
Looking for a suitable notary

—The first step is to pick the most convenient

notary service

. Depending on the state you live in, you may opt for:

Arranging a meeting

—Before you visit the notary office or start an online session with the officer, you must schedule an appointment. This is usually done via a phone call or online

Writing an odometer statement

—You can compose it by yourself or find an odometer disclosure form online, print it, and fill it out

Getting your identity verified

—Once the meeting starts, provide the notary with a valid ID, passport, or any other government-issued document with a photo

Having your document checked

—The notary has to revise your statement and see whether there are any technical errors or blank spaces

Signing the statement

—It's crucial not to sign the statement before your appointment with the notary; you must do it in their presence

Obtaining a notary's signature and stamp

—The officer makes the final step by putting their signature and stamp on your document. If you opt for

remote online notarization

, they will provide an electronic seal and sign the statement digitally
Where To Find a Notary Who Can Notarize Your Odometer Statement?
Check out some popular methods of locating a notary:
Asking your friends and family to recommend an officer whose services they used

Flipping through local yellow pages

Googling the specific keywords, such as

mobile notaries near me, notary in [location],

etc.

Entering the name of your city and state in online notary locators, such as

123notary.com

or

American Association of Notaries

and checking the results

Checking nearby objects that employ notaries, including:
Turn Complicated Notarization Procedures Into a Piece of Cake With DoNotPay
Notarization may not seem like a breeze, but DoNotPay has a perfect trick to simplify it! We created a tool that helps you connect with notaries at any time, including weekends and holidays.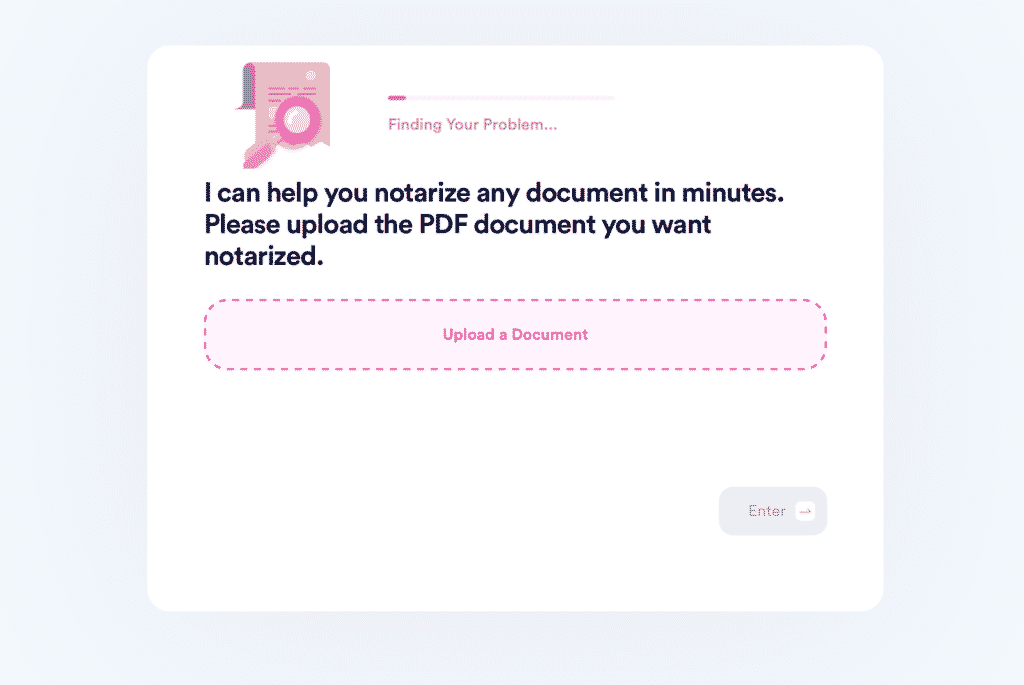 Our system lets you arrange a virtual appointment with an online notary in minutes, which means you don't need to visit a notary office ever again! Choose the time that suits your needs and get your contracts, affidavits, and other documents notarized easily!
To try this feature, follow this simple procedure:
and log in to your account

Pick the

Notarize Any Document

tool

Attach a digital copy of your document

Type in your email address
Use the link we send you to pick the best date and time for your video meeting!
Find Solutions for All Notary Issues With DoNotPay
Our learning center is a real treasure for anyone who wants to know more about notarization. and get answers to numerous notary-related questions, such as:
Rely on DoNotPay To Solve Your Administrative Issues
Getting your documents notarized, drawing up legal paperwork, appealing parking tickets, and similar activities usually require a lot of effort. DoNotPay offers various useful products that can help you deal with administrative problems quickly and save a lot of time. We can assist you with:
Protect Your Consumer Rights With DoNotPay
Companies complicate cancellation and refund processes intentionally, hoping that consumers wouldn't want to spend hours trying to solve the issue they're having. DoNotPay knows how important consumer rights are, and that's why we created numerous products that can help you:
Many people forget to cancel their free trials on time and end up paying for the services they don't even use. To prevent that, DoNotPay has developed a nifty virtual credit card that will allow you to enjoy free trials risk-free. Our virtual credit card will also help you avoid spam email notifications by generating a random email address that you can use when signing up for a free trial.