Is Getting a Notary Acknowledgment in NY Complicated?
Getting your documents notarized in NY or any other state can be tiresome, but sometimes you have to go through the notarization process to make your documents legitimate. When you get a notary acknowledgment in NY, it is evidence you have signed the document willingly.
to find out how to have trusts, wills, real estate deeds, affidavits, or other legal documents notarized in the blink of an eye.
What Is a Notary Acknowledgment in NY?
A notary acknowledgment—also called a notary statement—is proof that you appeared before a notary public and that he or she has:
Verified your identity

Confirmed you understand the contents of the document

Determined you have signed the document of your own will
When the notarization process goes smoothly, a notary will complete a notary acknowledgment form to finalize the official notarization.
Do You Have To Sign the Document in Front of the Notary?
To receive the notary acknowledgment in NY, signers can sign the document in advance, i.e., they do not have to do it in front of a notary public.
While New York notaries do not have to provide a stamp or seal at the end of the notary service, they must supply the following:
Commission expiry date

Name of their licensing county
Steps To Complete a Notary Statement in NY
A notary public will take the following steps during the notarial act:
Steps
Additional Explanation

Requiring signers' appearance

All signers need to appear personally before a notary public in NY:

Physically, i.e., face-to-face for traditional in-office and mobile notarizations

Virtually, i.e., on-screen for

remote online notarization

Reviewing your document

A notary will scan the document to determine it:

Is complete

Has no:

Blank spaces

Missing pages

Contains a notary certificate (notary block)

Confirming the identity

You will need to prove your identity by providing a valid government-issued photo and signed ID document. For this purpose, you can use your:

Driver's license

Passport

ID

Verifying the facts

A notary public will:

Ask whether you are signing the document willingly

Confirm you are aware of what you are doing

Ask you to acknowledge that your signature is on the document (if you have signed it before meeting the notary)

Witness your signing the document (if you have not done it in advance)

Recording the facts

You will need to wait for a notary to complete a record in a journal with the following notarization information:

Date and time

Description of the document

Type of notarization performed

Your name and address

How you were identified

Notary fees

charged

Your signature

Finalizing the notarization

To complete the whole process, a notary will fill out and sign the

notary acknowledgment

certificate
What Is a New York Notary Block?
A New York notary block—also called a notary certificate—shows what type of notarization the notary needs to perform. If you do not provide this certificate, you will have to let the notary know whether you need:
A jurat

An acknowledgment

Some other notarial act
Besides indicating what type of notarial act you need, you must attach the appropriate certificate form to your document.
You cannot use an acknowledgment certificate for a jurat or some other notarial act as each certificate requires a specific certificate wording.
How Much Is a Notary Statement in NY?
Notaries public in New York charge $2 for:
Taking and certifying the:

Acknowledgment

Proof of execution of a written instrument

Administering and certifying an:
How To Get a Notary Acknowledgment in NY
You can choose one of the following ways to get a notary acknowledgment in NY:
Notary Type

Information

Regular notary

You need to head to a notary's office once you have set up an appointment. It is the most lengthy type of notarization as you need to:

Get in touch with him or her

Ask about the notary fees

Schedule an appointment

Drive to the notary's office at the agreed time

Mobile notary

Mobile notaries can visit you at any convenient location, such as:

Your apartment

Hospital

Restaurant

Airport

Your office

Jail

These notaries are usually more expensive as they charge additional travel fees

Online notary

Online notaries perform the notary services remotely via a live audio-video call
to get your documents notarized using remote online notarization—the most practical and safest option (especially during the COVID-19 pandemic).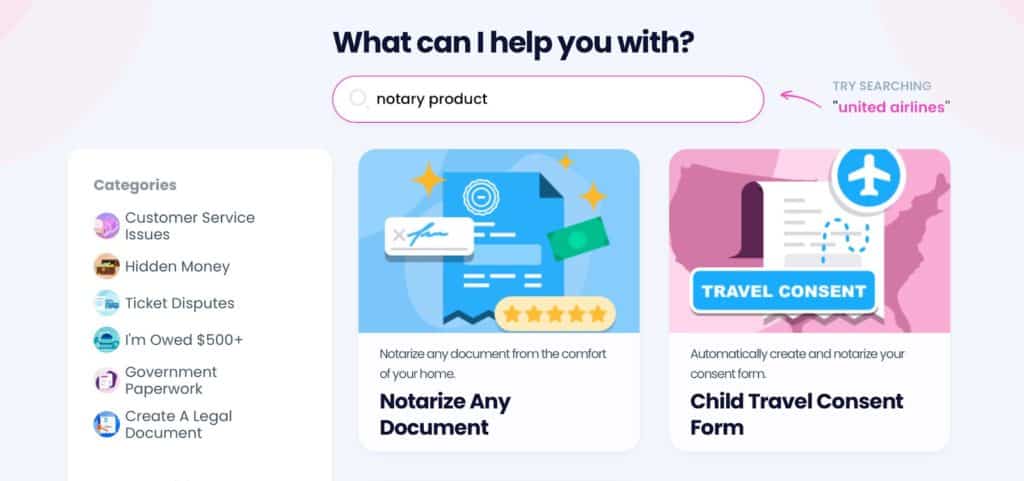 DoNotPay Is Your Remote Online Notarization Expert
To get your documents notarized without a hassle, and follow these steps:
Choose our

Notarize Any Document

feature

Upload the document you want to have notarized

Provide your email address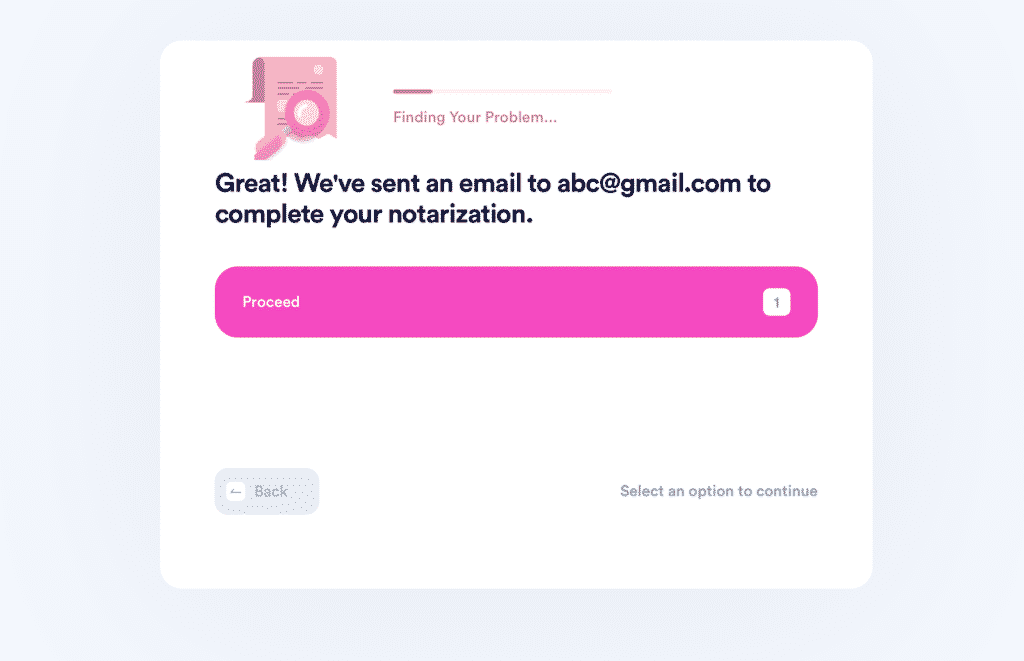 Now you can open the email we have sent you and click on the link in it. This link will quickly connect you with an online notary's schedule. Choose a suitable time and set up an appointment.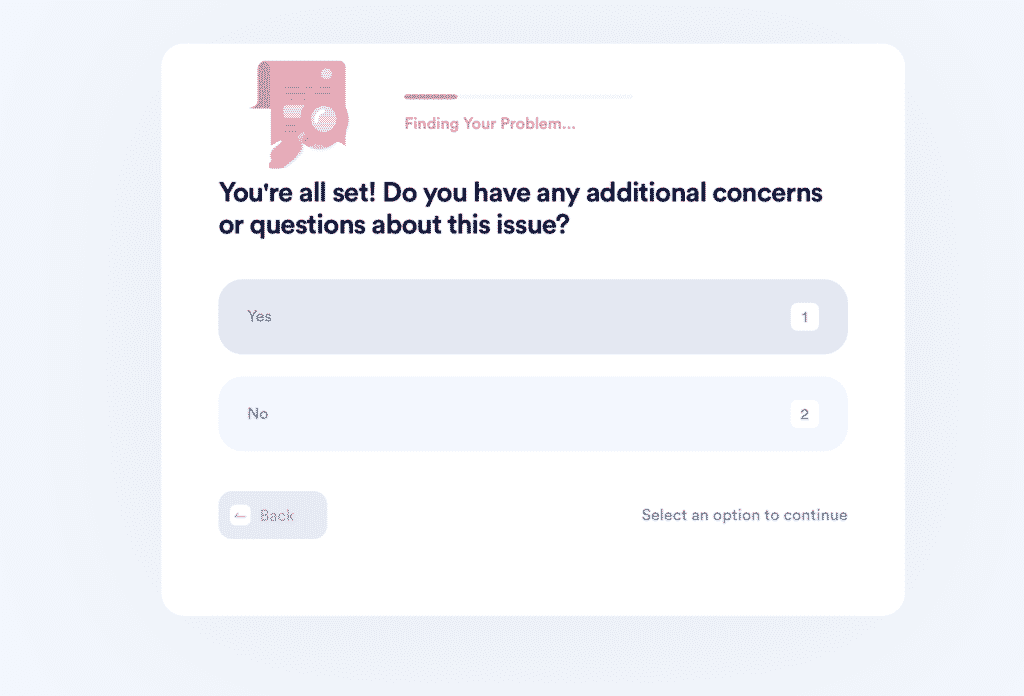 Clear Out Your Daily Tasks Fast With DoNotPay
Are your parking tickets piling up, but the process of appealing them is way too complicated? Do you struggle to pay your bills but are not sure how to get an extension? Is it time to extend your driver's license, but reaching the DMV is a nightmare?
DoNotPay will turn all of these dreadful tasks into easy-to-do items you can check off your agenda quickly!
Get rid of spam emails, texts, and calls quickly using our AI-powered app!
Learn how to secure compensation from airlines, get your college fees waived, claim your lost funds, or reduce your property tax—all with a few clicks!
Subscription Issues? DoNotPay Can Help!
If you are looking to test out a service, think twice before disclosing your payment info. Companies will often ask you for your credit card details even when signing up for a free trial—they charge you once the trial expires.
Use our virtual credit card, and don't worry about unwanted charges!
Our credit card gets automatically approved for any free trial, but it rejects any real charges since there is no money on it.
DoNotPay will locate and cancel all your unwanted subscriptions without you having to deal with customer service reps.
We can also help you request refunds from companies or take them to small claims court if they refuse to cooperate.