How Does Modell's Return Policy Work?
Modell's Sporting Goods is a brand with a wide array of fitness, footwear, and apparel products—but what happens if you need to return an item and request a refund?
If the entire process seems intimidating to you, you're certainly not alone in this. Luckily, DoNotPay can help!
We'll look into the finer points of the Modell's return policy before discussing how can do all the heavy lifting for you and facilitate a seamless product return.
Modell's Return Policy—General Info
In March 2020, Modell's Sporting Goods filed for bankruptcy and shut down its brick-and-mortar stores across the U.S. As a result, purchasing and returning goods to their retail locations is no longer an option.
Modell's online store is still active—and will be for the foreseeable future. This effectively means that consumers can only buy Modell's products online and return them via an electronic form request on their site.
The first and most important thing to note regarding the Modell's return policy is that, with certain exceptions, all returns are refunded by store credit that a customer can redeem on the brand's website. In other words, the Modell's return policy does not allow money returns!
Shoppers can return their items within 30 days of delivery. All return shipping charges are the customer's responsibility, and there are no refunds for the outbound shipping costs.
To be eligible for return (and to redeem store credit), your items should check these two essential online return policy boxes:
Items must be unused or in good-as-new condition
Merchandise must be returned in its original packaging with all included paperwork
Modell's customer service is available via phone at 1-800-275-6633 from Monday to Sunday, between 8 a.m. and 6 p.m. CST, and is at your disposal for any concerns you may have regarding product returns. This service is also reachable via email—support@modells.com.
Return processing times take longer than usual in the COVID-19 era, usually between 14 and 21 days.
What Other Types of Modell's Return Policies Are Available?
Depending on different scenarios, Modell's return policies may vary in some aspects. Below, we list the most common ones and their specific terms and conditions:
Domestic returns and exchange policy
Damaged and defective items return policy
Policy for items lost in transit
Domestic Returns and Exchange Policy
The Modell's domestic returns and exchange policy states that the company does not provide pre-paid return labels unless stated otherwise. Consumers cover return shipping costs, which are deducted from the refund amount.
This type of credit store refund is normally issued within 7–10 working days after processing the return. The same time frame is valid for replacement resolutions.
Damaged and Defective Items Return Policy
To return damaged and/or defective Modell's items, you need to provide your order, item, and tracking numbers to the company's customer representative. You can locate these numbers in the original purchase confirmation email that you received.
Modell's will replace your item within 30 days of the date of purchase, with no return shipping charges applied.
To expedite the assistance process, you should send photos of the damage/defect. In general, replacement resolutions for damaged or defective goods have a 7–10 business days time frame for processing.
The Policy for Items Lost in Transit
In case you never received your item ordered from modells.com, even though your tracking link marks it as delivered, you should contact the company's Customer Care service.
Submit the "item lost in transit" claim by supplying your order, item, and tracking numbers from the original purchase confirmation email. Apart from your claim number, the support agent will require your phone number and email address.
Similar to all previous return scenarios, this one also has an average resolution time frame of 7–10 working days to be processed. You can expect to receive a replacement item if one is available, or the company will issue your store credit.
What Modell's Items Are Not Eligible for Returns?
Be wary that not all Modell's goods qualify for returns. Items that are non-returnable include:
Products marked as final sale
Clearance and personalized items
Bundle items at discount prices
Products that were resold or altered for resale
Items marked non-returnable at the checkout
Pillows, comforter sets, and other bedding products
| Can You Initiate a Return With Modell's Via | Yes/No |
| --- | --- |
| DoNotPay | Yes |
| Email | Yes |
| Phone | Yes |
| Mail | No |
| In person | No |
How DoNotPay Helps You Return a Modell's Item Quickly & Effortlessly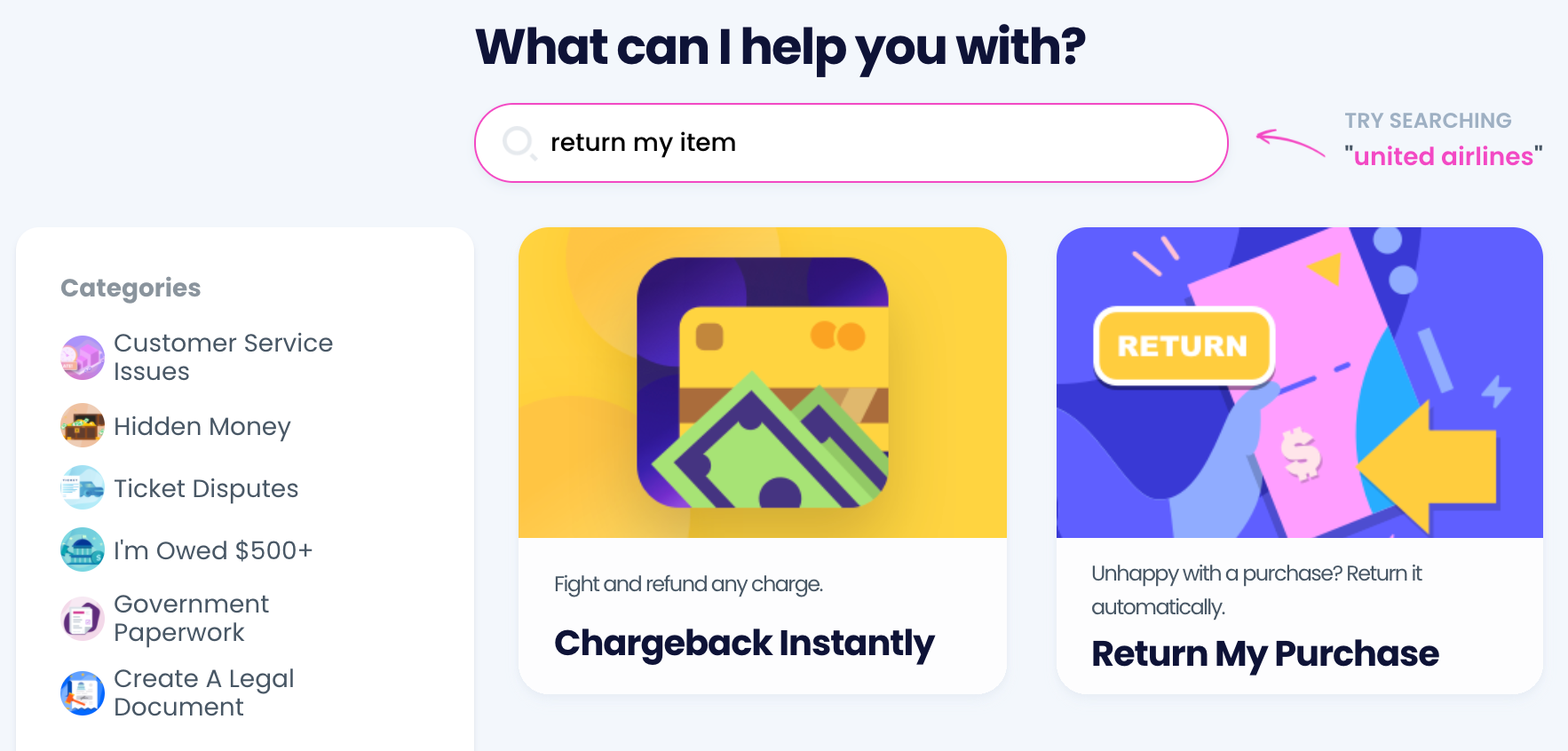 By using the DoNotPay app, you can return your Modell's items completely hassle-free!
To do so, we only need you to answer a couple of chatbot questions. To begin and complete the return process, do the following:
Go to Return My Purchase
Answer a couple of questions about the item(s) you want to return
Provide the photos to expedite the process (optional)
Click Submit
After this is done, DoNotPay immediately takes over your return claim and will get you in touch with Modell's ASAP!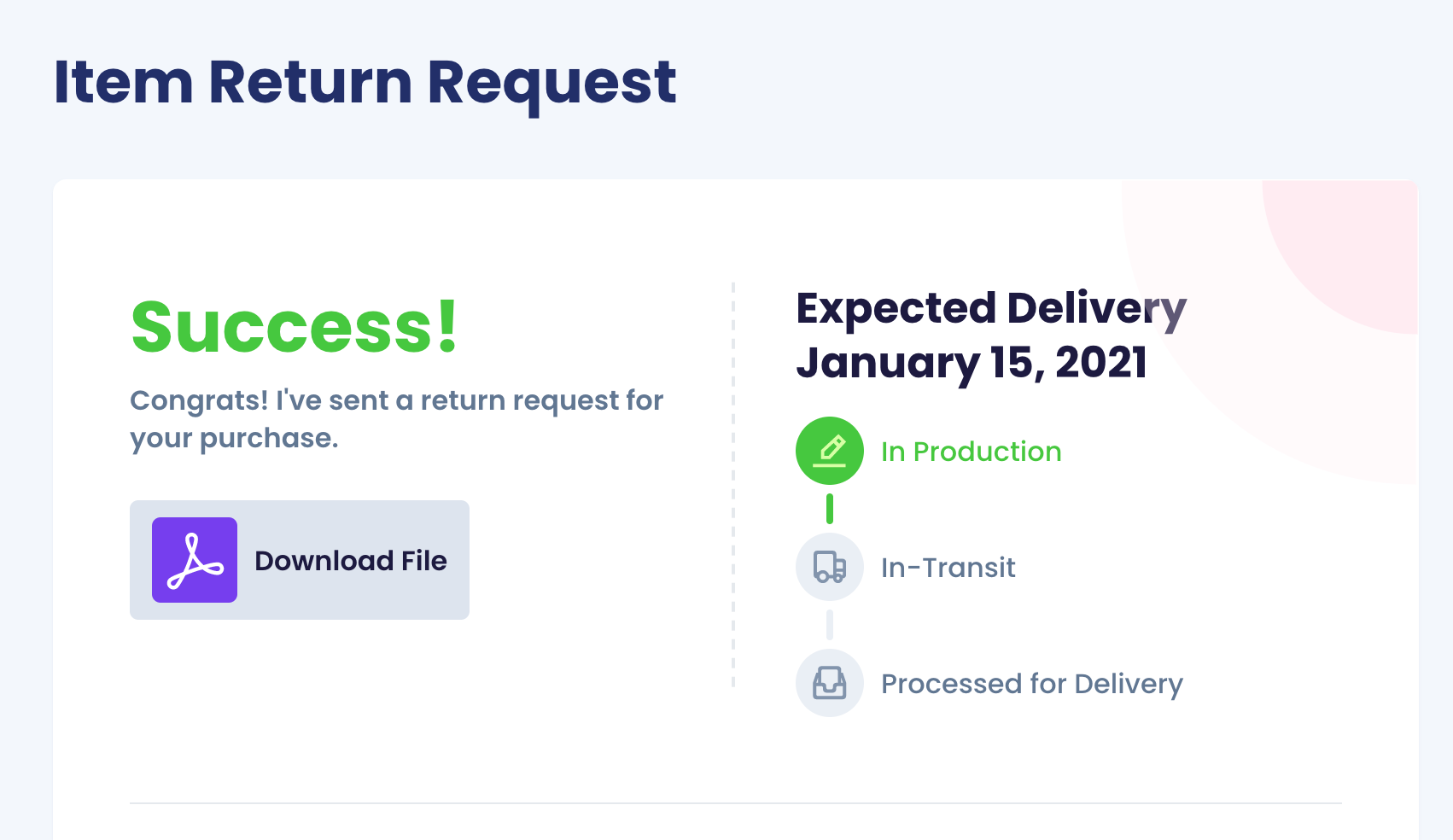 DoNotPay Helps You Return Items to Many Other Vendors
DoNotPay provides expedient and effortless return claim services for numerous brands, including but not limited to the ones in the table below.
No More Faulty Items—DoNotPay Can Send Them Back, Get You a Refund, and Resolve Any Other Issue
DoNotPay is an expert at requesting refunds from various companies and airlines! Once you return your poor-quality purchase successfully, check out how our app can:
Tired of Companies Treating You Unjustly?
With our AI-powered robot lawyer app by your side, you no longer have to tolerate corporate attitudes.
Have you ever signed up for a free trial only for it to turn into a paid subscription automatically? No more—DoNotPay will cancel it on time once you get your hands on our virtual credit card! Is the company you're dealing with refusing to give you a refund for their unjust action? We'll take it to small claims court.
If you need a standardized legal document but don't want to pay hefty lawyer fees, we'll create one for you in a flash. Then, you can get it notarized remotely and send it to the court with the help of our online fax tool.