How To Request an MIT Application Fee Waiver in the Blink of an Eye
Massachusetts Institute of Technology (MIT) is one of the most popular private research universities in America. The university has one college and five schools. It's interesting to mention that MIT doesn't have schools of law or medicine.
Are you thinking about applying to MIT or other schools? Try getting an application fee waiver with DoNotPay and save money.
College Application Fee Waiver—What It Is and Why You Need It
Universities in the U.S. are super pricey. Students spend a lot of money even before they enroll and pay for tuition and housing. SAT, ACT, test preparations, on-campus visits, and various other college fees can pose an enormous financial burden.
MIT's application fee for both grad and undergrad studies costs $75. Students who want to apply to more than one school need to pay hundreds of dollars on applications only, which is a lot for most applicants.
To put everything into perspective, here are some of the most popular schools in America and the amount they charge for college application fees:
If you come from a low-income family, you should request an application fee waiver for every school you want to apply to.
Can't Afford the Application Fee? Get a Fee Waiver and Save Money!
MIT allows domestic and international students to request a fee waiver if they cannot pay the application fee. The fee waiver request is the last step of your MIT application. To get an MIT fee waiver, follow these steps:
Go to the

Application Portal

and log in to your account

Click on

Start New Application

Choose the

First-Year Application

and click on

Create Application

Select the

Continue

button

Fill out the necessary info

Choose

Yes

in the

Fee Waiver Request

section
The MIT Admission Council will review your request. They will decide if you're eligible to get a fee waiver based on the financial info you provided in your application. One of the steps is to indicate if you're eligible to participate in the Federal Free or Reduced Price Lunch program. If your answer is yes, there's a good chance that MIT will grant you a fee waiver because it proves that you need financial aid.
Graduate Students Can Get Fee Waivers Too!
Is the application fee for graduate MIT schools too expensive for you? You can request a fee waiver by completing the fee waiver form online. Please note that the name you provide on your fee waiver form needs to be the same as the name on your graduate application. You'll be informed about the decision within three business days of submitting the request.
If you're interested in applying to MIT Sloan School of Management, you need to contact the program directly to request a fee waiver.
To be eligible for an MIT grad school fee waiver, you should meet at least one of the criteria. The following student categories qualify for the waiver:
Applicants who have U.S. citizenship or permanent residence

Students who have demonstrated financial need in the previous year

Candidates enrolled in one of the special fellowship programs

Participants in the MIT-sponsored diversity programs—applies to international students as well

Attendees of the diversity recruiting events

Members of the United States Armed Forces
Programs, Conferences, and Fellowships Eligibility
Students who have participated in one of the following programs, conferences, and fellowships are eligible to get an MIT grad school fee waiver:
MIT-Sponsored Programs
Fellowship Programs
Events and Conferences

MIT Laureates and Leaders

MIT CONVERGE

MIT Summer Research Program—General

MIT Summer Research Program—Biology/BCS/CBMM

On-Campus MIT ACCESS Program

Harvard-MIT Health Sciences and Technology (HST) Summer Institute

MIT Emergent Behaviors of Integrated Cellular System (EBICS)

Gates Millennium Scholars Program

McNair Scholars Program

University of Baltimore Maryland County Meyerhoff Scholars Program

Woods Hole Partnership Education Program

Mellon Mays Minority Undergraduate Fellowship Program (MMUF)

Maximizing Access to Research Careers (MARC)

Society of Women Engineers (SWE)

National Society of Black Physicists (NSBP)

Emerging Researchers National Conference in STEM (ERN)

MC-STEMP GEM GRAD Lab

Annual Biomedical Research Conference for Minority Students (ABRCMS)

FIU McNair Scholars Research Conference
For a full list of eligible events and programs, visit the Diversity Initiative section of the MIT graduate admissions website.
Request an MIT Fee Waiver Stress-Free With DoNotPay
If the process of waiving MIT graduate and undergraduate application fees seems too complicated, DoNotPay has the best solution. Our service allows you to request college application fee waivers in less than two minutes. We will fill out the fee waiver form after you provide the necessary info.
Open your account in a and do the following:
Choose the

College Application Fee Waiver

tool

Indicate which fee you want to waive:

New Student Application

Transfer Student

Enrollment Deposit

Select the school you'd like to apply to

Respond to the questions

Choose if you want to get your guidance counselor's signature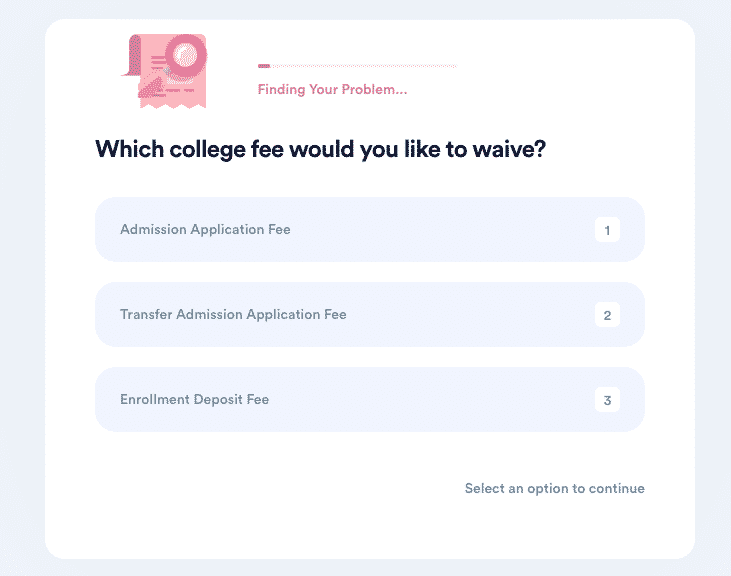 If you need the signature, DoNotPay will send the email to the counselor explaining your financial situation and attach the fee waiver form. In case you don't need the signature, we will send the form to the university directly.
DoNotPay Will Help You Avoid Application Fees for Any School in the U.S.
You might have heard about the Common App and its features. The platform helps students apply to multiple universities and offers a fee waiver tool that covers 900 member schools.
As opposed to the Common App, DoNotPay's extensive database allows us to send your fee waiver request to any university in the U.S., including:
DoNotPay can also help you request a fee waiver for any standardized test, except for SAT and ACT. With our assistance, you can avoid fees for exams like:
Solve All Your Issues Fast by Relying on DoNotPay
Platforms such as Chegg, 123HelpMe, and Study Edge can be useful for studying and doing homework, but they can be complicated to unsubscribe from. If you registered for similar services a while ago but stopped using them, DoNotPay can help you cancel any unwanted membership in two minutes.
Thanks to our virtual credit card, you can enjoy Tidal, Spotify, and Apple Music free trials without worrying about losing money.
We also offer a variety of other features that can help you deal with everyday issues too complex to solve on your own. To take advantage of all our services, sign in to your account in a , and DoNotPay will assist you in:
Appealing speeding tickets

Disputing traffic tickets