How To Get a Caltech Application Fee Waiver With No Fuss
The California Institute of Technology (Caltech) is a public university located in Pasadena, California. Caltech is best known for science and engineering, and it's a university that's devoted to the instruction of pure and applied sciences. When applying to Caltech University, you'll see that you will have to pay an application fee. If you want to avoid paying for it, check if you're eligible for a Caltech application fee waiver. DoNotPay can help you both check and apply for one in a jiffy!
About College Application Fee Waivers
A college application fee waiver serves as a way to help students who find application fees to be a financial burden to avoid paying an enormous amount of money when applying to colleges and universities. It's a form that a student fills out and submits to schools they want to apply to and, with it, requests for application fees to be waived.
Considering how many other expenses students face in this already hard enough time, college fee waivers are of immense help. Applying for one isn't always easy and stress-free, but DoNotPay can swoop in and assist you every step of the way!
Apply for the Caltech Fee Waiver With DoNotPay Easy-Peasy
DoNotPay is the easiest, most stress-free way to request a college fee waiver, and the best part is that you can get it done from the comfort of your own home!
There are three types of fee waivers our app can help you with:
New Student Application Fee Waiver

Transfer Student Fee Waiver

Enrollment Deposit Fee Waiver
We do almost all the work, and all you need to do is follow an easy, step-by-step guide and apply for your Caltech fee waiver in no time!
Here is how you can apply for the Caltech application fee waiver with DoNotPay:
Open DoNotPay in your

and pick the

College Application Fee Waiver

feature

Click on the fee you would like help waiving

Choose

The California Institute of Technology

from the list of schools and provide a few answers regarding your financial state

Decide whether you would like us to obtain a school counselor's signature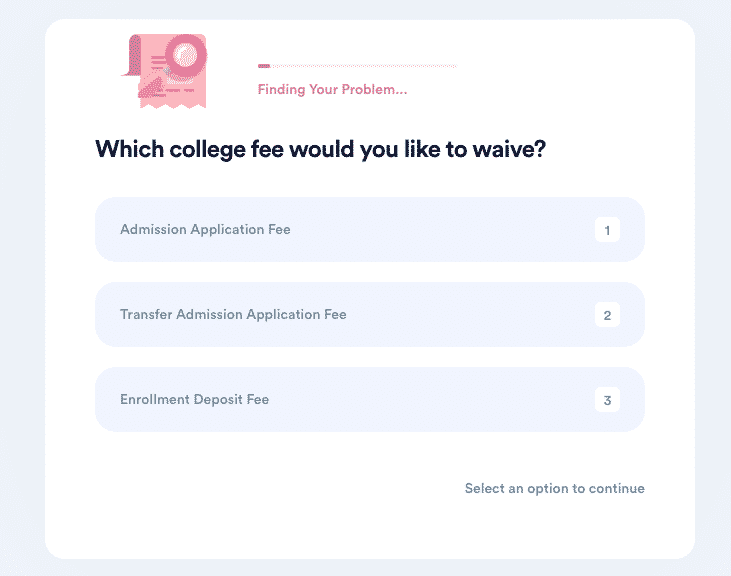 DoNotPay provides further assistance with another feature that you can use to make your admission application stand out. Let DoNotPay acquire the school counselor's signature for you, instead of going through the trouble of doing it all by yourself! Improving your application by getting a school counselor's signature boosts your chances of getting a fee waiver, so don't hesitate to use it!
We will finish the form and submit it in your stead or send it to The California Institute of Technology admissions office. With our app, you can request fee waivers from other schools as well, such as Dallas, Brown, Harvard, Georgetown, and Northeastern University.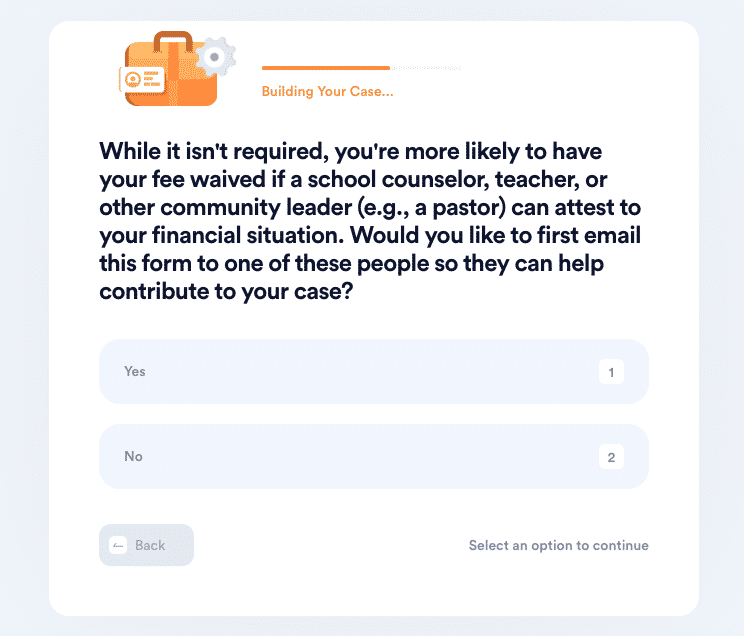 To summarize, our app can:
Help you apply for college application fee waivers for both undergrad and grad studies

Send the form to university financial aid offices

Fill out the form on your behalf

Assist you in applying for test fee waivers (except for the SAT and the ACT)
If you think that's impressive, wait until you see everything else DoNotPay can do for you!
Ways To Request a Caltech Application Fee Waiver
To better understand all the methods you can apply for a Caltech application fee waiver, check out the table below:
| | |
| --- | --- |
| Can You Apply for a Fee Waiver Via | Yes/No |
| DoNotPay | Yes |
| SAT and ACT | Yes |
| NACAC | Yes |
| Letter from a School Counselor | Yes |
| Coalition App | Yes |
| Phone | No |
Applying for the Caltech Fee Waiver With SAT and ACT
Caltech University will accept the SAT and ACT fee waiver forms even though they stopped requiring or considering those test scores a while ago. You can send your fee waiver form along with your application or email a copy at ugadmissions@caltech.edu.
Requesting a Caltech Application Fee Waiver via NACAC
To request your Caltech fee waiver with NACAC, follow the next five steps:
Download the

form

to your computer

Put

The California Institute of Technology

on the top line

Complete the

Student section

and tick all the boxes that apply to you in the

Economic need

section (click on

Other request

if none of the boxes are right for you and describe your financial situation in short)

Get a school counselor to complete the

Authorized Official

section and certify your economic eligibility

Send the form

to The California Institute of Technology admissions office
Getting Your School Counselor To Request Your Caltech Fee Waiver
If you are a student who is in financial need, you can have your school counselor verify your financial situation and request a fee waiver on your behalf. They should write the request for a fee waiver and send it to ugadmissions@caltech.edu.
Apply for the Caltech Application Fee Waiver Using Coalition App
You can request your Caltech fee waiver with Coalition App by following the next five steps:
Add

The California Institute of Technology

to your list

Click on the

Start Application

Say which type of applicant you are

Select

Continue

Follow the links to complete your application
Your request should be processed in one to three business days.
Who Can Get Fee Waivers?
Many factors affect whether you are eligible for a fee waiver or not, and to a great extent, it depends on your financial situation. Look at the list below to see what the common qualification criteria for obtaining a fee waiver are.
You are eligible for a fee waiver if you are:
Qualified to receive

Federal Free or Reduced Price Lunch program

Meeting the

Income Eligibility Guidelines

set by the USDA Food and Nutrition Service

Enrolled in a program that helps students from families with low income

Getting public assistance

Residing in public housing or a foster home

Ward of the state, homeless, or an orphan
Take a look at this table to see the Income Eligibility Guidelines in detail:
| | |
| --- | --- |
| Number of Household Members | Annual Income |
| One | $23,606 |
| Two | $31,894 |
| Three | $40,182 |
| Four | $48,470 |
| Five | $56,758 |
| Six | $65,046 |
How Much Money Do You Need To Set Aside for the Caltech Application Fee?
The California Institute of Technology charges $75 for its application fee. The fee is non-refundable, and you can submit it with the application platform of your choice. If this application fee is too much for you to handle, Caltech offers several ways to apply for a fee waiver. You can also use the Common App to make the process of getting a fee waiver a bit less complicated.
Other Issues DoNotPay Can Help You Solve
Take advantage of DoNotPay's numerous features and complete any administrative task with ease! We provide you with help for a variety of mundane tasks that nobody likes doing, like waiting in line to make a DMV appointment or renew your driver's license in the state of California. You can also find the best clinical trials in Los Angeles and learn how to pass your California DMV permit test on the first try!
There's no shortage of what our app can do for you, so go to DoNotPay in your and see how we can assist you in:
Fighting speeding tickets

Disputing traffic tickets