Get a George Washington University Application Fee Waiver in a Few Easy Steps!
George Washington University is a private institution and ranks as one of the top schools in the country. The university looks for strong academic results and considers a GPA of 3.8.
It's committed to helping students who show potential but don't have the financial means to attend the school. If you're applying to this university, you may be eligible for an application fee waiver.
What Is an Application Fee Waiver?
Most schools ask for an application fee, which generally ranges between $20 and $100. The payment is allocated to the cost of reviewing each application. While technology has made the process less labor-intensive, there are still people involved every step of the way.
Some schools use the application fee to ensure that only students who are serious about attending apply.
Many schools allow students who require financial assistance to apply without paying an application fee. Since you're probably applying to different schools, the application fees can quickly become expensive. There are also other fees that schools may expect you to pay before you're admitted, such as traveling to the university for an interview, taking standardized tests, and submitting results to the school.
What Is the George Washington Application Fee?
You can expect to pay $80 when you apply to George Washington University. You'll have to make the payment when you submit your application, which you can do via the Common App. If you need a fee waiver, you have to indicate this before submitting your documents.
Do You Qualify for a George Washington University Application Fee Waiver?
To be eligible for a fee waiver, you have to meet the following criteria:
Criteria
Explanation

If you've received a fee waiver for your standardized tests, you'll automatically be eligible for an application fee waiver

Participating in the reduced-fee or free lunch program

If you received free or reduced-fee lunch while in high school, you qualify for a fee waiver

Meeting the income eligibility guidelines

Your family's total annual income falls within the

criteria

set by the

USDA Food and Nutrition Service

. Members of households who earn these amounts are eligible for fee waivers:

$12,760 for one person

$17,240 for two people

$21,720 for three people

$26,200 for four people

These guidelines are acceptable in most states. You can add $4,480 for every additional person in your household

Receiving public assistance

Your family receives assistance in the form of housing, child care, or food subsidies

Serving in the U.S. Armed Forces

You're on active duty or a veteran

Experiencing housing hardships

You're homeless or live in foster care or subsidized housing
The school can ask you to send supporting documentation to prove your need.
If you don't meet any of these criteria but still need to apply for a fee waiver, George Washington University will consider your case. Your guidance counselor has to contact the admissions office and explain why you need the fee waiver.
Do You Automatically Receive a Fee Waiver?
The university will not automatically waive your application fee, even if you meet all the criteria. You have to make a request for the university to waive the fee. The fee waiver only applies to your application fee, and you will still be responsible for paying other admission-related expenses.
How Do You Ask for an Application Fee Waiver?
To get an application fee waiver for George Washington University, you can follow these steps:
Open the Common App in your

web browser

Log in to your account

Access the

Profile Screen

Fill out the application fee waiver section
What if You Don't Meet the Requirements but Still Need a Fee Waiver?
If you don't meet the requirements for a fee waiver, but your financial situation has recently changed, you should still apply for the fee waiver. In this case, you have to let your guidance counselor sign the forms to confirm that you need a fee waiver.
In case the primary income earner in the family has lost a job or passed away, George Washington University should allow a fee waiver in these circumstances.
Your Application Must Reach George Washington in Time to Be Considered
Make sure that your application with your request to have the fee waived reaches the university on time. There are various deadlines, and you need to indicate on your application which consideration you're applying for:
Early decision I—November 1, with a binding agreement

Early decision II—January 5, also with a binding agreement

Regular decision—January 5

Spring admission—October 1
Let DoNotPay Help With Your George Washington University Fee Waiver Application
DoNotPay offers the easiest method of applying for your undergraduate or postgraduate application fee waiver. You can follow a few easy steps, and DoNotPay will send the application to George Washington University and any other school that you need to request a fee waiver form.
Open DoNotPay in your

and log in to your account

Select

Application Fee Waiver

from the menu

Choose which fee you are requesting to waive

Choose George Washington University as the college that you're applying to and add any other schools that you're interested in

Answer a few questions about your financial status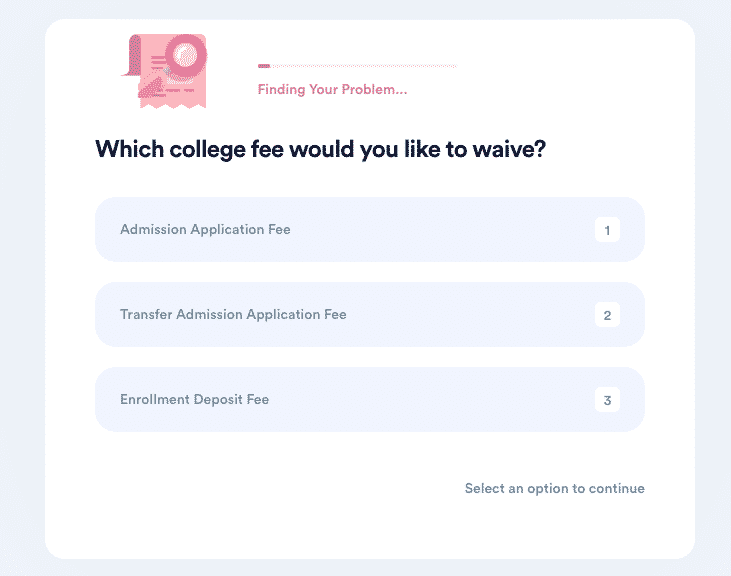 DoNotPay will automatically fill in the fee waiver request and send it to the colleges that you've indicated. Remember that you will need your guidance counselor's signature to complete the application if you don't qualify for the fee waiver according to the criteria. DoNotPay will send the request to your counselor's office first if you indicate that you require the signature.
DoNotPay Makes Your Life Easier
DoNotPay will make your life easier with all the tips and tricks we offer. You can save time and money by using our services. With DoNotPay's help, you can apply for application fee waivers for any university that offers them, including Georgetown, , Virginia Tech, Harvard, and Duke.
If you get a parking ticket while studying at George Washington University, we can help you dispute it.
We can even help you find unclaimed money in your name in Washington, D.C.!
If you're interested in participating in clinical trials or paid psychological studies, we will help you apply for those in your area.
To save some money, we'll help you cancel subscriptions like The Washington Post or get refunds from companies. We can also assist with student loans.
DoNotPay is a virtual lawyer that can assist you in fighting bureaucracy using chatbots and artificial intelligence. Log in to your DoNotPay account in any to access features such as:
Contesting traffic tickets

Fighting speeding tickets