The Easiest Way to Cancel 123HelpMe
123HelpMe writing service gives access to millions of study materials as well as essays and papers. The website is created for high school and university students who need extra help finishing their written assignments.
Cancel 123HelpMe in No Time with DoNotPay

DoNotPay is the most convenient and reliable way of canceling 123HelpMe. All you need to do is follow these steps:
Log in to your DoNotPay account from your

Click on the "Find Hidden Money" option

Enter "123HelpMe"

You'll be notified as soon as we cancel the service
DoNotPay offers another possibility. You can connect your bank account or email with the DoNotPat account, and we will go through all of your subscriptions to determine which ones you don't use. Give us permission, and we will unsubscribe you from the services you select.
How to Cancel 123HelpMe Manually
While DoNotPay is the fastest option, you can unsubscribe from 123HelpMe manually too.
| | |
| --- | --- |
| Can you cancel with | Yes / No |
| DoNotPay | Yes |
| Email | Yes |
| Phone | No |
| Letter | No |
| In-person | No |
| Company website | Yes |
How to Cancel 123HelpMe via Email
Do you want to cancel 123HelpMe by sending an email? Here's how you can do it:
Compose an email asking for your subscription to be canceled

Include the following details in the email:

Personal info (including your username and password)

The reason for cancelation

The last four numbers on your credit card

Date & amount of the latest charge

Send the email to support@123helpme.com
How to Cancel 123HelpMe from Your Account
If you prefer canceling through the contact form, do the following:
Access your 123HelpMe account

Select "Contact" at the bottom of the webpage

Include the reasons for cancelation in your message
DoNotPay won't ask you about the reasons behind the cancelation. We will unsubscribe you right away. That's why DoNotPay is a faster and more practical solution.
Will 123HelpMe Automatically Charge Me After the Trial Period?
Yes, once the trial period is over, you'll be automatically billed every month until you cancel.
123HelpMe doesn't offer free trials, but the first seven days are significantly cheaper—you'll pay $7 for the trial week. If you forget to cancel, you'll be charged $29.95 for the next billing cycle.
DoNotPay's Virtual Credit Card Helps You Save Money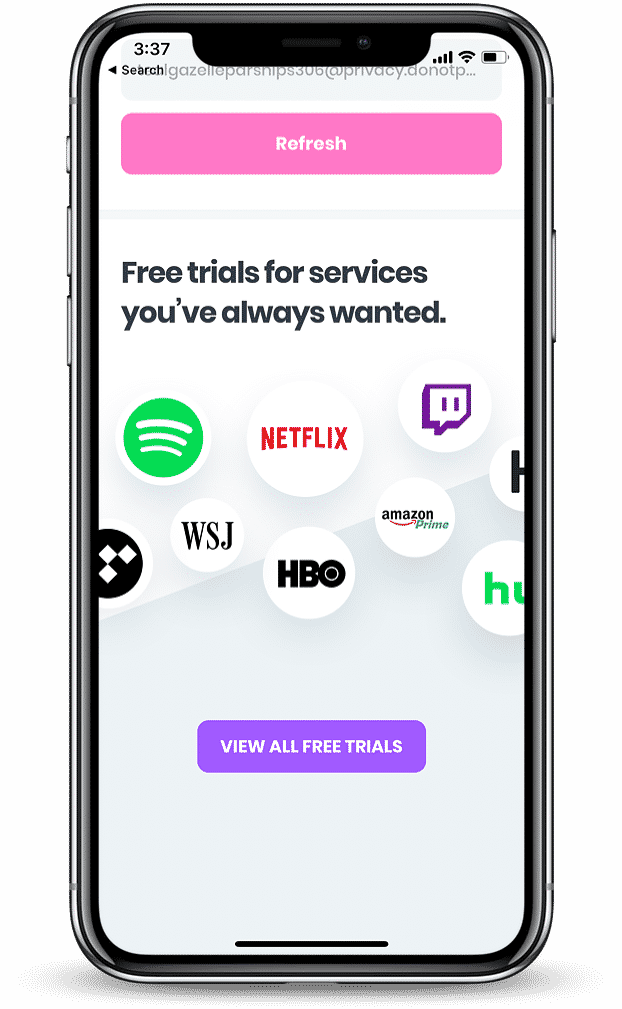 If you want to avoid being billed after the trial period, DoNotPay can help you.
You can use DoNotPay's virtual credit card, and you'll be provided with a unique, random credit card number, and a temporary email address you'll use upon registration.
Once the trial period is over, you'll be automatically unsubscribed. The virtual credit card is limited to only one transaction. 123HelpMe won't be able to charge you after the trial.
Will 123HelpMe Give Me a Refund When I Cancel My Membership?
123HelpMe doesn't offer refunds for canceled memberships.
Can I Choose to Pause My 123HelpMe Subscription Instead of Canceling?
It's not possible to pause 123HelpMe subscription. The only solution is to cancel.
What Do 123HelpMe Charges Look Like on My Statement?
This is how the 123HelpMe charges look like on your bank statement:
123HELPME 855-314-3368 CA
Not Happy with 123HelpMe Services? Choose One of the Alternatives!
Here are the best alternatives to 123HelpMe:
Company
Pricing

Benefits

$29.95 / month

$59.85 every three months

$119.40 every 12 months

Thousands of essays

Variety of topics

$19.95 / 30 day access

$39.95 / 90 day access

$59.95 / 180 day access

Affordable price

Professionally approved texts
DoNotPay Can Help You Cancel the Unused Services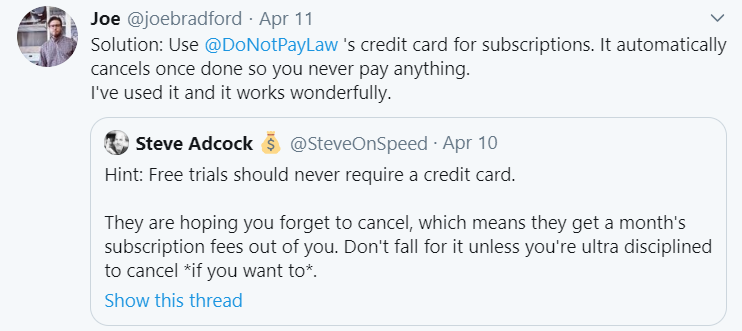 The majority of Americans spend thousands of dollars every year on memberships they don't even use.
Do you have the tendency to subscribe to a website, gym, or any other service and forget all about it? Why not rely on DoNotPay and stop losing hundreds of dollars each month?
Connect your email or bank account to DoNotPay and allow us to analyze and detect which memberships you can unsubscribe from according to your activity.
Here are some of the services you can cancel with us:
Sue 123HelpMe on Small Claims Court with DoNotPay

Should you have any problem with 123HelpMe services, DoNotPay is there to help you sue them. We will help you get compensation money and make the entire procedure as simple as possible by assisting you in:
Collecting the necessary documentation

Writing a demand letter

Filling out forms

Writing court statements, and much more
Rely on DoNotPay's Efficiency with Other Challenging Issues

DoNotPay can be of great help whenever you're having a problem you find time-consuming or too complicated to solve.
Log in to your DoNotPay account from a and count on our help when you want to know how to:
Dispute traffic tickets

Fight speeding tickets