How To Get the UT Austin Application Fee Waiver With DoNotPay
The University of Texas at Austin (UT Austin) is one of the largest universities in the U.S. with more than 50,000 students. The acceptance rate is 38.5%, but you should always keep your options open and apply to other schools as well.
Public universities may be cheaper than private ones, but you will still have to set aside a hefty amount of money for college fees and tuition.
You can lower your expenses in certain ways and under some circumstances, and we can tell you how to avoid paying application fees.
Application Fee Waivers Are the Way To Save Some Money
Once you begin your college journey, you will need to pay application fees for the chosen schools. There are some exceptions to this rule, but most universities require you to cash out $50–$100 for this fee. If you want to try your luck with more than one school—as most students do—you will waste hundreds of dollars.
Not everyone can afford to give that much money. This is why students whose families have low annual incomes have the right to request fee waivers!
If you meet the required criteria, you can ask to skip the step of paying application fees and keep the money. DoNotPay is the best option to do so!
How Much Is the University of Texas at Austin Application Fee?
Applicants who wish to become a part of UT Austin will have to pay a $75 application fee. International students will have to set aside $90 dollars for their application.
Take a look at some other schools in Texas you might consider applying to, and see their application fee costs:
The good news is that you can ask for a fee waiver to skip this payment step if you:
Have already received the

ACT

or

SAT fee waiver

Have proof of experiencing financial hardship
You can waive these and fees from numerous other universities using DoNotPay.
What Makes an Applicant Eligible for a Fee Waiver at the University of Texas?
If you are among the students coming from families with low incomes or have any other difficulties that affect your financial status, you may obtain a fee waiver from UT Texas.
To meet the requirements for a fee waiver from this school, you need to:
Receive public assistance

Be an orphan

Participate in Upward Bound or any other TRIO program

Be a ward of the state

Serve/have served in the U.S. Army

Be eligible to get a free or reduced lunch price

Be in foster care

Have been affected by a natural disaster
How Can You Request a Fee Waiver From UT Austin on Your Own?
You may apply to the University of Texas at Austin in three ways and send in your application fee waiver request along the way:
Universities that allow students to apply through the Coalition App often offer the option to do so via the Common App as well. This is not the case with UT Austin, but some other schools you wish to attend may have this option.
None of the above-mentioned options are as effective or as quick as DoNotPay. Take a look at what you'll need to do in the explanations below.
How To Ask for an Application Fee Waiver From UT Austin via the Coalition App
You can apply to UT Austin via the Coalition App and explain why you are eligible for a fee waiver this way. You will have to heed these directions:
Create an account or sign in if you already have one

Navigate to and click on the

Profile

link

List the factors that make you eligible to obtain a fee waiver

Select the

University of Texas at Austin

as the university you want to attend
How To Request an Application Fee Waiver From UT Austin via the ApplyTexas App
You can apply for UT Austin via the ApplyTexas App and provide proof of your financial status when filling out the form. Do the following:
Create an account

Answer all the questions about your school achievements

Explain your financial situation by answering some other questions

Finalize the process and submit your form
How To request a Fee Waiver From UT Austin via an Online Form
You can complete an online form on UT Austin's website to request a fee waiver. You will need to check all the listed reasons that apply to your situation.
Send the form using the Document Upload System within the My Status section.
Request a Fee Waiver From UT Austin With DoNotPay
DoNotPay can ensure you finalize the fee waiver request procedure without any issues. Ask UT Austin to remove your application fee with our help in under five minutes. We are connected to all the schools across the U.S., so you can also repeat the process for all the other choices on your wishlist.
Access DoNotPay from a , and proceed as follows:
Navigate to and select the

College Application Fee Waiver

feature

Find and select the fee you wish to get rid of

Pick

University of Texas at Austin

as the school you're applying to

Give us the relevant info about your financial situation

Tell us if you need a signature from a school counselor
DoNotPay will fill out the form, address it, and mail it to the University's financial aid office. If you need your counselor's signature, we can send the documents to that address first. This step is often skipped because of the COVID-19 situation, so make sure to check if it is necessary.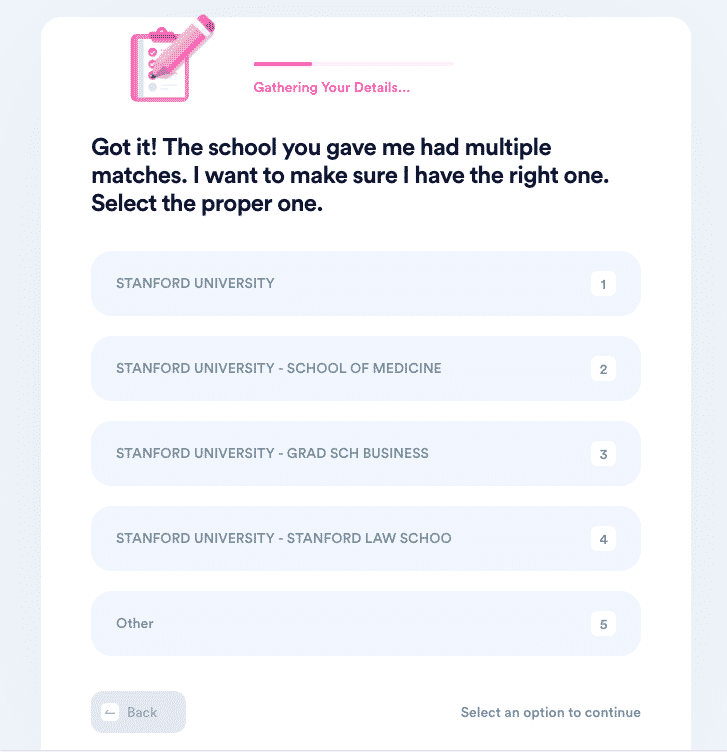 Aside from having the largest database of schools you can request fee waivers from, DoNotpay can also deal with different types of fees. According to your situation, pick between waiving:
New Student Application Fee

Transfer Student Application Fee

Enrollment Deposit fee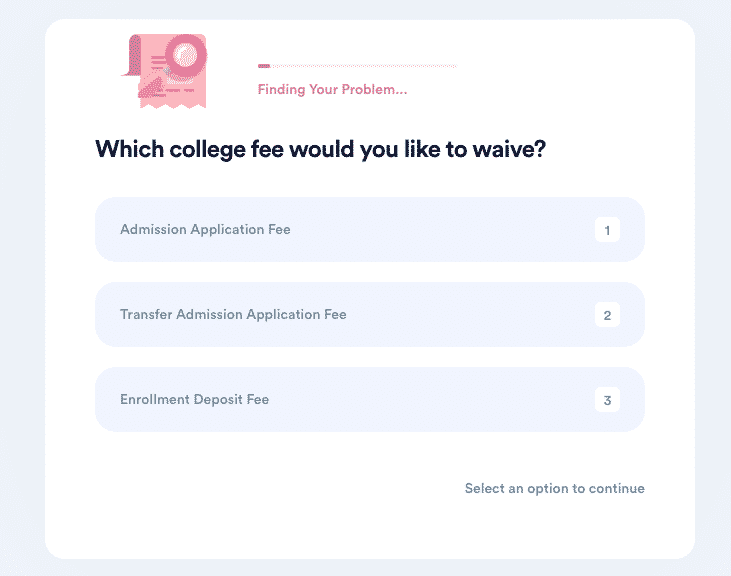 DoNotPay Is the Virtual Assistant of Your Dreams
If you live in Texas, you can count on DoNotPay for assistance when dealing with numerous administrative tasks. The world's first robot lawyer will be by your side if you wish to manage high electric bills or contest parking tickets in Austin or Houston.
Perhaps you are looking for your friend or family member in a correctional facility? We can help you find an inmate in Texas.
If you want to make some extra cash or get access to a new treatment for a disease or condition, we can assist you in finding the right clinical trial in this state as well. Search through our database of interventional studies in Austin, Dallas, or Houston, depending on which city is in your vicinity.
To see the wide array of bureaucratic tasks we can tackle for you, open DoNotPay in your and let us help you with:
Fighting traffic tickets

Disputing speeding tickets