The Boston College Application Fee Waiver With No Complications
Going to college is a big deal in young people's lives. You need to decide on a study program and college you would like to attend, as well as a new place to live in. On top of that, you should take into account your budget as attending a college can be costly.
One of the items in your college budget plan is application fees. This amount can be hefty if you want to apply to multiple schools.
DoNotPay can help with your application process by providing details about both college fees and college application fees. Our app can also assist if you need to get an application fee waiver for Boston College or any other school in the U.S.
What Is a College Application Fee Waiver?
You do not have to worry if you can't pay your college application fees. Apply for a fee waiver if you fulfill the requirements for a free college application.
Most universities follow the same eligibility criteria regarding college application fee waivers. If you would like to learn more about the related issues, you might want to check out how the fee waiver process works.
What Do You Need To Know About the Boston College Application Fee?
The Boston College admission process can be selective with their acceptance rate of 28%, an average ACT score of 32, and an SAT score of 1412. Their most popular majors are:
Finance

Economics

Biology

Communication

Political Science

Computer Science

Nursing

Psychology

English

Applied Psychology and Human Development
BC application fee is $80 and is non-refundable. During your application process, you need to submit either the application fee or the Boston College fee waiver approval.
Boston College will consider your application fee waiver request if:
The application fee presents a financial hardship for you and your family

You are a U.S. citizen or a permanent resident
Are You Eligible for an Automatic College Application Fee Waiver?
If you have already got an SAT or ACT fee waiver, you are eligible for other college application fee waivers. In this case, you will get it together with your SAT or ACT score.
Otherwise, you will need to go through some general eligibility criteria to check whether any of them apply to you.
Who Qualifies for a College Application Fee Waiver?
Most colleges rely on your school counselor or another official to determine if you are eligible for a college application fee waiver. The table below offers an overview of the eligibility criteria for Boston College:
You Are:
You Live in:
Your Family:

An orphan

A ward of the state

Homeless

Part of:

The Federal Free or Reduced Price Lunch program

A program that helps students from low-income families

A foster home

Federally subsidized public housing
Your family income is within the Income Eligibility Guidelines if it fits the following parameters applicable in most U.S. states:
| | |
| --- | --- |
| Household Members | Annual Household Income |
| 1 | $23,606 |
| 2 | $31,894 |
| 3 | $40,182 |
| 4 | $48,470 |
| 5 | $56,758 |
| 6 | $65,046 |
Bear in mind that 68% of Boston College undergraduate students receive financial aid, so if you believe you will have difficulty funding your studies, try applying for help. In case you would like to explore this possibility further, DoNotPay can help you with your student loan bills.
Can DoNotPay Help You Request Your Boston College Application Fee Waiver?
DoNotPay can help you get the following:
New student application fee waivers

Transfer student fee waivers

Enrollment deposit fee waivers
We have made the whole process fast and simple. Here is how it works:
Go to DoNotPay in a

Click on

College Application Fee Waiver

Select the type of fee

Choose Boston College and provide answers to a few questions related to your financial situation

Indicate whether you need a counselor's signature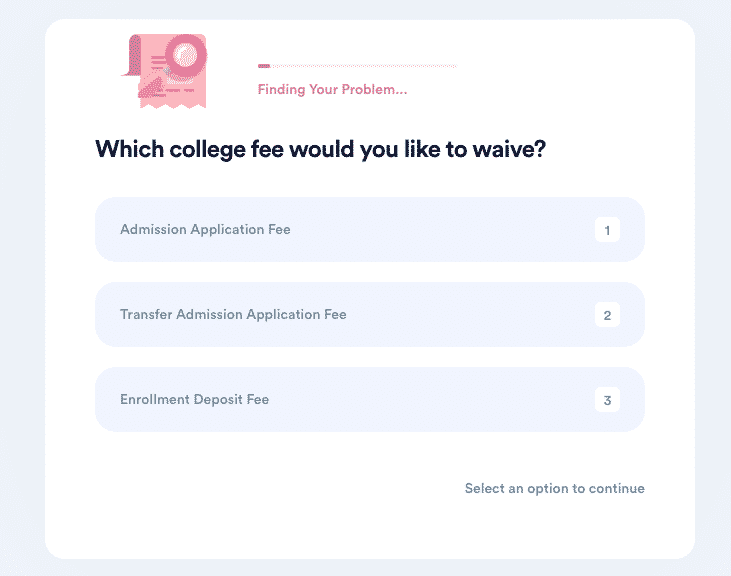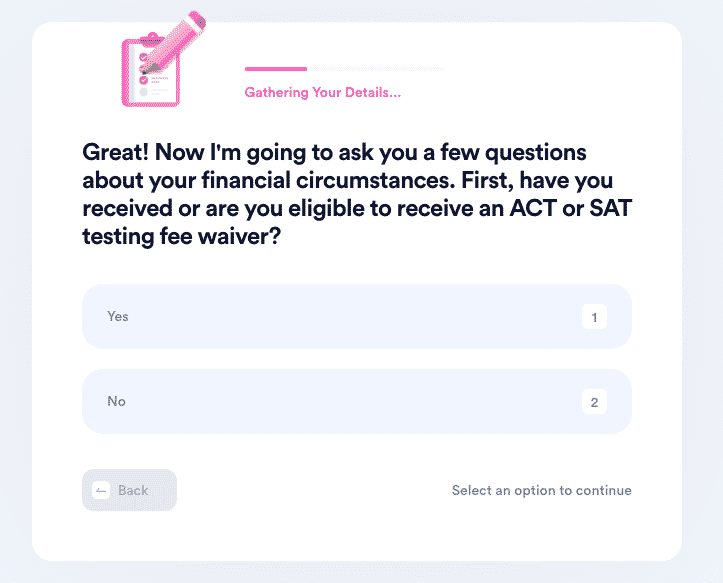 After you have completed these steps, DoNotPay will automatically submit the form directly to Boston College. In case the official's signature is mandatory, we will obtain it before sending the request.

DoNotPay can assist in requesting multiple college fee waivers if you are applying to different colleges. In case you are set on studying in Boston, or anywhere in Massachusetts, our app also provides information on the Boston University application fee, helps you pass a Massachusetts RMV road test, jumps in to contest parking tickets in Boston, apply for clinical trials, and cancel your sports club or Boston Globe membership.
How To Submit the Boston College Application Fee Waiver by Yourself
You can apply for the Boston College application fee waiver via:
QuestBridge
Apply Using the Common Application
To get the Common App fee waiver, you will have to do the following:
Go to your

Profile section

Tick

Yes

when asked if you feel that your financial circumstances qualify you for an application fee waiver

Select all economic indicators that apply to you

Verify all that you entered with your electronic signature

Click on the

Continue

button
Your counselor will need to confirm your answers, so they might ask you to provide proof. If you have already received an SAT or ACT fee waiver, your counselor can automatically confirm your application.
After submitting your Common Application request, you will receive an email with login instructions for your Applicant Status Portal. You can monitor your status and even withdraw your application there.
DoNotPay can offer you more information on the Common Application fee waiver process.
Go Through QuestBridge
Boston College is a part of QuestBridge, a nonprofit program that helps high-achieving students from low-income families get college admissions and scholarships. If you are interested, you should fill out the QuestBridge application form.
If selected to be a finalist, Boston College and all the other QuestBridge partner colleges will automatically waive your application fees.
What if I Need Additional Information?
If you would like to check all the information before you request your Boston College application fee waiver online, you can contact the Office of Student Services. Here is how to do it:
Should the process be too complicated for you to handle, resort to DoNotPay for assistance.
Do You Need Help With Anything Else? Choose DoNotPay!
If you plan to study somewhere else, we can help you with fee waivers for Harvard, American University, Cornell, University of Washington, Auburn University, and many more.
Find out about other services we can assist you with. Open DoNotPay in a and learn how to:
Fight speeding tickets

Dispute traffic tickets