Practice for Your Missouri Notary Test To Get the Perfect Results
The role of a notary is to administer oaths and affirmations, protest notes and bills of exchange, and take affidavits, statutory declarations, acknowledgments of deeds, and other conveyances. In some states, being an attorney isn't a requirement for becoming a notary public.
In Missouri, notaries help the Secretary of State with around 35,000 documents per year. If you decide you want to be a notary public in Missouri, you need to meet certain requirements, take a course, and pass a written test. To help you do your best on a Missouri notary test, DoNotPay created a feature you can use to practice for your exams.
How To Become a Notary in Missouri
Being a notary public in Missouri entails a lot of administrative procedures and preparation. You need to meet general qualifications, take a course, and qualify at a clerk's office.
It might come as a relief that you won't need to take the notary exam since it's not a requirement in the state of Missouri. You can see the steps to becoming a notary in Missouri listed below:
Fulfill general requirements

Study the

Missouri Notary Public Handbook

Take a training course—online or written

Buy a notary public surety bond

Qualify at the local county clerk's office
What Are the General Qualifications for Becoming a Notary in Missouri
A notary commission in Missouri is available to both residents and non-residents of the state. Check out the table below to see if you meet the requirements for a notary commission in Missouri:
Status of the Applicant
Requirements

For Residents

Being at least 18 years old

Having a business in Missouri

Being a legal resident of the U.S.

Not having your commission revoked within five years prior to your application

Being able to read and write in English

Having a clean record—you weren't found guilty of any felony or moral turpitude within five years prior to your application

For Non-Residents

Being 18 years old or older

Having a work address in the county for which you're applying for a commission

Working in Missouri

Swearing to use the notary seal in Missouri

Never having a commission revoked in the five years prior to your application

Not being found guilty of any felony or offense entailing dishonesty or moral turpitude within five years prior to application
Reading the Missouri Notary Public Handbook
The Missouri Notary Public Handbook provides general information about what the notary's role is. The handbook also contains the Statues about the powers and responsibilities of a notary in Missouri, along with the glossary of all terms you'll need during your commission.
There are copies of application forms included in the Notary Handbook as well, which are all supposed to help you perform your notary duties in the best way possible.
You can download a PDF file of the Missouri Notary Handbook on the official government website for free.
Take a Training Course To Become a Notary Public in Missouri
There are two ways you can apply for a notary training course:
Online—

To take an online training course, you'll need to make an account on the official

website

Via a written form—

You'll need to download a form, fill it out, print it, sign it, and mail it to the address in the top-left corner of the form
How To Apply for a Commission
You can apply for a notary commission online or via mail.
To apply online, sign in to your account on the official website. If you want to apply by mail, fill out the correct form and mail it to the address written in the top-left corner of the form. You can find forms for both residents and non-residents online.
Where Can You Buy the Notary Public Surety Bond?
A notary surety bond guarantees you'll perform your duties and obligations to protect the public from financial harm that might result from your wrongdoing. You can purchase a notary bond in a bank, from a bonding company, or from a personal insurance agent.
How To Qualify at a Local County Clerk's Office
After the State issues the notary commission, you need to register within the next 90 days at the local county clerk's office. You will have to visit the office and bring your surety bond to affirm your four-year term as a notary public.
After the clerk administers the oath of office, you'll need to submit a handwritten sample of your signature on the oath of office. The signature has to match the one on your commission accreditation.
Where Can You Find the Missouri Notary Test Practice?
Since the notary exam isn't required to become a notary public in Missouri, there's no need for practicing. The only course of action you need to take is to read through the Missouri Notary Handbook and apply for a commission.
Find the Best Exercises for Any Notary Test on DoNotPay
We created the Government Test Prep feature because we wanted our users to have everything in one place.
You might not need practice for your Missouri notary test—because an exam isn't required—but you can find a lot of other practice tests that might come in handy. From the postal exam, the U.S. citizenship test, and Criteria Cognitive Aptitude Test (CCAT) to notary tests, our platform covers all the necessary materials for the best preparation.
To get ready for a notary test, open DoNotPay in your and follow the steps below:
Log in to your account

Type in

Notary Test

in the search field

Select the test you want to practice

Choose the number of questions—from 10 to 30

Redo the tests as many times as you need
When you give an incorrect answer, DoNotPay will offer you to retry it or continue with the test. After you finish it, we will ask you if you want to do the whole test again.
You can keep practicing with DoNotPay to memorize all the information and get ready for the test quickly and perfectly.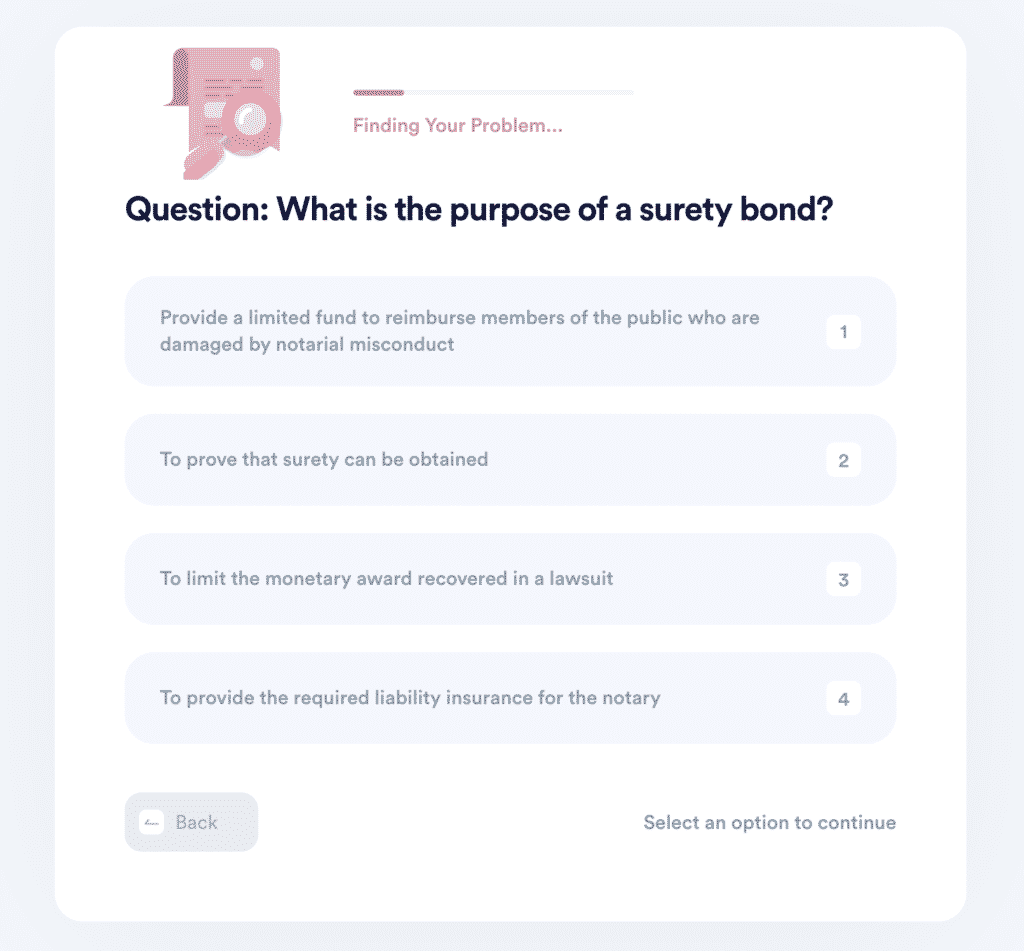 DoNotPay can help you prepare for various other tests such as:
DoNotPay Helps You Deal With Various Other Administrative Problems
With our app, you'll be able to get the best ASVAB test scores but also learn how to pass your written driving test. After you're done with your written driving exam, you'll be fully prepared when the time comes to schedule your DMV driving test appointment.
DoNotPay is fully equipped to aid you in your test preparations, but this isn't all we do. With our powerful app, you can avoid paying parking fines in St. Louis, pass the Missouri driving test easily, discover unclaimed money in Missouri, find paid clinical trials, and a lot more!
By opening DoNotPay in your , you can explore DoNotPay further to find out how to:
Fight speeding tickets

Appeal traffic citations in the U.S.