Dispute Milwaukee Parking Tickets In 120 Seconds For Free
Milwaukee has some of the strictest parking regulations in the US. In 2018 alone, the city issued more than 489,000 tickets. Parking police officers pay a great deal of attention to even the smallest details. Despite the stringent parking policies, you have a great chance to dismiss or lower your fine by disputing. DoNotPay takes care of the details for you in 2 minutes or less. Access DoNotPay through any web browser.
Dispute Milwaukee parking tickets in 120 seconds FOR FREE

Using an AI-powered chatbot, a new app called DoNotPay has helped hundreds of thousands of people beat their parking tickets for free. According to a report from money.com, DoNotPay has helped more than 250,000 people dispute their parking tickets.
Follow these steps when appealing your Milwaukee parking ticket:
Access DoNotPay from your

.

The app will ask a few questions regarding your ticket, including the type of infraction you received, which jurisdiction issued it, and the reason you're disputing it.

Snap a photo of your ticket and upload it to the app.

DoNotPay will auto-generate the exact template on how to dispute your ticket and win.

Watch how to dispute parking citations in any city:
Can I appeal and beat Milwaukee parking tickets? Is the dispute worth it?

Disputing your ticket is always worth the hassle. Especially if you think you did not violate any rules, and you have solid pieces of evidence to back that up. Even if not, you can probably at least get your fine lowered merely by contesting it.
Here are some forms of evidence that you can show when disputing a ticket:
Any mistake on the citation, including the name of the car, time, or location

Crucial information not listed on the infraction

Alterations or scribbled corrections

Missing or faded street signs

You don't own the car own the car

You sold the car before the citation was issued
Little errors on a parking ticket can save you from paying your fine. Take this Reddit user, for example. He came out one morning only to find a parking ticket underneath his windshield wiper when, in fact, he'd been parking in the same place for years. He checked the citation and found a typo. That ensured that his citation was dismissed.
DoNotPay helps you appeal your parking infraction by providing recommendations, filling forms, and giving you a script in a matter of seconds. Access DoNotPay through any .
Figuring out how to take the violation to court without using DoNotPay takes a lot of time, and missing work is likely more costly than the fine you received.
Even if you don't win your appeal, there is a high chance of getting your infraction reduced if you dispute your ticket. Given Milwaukee's bad reputation with regards to parking enforcement and with DoNotPay's easy and free service, appealing a citation is always worthwhile.
How much time does DoNotPay save appealing tickets?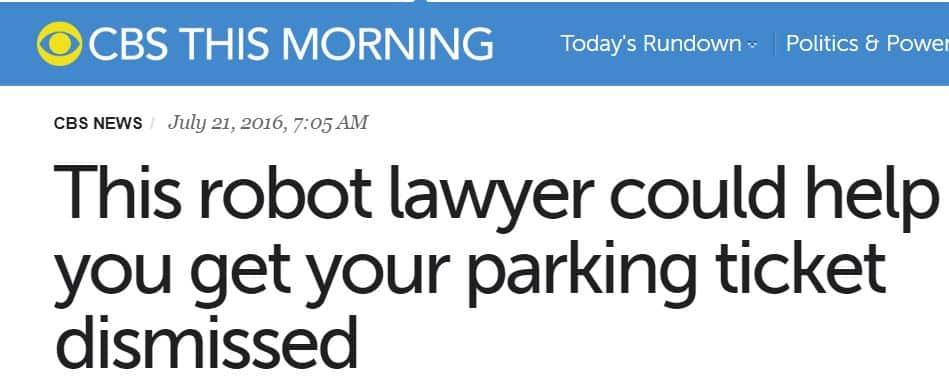 Appealing a parking ticket usually takes up over half a day. Doing it yourself means you'll have to gather evidence, collect witness statements, write a formal letter, and mail it all by yourself.
Can DoNotPay help me fight parking infractions in Milwaukee from private companies?
DoNotPay not only assists people who receive parking tickets from government traffic enforcers. You can also use it to dispute a ticket from any private parking company, including:
Imperial Parking, aka Impark

Douglas Parking

Towne Park

Ace Parking

Laz Parking

Lanier Parking

ABM Parking Services

SP+, aka Standard Parking
Do you need a lawyer to dispute a parking ticket?

A lawyer is not necessary to dispute your Milwaukee parking ticket. DoNotPay is your best solution to beating parking citations. Parking ticket lawyers can cost more than the parking fine you received, and finding, evaluating, and hiring an attorney takes time. Your time is valuable, but if you really want a lawyer:
Ensure the lawyer has credentials and expertise.

Find the best lawyers at your state bar association.

Ask for referrals.

Research their work first before hiring them.

Ask for their service fees.
How much does a parking ticket attorney in Milwaukee cost?
Hiring a lawyer is generally expensive and generally not advisable when appealing Milwaukee county parking tickets since the fines aren't that high.
As in other cities, lawyer's fees can range from $200 to $1000 per ticket in Milwaukee. It can even go higher depending on the gravity of the violation you're trying to appeal. But you don't have to pay such a considerable amount of money, especially when you have DoNotPay, which can be downloaded and used for free. Access DoNotPay through any .
How to pay a Milwaukee parking ticket?

Through DoNotPay's free app, you can determine whether your dispute has a fighting chance provided that you submit all information and evidence to support your case. If your appeal doesn't work out for whatever reason, you'll have to pay off the fines. Here's how to pay a Milwaukee parking ticket:
Visit the city's website and find the transportation department tab.

There should be a

parking services

tab somewhere on the page, where you'll find ways to pay your citations.

You can also opt to pay Milwaukee parking tickets via phone or mail, or drop by any police station in the city. They offer automated payment centers. You can pay via cash, check, or credit card.

You can also apply for a Milwaukee parking ticket payment plan.
Dispute or pay?
| | | | | |
| --- | --- | --- | --- | --- |
| | Ease | Time it takes | Cost | Benefits |
| Dispute | Answer a few questions through DNP and let it do the rest | Disputing through DNP takes a few clicks and just two minutes | If successful, you won't pay anything | Possibility of dismissed tickets or reduced fines |
| Pay | You can either pay in person or online | Paying in person takes a few hours; via mail may take weeks | Fines + transportation cost + working hours for the process | Your wallet will be lighter |
Can I get my parking ticket reduced?
Some cities are more flexible than others when it comes to making a deduction in the cost of parking citation fees. Milwaukee has a history of dismissing parking tickets.
You can get help scoring a deduction in a parking ticket in Milwaukee in two minutes. Access DoNotPay through any .
What happens if I don't pay my ticket in Milwaukee?
Though failure to pay parking tickets in Milwaukee or any other state won't land you in jail, various punishments and penalties await those who opt not to pay their Milwaukee parking tickets.
Late payments

guarantee an increase in fees ranging from $10 to $15, depending on the violation.

Unpaid Milwaukee county parking tickets go straight to a collection contractor after 80 days.

If the city government has not received any payment beyond 80 days, it could intercept state income tax refunds for the unpaid amount through the Wisconsin Department of Revenue Tax Intercept Program.

Vehicles with three or more pending parking ticket payments may be towed.

Citizens with unpaid parking tickets also risk being unable to renew their car's registration.
Not paying your infraction on time or not paying them at all can mean more headaches in the long run. Your fine will subject to growing interest, which can be as high as nine percent annually. Aside from the growing fees, you also risk having your car booted or towed. You also put your credit score in a risky position if a collection agency reports your misdemeanor to a credit bureau.
A proposed law is intended to extend the window for paying parking tickets in Milwaukee. Should the proposal be approved, the current 10-day grace period for paying parking citations will be extended to 14 days.
Do infractions go on my record?
Fortunately, infractions do not go to your driving record. But that doesn't mean ignoring your tickets does not have consequences. A simple parking violation can result in the suspension of your license, inability to renew your vehicle registration, and a hit to your credit score.
What if I got a citation and someone took it off my car, or the wind blew it away?
Telling a judge that your citation got blown off by wind or someone took it won't be effective. The authorities will notify you of your violation through the mail. It doesn't matter whether or not you found a ticket on your car.
If you changed your address without updating your vehicle registration, you won't receive your parking infraction notification by mail, and the city will turn your infraction over to a collection agency. Do not let this happen as it can lower your credit score, creating more headaches for you.
Can my car insurance go up?
There is no correlation between parking tickets and insurance. So, if you're wondering whether your recent citation will affect your coverage, then the answer is no. Insurance companies like Liberty Manual don't have access to your parking infraction history. But this doesn't mean you can evade your obligation to pay parking tickets.
Failure to pay might affect your ability to register your vehicle, and your insurance company probably requires you to have it registered before approving your coverage.
Do I need to pay Milwaukee parking citations if I'm from another state?
The answer is a resounding yes. If you have received an infraction while you're in Milwaukee, you can appeal it remotely. DoNotPay makes the process simple. Access DoNotPay through any .
Can I get a parking ticket while I'm sitting behind the wheel?
If you are thinking of driving away while a cop is issuing you a ticket, think again. Read this Quora thread to know what awaits you if you ever think of taking off while you are being ticketed.
Getting tickets while you're in the car is not rare. You can get a citation while you're answering a call behind the wheel or while standing beside your vehicle. You can get a violation at any time, so always pay attention to the City's parking rules to avoid citations and the fees that come with them. It's always worth trying to appeal a ticket with DoNotPay. After all, it just takes a few clicks. Access DoNotPay through any .
Do I have to pay parking citations I get in a rental car?
All rental car companies such as National Car Rental require you to pay all tickets received while driving their cars. Most car rental firms also add administrative fees between $30 to $45 when you commit parking violations while using their car rentals.
In most cases, the company will automatically charge the fine and their administrative fee to your credit card. Like the fine, the administrative fee can be subject to interest that will accumulate if you do not pay on time.
How much does Milwaukee make from parking tickets?
Parking tickets are major revenue generators for the city of Milwaukee. The City issues hundreds of thousands of citations, ranging from $20 to $200 every year. CBS 58 reports that from January to September 2018 alone, Milwaukee handed out more than 400,000 infractions.
Milwaukee earns about $17.5 million annually in parking tickets. Though that is far from New York City's staggering $540 million parking ticket revenue, it is still pretty high.
DoNotPay helps users fight and beat tickets in any city
DoNotPay helps users fight parking tickets in every city in the US and UK. Here are a few cities we've helped users dispute the most tickets in:
What else can DoNotPay do?
DoNotPay also offers free assistance with:
Getting you an appointment with the DMV faster
Appealing speeding tickets
Disputing traffic tickets
Contacting customer service at any company and notifying you after it reaches a real human being
Making a virtual credit card to avoid getting charged at the end of a free trial

Help you get compensation for delayed and canceled flights
DoNotPay not only helps you save time and money but also protects you from the justice system's flaws. According to The Verge, without DoNotPay, those flaws could end up working against you.
To Summarize Milwaukee parking tickets:
You can appeal your parking tickets without the hassle and much effort.

DoNotPay is a one-stop-shop for parking ticket disputes.

You can contest a parking citation in under two minutes.

Download DoNotPay's free app and input all the necessary details, and the app to give you a script.

DoNotPay can help you win parking ticket appeals against the government and any private company.

DoNotPay's services cover every corner of the US.

Pay your parking tickets on time to avoid certain risks and consequences.

A simple infraction can result in license revocation, rejection of car registration renewal, or even rejection of loan applications.

You raise your chances of having your infraction dismissed or reduced if you dispute it.

You can fight parking tickets for free with DoNotPay.

You can pay off your parking tickets through various methods, including mail, phone, service centers, or online.

Avoid paying ticket fines by disputing through DoNotPay's free app.

Some cities allow a deduction in parking ticket fees.

That's why it's always worthwhile to appeal.

Parking tickets do not go on your driving record.

But this doesn't mean that there are no consequences when you violate parking rules.

The wind could've blown your ticket away, but your obligation to pay remains.

You will be sent notification of your violation by mail, including all the info you need to know to pay.

Your parking tickets and vehicle insurance do not correlate, and one has no direct impact on the other.

However, your insurance company may decide not to renew your coverage if your insurance cant' be renewed due to unpaid citations.

You can take your citation to court if you have a valid case.

Try DoNotPay first to determine if your dispute has a fighting chance.

You must pay off tickets from any state even if you don't live there.

Parking laws vary in each state. You can appeal remotely with DoNotPay.

Pay attention to parking rules to avoid traffic infractions.

Remember: You can always appeal a parking ticket through DoNotPay.

You can get a parking infraction even when you're behind the wheel.

Ensure that you are legally

parked when you answer calls or respond to texts.

Tickets you received using a rental car will be automatically charged to your card.

Violations issued to rental cars will also incur administrative fees.

Cities make hundreds of millions from parking tickets every year.

Milwaukee makes over $17.5 million in parking ticket revenue annually.

DoNotPay offers other useful services.

Services include canceling free trials and appealing speeding tickets.