The Mejuri Return Policy Cleared Up
Received a piece of jewelry that didn't meet your expectations? Don't worry if you made the wrong choice! DoNotPay brings you a detailed guide to the Mejuri return policy essentials and explains how to !
The Mejuri Return Policy—An Overview
The company has a 30-day return policy, but due to the COVID-19 pandemic, it has been temporarily extended to 60 days from the delivery date. You can only exchange a piece from the Milestone collection (in case you're exchanging the same types of metal and stone).
Non-Returnable Jewelry
The following items are non-returnable:
Items with signs of wear and damage
Items outside the original packaging (box and pouch) and without tags attached
Jewelry that's engraved or monogrammed
Jewelry purchased through a third-party vendor (you must return them to that particular vendor)
Bundles
You cannot return an individual item for a refund, credit, or size exchange—all items of a set have to be returned in their original condition.
Packaging Instructions
Your purchase has to be returned in either the same or smaller packaging. Do not return your items in an oversized box because Mejuri won't accept them.
Shipping Fees
Your original shipping costs are non-refundable. For orders outside of the U.S., Germany, Australia, Canada, and the U.K., additional taxes may apply, which Mejuri is not able to refund.
| Country | Return Shipping Fee |
| --- | --- |
| U.S., Australia, Canada, Germany, and the U.K. | Free |
| Europe | $20 |
| Other | $30 |
How To Return a Mejuri Product
You can either return a product in-store or initiate a mail return process online.
In-Store Returns
If your item is eligible for a return and you want to bring the product directly to the store, do the following:
Prepare your order number
Bring your item to the nearest store, and the personnel will help you further
You can also return a gifted item to a store and get it refunded in store credit.
Mail Returns Initiated Online
If you have an account, follow these steps:
Log in to your account and click on My Orders
Find the order you want to return and click Return Items
Download the return label and drop off the package at the carrier location or schedule a pickup
If you do not have an account:
Go to the Returns/Exchanges page
Choose an option depending on the country the order was shipped to (click Canada, U.S., or All other countries)
Provide your order number and email address
Submit the information
Returning Gifted Orders via Mail
According to the Mejuri return policy, the company offers store credit for gifted orders returned within 60 days. If the item is eligible for a return, send an email to contact@mejuri.com asking for a return label.
Include the following information in your email:
The order number (if you don't have it, provide the purchaser's full name and email address)
The address where the jewelry will be shipped from
The email address connected to your Mejuri account
It takes up to five to ten business days from the delivery to the warehouse for the company to process a refund.
Return a Faulty Product With Ease! Use DoNotPay!
Returning a product can be an annoying process that involves a lot of back and forth. No worries—DoNotPay can create a custom return letter and send it to the company! We will also set a specific deadline for addressing your request so the company's aware of your expectations.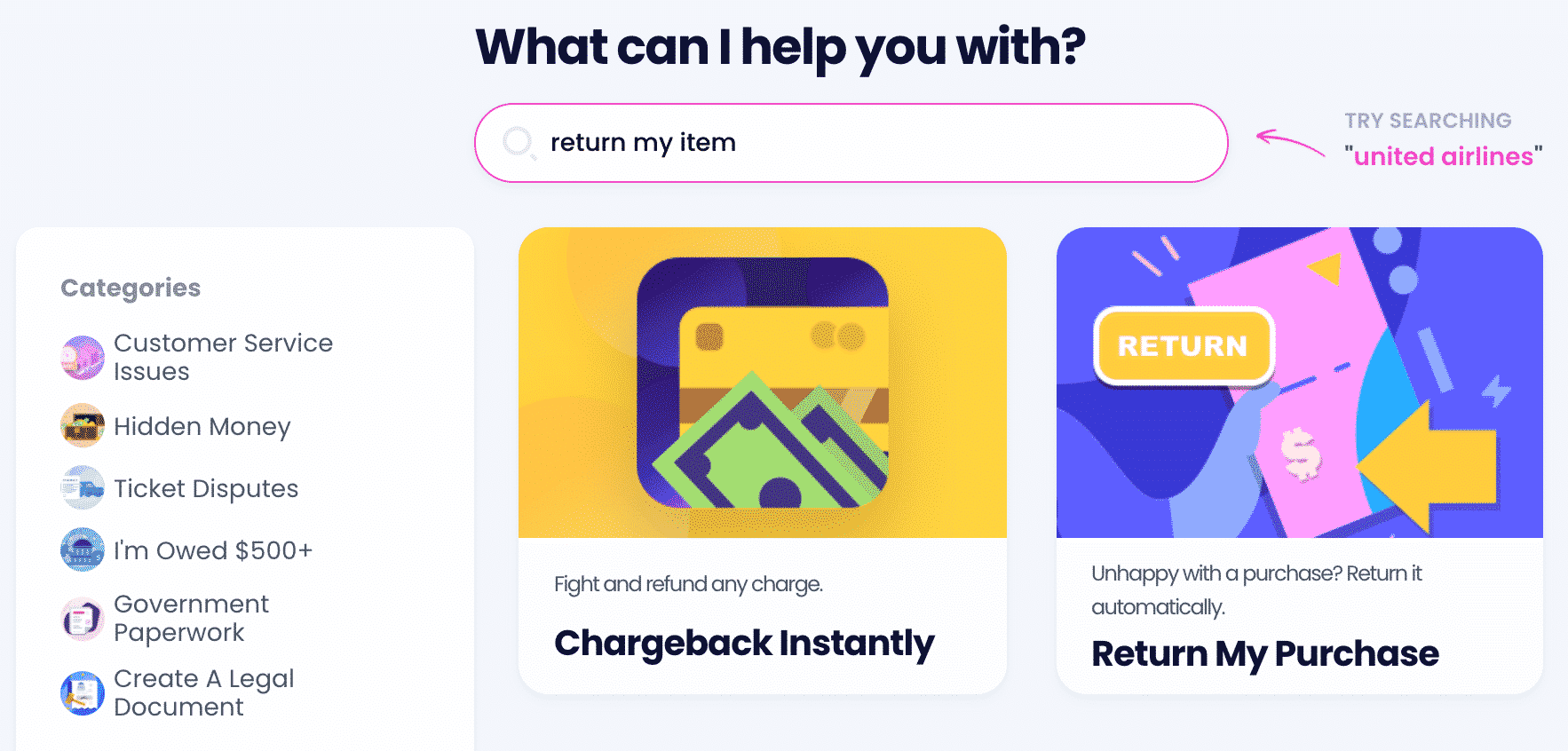 With DoNotPay, you can start a return process within minutes! Follow the steps below:
Click on the Return My Purchase product
Answer questions about your purchase and include photographic evidence if applicable
Click on Submit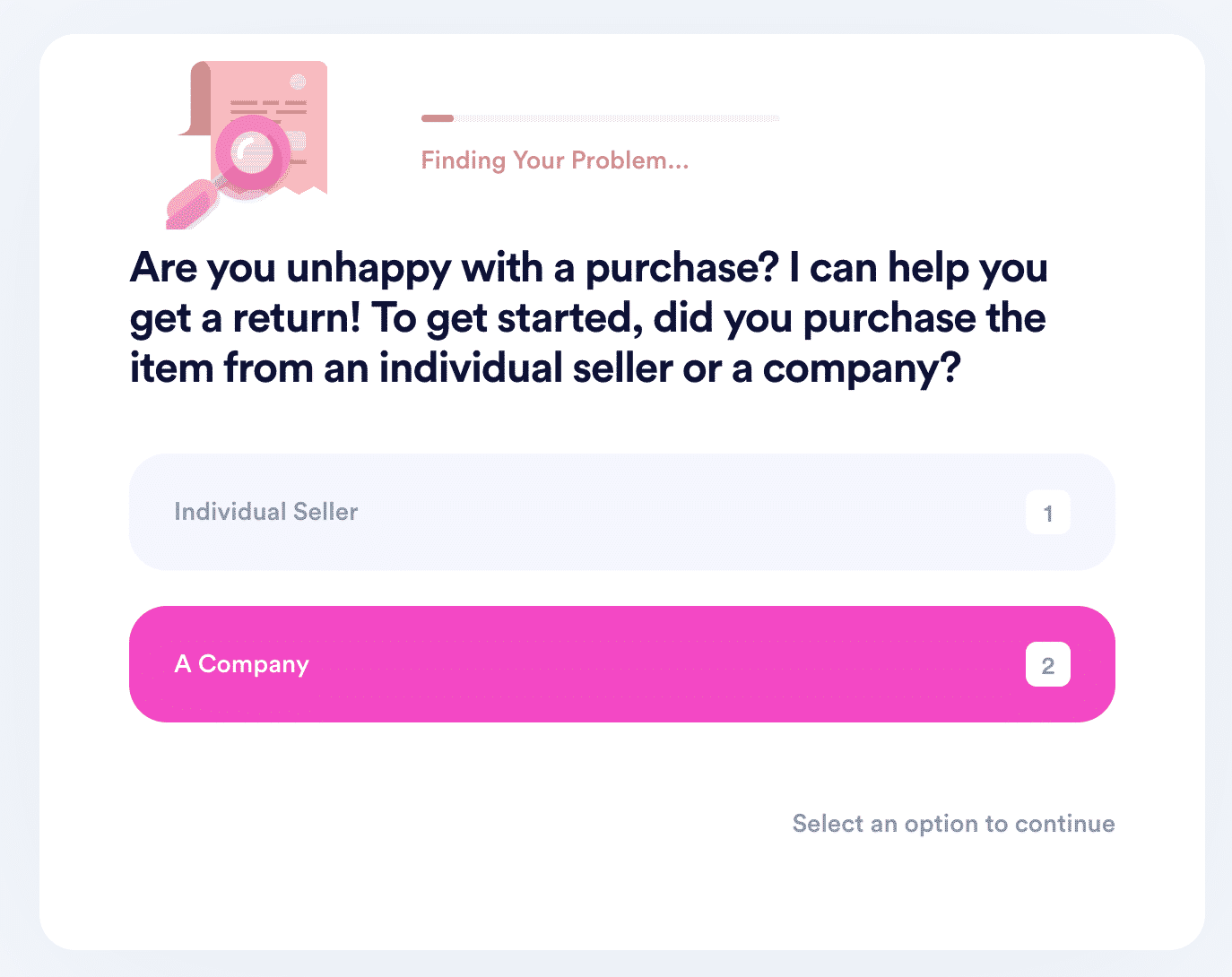 Are you curious about any other company's return policy? Explore our knowledge base and find other retailers, such as:
Is the Situation With the Merchant Getting Messy? Take Them to Small Claims Court!
If you feel like the merchant has wronged you, our AI-driven app recognized by the ABA Brown Award will help you sue them in small claims court! You don't need to worry about filling out lengthy court forms or collecting evidence for your case—we'll step in and do it for you!
You can use DoNotPay to generate any legal document you may need for the lawsuit, add legal weight to it through online notarization, and fax it to the court—all in a matter of mere minutes.
Facing any other legal issues? Check out how our app can assist you in:
We Can Help in Many Other Ways!
No matter what kind of assistance you need DoNotPay to provide, you can rely on it to solve any admin or legal issues you may have.
You can use our app to jump the phone queue when contacting any support team, skip the line at the DMV, get cash back on gift cards, create a valid passport photo, appeal any banned account, file an insurance or warranty claim, and get in touch with a loved one in prison in a snap.