Throw Me a Scholarship, Mister—Louisiana Scholarships Explained
Over 700,000 students go to high school or college in Louisiana, but only a small percentage of them manage to deal with the financial burden that comes with studying. The rest have to fend for themselves by working part-time jobs or going into debt.
The best way to avoid decade-long debt repayment is to secure scholarships and grants. In this article, we'll show you how Louisiana scholarships work, and we'll explain how you can:
Use DoNotPay to get financial aid hassle-free
How Scholarships in Louisiana Work
Organizations and companies in the Pelican State understand that studies come with a fee, regardless of whether you're a high school senior, college, or grad school student. That's why Louisiana scholarships offer help to students of all levels of study.
You can apply for two different types of programs:
Merit-based
Need-based
The former is more rewarding, and some programs offer to cover the full price of your tuition. To land one of those scholarships is a difficult task because they are competitive, and you have to show impressive academic performance. Scholarship providers judge your academic quality by your:
GPA level
ACT or SAT scores
Extracurricular activities
Participation in various projects
Letters of recommendation from your mentors

Essays
Since merit-based scholarships have limited spots available, students who fulfill only the minimum requirements usually miss out on the award.
Need-based programs have lower expectations of applicants, but they're not as rewarding. They are designed for students who can't secure merit-based scholarships but are in need of financial aid to continue with their education. To prove their need, students need to fill out the Free Application for Federal Student Aid (FAFSA) form.
Scholarships for Louisiana students in need can be repayable loans or nonrepayable grants.
Who Provides Louisiana Scholarships?
Louisiana scholarship programs come from different sources, such as private companies, federal and state institutions, and non-government organizations.
Companies (and private funds) provide financial aid to a specific group of students that align with their goals and policies. They make distinctions between students based on their field of study (engineering, beauty or PA schools, computer science, art, etc.) or demographic group they belong to, such as:
Veterans

or children of veterans

Transfer students

Students of faith
Federal and state programs also offer scholarships for specific groups, but they are usually more inclusive. Two organizations that provide the best Louisiana scholarships are:
LOSFA Scholarships for Louisiana Students
LOSFA offers 13 different Louisiana college scholarships that provide help to new students each academic year. Check out this table to find info about the five most rewarding ones:
Scholarship Name
Application Requirements
Award
Rockefeller State Wildlife Scholarship

U.S. citizen
Louisiana resident for at least a year

Undergraduate

or graduate student in Louisiana Public College or University
Enrolled in forestry, wildlife, or marine science
Cumulative GPA of at least:

2.5 for undergraduates
3.0 for graduates

$12,000
The Chafee Educational and Training Voucher (ETV) Program

Aged 14–27
Part of the foster care system—viable reasons for exiting are adoption, guardianship, or aging out
Enrolled in postsecondary education
Submitted FAFSA form

$9,000
The GO Youth ChalleNGe Grant

Louisiana resident
Graduate from the Louisiana National Guard's Youth ChalleNGe Program
Graduate from a Louisiana high school
No criminal conviction (barring traffic violations)
Submitted FAFSA form

Fully-paid tuition
The Strategies to Empower People (STEP) Vocational Education Program

Recipient of the Family Independence Temporary Assistance Program (FITAP) assistance
Approved for participation by Department of Children and Family Services

Fully-paid tuition
GO Grant

Louisiana resident
Submitted FAFSA form
Recipient of a Federal Pell grant
Remaining financial need after deducting Estimated Family Contribution (EFC) and all other scholarships
Enrolled in a Louisiana Institution

$3,000
ACE Scholarships for Louisiana Students
ACE Scholarships help K-12 students in financial need by offering them a chance to go to a private school with all costs covered. To qualify, students need to be Louisiana residents and at least one of the following:
Attendees of a Louisiana public school
Participants of the Louisiana Scholarship Program or the Tuition Donation Credit Program
First-year kindergarten attendees
Another condition is that a student's family's income needs to be under the limits shown in the table below:
| Family Size | Yearly Income Limit |
| --- | --- |
| 2 | $43,550 |
| 3 | $54,900 |
| 4 | $66,250 |
| 5 | $77,600 |
| 6 | $88,950 |
| 7 | $100,300 |
| 8 | $111,650 |
Where To Look for Louisiana Scholarships
Other than ACE Scholarships and LOFSA, there are many other programs that help out Louisiana students. They are not as easy to find, and it can take you months of research to discover a program for which you can apply.
If you don't know how to go about your search, here are a few places where you can begin:
Your school's financial aid office—Most schools in Louisiana have financial aid offices that can help you find out about available options and explain how you can apply for them
University's website—If you're a college student or have a clear idea of where you want to enroll, you can check out your university's website to find information about programs specific to that institution
DoNotPay—With , you can skip the entire research process and find all available scholarships for which you can apply in a matter of minutes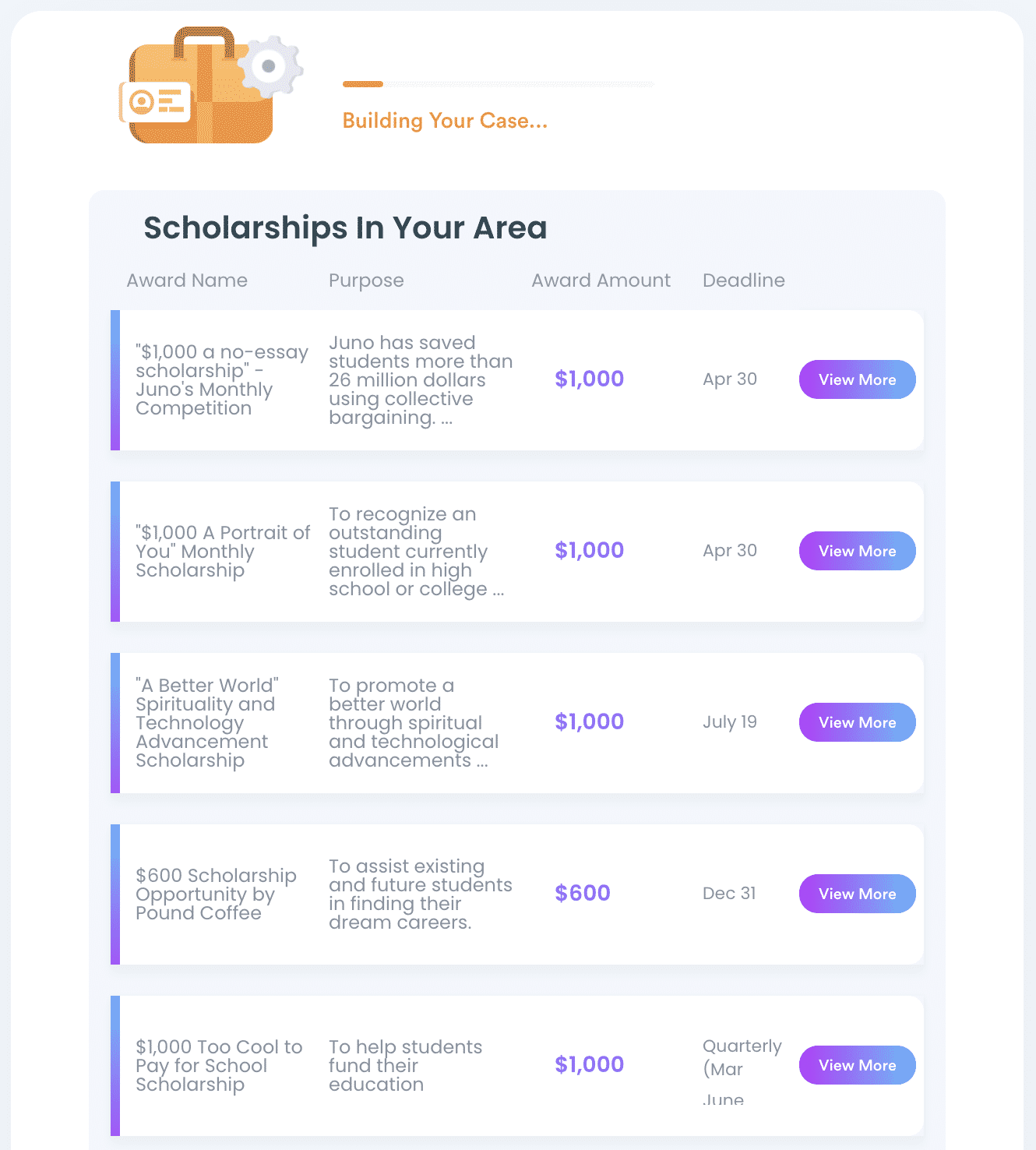 Louisiana Scholarships' Application Processes
The application process depends on what program you're applying for—some scholarships require more paperwork than others. What is universal for all is that you have to respect the deadlines, make sure you fit the profile, and have all the necessary documents ready. These can include:
The FAFSA form
Essays
Letters of recommendation
Transcripts
Proof of Louisiana residency
Getting to Louisiana Scholarships in No Time With DoNotPay
Most students spend weeks and months searching for scholarships in Louisiana, and then they spend time preparing paperwork to apply. You don't have to go through that much trouble—you can use DoNotPay to speed up the whole process! With our app, you can get to all available scholarships you're eligible for only by completing the following three steps:
Navigate to our Apply for Scholarships product
Answer a few questions regarding your education level
We will use the information you give us and provide you with a list of all scholarships you can get. If the list shows no-essay scholarships, you can apply for them automatically within our app, and we will deal with the entire application process.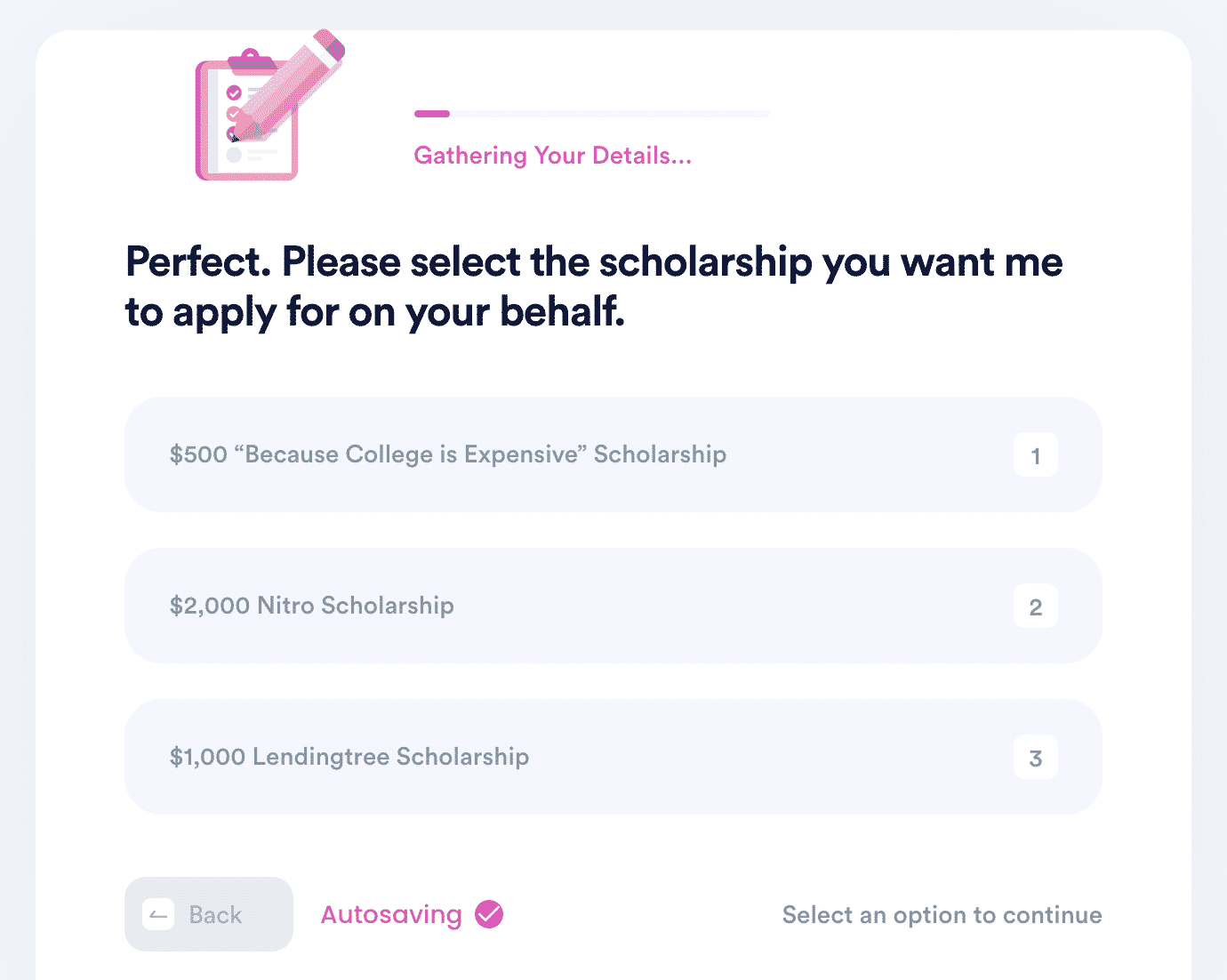 Administrative Issues? We Don't Know Them!
Forget about getting frustrated and overwhelmed by the administrative tasks waiting for you to complete them! With DoNotPay's numerous tools, you can easily resolve such tasks in a heartbeat! All you need to do is sign up for our app, and you'll be able to:
Get
Create
File

Divorce settlement agreements

Powers of attorney
Use DoNotPay To Protect Yourself at All Times
Are pesky robocalls and email spammers working your last nerve? Don't despair—we are happy to help you get rid of them! In a few clicks, you can also stop text spam and avoid the incessant phone buzzing!
You can use our app to protect your privacy by creating burner phone numbers and virtual credit cards. That way, you don't have to disclose personal info when subscribing to online services.
In case you're looking for a way to keep yourself safe from stalkers or work discrimination, we'll help you report the case and walk you through the entire process!
Protecting your work from copyright violation and asking for violent crime compensation in your stead is also something DoNotPay can do!