Everything You Need To Know About a Laptop Warranty
Purchasing a new laptop is an investment. If you spend your hard-earned money on one, you'd want to understand its warranty from top to bottom in case the laptop exhibits any issues.
There are two main types of warranties:
A manufacturer warranty

—Every laptop comes with this free warranty. Sometimes it's called a limited, factory, or standard warranty

An extended warranty

—A manufacturer or vendor could offer you additional coverage for your laptop. This is a paid warranty, usually extending the standard warranty period and sometimes covering more issues
What Do Manufacturer
Laptop Warranties
Cover?
If your laptop breaks down or doesn't work properly, you should submit a warranty claim and get it repaired or replaced. To get the service, your laptop needs to be under warranty covering the particular issue. Check out what most standard laptop warranties cover:
Standard Laptop Warranties Cover
Standard Laptop Warranties Don't Cover
Warranty Period

Defects in material and workmanship, including:

RAM failure

Hard drive failure

Interface crashes

Monitor problems

Keyboard problems

Damage caused by neglect, misuse, or accidents:

Theft

Loss of data

Broken screens

Water or fire damage
For a detailed overview of specific warranties, check out our articles on:
What Is a
Laptop Extended Warranty
?
People sometimes want to take extra precautions when buying a new laptop, so they opt for an extended warranty. If a child won't use your laptop and if you're not particularly clumsy, perhaps an extended warranty is a waste of money.
Extended warranties differ depending on the specific company and model. Typically, they will cover the same issues as the manufacturer warranty, only for a longer period. Others are more intricate, providing coverage for defects caused by accidents and similar issues the manufacturer warranty doesn't cover.
Another way to get extra coverage is to buy a laptop using certain credit cards that extend the standard warranty, such as Chase Freedom and American Express.
Use DoNotPay To Fast-Track Your Laptop Warranty Claim
Once you're up to speed on your laptop warranty, you can file a warranty claim. Skip the hassle of calling or writing an email to the company or vendor—DoNotPay can handle that for you!
Here's how it works:
Open DoNotPay in any

Access the

Claim Warranty

feature

Select the

Warranty on a Purchased Item

option

Answer a few questions about your laptop and warranty

Click on

Submit
That's all you need to do! DoNotPay will send a warranty claim letter to the company in question. The company should contact you directly to schedule an appointment.
DoNotPay can also handle your car, home, or extended warranties for used cars. You don't have a home warranty yet? Check our home warranty reviews, and you might snatch the best home warranty in America.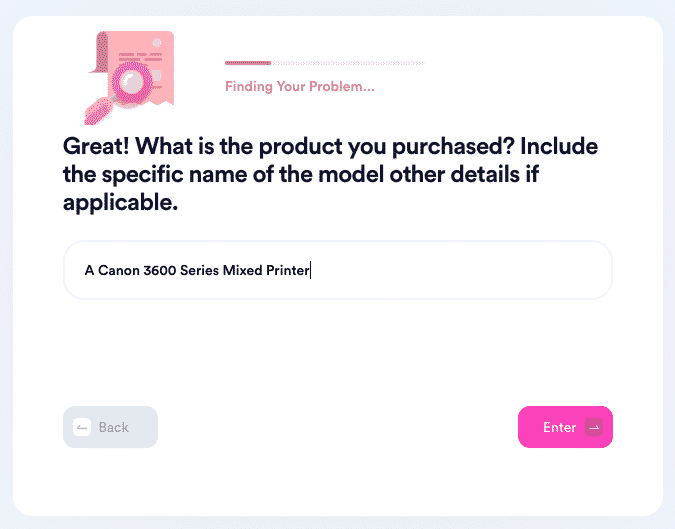 Appeal a Rejected Warranty Claim With DoNotPay
You submitted a warranty claim for your laptop, and it was denied? It's a common practice to reject the customers' initial warranty claims. No worries—Use DoNotPay and appeal your original claim without a hitch!
Check out how to do it:
Access DoNotPay from any

Select the

Claim Warranty

feature

Tap on

Appeal a Denied Warranty Claim

Answer a few questions about your laptop

Provide details about your original warranty claim and hit

Submit
Relying on your info and warranty laws, DoNotPay will write the best appeal letter. We will send it to your laptop manufacturer or vendor. You can expect them to contact you soon regarding your warranty claim.
Are you having a similar issue with your car? DoNotPay can also handle a dealer refusing to cancel your extended warranty.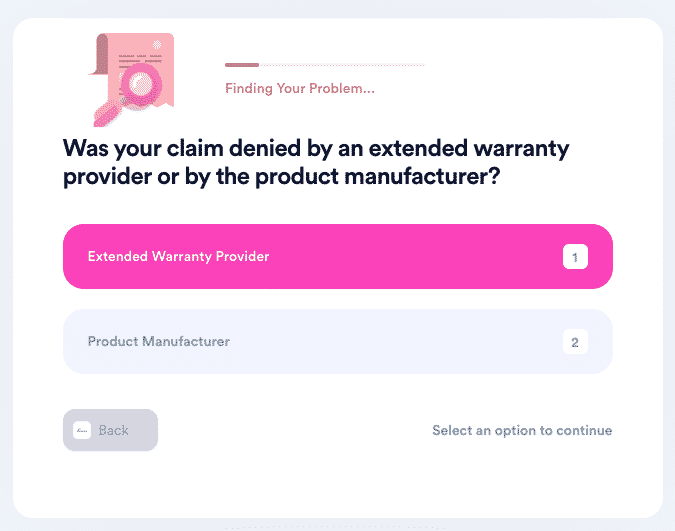 DoNotPay Offers More Answers and Solutions at Your Fingertips
DoNotPay is a useful tool in various situations, not only managing warranty claims. Use DoNotPay's refined technology to cancel Dropbox, get a Newegg refund, stop Facebook emails, or start an Adobe Acrobat free trial.
Browse DoNotPay's versatile features from any and find easy solutions to numerous problems. We can help you:
Fight your traffic tickets

Contest your speeding tickets