Get Familiar With Amex Extended Warranty
As the world's number one credit card provider with more than $63 million users, American Express seems to be the first choice of people who want adequate purchase protection.
Once the manufacturer's warranty expires, there's a possibility of getting a solid extended one that can cover potential future losses. People usually consider the claiming procedure long and burdensome, but this doesn't have to be the case if you are using the right method.
In case you are wondering what's the best way to obtain and claim an extended warranty from Amex, this article may give you some answers.
What Does Amex Extended Warranty Cover?
Depending on which of the 50 available cards you use, the company's original warranty might last from one to five years. The extended warranty is tightly linked to the length of the original one. You can see the details in the table below:
| | |
| --- | --- |
| Original Warranty | Extended Warranty |
| One year or less | Same as the length of the basic warranty. For an original warranty that lasts for five months, you get a five-month extended warranty |
| One to five years | One additional year to the original warranty length. For a manufacturer's warranty of four years, the total, including the extended warranty, will be five years |
| Five years | Not eligible |
The extended warranty coverage includes paying for losses without exceeding their original price or a maximum of $10,000. If you have faced more than one loss, the total amount of the claimed money for all losses shouldn't exceed $10,000.
American Express Extended Warranty Exceptions
Not all purchases you make with your Amex card are covered by the extended warranty. Apart from certain damages caused by fraud, abuse, and other factors that aren't the company's responsibility, American Express will not cover any of the following:
Land

Buildings

Credit cards

Motorized vehicles

Plants and animals

Second-hand items

Computer components

Multiple items in a single set

Gift cards, checks, and certificates

Downloadable services and software

Consequences of any unauthorized modification

Perishable goods (food, batteries, light bulbs, etc.)

Borrowed items or any items that belong to someone else
What Are the Best Ways To File an American Express Warranty Claim by Yourself?
To file a warranty claim from Amex, you need to provide the company with a claim notice and proof of loss.
Submitting a notice means informing the company about the issue you have experienced. You need to do it within 30 days from the date of loss. Proof of loss is a set of documents you must complete upon submitting a notice to help the representatives understand the issue better.
You can start the claim procedure in two ways:
Via phone

Via letter
How To File an Amex Extended Warranty Claim via Phone
Claiming an extended warranty over the phone is a real-time solution, but there's always a chance you end up on hold for hours. In case it still looks like the most convenient option for you, proceed as follows:
Dial

1-800-225-3750

if calling from the USA or

1-303-273-6498

if calling from abroad

Specify what your issue is and tell the rep you want to claim an extended warranty

Provide them with all the information they may require

Wait to get the instructions for submitting proof of loss
Depending on your case, the company will send you several documents you have to complete and send back within 60 days from the delivery date. The required paperwork may include the:
Original store receipt

Extended warranty claim form

Repair estimate confirmed by the manufacturer

Copy of the manufacturer's warranty or any other service contract related to the case
The claim should be paid within 30 days from the date the company receives completed documentation.
How To File an Amex Extended Warranty Claim via Letter
If you don't mind waiting for a reply, you can write a letter to American Express explaining your issue and claiming an extended warranty. Here's how to do it:
Compose a letter in which you will specify the details of your loss

Include all the info the reps may find useful, such as your contact details, the name of the product, or anything relevant

Mail the letter to:
Extended Warranty
PO Box 981553
El Paso, TX 79998-9920
The rest of the procedure is the same as with the phone claim.
| | |
| --- | --- |
| Can You Claim Your Warranty Via | Yes/No |
| DoNotPay | Yes |
| Email | No |
| Phone | Yes |
| Letter | Yes |
| In Person | No |
Relax and Let DoNotPay File a Warranty Claim in Your Stead
If phone or letter claims seem too complicated, rely on DoNotPay's Claim Warranty feature. We can file an extended warranty claim on your behalf, and the best part is that it won't take more than a few minutes!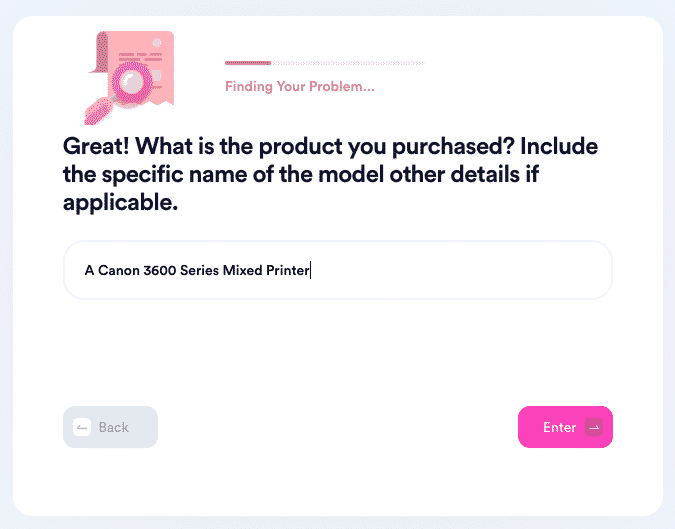 Here are the steps you need to follow once you open DoNotPay in your :
Navigate to the

Claim Warranty

section and select

Warranty on a Purchased Item

Pick the company (in this case American Express)

Add the required details
We will generate a claim letter and send it to the company. You should hear from them within several days from the date of submission.
You can use the Claim Warranty feature for different types of warranties. It covers the ones for used cars, as well as regular home and car warranties. DoNotPay can even help you resolve the issues with dealers who don't want to cancel your extended warranty.
Can DoNotPay Help if Your Extended Warranty Claim Got Rejected?
You may receive a response saying your claim was denied. It happens more frequently than you would expect. Our app has a tool that creates an appeal letter and forwards it to the company so that it can reconsider the decision.
To try out this feature, proceed as follows:
Go to DoNotPay and navigate to the

Claim Warranty

section

Pick

Appeal a Denied Warranty Claim

Specify whether it's a claim against an extended warranty provider or manufacturer

Add your details and provide the refused warranty claim

Submit the appeal
What Other Issues Can DoNotPay Solve?
If you want to understand home warranty reviews better and get some help with home protection in America, we have your back! Learn how to file claims for other companies and merchants such as Ally, Apple, Costco, Whirlpool, and many more. Our wide service spectrum is not limited to warranties. Feel free to check out all the situations in which we can give you a helping hand by opening our app in your :
Appealing your traffic tickets

Disputing speeding tickets