Learn How to Start Adobe Acrobat Free Trial Risk-Free
Adobe Acrobat is a PDF productivity tool that you can use to create, edit, share, convert, and export PDF files on your desktop, laptop, and mobile devices. Compared to its free counterpart—Adobe Reader—the paid software comes with various added functionalities, including scanning paper documents.
Adobe Acrobat is available as a standalone product in two variants— Standard DC and Pro DC—and as a part of the Adobe Creative Cloud.
Can You Sign Up for the
Adobe Acrobat Pro DC Free Trial
?
Yes, you can, but Adobe has made the entire process as convoluted as possible. There are three different pages that offer an Adobe Acrobat free trial:
Adobe Acrobat DC

page

Adobe Acrobat Pro

page
The question begs itself—why did Adobe overcomplicate everything? From the looks of it, to get you to spend as much money as possible after the free trial ends.
The two versions of the program—Standard and Pro—include different features. Adobe Standard DC only allows you to create, edit, and sign PDFs and can only be used on Windows devices. It lacks critical features such as converting other formats into PDFs or sharing the reports.
The Pro version of the software is available on both PC and Mac computers, tablets, or mobile phones. It can convert images, web pages, scans, and Microsoft 365 files to PDFs. You can also edit images, sign, fill, and send out live reviews of your documents and share your reviews with ease to gather feedback, track status, and collect signatures.
Another big difference is that there's no free trial for Adobe Standard DC, and you have to commit to the monthly subscription before checking out the tool. Adobe Acrobat Pro DC comes with a seven-day free trial that gives you an opportunity to try out all the features.
Download a Free Desktop Trial of Acrobat Pro DC
on Mac and Windows in No Time
If you want to download a free desktop trial of Acrobat Pro DC, the downloading procedure will depend on the operating system you use.
Download Acrobat Pro DC for Windows
Go to the

Acrobat Pro DC free trial download

page

Click

Get Started

Enter your

Adobe ID

. In case you don't have an Adobe ID, input your email address.

Select a plan you plan to purchase after the free trial expires, and click

Continue

Select the payment method, fill in the details, and click

Start Free Trial

Depending on the browser you are using, follow the next steps:

Chrome

—Double-click the downloaded

exe

file ''Acrobat_DS_Set-Up.exe'' in the lower-left corner on the browser window

Firefox

—Click

Save File

on a downloaded file, then click the

Show All Downloads

in the upper-right corner of the window, and double click on the downloaded ''Acrobat_DC_Set-Up.exe'' file

Internet Explorer

—Click on the

Run button

on a prompt window

Choose

Yes

on the User Account Control prompt

Click

Continue

in the Let's Get Started dialog box

Sign in to your Adobe account in a new browser tab

Click

Continue

after you choose your Adobe skill level from the drop-down menu
How to Download Acrobat Pro DC on Mac
The process is fairly similar to a Windows setup—you have to go to the Acrobat free trial page, provide your Adobe ID or email address, and select a plan that you would like to subscribe to after the trial is over.
Once you download the free trial file, the process varies according to the browser you're using:
Safari

—Click the

Show Downloads

icon in the upper-right corner of the window. Double click on the Acrobat DC installer(.DMG) downloaded file

Chrome

—Double-click the downloaded DMG file in the lower-left corner of the window

Firefox

—Choose

Save File

on a file download prompt, and click

OK

Click the

Show All Downloads

icon, and you'll see the downloaded DMG file. Double-click the DMG file
Once you activate the DMG file, you need to double-click the installer icon on the Adobe Acrobat installer screen and click Continue in the Let's Get Started dialog box.
Will the Adobe Acrobat Pro DC Free Trial Automatically Renew Into a Paid Subscription?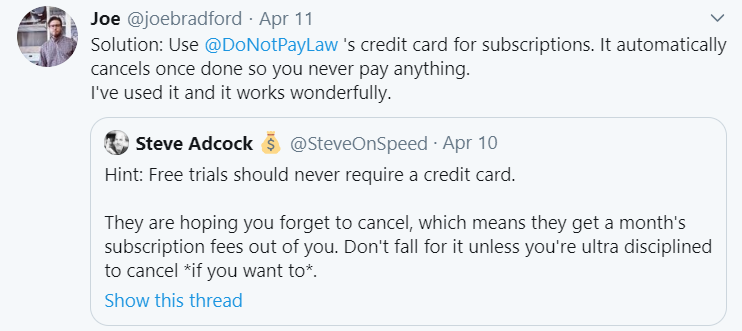 Yes. If you don't cancel Adobe Acrobat Pro during the seven-day free trial period, the company will automatically charge you a membership fee each month until you cancel your subscription.
To avoid this, you can leverage DoNotPay's virtual credit card that will ensure the subscription gets canceled automatically as soon as the free trial expires.
Is There an
Adobe Creative Cloud Free Trial
?
Yes. Adobe Creative Cloud offers a seven-day free trial and includes Acrobat DC and all Creative Cloud apps such as Illustrator and Photoshop.
You'll have the chance to try over 800 web fonts and more than 130 desktop fonts from the Typekit font service, and you'll have access to hundreds of video tutorials suitable for all skill levels. You'll also have 100GB of cloud storage at your disposal for file sync and sharing.
If you end up dissatisfied with this service, we can help you cancel Adobe Creative Cloud in a jiffy.
How to Get Adobe
Creative Cloud Free Trial
To get Adobe Creative Cloud free trial, you need to take the following steps:
Visit Adobe's

Creative Cloud web page

Click

Start your free trial

Choose a subscription plan

Download Creative Cloud

Sign in (use your Adobe ID or email address)

Answer a couple of questions
Adobe Creative Cloud will start downloading applications included in the plan you chose. The free trial will begin right after you open any program.
DoNotPay Virtual Credit Card Can Help You Avoid Automatic Renewals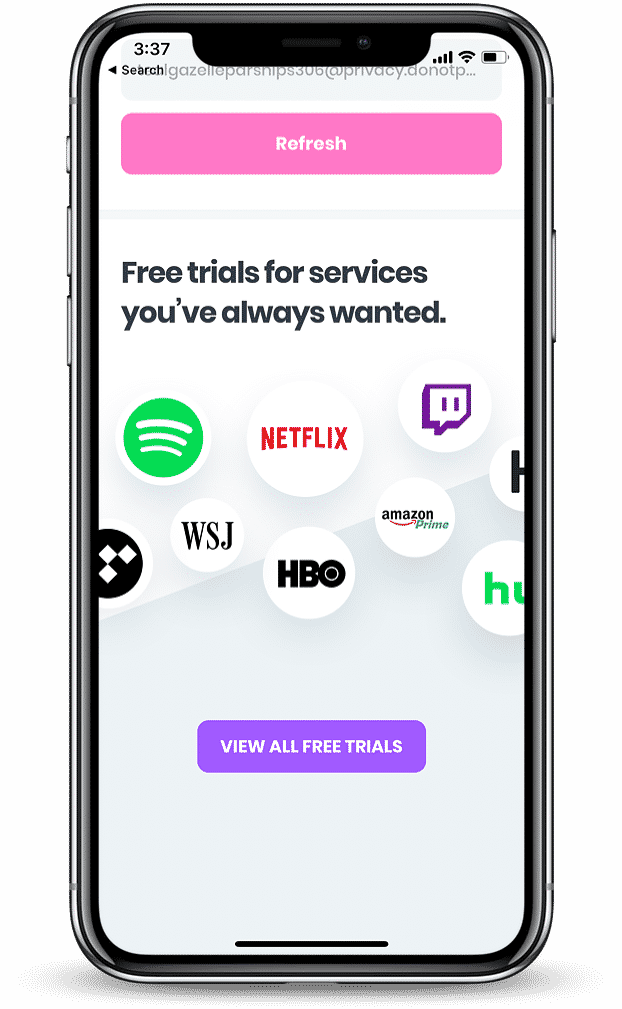 How many times did you forget to unsubscribe before the free trial expired and ended up paying for the service you didn't want? You do longer need to worry about that because DoNotPay has a solution for you—our Virtual Credit Card.
When using DoNotPay's Free Trial Card, you can use any address or name, and DoNotPay will randomly generate the credit card number and the expiration date. You will be absolutely protected because DoNotPay removes all tracking regarding the location and other information that companies typically use to advertise their services to you.
Remember, you cannot use the Free Trial Card to make a real purchase, but you can use it for free trial signups. Once the free trial expires, the service can't charge you because there is no money on the Virtual Card, so you get unsubscribed automatically.
DoNotPay Can Give You a Hand With Dealing With Different Legal Issues

You can use DoNotPay in your . The best robot lawyer in the world can help you out with:
Disputing traffic tickets

Fighting speeding tickets
What Will Adobe Acrobat Pro Charges Look Like on Your Bank Statement?
| | | |
| --- | --- | --- |
| DEBIT CARD PURCHASE - ADOBE *ACROPRO SUBS xxx-xxx-6687 CA | RECURRING CHECK CARD PURCHASE ADOBE *CREATIVE CLOUD 800-833-6687 CA | ADOBE *ACROBAT STD |
| ADOBE *ACROPRO SUBS 800-833-6687 | ADOBE *ID CREATIVE CLD 800-833-6687 CA | Debit Purchase - Visa Adobe 800-833-6687ca |
| PP *ADOBESYSTEM 800-833-6687 CA | ADOBE *ACROPRO SUBS 800-833-6687 CA | PP*ADOBESYSTEM 800-833-6687 CA |
| ADOBE *PHOTOGPHY PLAN 800-833-6687 CA 951102704 USA | ADOBE *ACROPRO SUBS | ADOBE 800-833-6687 CA |
| POS DEBIT ADOBE SYSTEMS, INC. 800-833-6687 CA | ADOBE *PS CREATIVECLD 800-833-6687 CA | ADOBE *PHOTOGPHY PLAN 800-833-6687 CA |
| VISA DDA PUR 461043 ADOBE CREATIVE CLOUD 800 833 6687 * CA | ADOBE *CREATIVE CLOUD 800-833-6687 CA 95110 US | DEBIT CARD PURCHASE - ADOBE *PHOTOGPHY PLAN xxx-xxx-6687 CA |
| Recur Debit Card Purchase ADOBE *CREATIVE CLOUD 800-833-6687 CA | VISA DDA PUR 461043 ADOBE 800 833 6687 * CA | ADOBE *PS CREATIVE CLD 800-833-6687 CA |
| : ADOBE *ACROPRO SUBS 800-833-6687 CA | CHECK CARD PURCHASE ADOBE *PHOTOGPHY PLAN 800-833-6687 CA | Debit Card Purchase - ADOBE CREATIVE CLOUD 800 833 6687 CA |
| Debit Card signature purchase to ADOBE *CREATIVE CLOUD|800-833-6687|CA | ADOBE 800-833-6687 CA 951102704 USA | ADOBE *EXPORTPDF SUB 800-833-6687 CA 951102704 USA |
| ADOBE *CREATIVE CLOUD 800-833-6687, CA, US | ADOBE *EXPORTPDF SUB 800-833-6687 CA | ADOBE *CREATIVE CLOUD 800-833-6687 CA |