A Guide to Choosing the Right Scholarship Essay Format
A scholarship essay is typically necessary if you are:
A scholarship essay can make or break your application, so learning how to make it stand out among all others is vital. Unfortunately, even a flawlessly written essay won't be considered for the award if you fail to format it correctly.
Learn what constitutes a good scholarship essay format and how to apply the guidelines in a proper way. You will also learn about the quickest method of finding numerous scholarships to apply for!
What Does a Scholarship Essay Format Refer To?
A scholarship essay format is a set of rules for adjusting the look of your essay in its digital and, later on, physical form.
Formatting a document means changing its visual characteristics, such as:
Margins
Headers
Footers
Paragraph and line spacing
Font type and size
The format of a document depends on its usage and purpose. For example, letters of recommendation and essays don't share the same formatting.
Why Is the Format of Your Scholarship Essay Important?
Formatting your scholarship essay in a particular way enables the committee to process it easily. The committee typically skims the essays first to filter out those that don't adhere to the formatting requirements. The ones that remain are the ones the committee will read thoroughly.
Another plausible reason behind imposing a particular scholarship essay format is to test the candidates' reading comprehension skills and willingness to follow instructions.
How To Format a Scholarship Essay
To ensure you use the correct scholarship essay format, check the application requirements of the scholarship you're applying for. In some cases, committees don't require students to format essays in a particular way but you can still leave a good impression if you follow these steps:
Use a standard font like Times New Roman, Cambria, or Arial
Set the font size to 10–12
Indent the first line of each paragraph
Set the line spacing to Double
Write shorter paragraphs to make the essay easy to read
If you're submitting your essay through an online form, check whether that form supports formatting properties to avoid spending hours adjusting the document in vain.
Once you learn how to format your scholarship essay, you can and answer a few questions to receive a list of scholarships you're eligible for. While you're busy writing and formatting your essays, you can let our app apply for no-essay scholarships on your behalf automatically.
Tips and Tricks for Writing and Formatting a Scholarship Essay
Apart from formatting the essay properly, how you deliver it can also impact your chances of winning the scholarship. Check out the details on the following formatting and delivering options:
Formatting a scholarship essay on a computer
Printing an essay for mailing
Formatting a Scholarship Essay on a Computer
While seemingly the easiest way to write a scholarship letter, computers allow space for errors. Typos are your worst enemy, but there are ways to prevent them.
Some online tools can point out grammar and spelling errors in your essay, and others can even help you improve the overall flow of the text!
While online tools can do a great job at discovering errors, keep in mind that they are not flawless. The safest way to reduce the chance of making mistakes is to give your essay to one or more people to proofread after you're done.
Another issue to consider is exercising caution while exporting your essay. The wrong file format can ruin all your efforts by changing the properties you set. The safest file format is PDF because it will keep the structure of your essay the way you initially intended.
Printing an Essay for Mailing
Have you decided to mail your essay? The following tips can help your essay stand out among hundreds of others:
| Step | Description |
| --- | --- |
| Use higher quality paper | A quality paper is a sure way to impress the committee from the get-go |
| Check whether your printer has enough ink or print it out in a local print shop | An essay with faded and hard-to-read letters may give out the impression of carelessness |
| Make sure that the packaging is flat and spacious | An envelope or packaging that bends or creases the essay can leave a wrong impression |
| Check the paper for stains and smudges | The paper should be as clean as possible to show the committee you're meticulous and are taking the opportunity seriously |
Show Off Your New Formatting Skills—Find Scholarships With DoNotPay!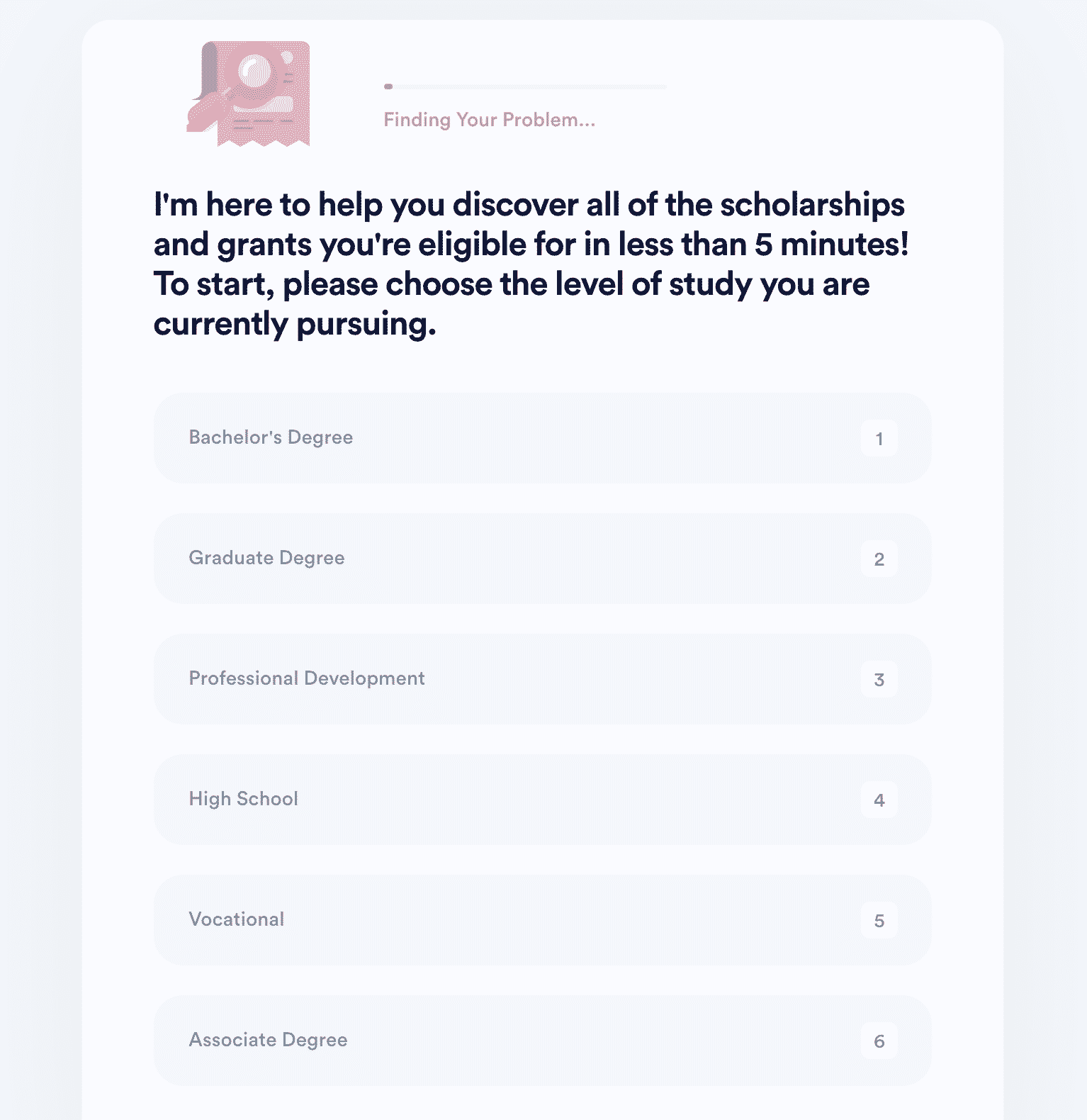 Perfecting your formatting skills doesn't mean much if you lack the opportunities to use them, but you'll never run out of options if you opt for DoNotPay! Whether you're looking for more general and less competitive scholarships or awards for special student groups—such as veterans, women, or international students—our app can help!
All you need to do is:
Navigate to the Apply for Scholarships feature
Answer a few short questions about your qualifications, such as your field and level of study
After you complete the final step, we will compile a list of scholarships and grants based on the information you provided.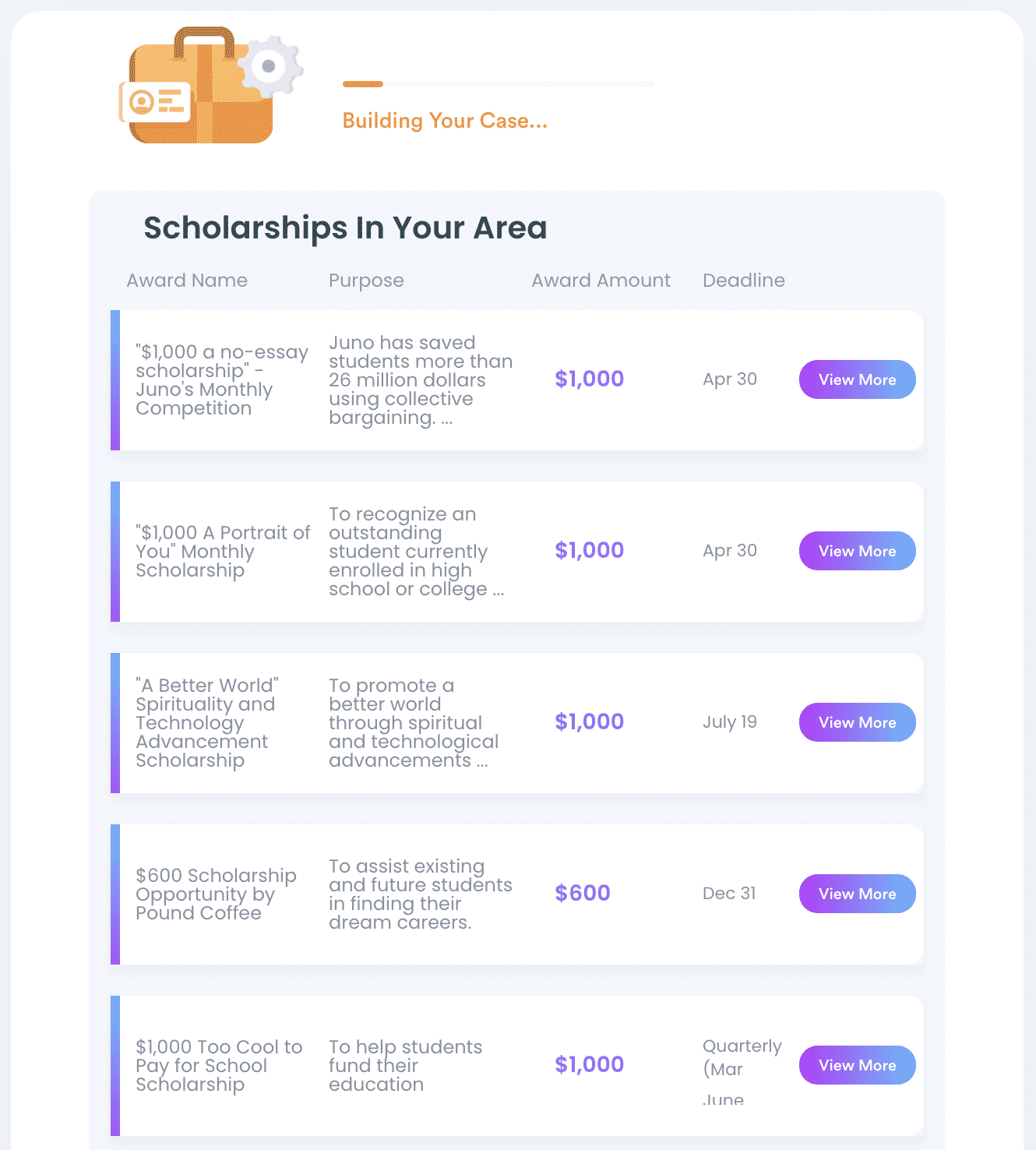 What's Next?
Once you complete the task at hand, you don't have to stop there—we offer a myriad of products that can relieve you of the stress that comes with dealing with admin and legal hurdles.
DoNotPay can assist you in drawing up a divorce settlement agreement, child travel consent form, power of attorney, and other legal documents, contacting government representatives, getting tourist visas, fighting workplace discrimination, getting a burner number, appealing banned accounts, getting access to public records, scheduling a DMV appointment, and much more.
Tackle Any Energy-Draining Task With DoNotPay
With DoNotPay by your side, you don't have to worry about how you'll cover your utility bills at the end of the month—we'll provide swift assistance as soon as you sign up!
Wondering what else our app is capable of? Check out how we can: