Find a Homeschool Planner Online
Homeschooling your child is a difficult task that will take up the majority of your time and energy. Even before you begin homeschooling, you will need to do research on various requirements you need to fulfill and submit different documents, such as a letter of intent to homeschool.
To stay in touch with day-to-day duties and keep track of their children's progress, parents can use homeschool planners—online or offline ones. In this article, you'll learn all about online homeschool planners and everything they offer.
Why Should You Use an Online Homeschool Planner?
Most state laws require homeschool teachers to report on their students' academic activities, regardless of whether a parent is the one teaching or someone else does it for them. Depending on how easygoing your state is, you will need to submit some or all of the following:
Homeschool online planners let you keep track of all these (and more) elements of homeschooling by letting you organize your data and keep it all in one place. With an online homeschool planner, you get a helping hand that saves you the time you'd otherwise spend writing everything down.
Homeschool Planner Online—Free or Paid Version?
As with all other services, you can find free online homeschool planners and those that are free of charge. Take a look at the following table to learn the differences between the two:
Planner Type
Pros
Cons
Online homeschool planner for free

Don't add to the cost of homeschooling
Make it easy to switch to other planners
Give an insight into how planners work

Are usually PDF or Word templates you fill out on your own
Lack automated processes
Offer only limited functions

Paid homeschool planners

Offer a significant number of functions
Generate ready-made documents
Are intuitive to use
Offer students an option to turn in homework directly through the system
Have templates for popular curriculums

Can cost over $70 a year
Make it difficult to transfer data to other planners
Focus on a specific method of homeschooling—may not suit you
Some of the best planners will allow you to:
Create daily, weekly, and monthly plans
Schedule classes and exams
Create lesson plans by subject
Track attendance
Create assignments students can check off
Insert grades from taken exams automatically
Before You Get a Planner
Planners are for parents whose children are already enrolled in homeschool. Before that happens, you need to go through the process of taking your kid out of a public or private school and switching them to homeschool.
Almost all U.S. states require a valid, well-written letter of intent to homeschool to allow a student to become homeschooled. No planner offers help with that.
DoNotPay does! Once you decide whether or not you should homeschool your child, you will already have enough on your mind, and creating a letter of intent will add unnecessary stress. Composing it on your own is time-consuming and requires attention to detail.
If you , you can create the letter in a few moments only by answering a few questions.
Popular Homeschool Planners for Online Use
Choosing a planner is not an easy task—you need to pick one that works best for you and is in line with your homeschooling approach. Before you buy a subscription, you should check out some free versions so that you can see what you're missing and know what you should look for.
The following online homeschool planners are used by the majority of parents:
Homeschool Planet
Homeschool Planet is one of the most popular homeschool planners online. With a price of $70 a year, it's among the more expensive ones, but it offers the most functions in one place. If you subscribe, you can look forward to:
Automatic scheduling and rescheduling
Lesson plans
Neat reminders
Detailed calendar system
Extensive reports
Homeschool Skedtrack
It's a free planner that allows you to schedule exams and lessons on a weekly, monthly, or yearly basis. Using it, you can create a full plan even if you've taken out your child midway through an academic year. With Sketrack, you can record tests and generate report cards and transcripts.
Homeschool Panda
Panda has a limited free edition of its homeschool planner product. You need to pay around $8 a month if you want the full package. The most expensive plan offers transcript reports, budget tracking, lesson plans, easy-to-use scheduling, and more.
Homeschool Tracker Online
The tracker costs $8 per month or $65 a year. You also have a biennial subscription offer of $119. It's available only for Windows users, and you can create reusable lesson plans, generate reports, and automate grading with grade scales. Homeschool Tracker Online provides a useful feature of drag-and-dropping items on the calendar when you need to reschedule.
Plan Your Transition to Homeschooling—Use DoNotPay To Make the Letter of Intent Effortlessly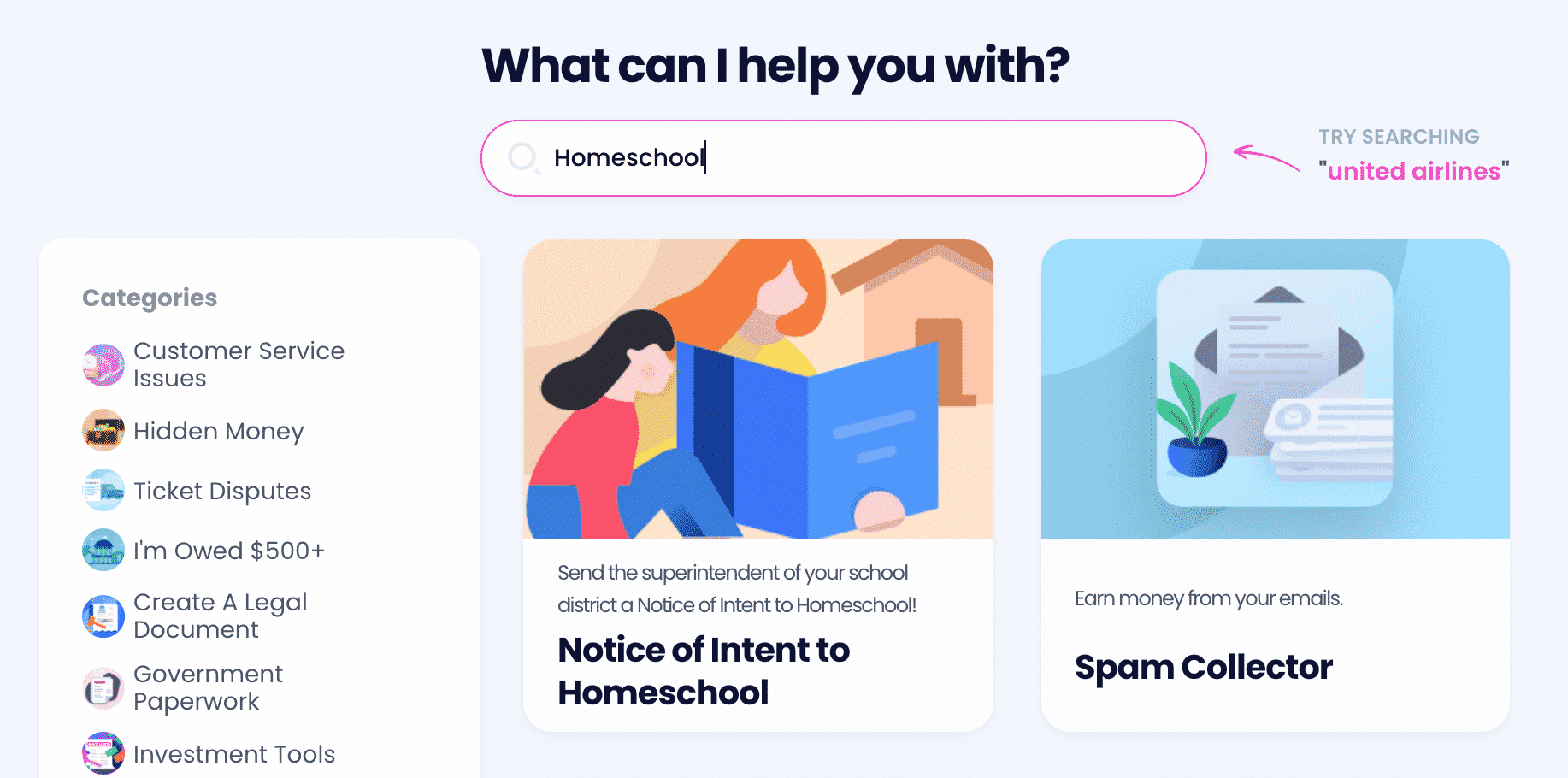 A solid letter of intent is a prerequisite to getting your child into a homeschooling system. Drawing up a letter is a tedious task that takes a lot of research and time. If you've never done it before, you're better off not doing it on your own because you're likely to leave out important information.
DoNotPay has got you covered! With our app, you can generate a custom letter in no time. All you need to do is:
via your browser
Go to the Notice of Intent to Homeschool feature
Answer a few questions about:

Your homeschooling plan
Your child
Yourself
Using the information you provide, our app will generate a letter that meets all the requirements. Once you have the letter, you can download a PDF version of it, or you can instruct us to send the letter to your school district's authority on your behalf.
If the state law requires the letter to be notarized, you can do so directly within the app by using the integrated Notarize Any Document product.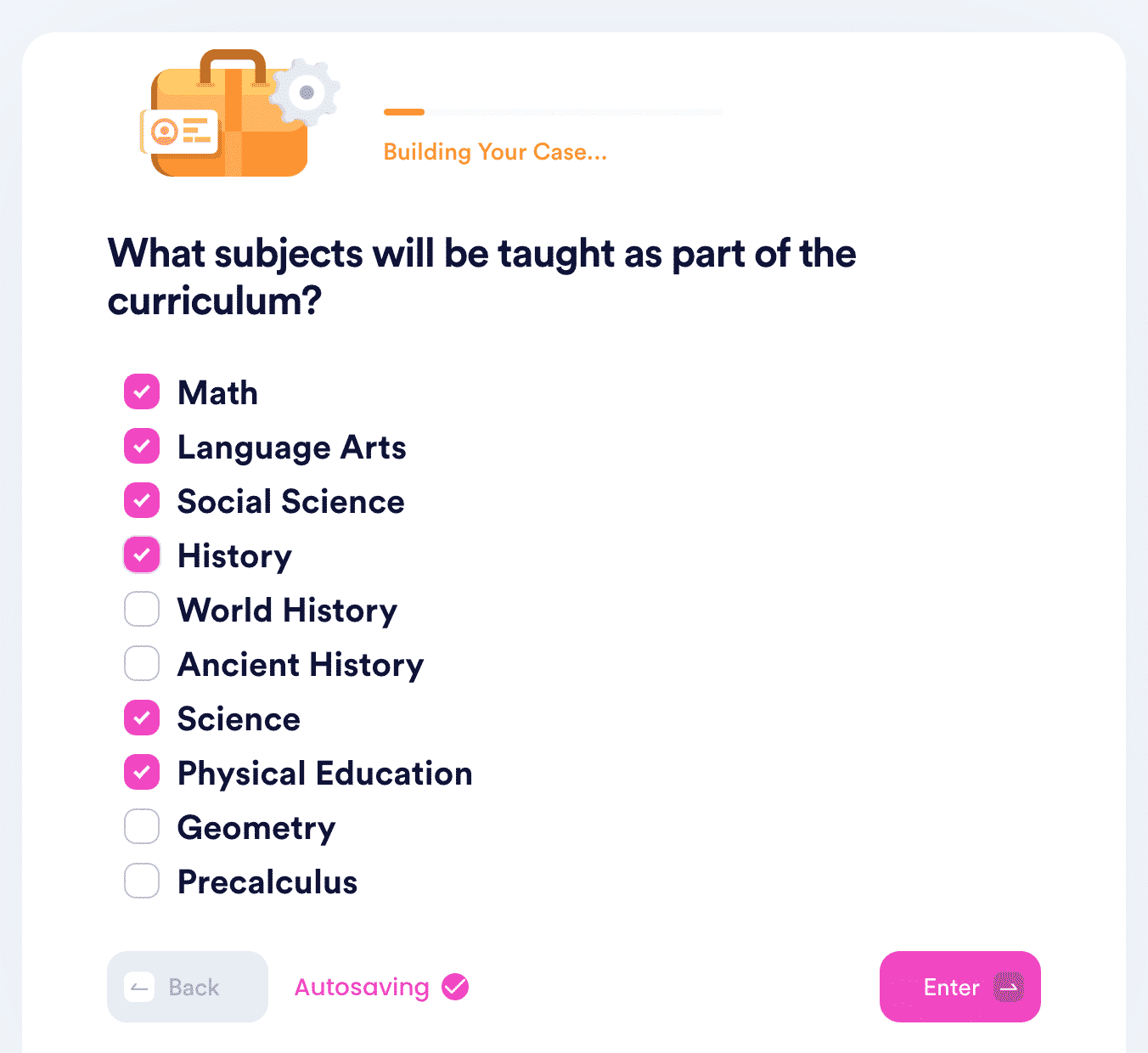 Say Goodbye to Boring Tasks
When a task takes up too much time, you may give up or procrastinate incessantly. We have a solution—use DoNotPay to manage numerous administrative or bureaucratic errands.
No more waiting in neverending DMV lines or staying hours on the phone waiting for a customer service rep to pick up. You can even skip going to the post office. We can help you send letters and even online faxes in a flash. If what you're sending needs to be notarized, use our app to schedule an appointment with an online notary.
Traveling soon? Get your passport photos ready, apply for a tourist visa, contact embassies, and draw up a child travel consent form—all within the same app.
What Else the World's First Robot Lawyer Can Do for You
When you need legal assistance but you can't afford to hire a lawyer, rely on DoNotPay. With our legal expertise, we can help you do the following: