Does Your Child Need a Homeschool ID? How Can You Obtain It? Find Out Fast!
A common misconception about homeschooled students is that they don't leave the house and socialize, but that's not true! They also go on field trips and fairs and participate in other fun outdoor activities where an ID card can be helpful for many reasons.
If you're thinking about making or buying a homeschool ID, DoNotPay can help. if you want to start homeschooling—we can send a letter of intent to homeschool in your stead!
Why Are Homeschool ID Cards Important?
Everyone needs an ID—it can be helpful even when it's not mandatory to have one. There are no homeschool laws that force you to create a homeschool ID card for your child, but here are some of the reasons why you should consider it:
Children can get lost, and an ID can help you find them more easily
Your child can get various student discounts if you present a student ID card
An ID card proves a child is attending and progressing in an education program
Children may feel excluded if their public school peers have ID cards while they don't
These cards are either free or rather cheap
Having a homeschool teacher ID card can also be useful, especially if you teach many students (e.g., you're in a homeschool co-op) and frequently take them on field trips.
Where Can You Get a Homeschool ID Card?
If you wish to get a teacher or student homeschool ID card hassle-free, consider buying it from one of these websites:
There's also a free alternative offered by Homeschool Buyers Co-Op. Here's how to use its free homeschool ID card template:
Open the website
Enter the details about the student or teacher, depending on what card you need
Upload a photo of choice
Select the Print Your Card option
Click on Add to Shopping Cart (if you select the Order PVC Card feature, it will cost you $7.95)
Follow further on-screen instructions to make your ID card
Instructions for Making a Free Homeschool ID Yourself
If you're a do-it-yourself type of homeschool parent, you can make a homeschool ID card on your own. It doesn't take long, and if you're not feeling overly creative, you can stick to the instructions in the table below:
How To Make the Front Side
How To Make the Back Side

Create a new Word file
Insert a square and stretch it to be around 3 x 2 inches
Add the text information described in the subheading below
Attach a headshot photo of the student

Add your photo or one of the whole family
Insert info about yourself
Type in an emergency contact number
You can choose the font and its size, but keep it under 10 pt so that the info can fit. When you're done, print out both sides of the card in color and laminate them at a nearby print shop. Note that you shouldn't add the student's or your address to the card because that could be dangerous should it fall into the wrong hands.
What Info Should You Include in a Homeschool Student ID?
The following details about the homeschooled student should be included in their ID card:
Student ID Card in title case
Name of your homeschool
Titles of the included info
Student info under the titles (name, age, grade, and similar)
Logo of the homeschool (if you have one)
What Information To Include in a Homeschool Teacher ID
Here's the info you can include in a teacher ID card:
Name of the homeschool institution and its logo
Teacher ID Card title
Contact info (phone number, email and mailing address, etc.)
Besides a Homeschool ID Card, What Else Can Make the Education Path Easier?
A homeschool ID card for students is nice to have, but it isn't necessary. Some requirements are much more important than that, for example:
Learning how to homeschool your child is difficult at first, but once you figure out all of the mentioned issues, you'll be a step closer to homeschooling. Most states require that you alert the dedicated home school district of your intent, and we can help you do that fast!
DoNotPay Is Your Trusty Homeschool Assistant
DoNotPay is here to assist you with taking your child out of a public school and starting to homeschool, even if you decide to do it in the middle of the school year. Here's how to use our Notice of Intent to Homeschool product:
Choose the Notice of Intent to Homeschool feature
Enter some details about yourself and the student
We can then send you the generated notice or mail it directly to the school district in your stead.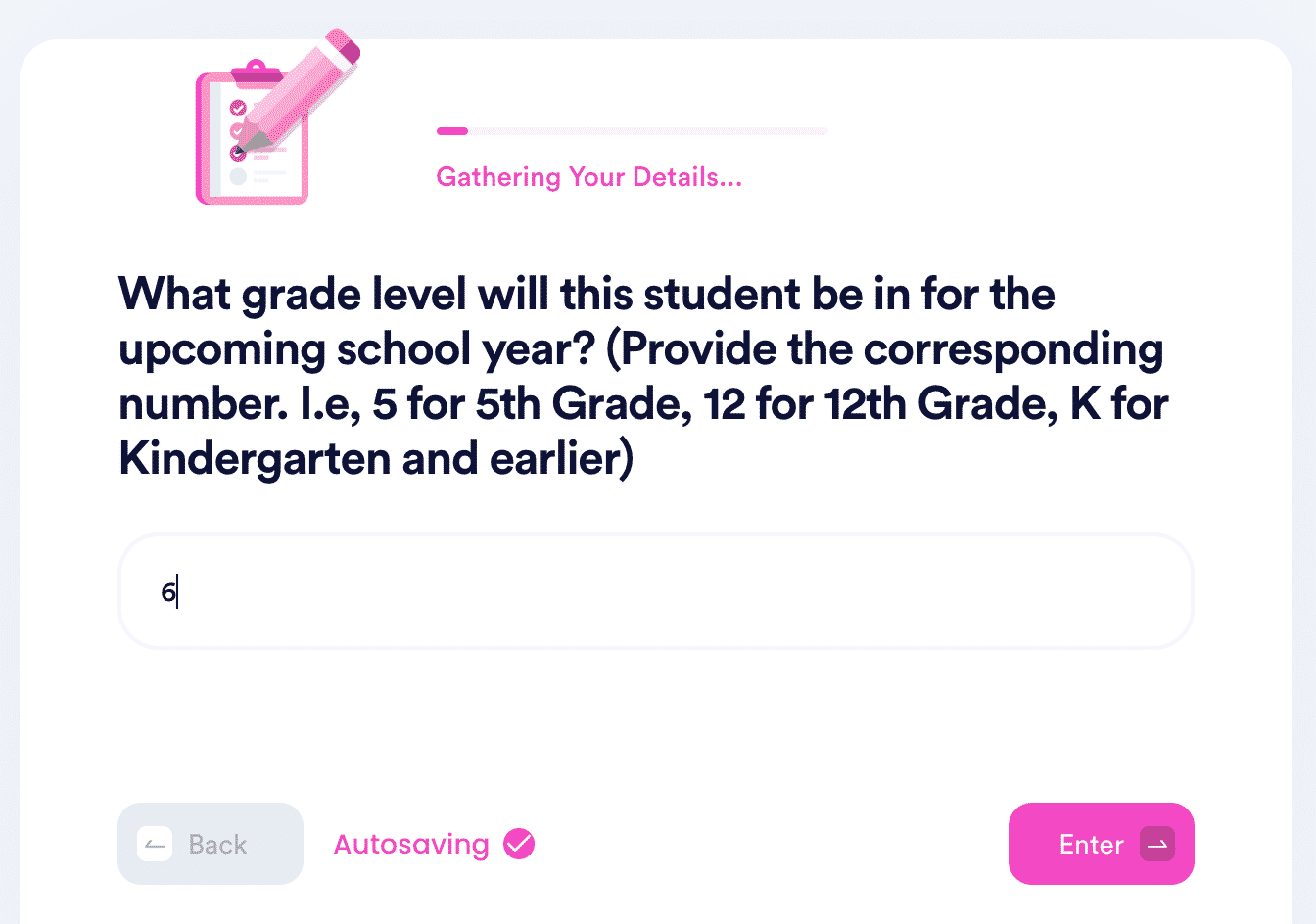 DoNotPay's Features Are Here To Make Your Life Easier
To simplify confusing bureaucratic procedures, we developed a number of features you may find super useful. Sign up for our app and let us assist you in:
DoNotPay Doesn't Stop There!
Assisting you with bureaucratic tasks is only a fragment of what DoNotPay can do—we have a lot more nifty features to offer! We can show you how to:
Struggling to draw up a financial aid appeal letter, an HR complaint, or a child travel consent form? DoNotPay is here to do it in minutes!