What Is the Best Fax Service in San Antonio?
Fax services are all the rage today because the practice is still common, but not many people or companies use a fax machine.
Read on if you need to find a fax service in San Antonio! You can pick what place you want to go to if you want to fax a document.
will help you find an alternative to that, though! Why go through the trouble of driving to a place where it costs to send a fax when you can install apps to fax from your phone?
You can also learn how online faxing works and how to get your fax number.
Which Places Offer Faxing Services in San Antonio?
You can go to a lot of places in San Antonio that offer copy and fax services, such as:
A UPS store

Pak Mail

San Antonio Public Library
The UPS Store Fax Services
UPS stores are a popular choice when it comes to using faxing services. If you want to go to a UPS store in San Antonio to send or receive a file, here's what you should know:
UPS Store in San Antonio

Work hours

Monday–Friday

9 a.m.–5 p.m.

Faxing price per page

$1 local

$2 national

$3 international

Price per additional page

$1 local

$1 national

$3 international
Note that these are the approximate costs, and UPS may charge you more or less depending on the area.
The Pak Mail Fax Services
Pak Mail in San Antonio is another place you can go to if you need to scan, copy, or fax your documents. Here's the information you need:
Pak Mail San Antonio

Work hours—Monday–Friday

9 a.m.–6 p.m.

Work hours—Saturday

10 a.m.–2 p.m.

Faxing price per page

$1 local, national, and international
The San Antonio Public Library Fax Services
If you were wondering whether you could fax at a public library, the answer is yes. If the San Antonio Public Library is closer to your home or office than a UPS store or Pak Mail, you can go there to send your faxes.
Note that you cannot receive faxes at the San Antonio Library, only send ones. You also need to have at least a .01 balance in your library account if you want to use the service.
Where Do All These Faxing Services Fall Short?
While many places in San Antonio offer faxing services, going there and paying for the service isn't convenient for many reasons. You have to:
Go to a place

—This way, you waste your time, incur transportation costs, and can't send or receive faxes right away when it's urgent for you or your business to do so

Use the service's fax machine

—Fax machines go through a lot of troubleshooting, especially if you need

to fax multiple pages

, making you wait too long for the machine to complete its task

Be prepared that you can't complete the process at all

—Fax machines rely on a stable connection with a landline and can stop working at any time. You shouldn't be surprised if you spend your entire lunch break driving to UPS or Pak Mail only to find the faxing service isn't available at the moment
Are There Any Alternative Ways To Fax Your Documents?
Even though it's not convenient to go to a place that charges for a faxing service, you shouldn't buy a fax machine either. Not only does the machine occupy a lot of space in your office and costs a pretty penny, but it's also slow and bad for the environment. Not to mention the constant repairs and general maintenance you'd have to cover.
You don't need anything except your computer—Mac or Windows—or your smartphone—iPhone or Android—to fax.
With a fax app, you can send all kinds of documents in a secure way from your phone, including:
Ditch third-party services that use fax machines that were invented ages ago and fax online. It is:
Instant

Affordable

Convenient

Eco-friendly
DoNotPay Makes Faxing Easy-Peasy!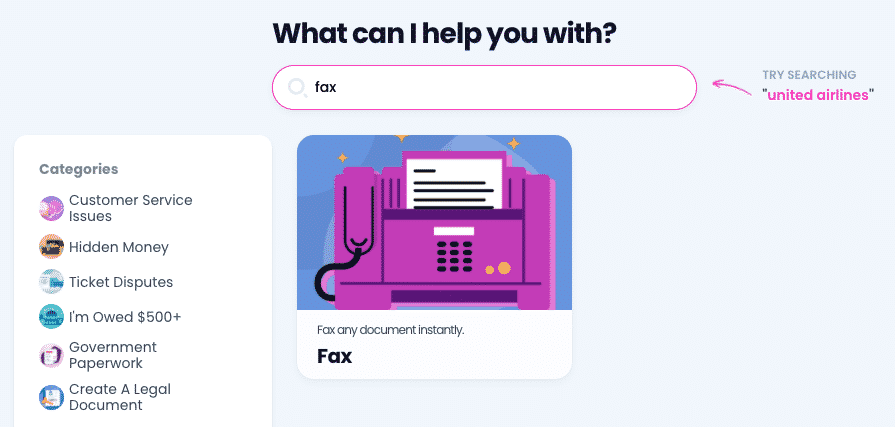 Since faxing still requires a connection with a phone line, you have to do it through a third-party service. Many apps out there charge exorbitant prices regardless of how often you use the service. Luckily, DoNotPay doesn't fall into that category.
By using our AI-powered app, you can be sure that the process will go smoothly, that the files you fax will be secure, and that you won't be charged for services you don't use.
Faxing With DoNotPay Takes Mere Seconds—Here's How To Do It
The best part about sending documents with the help of DoNotPay is that it takes no more than a few seconds. You can be at home, work, or on vacation, and all you would need to do to send a fax is:
Go to your DoNotPay account in any

Upload your file or snap a photo

Type in the recipient's fax number
DoNotPay will send you a message right away to confirm your fax has reached its recipient safely.
DoNotPay Helps You Scam Scammers
DoNotPay helps you stay safe from scammers and fraudsters!
We have developed a Virtual Credit Card product that helps you sign up for free trials without revealing your real banking information to any suspicious company. We've joined our most popular feature with a Burner Phone functionality that allows you to verify online accounts with a temporary phone number.
That way, you'll be free to enjoy services while they're free of charge, eliminate the possibility of robocalls, robo texts, and spam emails from the shady companies, and forget about canceling the subscriptions altogether—our product does it for you!
DoNot Pay can even shield you from cyberstalking and online harassment and get you compensation for the crime you've suffered. We'll even help you take individuals or businesses to small claims court by drafting the relevant paperwork for you, accessing any public records that might bolster your case, and supplying you with a court script that you can read to the judge on the day of the hearing.
DoNotPay Is Helping You Out Left and Right
Not only can DoNotPay handle bureaucratic nuisances on your behalf, but we can make your daily life easier too!
No more waiting in endless phone queues to make a warranty claim for a faulty product or wasting the day away in mile-long DMV lines—our app will do the hard work for you! We'll call the reps of any company—even major airlines—and schedule appointments on your behalf in a matter of minutes!