When Was the Fax Machine Invented? Find Out With DoNotPay
Faxing is as present today as it was a few decades ago! Whenever we need to send classified documents, faxing is still the safest and most reliable option.
Luckily, we don't have to learn how to fax the old-fashioned way, for an array of online fax apps and services are there to make the process much easier. 
If you want to know where it all started—look no further! DoNotPay will answer the "When was the fax machine invented?" question and show you how to fax with zero effort!
The History of the Fax Machine
The fax machine as we know it had a long history. Its first versions go back to the 19th century, even before the invention of the first telephone. The original technology for transmitting the image over a wire was invented in 1847. The first commercially-successful version of a fax machine dates from 1865. 
Fax machines evolved to be simpler and more practical until the 2000-s, when they were finally replaced by online faxing.
While online faxing is based on a principle different from the one that fax machines use, the idea comes from the original invention. Many companies still use fax machines as a valid form of transferring sensitive documentation.
Who Invented the Fax Machine?
Scottish inventor Alexander Bain is the first person who successfully created an experimental fax machine. He did so by using an electric clock to synchronize the movement of two pendulums. Those movements—controlled by electromagnetic impulses—helped him scan the image on a line-by-line principle. 
For image transmission, he used metal pins positioned on a cylinder made of insulating material. The image was transferred on the electrochemically-sensitive paper at the receiving end. Images had poor quality because the transmitter and the receiver were never completely synchronized.
While Bain continued to improve his invention over the years, more inventors followed his lead. Italian physicist Giovanni Caselli is credited as the first creator of the commercially-successful fax machine. His fax machine was a combination of a pantograph and a telegraph called pantelegraph.
When Did Fax Machines Become Popular?
For many years, fax machines were complicated and expensive to use. It was not until the end of the 1960-s and the invention of the Magnafax Telecopier that faxing became more practical. The Magnafax Telecopier transferred documents via a phone line and is the closest version to a fax machine that we know today.
In the 1970-s, fax machines took over the industry and became a household name in the U.S. offices in the 1980-s. The golden age of fax machines lasted until the 2000-s.
The Fax Machine History in a Nutshell
To get a full picture of how faxing evolved over the years, take a look at the brief overview of its history in the table below:
Evolution of the Fax Machine (year)
Details

1800-s

Alexander Bain developed the first version of a fax machine

Giovanni Caselli invented the first pantelegraph

1900-s

Arthur Korn

created the first photoelectric scanning fax machine

Edouard Belin

invented a process to send photos via fax, made fax machines smaller and faster, and found a way to encrypt messages during transfer

Alexander Muirhead presented a fax machine with a rotating drum scanner

Xerox corporation

developed fax machines that operated via a telephone line

Hank Magnuski created the first computer fax board

2000-s

Fax machines faced a decline in use

Faxing shifted from using fax machines to

faxing via the internet

Online faxing services and apps started replacing fax machines
How Has Online Faxing Upgraded the Invention of a Fax Machine?
Online fax services have brought faxing to another level. While fax machines have come a long way from the first versions, they are considered clunky and impractical. Fax machines operate via a telephone line and can be complicated to set up and use. Online faxing services only require a steady internet connection, a digital device—such as PC, Mac, or a Smartphone (Android or iPhone)—and an online fax number. Sending faxes online is as simple as sending an email!
Fax Effortlessly With DoNotPay
Online faxing services, however practical, can be pricey. If you don't fax regularly, subscribing to an expensive faxing service to send an occasional fax is a waste of money. 
DoNotPay gives you a variety of faxing perks at an affordable price. By accessing our app from any web browser, you can:
Send as many as 100 pages a month

Fax documents from any device

Upload files or snap photos and fax them easily

Avoid scanners by taking photos of your checks and bills

Combine our

Fax

and

Legal Documents

feature to generate, sign, and send docs from one place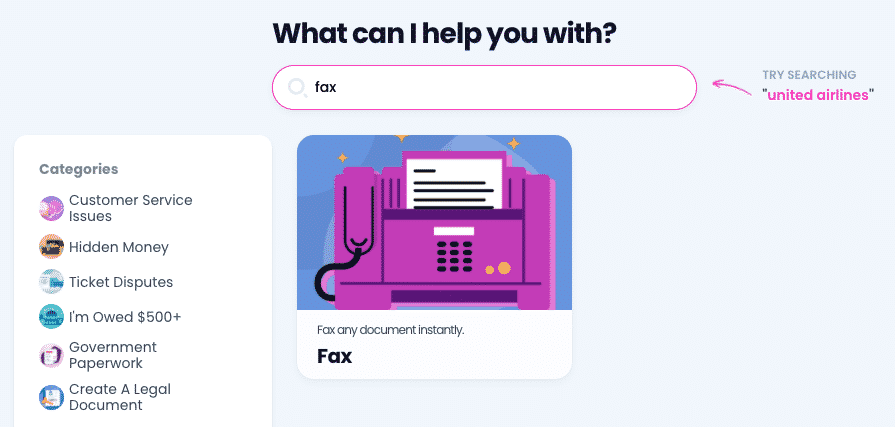 How To Send Faxes With DoNotPay
Sending faxes via DoNotPay is simple. All you need to do is:
Navigate to our app in your

web browser

Enter

Fax

in the search field

Choose the

Send a Fax

option

Upload a document or snap a photo using your device

Type in the receiving fax number
That is all! DoNotPay will notify you that the fax is on its way to the receiver shortly after.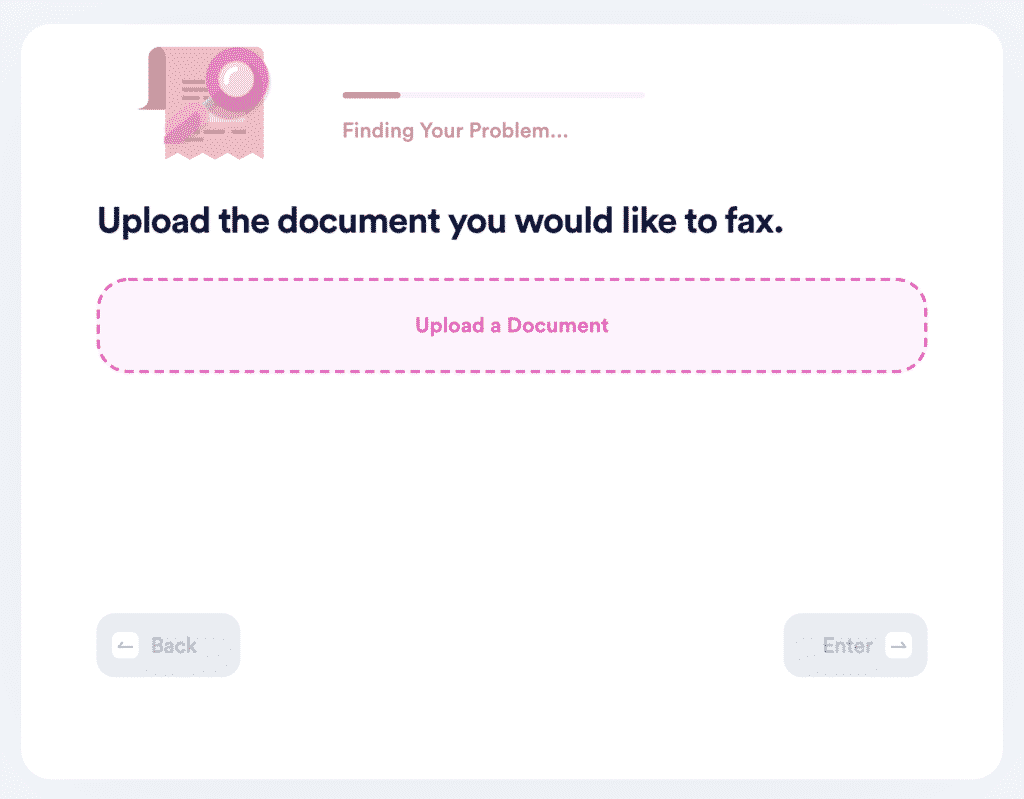 DoNotPay Leads the Way Against Spammers
Browsing the internet has never been more popular than today, but you must not forget to keep your private and financial information safe. You know you can cancel any streaming service or magazine subscription easily, but that won't stop them from using your personal details for marketing purposes.
DoNotPay has a solution for that! 
Is a company pestering you with incessant robocalls, spam emails and text messages? Use our Virtual Credit Card to catch them in the act and claim compensation for your troubles. 
To prevent that from happening ever again, use our card to sign up for free trials—not only will you not pay a dime for the service, but you will be automatically unsubscribed as soon as the trials are up! 
If you want to avoid revealing your personal phone number, we'll generate a temporary burner phone for you so the company won't have any way to reach you.
Already Been Scammed? DoNotPay Knows the Way!
If you've already made the mistake and divulged your personal info to the wrong party or experienced any other kind of crime or injustice, you don't have to sit tight and suffer the consequences. DoNotPay can assist you in taking anyone to small claims court!
We'll help you gather evidence—correspondence proving stalking or harassment took place, customer service call recordings, denied chargeback and refund claims, online fax transcripts, or proof of copyright violation. Then, we'll fill out the relevant legal documents for you and draft a court script that you can use in your hearing.