Is
Faxing a PDF
Possible? DoNotPay Knows the Answer
Faxing may sound like it belongs in the 80-s, but it is as popular as ever. Anyone who needs to send confidential medical or legal files should learn how to fax via fax machine or opt for online faxing.
Online fax apps and services offer the option to fax numerous document formats. If you want to know whether faxing a PDF is an option and how to go about it, DoNotPay has the answers!
Can You
Fax a PDF File
?
Yes, you can! Online faxing is especially beneficial for sending multiple document formats, such as Microsoft Word documents, PDFs, or scanned images. There are three ways of faxing a PDF file—by using a fax machine, fax software, or online fax provider.
How To Fax a PDF File
Different faxing tools use different methods of sending PDF files, as presented in the table below:
Method of Faxing a PDF Document 

Description

Fax machine

After you connect the fax machine to your phone line, you need to:

Print out the PDF file you wish to send

Put the document in the feeder tray of your fax machine

Dial the receiver's fax number and hit

Send

For a better resolution, you can send a PDF file from the computer to the fax machine 

Faxing software

One way to fax your PDF file is by using faxing software, such as

Windows Fax and Scan

. The process goes like this:

Attach a fax modem to your computer

Fill out the information as if sending a regular email

Upload or attach a PDF

Hit

Send

Online faxing service

Online faxing services allow you to send a PDF file via

email

or from your account. The process is similar:

Open your email or your online fax service account 

Fill in the cover letter information (subject field if you are faxing via email)

Enter the receiver's

online fax number

in the

To

field (faxing via email requires you to add the company's extension at the end)

Attach the PDF file 

Click

Send
Why Fax a PDF File Instead of Some Other Format?
A PDF file format has been widely used for over 20 years. It is the preferred document format for faxing. Here is a list of many advantages of faxing PDF files:
You can read them everywhere

—Every operating system has some PDF reader. You can open your PDF file on a

Mac

by using Preview, and Adobe Reader will do the trick on a PC. Opening PDF files on smartphones is easy with the built-in preview software on

iPhone

or PDF reader app on

Android

It is secure

—Security is the reason businesses accepted PDF as their preferred document format. PDF files come with extra security measures, such as passwords and watermarks

PDF files are practical

—It is still the only format that can easily incorporate text and images on a digital file. At the same time, PDF files don't take up a lot of memory and are consistent across all devices

You can sign PDF documents easily

—PDF format allows you to sign a document and fax it back. Many online services will allow you to e-sign a PDF document in a few clicks
Fax a PDF or Any Other File With DoNotPay
Unlike many other methods, DoNotPay will save you the time, money, and effort needed to fax your PDF file. 
Fax machines are clunky and impractical. Online faxing companies may provide top-notch service but are way too expensive. DoNotPay guarantees a quick and safe transfer of your PDF files at a low price!
Here is what you can expect by accessing our app from your web browser:
Fast upload of your PDF or any other file

Easy faxing from any digital device

Generous offer of sending up to 100 pages per month

Useful option to snap any photo, including that of your checks or bills, and fax it
DoNotPay has more in store! Our Online Fax product integrates with our tool for creating legal documents. That means that you can:
Create a contract

E-sign it

Fax it to the recipient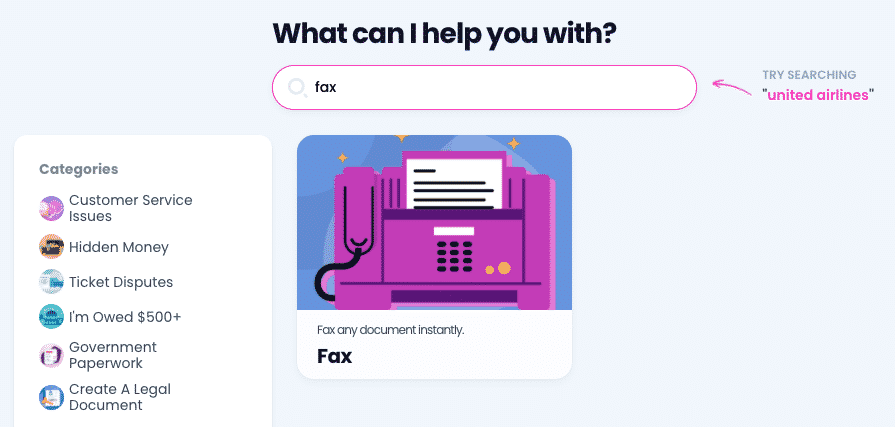 How Does Faxing With DoNotPay Work?
DoNotPay makes faxing as simple as sending an email. You need to access our app from a web browser and:
Enter

Fax

in the search field

Choose the option to send a fax

Upload a file or take a photo of the file you wish to send

Type in the fax number of the recipient
Once you hit Send, your fax will reach the recipient's inbox before you know it. You'll get a notification as soon as the fax is delivered.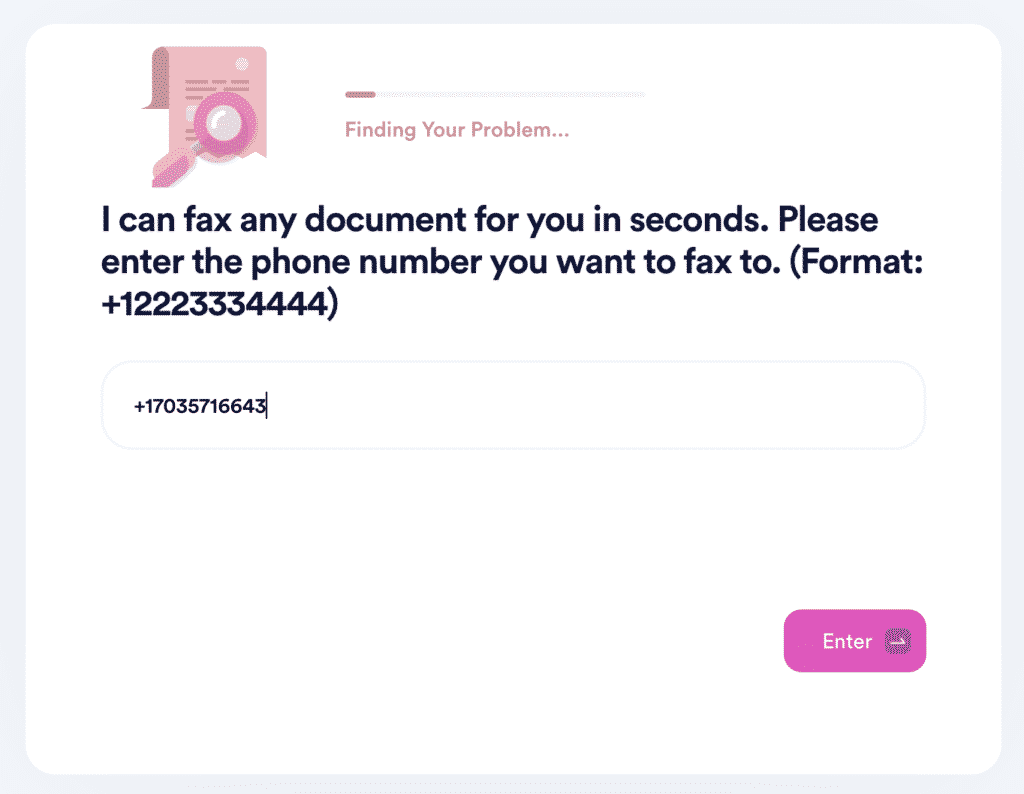 DoNotPay Knows All About Faxing
If you want to know more about faxing, our learning center has many useful articles on the subject. You can discover how to:
Forget About Bureaucracy With DoNotPay
There's no end to what our app can help you do. From drafting legal documents and asking for bill extensions and reducing property taxes to connecting with an inmate in a federal prison and contesting parking citations, DoNotPay can handle it all and cut through the red tape.
Need to pass a government test? Use our practice tests database to nail it. Looking to file an insurance claim? You've come to the right place. College applications drained your accounts? Request college fee waivers with our assistance.
The DoNotPay app is so versatile that it can easily locate any unclaimed funds under your name or any clinical trials that you're eligible to participate in. We can also schedule DMV appointments and take care of your small claims court documents.
Check Out What Else DoNotPay Has in Store
DoNotPay never stops upping the game. You can explore some of our latest features and see how you can access public records, receive free online fax, submit a warranty claim, or get compensation if you were a victim of a crime.
Alternatively, check out some of our most popular products that aim to reclaim your funds—from getting airline flight compensation and submitting refund and chargeback claims to canceling your unused subscriptions and getting class action cash from email, text, and robocall scammers.