How To Fax a Resume—Snap Your Resume and Fax It in Seconds!
If you don't know how to fax a resume, you've come to the right place!
A plethora of fax apps allow you to send and receive faxes from your phone. While this helps you in the sense that you don't have to pay for fax services that use a machine, you don't want to subscribe to an online service that's too costly or inefficient either.
Read on to learn how to fax, how to get a fax number, and how to send your resume with a cover letter through fax.
Why Do You Need To Send Your Resume as a Fax?
You might be wondering why you have to go through the trouble of faxing your job application when you can scan the document and email it hassle-free. Many businesses prefer faxes over emails for a reason, though.
Emails are susceptible to a lot of security breaches, whereas faxes are secure and more professional. Another reason is that it's easier to store faxes and keep the documents organized. Plenty of companies' electronic inboxes are cluttered with spam, promotional, and important emails, and hiring managers may prefer faxes precisely because they don't produce this sort of mess.
If you don't know how faxing works, don't worry. We'll walk you through the entire process of faxing your resume.
Tips for Faxing a Resume—Use a Cover Sheet
Even if you've sent a bunch of job applications before, if this is your first time faxing your resume, you should know what the right formatting is.
Here's how to type out your document:
| | |
| --- | --- |
| Sections in the Resume You'll Fax | What To Include |
| To | Full name of the hiring manager—if you don't know the name, type "Hiring Manager" |
| Company | Name of the company you're applying to |
| Fax | Recipient's fax number |
| Date | Date when you'll be faxing the resume |
| Pages | Number of pages of the entire job application |
| Contact | Your fax number, phone number, or email address |
| Text | Your resume and cover letter |
When faxing a resume, you should use a fax cover sheet. You can combine the cover sheet and your cover letter on the same page, but they can also be separate. When you have all the pages copied, attach them in this order:
Cover sheet

Cover letter

Resume
Cover sheets serve multiple purposes, such as informing the recipient:
What the document is

Who the sender is

What job position you are applying for
Here are some more tips on faxing your resume, cover sheet, and cover letter:
Include your qualifications in the cover sheet to encourage the hiring manager to read your application

Use standard font style and size to make sure your document is readable

Don't color anything in the document

Include a header with your name in your application, especially if it contains multiple pages
How To Fax a Resume
Now that you know how to format the resume you'll fax, you're probably wondering how to fax it. You likely don't own a fax machine, and you shouldn't even consider getting one. They are costly, inconvenient, and terrible for the environment.
You have several options when it comes to faxing. You can do it:
At a place that offers faxing services

—Just like you can go to a

UPS store

to copy files, you can go there to fax them too. You will waste a lot of time, though, which is why fax apps are a better option. Why waste hours on running a simple errand when you can do it from your couch?

Through email

—Exchanging faxes through email is a common practice because it's easy. You need to be connected with a third-party fax provider and include the recipient's fax number in the

To

section. Emails aren't the best solution, though. Your or the hiring manager's address could get hacked

By subscribing to an online third-party service

—Your best bet is to fax your resume from your phone using a faxing app, and we'll tell you which one offers the best service
Fax Your Resume With the Help of DoNotPay
helps you fax all kinds of documents in a jiffy! You don't have to worry about troubleshooting, restarting your phone, or having your account hacked. The entire process is over in a few seconds.
Our Online Fax feature allows you to send up to 100 documents a month and take a photo of your file so you can fax it in an instant.
If you have to deal with legal documents, all the better reason to keep using DoNotPay. We have connected our Online Fax and Legal Documents features so you can:
Generate a fully personalized contract in a matter of minutes

Sign it electronically

Fax it to the recipient right away
Here's How To Fax Your Resume With DoNotPay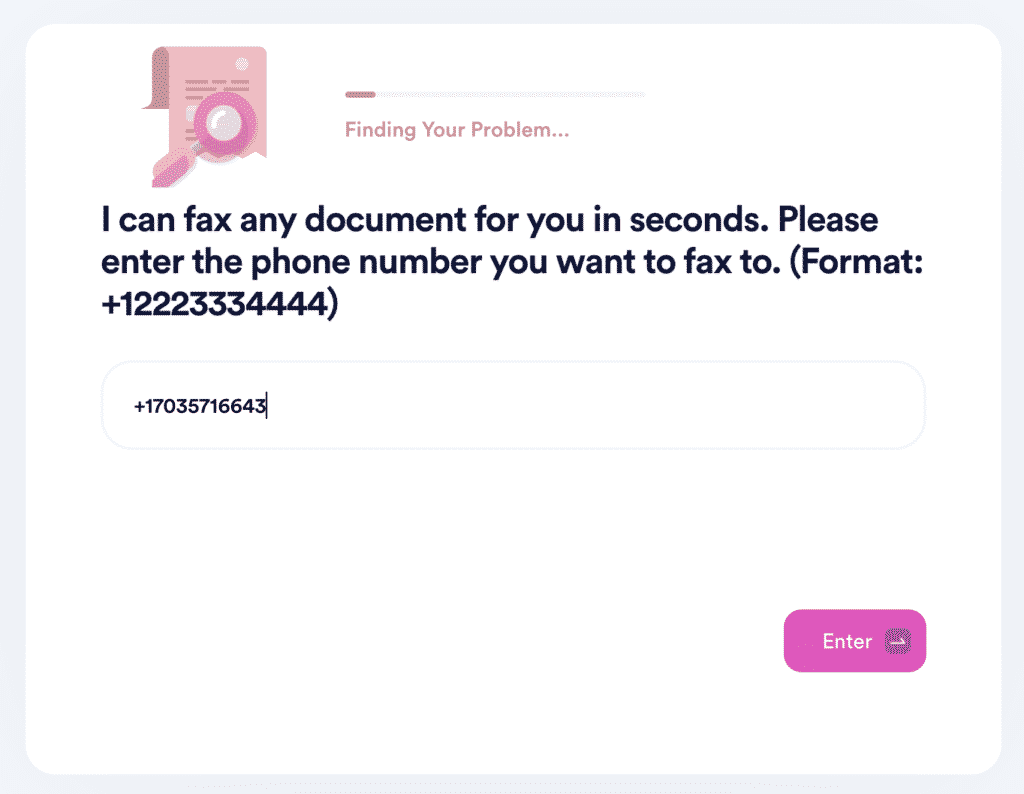 Once you log in to your DoNotPay account using any , you can fax your resume in three simple steps:
Upload your resume or snap a photo of it

Type the hiring manager's fax number

Read our confirmation message to make sure your resume was received
Do You Know What Else You Are Eligible For?
DoNotPay is a handy virtual assistant that can reveal a world of possibilities that you may not have even been aware of. We've perfected our algorithms to identify opportunities for you to save up and take charge of your rights.
Here's a fraction of what we can do for you:
What Else Is New With DoNotPay?
DoNotPay boasts several new features that can help make your everyday life so much easier.
Have you been wondering how to file an insurance claim but weren't sure where or who to turn to? We'll gladly do it for you.
Are you tired of outdated faxing practices and manual documentation? Our app can provide you with an online fax solution and draft all your legal paperwork in no time at all.
Do you need a safe place to prepare for your upcoming government test? DoNotPay will give you all the prep tests you need.
We can help out with locating an imprisoned loved one and keeping correspondence with them via our virtual mailbox.
See what else DoNotPay has in store by accessing our web app in any browser.