Can You Fax a Check? Solve the Puzzle With DoNotPay
We all know that you can fax just about anything—PDF files, images, Word documents—but can you fax a check?
The market is overwhelmed by various online faxing apps and services designed to simplify faxing. Whether you are considering subscribing to one of them or still feel attached to your fax machine, you should know if faxing a check is possible.
DoNotPay will answer that question and give you some pointers for faxing over Wi-Fi at an affordable price!
Can You Fax Checks
—
The Definitive Answer
Yes, you can! Sending checks is not a joke—you want to make sure that they will reach the recipient safely. Faxing is considered one of the safest methods of sending important documents, including checks. Companies today consider faxing checks a preferred method of accepting payment.
Checks delivered by fax can be printed and deposited anywhere across the country. The process of faxing checks requires a few simple steps but has to be followed to a tee.
Businesses can't automatically receive a check just because you faxed it—they must have the appropriate tools that will allow them to accept this form of payment.
Here is what you have to do before faxing a check:
Check if the business can accept it

Make sure you have the company's correct fax number

Ask the company if they have any specific faxing requirements—Some businesses will need your banking information first, and others will ask you to put specific details in the cover letter
Tips for Successfully Faxing a Check
All businesses have rules about faxing checks that you must follow. Here are some general guidelines that will help the process go smoothly:
Write the information about the check—including the amount, the purpose, and the recipient—in the cover letter

Add the reason for faxing a check on the check's memo line

Call the company to ensure they received the check and have all the information they need to process it
How To Fax a Check—A Detailed Guide
You can use any available faxing method to fax a check. Take a look at the steps you need to take for each of the faxing methods:
Faxing a Check via
Details

Fax machine

If you are sending a check via fax machine, make sure to:

Photocopy the check by placing it on a sheet of white paper—the quality of the copy will be better

Make sure that all details—such as the amount and account number—are clearly visible on the photocopy

Place the photocopy in the feeder tray and fax it

Online faxing app or service

The online fax provider will allow you to access your account on their website or fax the check via email. In both cases, all you have to do is:

Snap a photo of your check

Provide

cover letter

information in the required field

Upload or attach the photo

Hit

Send
Benefits of Sending a Check by Fax
Sending a check by fax is equally beneficial for the sender and the receiver. Here is an overview of many advantages that faxing checks brings:
Expediency

—faxing ensures the fax will reach the receiver in record time

Security

—checks are not likely to be intercepted during the transfer

Accuracy

—it is easy to write and read the information on faxed checks

Practicality

—the company can easily keep track of the client's purchase should a problem arise
The Best Way To Fax Your Checks Is With DoNotPay
If you want to fax any document, including a check, you should opt for DoNotPay! We make faxing checks easy—you only need to snap a photo of your check or bill, upload it, and it will be in the receiver's inbox in no time.
Our app offers a lot more than faxing checks. By opening DoNotPay in your , you will gain access to a variety of perks, including:
Sending as many as 100 pages per month

Faxing all kinds of file formats

Creating, e-signing, and faxing legal documents, thanks to the integration with our

Legal Documents

feature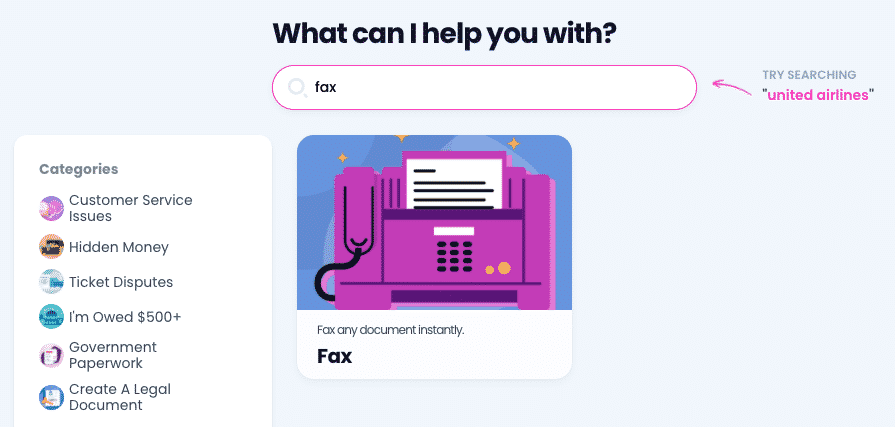 How Can I Fax My Check With DoNotPay?
DoNotPay is all about simplifying tedious administrative tasks. Faxing with us requires but mere minutes if you:
Open DoNotPay in a

Enter

Fax

in the search bar

Click on the

Send a Fax

option

Take a photo of the check and upload it

Type in the receiver's fax number
After you hit the Send button, your fax will be on its way! DoNotPay will notify you the moment your fax reaches the receiving party's inbox.
Our knowledge base can teach you so much more about faxing! Check out our articles on how to fax, what a fax number is and how to get it, and what the best free fax apps for Mac are.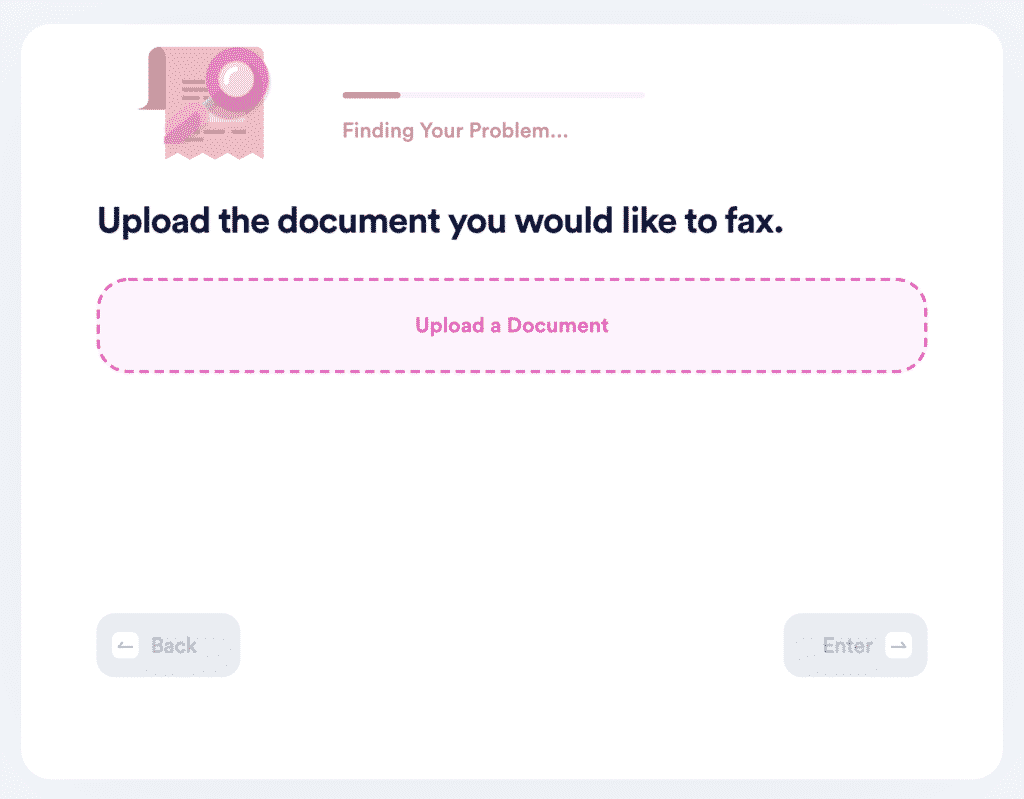 DoNotPay Keeps Your Privacy Intact
DoNotPay can help you surf the web safely and securely. No need to provide your personal information to every company whose service you'd like to take for a test drive. Our Virtual Credit Card and Burner Phone products shield your data from prying eyes and dishonest merchants.
Feel like subscribing for a free trial? Make it truly free and avoid automatic membership renewals with our card. It can also help identify spammers and potential scammers who send bothersome robocalls and robo texts your way. As soon as they act on the virtual card number, DoNotPay will unmask them and demand compensation!
DoNotPay Can Help You Bring Any Business to Justice
Should a company refuse to grant you a refund or compensation, our app will help you take them to small claims court!
We'll help you cancel the service in question to avoid any future charges, and we'll call their customer service so you can get info on your denied request. We'll draft the relevant court documents for your jurisdiction and give you instructions on filing them.
More Nifty Features That'll Make Your Day
You may not have breach of privacy issues or reasons to bring someone to court, but you surely have ample motivation to save or earn a few dollars here and there—especially if we catch you unawares!
DoNotPay can show you how to reclaim funds that you didn't know were under your name or make a denied warranty appeal to any company. We streamlined the processes of requesting refunds, college fee waivers, airline flight compensation, parking infraction dismissals, as well as applying to clinical trials that pay!