Are There Any Free Faxing Apps for Android? Find Out How To Fax From Your Phone!
Are you looking for free faxing apps for your Android smartphone?
Although many believe that faxing is a thing of the past, it is still a viable and frequent practice. Since it's by far the most secure way of exchanging documents, many fax service providers sell fax apps. That way, they give you the option to fax documents from your phone.
Mac and iPhone users can send and receive documents without fax machines, and so can Android users.
DoNotPay can show you how to fax with nothing but a Wi-Fi connection. Connect with a fax service provider, get your fax number, and say goodbye to using a fax machine ever again.
Popular Free Faxing Apps for Android
Since faxing is secure and common, you must be wondering how much it costs to send faxes and how to do it without a phone line. Since there are a plethora of different fax service providers, is there a way to receive free faxes, especially free international faxes?
The answer is no—you can't find faxing apps for Android that are completely free of charge.
Though you can now use various software to fax files, all of them need a phone line to enable the service, and that costs money. Many apps are free to install and use to some extent, but when you need to send a fax, you have to buy credits or make a purchase.
Take a look at these apps that are free to download but charge money to send your faxes:
Fax App

Characteristics

Cost

FaxFile

Supports PNG, PDF, and JPEG files

Requires 10 credits to send one fax

Has a subscription option for unlimited faxing

$2.99 for 50 credits

$49.99 for 2,000 credits

Easy Fax

Supports PDF files and images

Has cloud storage

Gives you 15 free credits when you first make an account

$0.25–$0.50 per page

Tiny Fax

Allows for faxing from Box, Dropbox, Google Drive, and OneDrive

Has the

Archive Documents

feature

Requires 10 credits for faxes to the USA and Canada

$0.25–$0.99 per page
Some of the most important disadvantages that all these "free" faxing apps share are that they:
Crash easily

Bombard you with ads and in-app purchases to the point where they become insufferable

Involve plenty of restarting before you can send your document
What if You're Willing To Pay for Faxing Apps for Android?
Since the free faxing apps for Android aren't actually free at all, you might be considering subscribing to a service provider that allows you to fax documents on the go.
In that case, check out these options:
Faxing App

What To Watch Out For

Price per Month

RingCentral

Requires additional add-ons and apps to be installed, making the app difficult to use

Logs you out of your account due to frequent glitches in the system

Is known to cause difficulties with service cancellations

$24.99–$49.99

Fax Burner

Allows only U.S. phone numbers

Limits you to only five faxes if you want to keep using the free version

Doesn't give an annual discount option

$12.95–$22.95

eFax

Has an outdated and complicated interface

Includes a one-time setup fee

Lists confusing international faxing costs

$16.95–$19.95
Seeing as these options can mess up your fax, crash your phone, and charge you for services you didn't use upon cancellation, they could at least be more affordable.
Does This Mean You Need To Purchase a Fax Machine?
No, buying a fax machine is not a good idea. Even though many faxing apps for Android are either too inefficient or too expensive, a fax machine is not the solution.
You need a phone line if you want to use a machine and then suffer the maintenance expenses too. Fax machines have no shortage of downsides—they are:
Slow

Not eco-friendly

Expensive to use
Fax Files From Your Android in a Jiffy With DoNotPay!
Is there a third option besides buying an obsolete fax machine and paying over $50 to send a few faxes a month? Of course!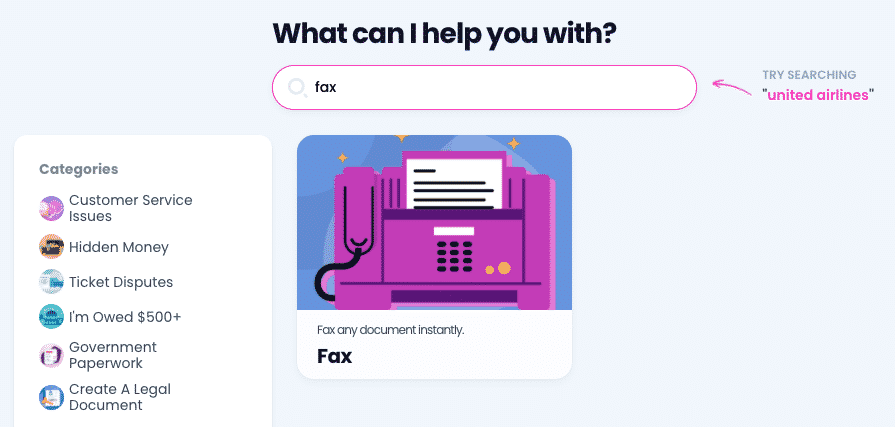 DoNotPay has designed a feature that helps you send faxes efficiently and without incurring unnecessary costs. Some of the most noteworthy benefits of faxing your files with the help of are that it:
Allows you to snap a photo of your document and fax it in a few seconds

Integrates with your email address

Guarantees a secure and convenient faxing of up to 100 documents a month

Faxes your documents automatically from your phone, laptop, or desktop
You only need a stable internet connection, and you can fax documents in a jiffy! The best part is that you can use our Standardized Legal Documents feature together with our Online Fax feature to:
Create a personalized contract

E-sign it

Fax it to the other party in under a minute
How Does Faxing With the Help of DoNotPay Work?
Say goodbye to waiting by a fax machine or restarting your phone due to glitches that come with unstable "free" apps. You only need to take three steps to fax a document with DoNotPay:
Access your DoNotPay account from your preferred

Upload your document or take a picture of it

Enter the fax number of the recipient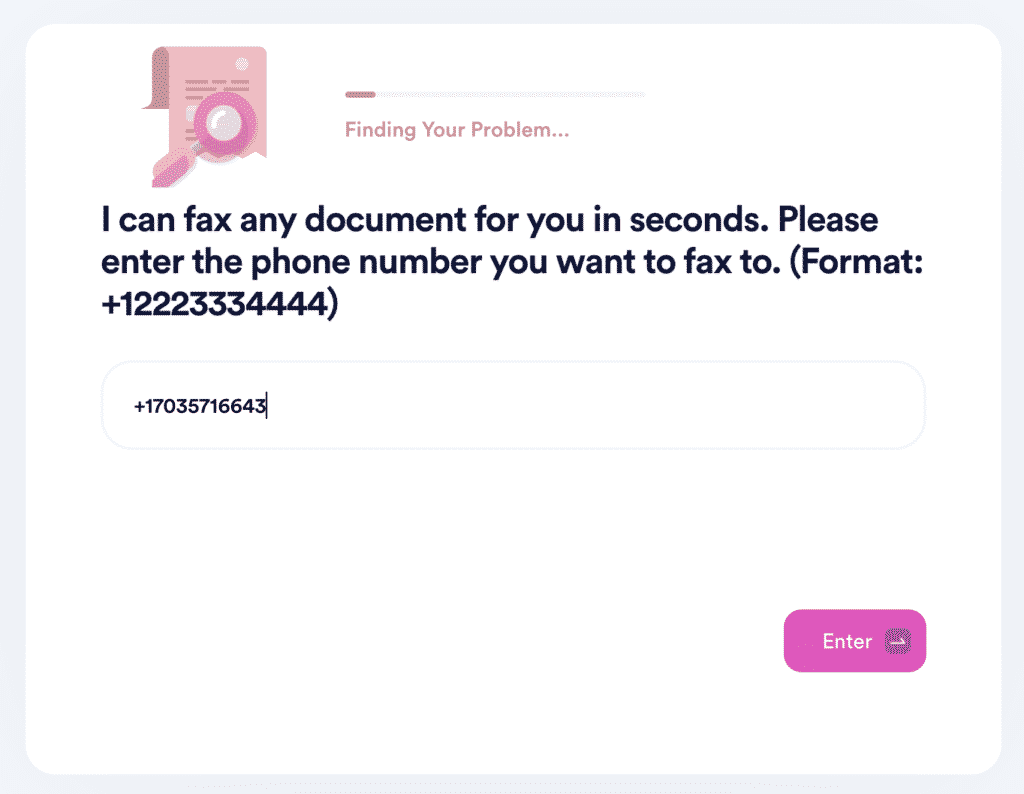 DoNotPay will quickly notify you that your fax has been received.
DoNotPay Helps You Scam Scammers
DoNotPay helps you stay safe from scammers and fraudsters!
We have developed a Virtual Credit Card product that helps you sign up for free trials without revealing your real banking information to any suspicious company. We've joined our most popular feature with a Burner Phone functionality that allows you to verify online accounts with a temporary phone number.
That way, you'll be free to enjoy services while they're free of charge, eliminate the possibility of robocalls, robo texts, and spam emails from the shady companies, and forget about canceling the subscriptions altogether—our product does it for you!
DoNot Pay can even shield you from cyberstalking and online harassment and get you compensation for the crime you've suffered. We'll even help you take individuals or businesses to small claims court by drafting the relevant paperwork for you, accessing any public records that might bolster your case, and supplying you with a court script that you can read to the judge on the day of the hearing.
DoNotPay Is Helping You Out Left and Right
Not only can DoNotPay handle bureaucratic nuisances on your behalf, but we can make your daily life easier too!
No more waiting in endless phone queues to make a warranty claim for a faulty product or wasting the day away in mile-long DMV lines—our app will do the hard work for you! We'll call the reps of any company—even major airlines—and schedule appointments on your behalf in a matter of minutes!