How Much Does It Cost To Send a Fax? Get Your Answer Fast
When you have to send documents safely and quickly, your first choice might be a fax service. As there are many fax apps you can use to exchange sensitive documents, the question is—how much does it cost to send a fax?
The price and quality of service are the most important factors when choosing the right faxing option. DoNotPay can help you fax files from your laptop, desktop, or phone in a few clicks and just a few bucks.
How Much Does It Cost To Send a Fax?
Some fax providers offer online services, while others use fax machines at their stores or offices.
If you need to visit a post office, you can take a file with you and fax it from there. The price of faxing can vary from location to location, so you should inquire first.
Visiting a post office or store to send a fax is not always convenient. You can opt for an online fax service instead.
To get a better understanding of fax services, take a look at some fax providers in the following table:
| | | | | |
| --- | --- | --- | --- | --- |
| Fax Service Provider | DoNotPay | myFax | eFax | UPS |
| Price | $3 | $9.17 | $14.13 | $100 |
| Number of Sent Pages | 100 | 100 | 150 | 50 |
| Fax From a Cell Phone | Yes | Yes | Yes | No |
| Fax From a Computer | Yes | Yes | Yes | No |
For most fax providers, the prices can go higher if you need to fax internationally. Make sure you review all the features and terms of fax services, so there would be no surprises later.
Is Online Faxing the Right Choice for You?
Online or paperless fax has reduced the costs, effort, and time required to send documentation. Depending on the fax provider, you can choose to pay for:
Each file

—You have to pay per page, e.g., UPS

A subscription plan

—You pick a package with a certain number of pages you can send for a fixed price, e.g.,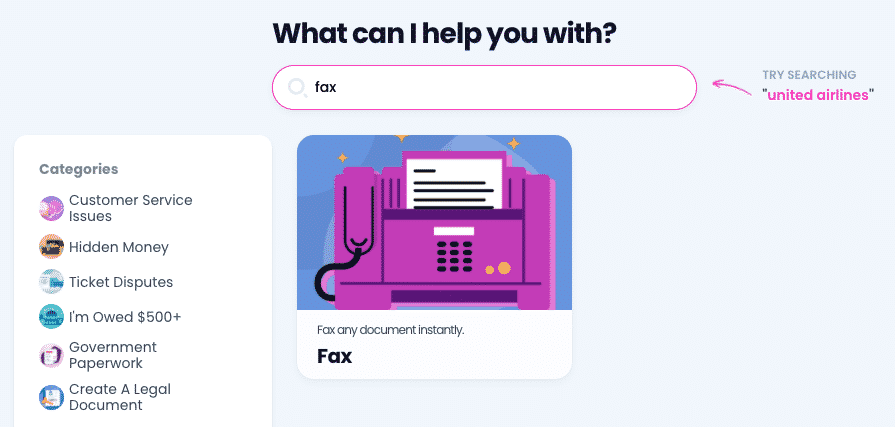 Page Limit and Overage Charges
You must first evaluate your needs to decide what works best and know how much you will be charged.
Should you opt for a subscription package, be careful not to go over the predetermined page limit. If you do, there is a significant chance you will have to settle overage fees. To avoid this, make sure to purchase an additional package before you spend the previous one.
Fax Machine vs. Online Fax
Fax machines are more expensive than online fax services because you need to invest in:
Paper

Printer

Repairs

Electricity

Spare parts

Fax number

Maintenance

Ink cartridges
A fax machine takes up a considerable amount of space in your office or home. Another point to consider is that you can only send files when you are physically in front of your computer and the fax machine.
With online faxing, you will not have any of the above-mentioned expenses. You can use fax apps:
In your car

On vacation

At home

In a meeting

At a cafe

Anywhere else
Internet fax services do not require you to:
Print out a document

Upload the file to a fax machine

Dial a fax number

Wait on hold if the phone number is busy
As Easy as Emailing
Online faxing can easily integrate with your email address, making it easy to keep track of all your faxes in an organized and easily accessible way. You can keep your files private, far from the eyes of nosy colleagues or family members.
There is no need to search through all those folders and binders in your office to find the fax you received a while back. You can quickly find it in your email or computer. Not only does online faxing save time and money, but it also contributes to protecting the environment with its paperless service.
If you believe that emailing documents also seems convenient, you should think about security issues connected with sending attached files via email.
Is International Faxing More Expensive?
Sending files long-distance can be quite expensive when using a fax machine. In this case, you need to dial an international fax number. If you need to hold the line for some time or you do it often, your phone bill can be substantial at the end of each month.
Online international fax services are more convenient and less expensive than traditional fax machines. Some providers will charge you more for faxing documents abroad, but it is still a more economical solution than long-distance calls.
Choose DoNotPay as Your Reliable Online Fax Service
DoNotPay provides an efficient, affordable, and safe fax service. Our platform is perfect for protecting sensitive data in your legal, medical, or business documents by sending them via fax.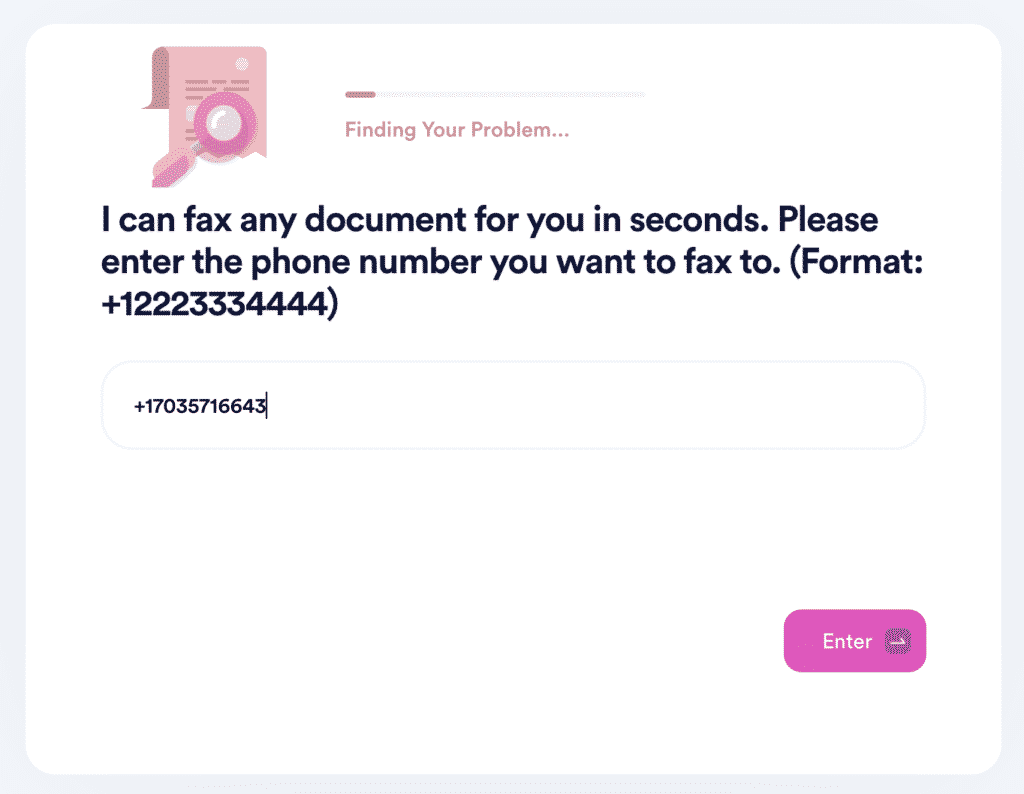 Here is how you can send your files safely:
Access DoNotPay from your

Upload a document or snap a photo

Enter the receiving fax number
You can upload a file from a computer or phone.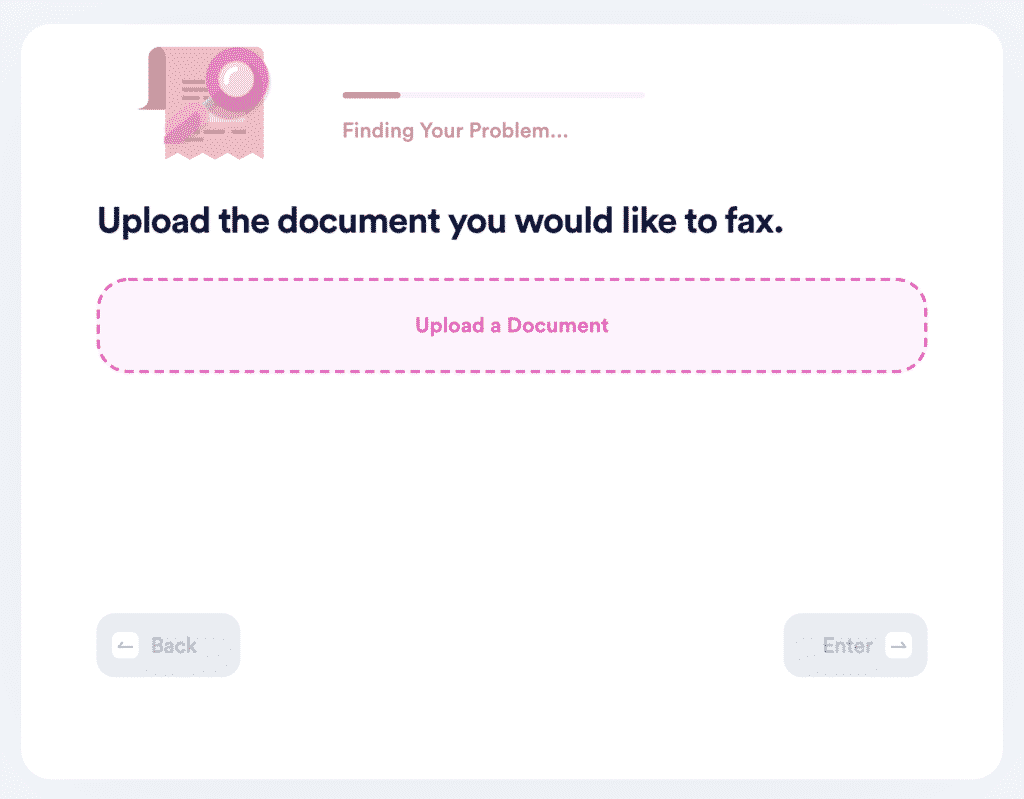 Once you go through these simple steps, DoNotPay will fax your legal, medical, business, or personal documentation to any fax number you provide. In a few clicks, you will be able to send a confidential file securely and seamlessly.
DoNotPay Keeps the Spammers Away
Whether you're dealing with email spam, text scammers, robocalls, or severe harassment, DoNotPay can help.
Use our virtual credit card or the Burner Phone feature to sign up for free trials safely—without revealing your real info. DoNotPay will make sure that no company can reach you when you use our tools.
We provide a fake email address, credit card info, and phone number that are in no way connected to your real data.
We can also help you cancel services or request a refund without you having to contact the company directly.
How Else Can DoNotPay Help You Find and Save Cash?
Our Missing Money feature helps you find any unclaimed assets in your name in any state. An additional perk is that you can claim your money right in the app—no need for further research!
We can also make sure you don't pay for any unfair parking citations and get the rightful compensation from airlines for any canceled or delayed flight.
Don't let big companies scare you into not claiming your warranties or insurance. DoNotPay helps you file these claims and appeal any rejections in minutes, which brings you closer to getting your money.
We can also delay your bill payments, get your college fees waived, or sign you up for paid clinical trials to earn some extra cash!