DXL Return Policy—The Only Guide You Need To Get a Refund or an Exchange
Few things are as annoying as a recently purchased product that failed to meet your expectations. In case you bought a shirt, pants, or coat at Destination XL—don't worry. The DXL return policy provides you with enough time to decide whether you want to keep the merchandise and entitles you to return any ill-fitting item.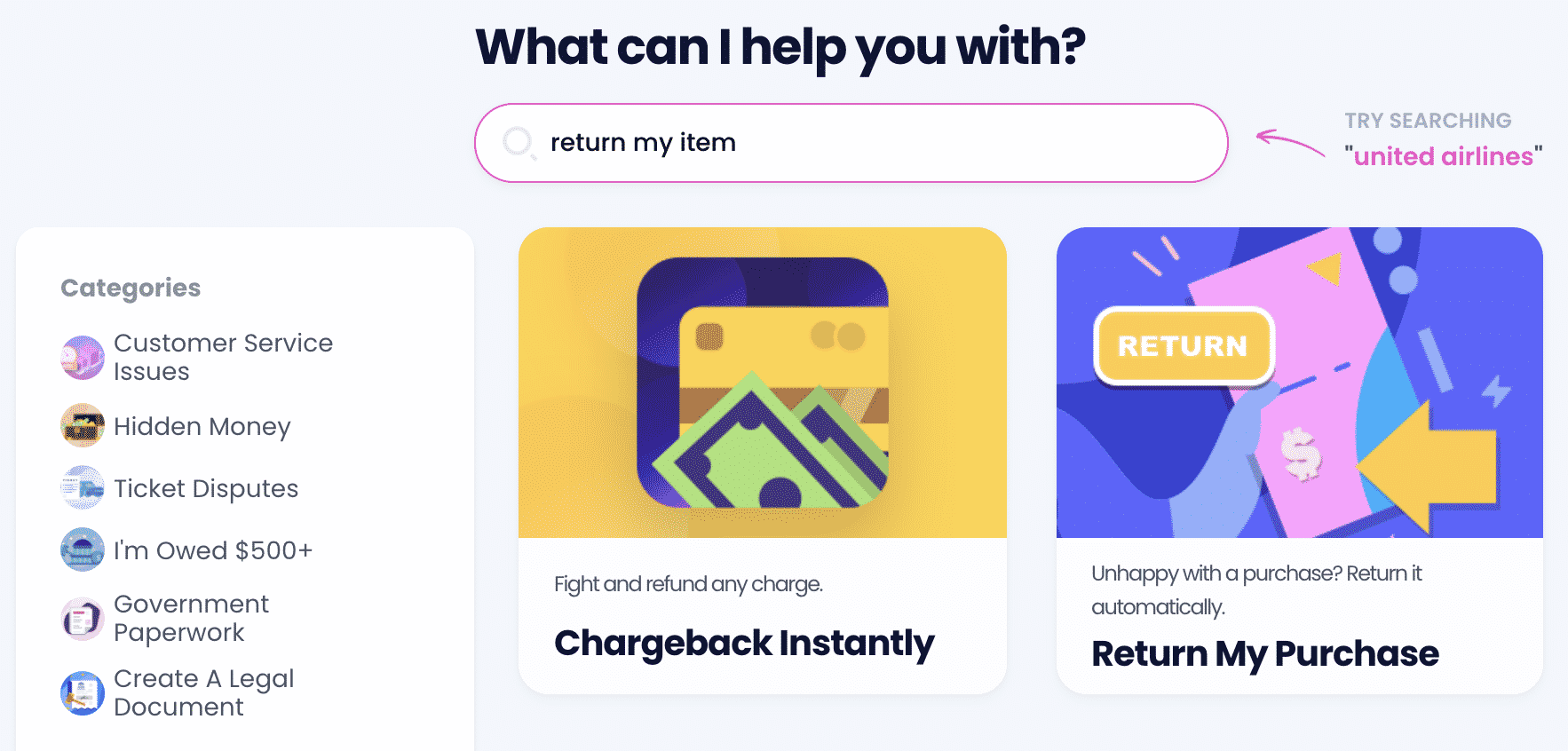 To make a somewhat complicated process simple, —the world's first robot lawyer. Subscribe to our service, complete a short questionnaire, and let experts do the rest for you. Besides time, you save money because you won't have to pay the unnecessary shipping costs.
DXL Return Policy—Everything You Should Know To File a Request
To qualify for a return, the DXL product must be:
Unworn
Defective
Unwashed
Once you confirm that the item is in salable condition, enclose proof of purchase with the merchandise. Besides requesting a refund, you can also choose to exchange products.
You can return the gear to a brick-and-mortar store or via mail. If a physical shop is nearby, take the item there to avoid shipping fees.
The DXL return policy sets a 90-day deadline from the transaction date for product returns. After that, they can refuse to refund or exchange the merchandise.
Do All DXL Products Qualify for Return?
You can return any DXL item that doesn't fall into the following categories:
DXL masks because of hygiene issues
Custom-made clothing, such as
Suits
Jackets
Dress shirts
Suit separates
If you received a DXL Gift or E-Gift card, you won't be able to exchange or return them.
Destination XL In-Store Return Policy
If you decide to return the unwanted product to a shop, keep in mind the following:
You can return the merchandise only to a shop in the country of purchase. Returning the item bought in Canada to a U.S. store, for example, isn't an option
Store workers may ask for an ID to confirm your identity
What Refund Options Are Available for In-Store Returns?
DXL typically refunds customers to the original form of payment. Exceptions apply in the following cases:
The vendor may choose to accept your request even if they can't find your sales record. In this case, they will ask you for a phone number or address to issue an E-Gift or DXL Gift card
For cash payments, you will receive a refund of up to $100 in cash. If the store doesn't have that amount of money, the company will send you a check in seven to ten business days
Are you considering sending an in-store purchase to the distribution center? If you paid the original transaction with a check or cash, you will receive a DXL E-Gift card with the matching amount
Note that discounts for the original purchase will be calculated when you return the product.
DXL Return Policy for Online Purchases
If you prefer to send the item via mail instead to a store, complete the Return/Exchange form you printed or received with the product. You must provide the following info:
Order number
Personal details, such as:
Your name
Street and email addresses
Phone number
The return reason
Description of the item
These are the steps to take after that:
Completing the UPS Prepaid Return Label procedure (If you wish, you can send the package by another courier service). The address is 555 Turnpike Street, Canton, MA 02021
Taking the parcel to the nearest UPS drop-off location
The cost of the label is $7.5. This amount will be deducted from your refund unless:
You opted for an exchange
You received a defective product
DXL made a mistake when shipping your order
The merchant incurs no other charges for shipments to the continental U.S.
What Are Your Refund Options?
The company refunds credit card transactions to the original payment method for online purchases. All other refunds will be stored on a DXL E-Gift card.
DoNotPay—Send a Return Request and Save Time and Money
In case you find the DXL return procedure demanding, turn to DoNotPay for help. Complete the return form in minutes, and let us do the rest. To benefit from our user-friendly and reliable service, you should:
Select the Item Return Request
Answer our robot's questions and attach photos, if necessary
Hit the Submit button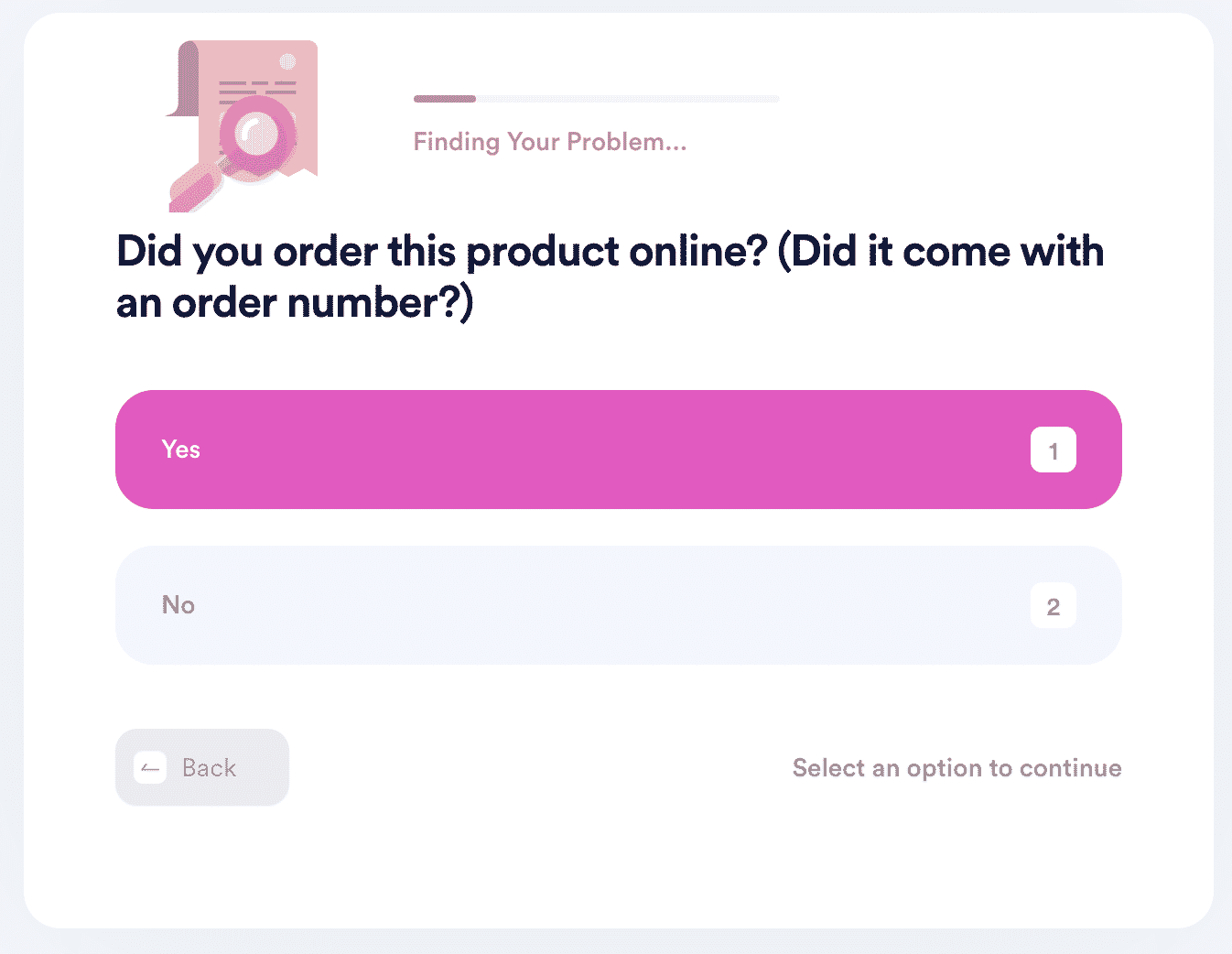 DoNotPay creates and sends a customized letter to DXL informing them about your decision and return reason. We specify whether you prefer a refund or an exchange and include the prepaid label, so you don't have to pay the additional shipping costs.
A company staff member will contact you within two weeks because we set a strict response deadline.
Can I Use DoNotPay To Send Return Requests to Other Sellers?
DoNotPay can help you submit return requests to any vendor. Explore the return policies of some well-known sellers in the table below.
DoNotPay Offers More Than Swift Returns
Our AI-driven app has a plethora of products that can help you save time and money. Once you sign up for DoNotPay, you will be able to:
Check Out Our Full Product Range
There's so much more to DoNotPay than filing return requests. With our app, you can cancel any membership, sign up for a free trial risk-free, get a virtual credit card, sign up for a clinical trial, map sex offenders in your area, and demand a refund from any airline.
If you want to reduce your property taxes, get help paying your bills, enter raffles and sweepstakes, find your unclaimed funds, or prepare for a government test, DoNotPay is the only solution you need!
Sign up today to access all of our products!