Understanding the Disney Store Return Policy—How To Return Items Stress-Free
If you're at your wits' end trying to understand the Disney store return policy—don't worry! This guide will dissect the procedure step by step. You can also use DoNotPay to streamline the process.
A Guide to the Disney Store Return Policy
To return an item you purchased from the Disney store, Disney Baby store, shopDisney, or at Disney parks, you must meet the requirements of their return policy. You can return purchased items in one of two ways:
In person at a Disney store retail location
Shipped via UPS or insured USPS
All returned items—whether for refund, exchange, or store credit—must meet the strict criteria set by Disney. You should initiate a return within 30 days of the original purchase, along with the receipt or gift receipt, and the product must be:
Unworn or unused
In the same condition as at the time of purchase
In the original unopened packaging
Returned with the original tags and tickets attached
Disney Store Return Policy—How To Make an In-Store Return
To return an item you purchased at the Disney store, bring the product in its original packaging to your local retail location along with the original or gift receipt within 30 days of the purchase. Disney does not offer returns for merchandise bought from third-party retailers. Any such items are subject to those retailer's return policies. Whether you qualify for a refund, exchange, or store credit will depend on the proof of purchase you possess and the timeframe of the return.
In-store returns are subject to the following terms:
A full refund will be issued for items returned with an original receipt
A merchandise credit will be offered for items returned with a gift receipt
Merchandise credit equal to the current retail price will be provided for items returned without a receipt and/or after 30 days from the original purchase
Returns that lack a receipt and are initiated after 30 days from the original purchase may require a valid ID
Disney Store Return Policy—How To Return Items by Mail
You may return items by mail only if you purchased them online via shopDisney. You can ship products via UPS or insured USPS, and you must include a return name and address to qualify.
Follow these steps to prepare your return correctly:
Make a duplicate of the packing slip for your records
Reuse the original packaging or a strong corrugated carton
Make sure to include the packing slip to streamline the process
Hold on to the return label to use on the exterior of the parcel
Securely pack your item
Tape the container shut carefully
Attach the return shipping label to the outside of the package
Once you have packed and labeled your parcel, ship it to shopDisney, 4795 Imagination Drive, Memphis, TN 38118.
Disney does not accept C.O.D and does not reimburse shipping costs. Return processing usually takes 1–2 weeks.
Disney Parks Merchandise Return Policy
You cannot return items by mail if you purchased them at Disney parks or experiences. Any items purchased at the following locations are subject to a different Disney return policy:
Walt Disney World® Resort
Disneyland® Resort
World of Disney® locations
Disney Cruise Line® ships
Disney's Soda Fountain Shop in Hollywood California
Disney Baby
If you purchased the unwanted item at one of the above locations, you can return it by following these steps:
Call (800) 328-0327 or email shop@disneypark.com
Make sure you have your email receipt and order number
Initiate the return process by following instructions from a Disney support representative
Are There Limitations to the Disney Store Return Policy?
Yes—there are exceptions to which items you can return:
| Product | Return Policy |
| --- | --- |
| Personalized, Customized, Special Order, or "Create Your Own" merchandise | No returns/exchanges |
| Merchandise marked "As Is," "All Sales Final," or "No refunds, exchanges, or returns" | No returns/exchanges |
| Damaged or defective DVD, Video, Audio, and Software merchandise | Exchange for same merchandise only, if available |
| Magic Bands | No returns/exchanges |
| Memberships | Non-refundable; no exchanges or transfers |
| Jewelry items priced $150 or more | No returns/exchanges |
Return Your Disney Merchandise Easily With DoNotPay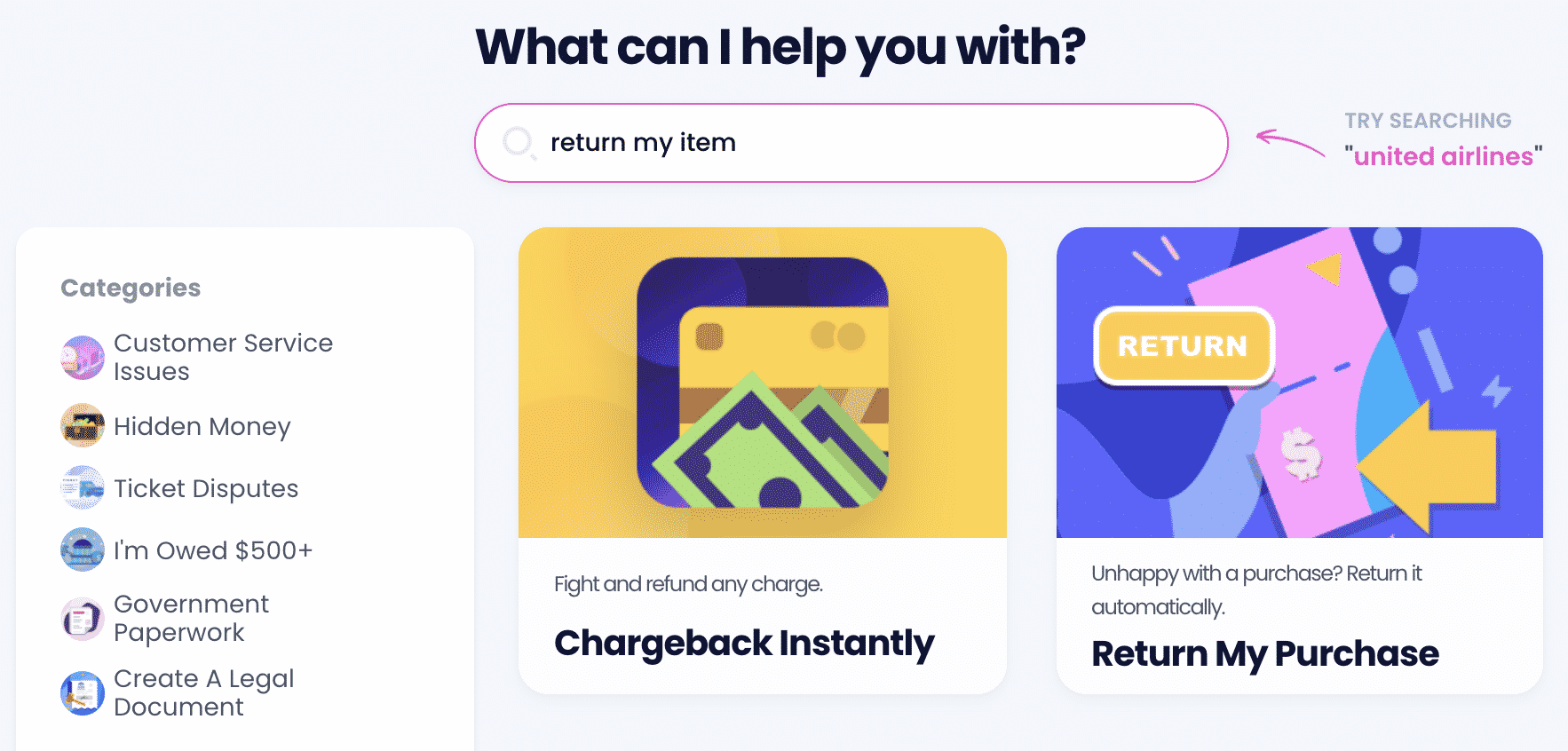 If the prospect of going through the steps above gives you a headache—don't worry, because there's a more convenient way. DoNotPay offers a Return Request Tool to streamline the process for you.
Using DoNotPay, you can input the details of your return request, and we will handle the rest for you. Even better, we impose a response deadline to ensure that Disney addresses your request quickly.
Follow these steps to initiate your Disney return request:
Select the Item Return Request tool
Answer the requisite questions and upload a photo if necessary
Submit your request
It won't be long until you hear back from Disney on the status of your return request.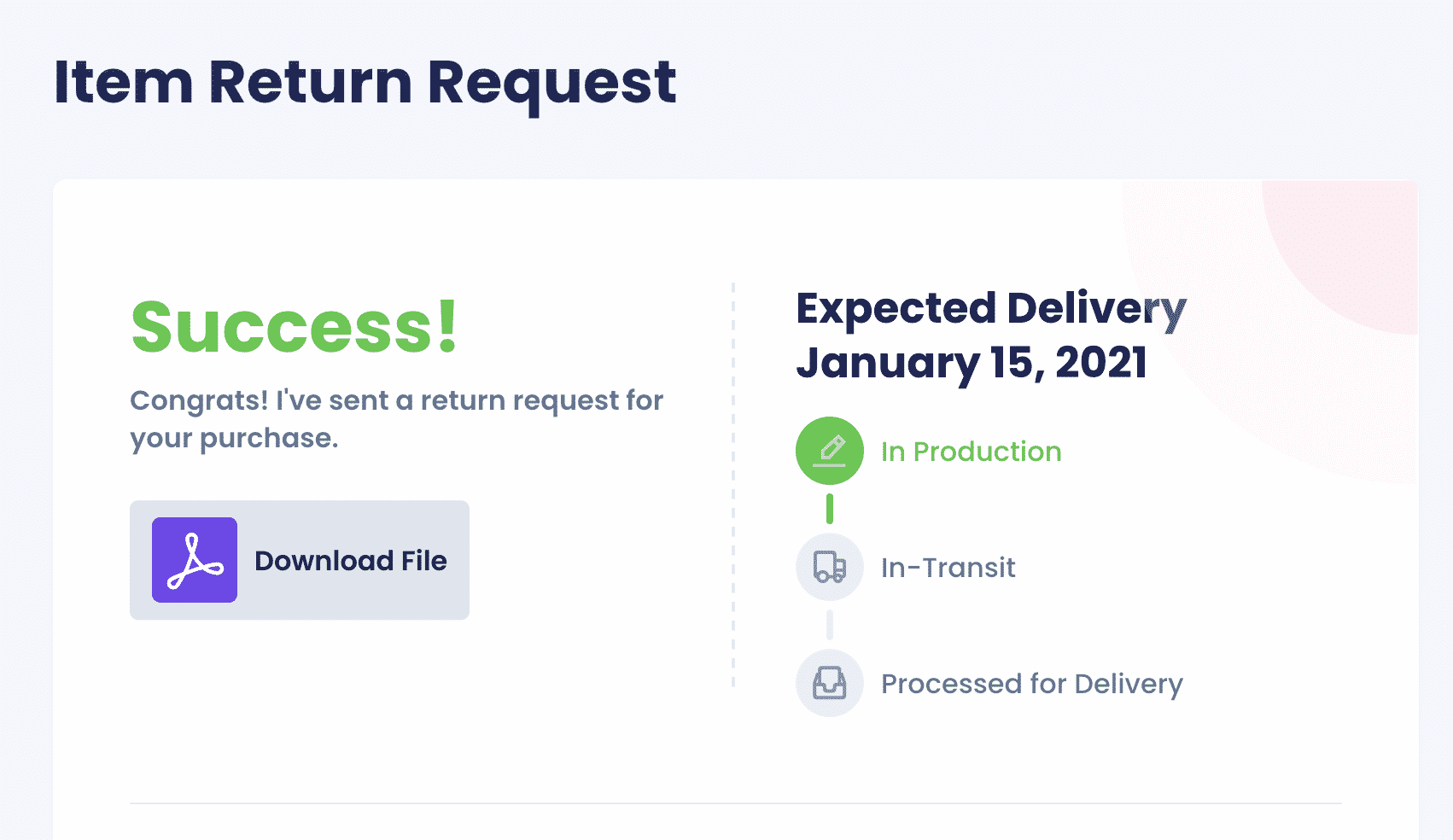 If you want to learn more about other famous retailers' return policies, you can review our helpful guides and save yourself some time and money:
DoNotPay Is a Master at Getting What's Rightfully Yours
Are you dealing with a company that refuses to approve your return? Once we submit a refund request in your stead, we can also prepare all the paperwork you need to sue the merchant in small claims court and win your case.
Need a legal document for the lawsuit? Draw it up with our handy tool. Want to get any document notarized and fax it to someone? We have products that can do that for you as well.
Has an airline rescheduled your flight, or is your package damaged or missing? Demand compensation with DoNotPay!
Do you believe that you may have some unclaimed assets? Count on us to find and get them for you.
It Doesn't End There!
Use DoNotPay whenever you need to tackle any sort of mundane task. If you're sick of wasting your time in long phone queues or the ones at the DMV, we'll help you skip them. Do you want to apply for a college fee waiver or clinical trial? Are you looking to enter a sweepstake or get a passport photo or a tourist visa? We'll do it all in your stead!
If you want to send a letter of warning to a persistent harasser or loud neighbor or want to get compensation for victims of crime, workplace discrimination, or robocalls, let us know and we'll tackle the issue momentarily.