How To Sign up for GameFly Free Trial Without the Risk of Being Charged
GameFly is an American online platform that provides video game and movie rental subscription service.
GameFly offers video games for many different gaming consoles, including Wii, PSP, Wii U, Xbox 360, Xbox One, PlayStation 4, Nintendo Switch, and more.
GameFly Features Explained
Once you pay for a GameFly subscription, you'll have the opportunity to rent a variety of movies and video games and enjoy free shipping each time. If you're taking advantage of the free trial period, you can enjoy the rented games and movies until the end of the trial, unless you decide to continue paying for the membership.
Depending on the chosen plan, you can rent one or two games or movies at a time. GameFly also offers Movies-only membership plans for non-gamers.
You can keep the CD(s) for as long as you want, given that you continue paying for a monthly subscription. Also, there is no limit on how many CDs you can rent and give back during a month. In case you like a game or a movie too much to give it back, you can purchase it at a lower price.
How Much Do GameFly Services Cost?
GameFly has multiple subscription plans you can choose from. The website also offers promotional prices for all plans in the first three months. Movies-only subscriptions are ideal for users that aren't gamers and are only interested in renting movies.
| | | |
| --- | --- | --- |
| Subscription Plans | Promotional Prices in the First Three Months | Regular Prices |
| One game or one movie at a time | $9.50/month | $15.95/month |
| Two games or two movies at a time | $13.50/month | $22.95/month |
| One Disc Blu-ray & DVD | $5/month | $8.95/month |
| One Disc 4K Elite | $8/month | $13.95/month |
| Two Discs Blu-ray & DVD | $8/month | $13.95/month |
| Two Discs 4K Elite | $11/month | $18.95/month |
Does GameFly Offer a Free Trial Period?
Yes, GameFly does offer a free trial that lasts for 30 days. You'll pay for a temporary authorization upon your registration, but you'll receive that money back three to five days from being charged. During the trial, you can enjoy watching movies and playing rental video games. If you like the service, you can continue paying for a membership after the trial.
Once you register for a free trial, the best thing to do is to add at least ten game or movie titles to your Queue. Due to high demand, adding the ones you'd like to rent right away ensures you get them as soon as possible. You'll be notified via email when one of the titles is sent to you.
In case you want to cancel the GameFly free trial or subscription, you will have to return a rented CD a few days after canceling the membership if you want to avoid paying fees. A free trial isn't available for Movies-only plans.
How To Register for a GameFly 30-Day Free Trial

If you'd like to sign up for a GameFly free trial, follow these steps:
Go to the

Gamefly website

Click on the

Start Free Trial

button

Click on

Select

under the subscription plan that says

30 Day Free Trial

Complete the registration form
You will have to provide GameFly with a valid debit or credit card number. As said, you'll be charged and refunded a temporary authorization fee.
Will My GameFly Free Trial Automatically Renew Into a Paid Membership?
Yes—your GameFly free trial will auto-renew into a paid standard subscription (one game or one movie at a time) that costs $15.95 a month unless you cancel your membership before the trial is over.
Avoid Being Charged Once Your Free Trial Ends—DoNotPay Knows How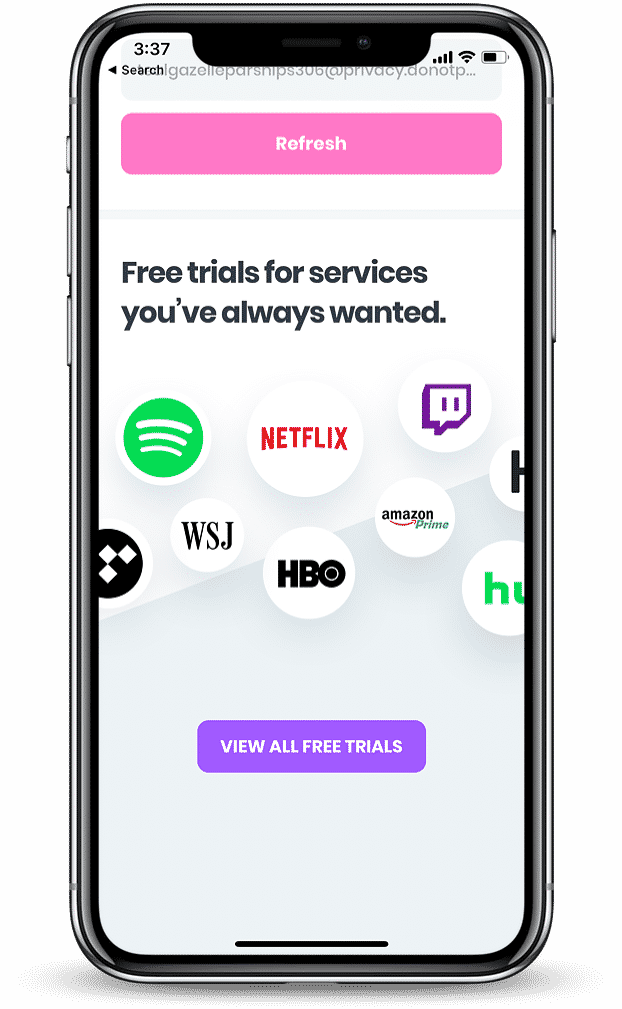 Even though DoNotPay's virtual credit card can't be used for your GameFly registration, it's important to know that it can be of great help in case you want to register for a free trial that doesn't require a temporary authorization fee.
The virtual credit card feature that DoNotPay offers will provide you with a randomly generated credit card number as well as a temporary email address that you should use when signing up for a free trial.
DoNotPay's virtual credit card isn't a real credit card, and it doesn't contain any money, but it can still be used upon registration when there is no temporary authorization. Once the free trial period is over, the company won't be able to charge you, and you will be unsubscribed right away. To take advantage of the virtual credit card, make sure to log in to your DoNotPay account from a .
Can I Request a Refund if I Forget To Cancel My GameFly Free Trial?

You won't be eligible for a refund if you forget to cancel your free trial. You'll be charged for that month's subscription, and you'll have access to the perks until the end of the billing period if you unsubscribe from your membership in the meantime.
GameFly only issues refunds if you accidentally chose to purchase a paid subscription instead of clicking on the free trial option. Contact the GameFly customer support, explain your issue, and they will assist you in solving it.
In case you decide to contact the customer service agents over the phone, you should dial (888) 986-6400. To avoid wasting time and energy navigating the phone tree and waiting for someone to pick up the phone, rely on DoNotPay because we can do all of that for you. Go about your day and have us hold the line until one of the reps shows up. Then you can take over the conversation and explain your issue.
These are a few of the most popular companies you can contact stress-free with DoNotPay's help:
How To Cancel GameFly Free Trial
To avoid being charged, you should cancel your free trial on time. You can do it by contacting the GameFly customer service agents.
It's also possible to cancel your free trial or membership on the GameFly website by doing the following:
Go to the GameFly website

Log in

Go to your

account

Click on

Cancel My Membership

in the bottom right corner

Confirm your cancellation
A better and time-efficient option is to cancel GameFly with DoNotPay, and here's how you can do it:
Log in to your DoNotPay account from a

Click on

Find Hidden Money

Enter

GameFly
You'll be informed via email as soon as DoNotPay cancels your membership.
With us, you can easily cancel a lot of subscriptions, such as:
What Will GameFly Charges Look Like on My Statement?
Here's which GameFly codes you could recognize on your bank statement:
| | | |
| --- | --- | --- |
| DEBIT CARD PURCHASE - GAMEFLY*MEMBERSHIP xxx-xxx-6400 CA | GAMEFLY GAMEFLY.COM CA | GAMEFLY |
| Authorization to GAMEFLY*MEMBERSHIP,888-986-6400,CA, | GAMEFLY*MEMBERSHIP 8889866400 CA | Debit Purchase -visa Gamefly*membersh888-986-6400ca |
| GAMEFLY PURCHASE GAMEFLY.COM CA | GAMEFLY*MEMBERSHIP | GAMEFLY*MEMBERSHIP XXX-XXX-6400 CA |
| GAMEFLY, INC. | Payment to GameFly, Inc. | GAMEFLY MEMBERSHIP 888 986 6400 CA |
| GAMEFLY* GAMEFLY.COM CA | GAMEFLY*MEMBERSHIP 888-986-6400 CA | GAMEFLY*MEMBERSHIP 888-986-6400 CA 90045 USA |
| GAMEFLY*PURCHASE GAMEFLY.COM CA | Debit Card Purchase - GAMEFLY MEMBERSHIP 888 986 6400 CA | GAMEFLY*PURCHASE |
| GAMEFLY*MEMBERSHIP, 888-986-6400, CA | GAMEFLY MEMBERSHIP 888-986-6400 CA | Payment to GAMEFLY*MEMBERSHIP|888-986-6400|CA |
| GAMEFLY*MEMBERSH888-986-6400CA | GAMEFLY*MEMBERSHIP 888-986-6400 | Debit Purchase - Visa Gamefly*membersh888-986-6400ca |
| GAMEFLY*MEMBERSHIP|888-986-6400|CA | | |
Reap the Benefits of Other Money-Saving Features DoNotPay Offers

Helping you save money after free trials isn't the only thing DoNotPay can do. Once you log in to your account from a , you'll see that we offer a lot of useful features that can make your life easier. Some of the situations DoNotPay can help you in are:
Disputing traffic tickets

Fighting speeding tickets