DoNotPay's Customer-Oriented Guide to the Cycle Gear Return Policy
Have you purchased a motorcycle part from Cycle Gear? Are you looking to return or exchange the product as soon as possible? Don't worry! DoNotPay has got you covered with this customer-oriented guide to the Cycle Gear return policy.
We can also assist you in returning products to Walmart, Costco, eBay, and hundreds of other retailers!
To initiate a return with any company quickly,
The Nuts and Bolts of the Cycle Gear Return Policy
Cycle Gear allows you to return a product or replace it within 90 days of purchase or delivery. To be eligible for a return/exchange, you should have the receipt and the product's original packaging and tags intact, along with the item in an unused condition.
The company will not accept items that are damaged due to accidents or inappropriate use.
If a product you purchased does not meet your expectations, Cycle Gear will arrange a replacement or refund within 30 days of the purchase or delivery date.
You will get a refund to the original payment method after the company receives and examines the returned product. If Cycle Gear can't send you your money back in the form of the original payment method, the purchase amount will be refunded as store credit. This may take an extra 2–10 business days, depending on your credit card company.
The following items bought from Cycle Gear are non-returnable:
Any electronic item removed from the original packaging or that had the manufacturer seal broken
Any item installed or attempted to be installed on a vehicle
Open-box products with the packaging discarded/damaged
Any chemical or tool that was opened or had its seal broken
How Can You Send a Cycle Gear Item Back?
Here's how you can initiate a return for a Cycle Gear product:
| Can You Initiate a Return Request Via | Yes/No |
| --- | --- |
| DoNotPay | Yes |
| Email | No |
| Phone | Yes |
| Website | Yes |
| In person | Yes |
How To Start a Return With Cycle Gear via Phone
If you want to initiate a return via phone, follow these steps:
Contact Cycle Gear during business hours at 1-800-292-5343 or 1-215-791-6460
Provide your order number
Print out the attached form and label once you get the Return Authorization (RA) email
Return your item within 90 days from the day you received the RA email
Cycle Gear customer service is available:
Monday to Friday: 10 a.m.–8 p.m. Eastern Time
Saturday: 10 a.m.–7 p.m. Eastern Time
Sunday: 11 a.m.–8 p.m. Eastern Time
You can ship the product:
Using the original shipping packaging
Using a shipping box if you don't have the original one
After your return is processed, you will receive a confirmation email from Cycle Gear. It will include all the details of the amount refunded for the return.
According to the Cycle Gear return policy, any item shipped with the manufacturer's box as the shipping container may get damaged in the transit and will be rejected if that occurs.
Initiate a Cycle Gear Return Online
If you want to start the return process directly through Cycle Gear's website, here's what you need to do:
Log in to your Cycle Gear account
Locate the Order History section
Click on the ordered item to request the return
If you are returning your item as a guest, navigate to the Cycle Gear return policy page. Request the return by providing your order details, name, and postal code.
Initiate a Return in a Store
If you want to go to a Cycle Gear store to start the return, you can do so as well.
Does Cycle Gear Return Policy Offer Free Return Shipping Labels?
Here's what you should know:
For domestic returns:

Cycle Gear provides a prepaid shipping label option for returns within the contiguous United States, and you will have to pay $7.99 for it
Shipments attempted with COD will not be accepted

For international returns:

Cycle Gear does not cover the return shipping costs for international returns
Cycle Gear suggests making international returns as "Merchandise Returns" with a carrier that does not charge brokerage fees
The company also suggests making the shipment with a carrier that provides you with a tracking number
You need to pay the customs or the brokerage fees (if applied by the carrier)
You are eligible for a free prepaid return only if you purchased Cycle Gear Exclusive Products from any of the 48 contiguous states.
Make Quick, Easy, and Cheap Returns With DoNotPay!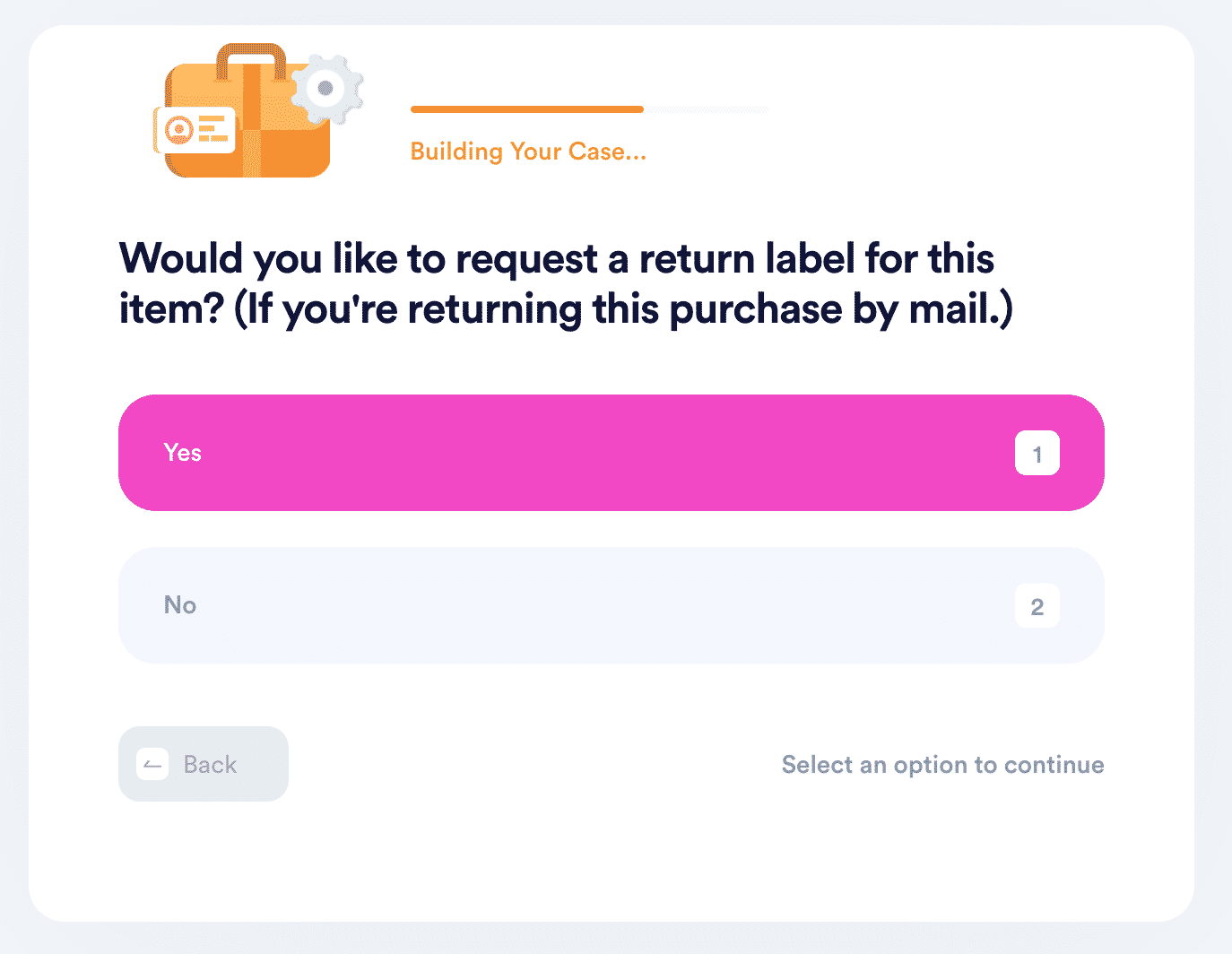 The Cycle Gear return policy is complex, and the steps you need to take to get your money back are tedious. If you want to save time and get a free shipping label, opt for DoNotPay!
You need to follow the instructions below:
using any web browser
Navigate to the Return My Purchase product
Answer purchase-related questions asked by our chatbot and include photos (if applicable)
Click on the Submit button
Once you have completed these steps, DoNotPay will create a custom return request letter and deliver it to the retailer. Our app will add a deadline by which the seller will have to process the return.
The letter will provide detailed information about your product, including the reason behind the return. It will also specify whether you want a refund or an exchange.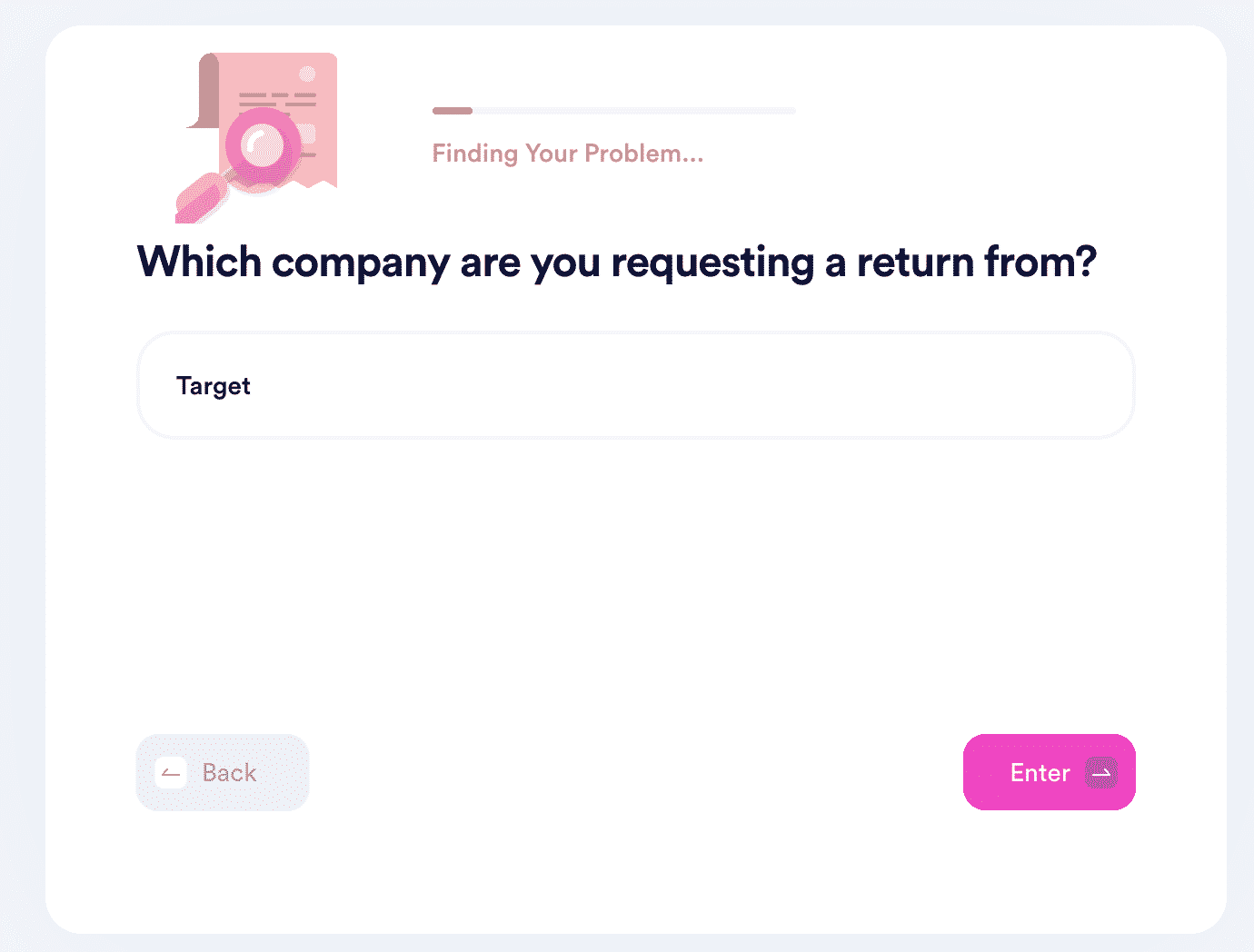 In the same way, we can help you make quick and easy returns to numerous brands, including:
What Is the Cycle Gear Exchange Policy?
To exchange your Cycle Gear item, complete the return process and place a new order. In case your new order is eligible for free ground shipping, you will receive your replacement without the need to pay the shipping fee.
In-store exchanges are subject to product availability at a particular Cycle Gear store. The store may instruct you to contact the customer care team to process your exchange.
Don't Let Companies Trick You
Companies are known for tricking their customers into making bad purchases, and then they don't even deal with any repercussions. That will no longer be the case once you sign up for DoNotPay—we will protect you from corporations' malicious intents.
If you've ever taken up on a free trial offer that turned into a paid subscription automatically, you know what it feels like to be tricked. With our app, you don't need to worry about that happening ever again—we'll help you make the most of your trials without getting charged by providing you with a virtual credit card.
Too late for that? Use our nifty product to cancel the subscription in a split second and demand a refund. The company refuses to issue one? Sue it in small claims court! We'll help you generate any legal document you may need for the case, get it notarized online, and fax it quickly.
Curious To See What Else We Can Do?
As soon as you sign up for our robot lawyer app, you'll get access to a plethora of useful products that save you time and money and protect you from companies' and individuals' difficult attitudes. Check out how we can assist you in: