The Ins and Outs of the Away Return Policy:
Does the prospect of returning an Away item seem daunting? Give yourself peace of mind by reading our Away return policy walkthrough! You will also find out how the DoNotPay app can .
The Basics of the Away Return Policy
Most Away products—suitcases, bags, and accessories—come with a 100-day trial period.
This means that you have 100 calendar days to use an item and return it. At any time during these 100 days, you can return your Away item for a full refund or exchange it for another item.
The company does not provide a refund for items that have their tamper-evident seals removed.
What Items Are Not Covered by the Away Return Policy?
According to Away, there are two types of items you cannot return:
Personalized items
Final sale items
These products don't have a 100-day trial period and can't be returned or exchanged.
Even though you cannot return final sale items, Away will honor any applicable limited warranty. Gift cards are also considered final sale items, and you cannot return them.
How To Properly Return Your Away Merchandise
You can return your Away items via mail only.
To begin your item return process with Away:
Visit Away's website
Fill out the form at the vendor's online Contact Us page
The company will get back to you with the instructions for the next steps.
When shipping your Away item, you must pack it in a box, preferably the original packaging it came with.
You should also be aware that the original shipping fees are non-refundable. Free returns are available in areas where the brand offers free shipping as well.
Where To Find Your Order Number
When sending your Away item for a refund, you will need to provide your original order number.
Your order number begins with the letter R, followed by nine digits (Rxxxxxxxxx). You can find your order number in your original order confirmation and shipment email.
For in-store purchases, your order number is your receipt number. You can find it in the subject line of the receipt the vendor has emailed to you after finalizing the sale.
What Happens With Your Trial Period After an Exchange?
Note that if you exchange your Away item for another, your 100-day trial period does not reset. After exchanging your items, you have the remainder of your original 100-day trial to use up.
| Can You Initiate a Return With Away Via | Yes/No |
| --- | --- |
| DoNotPay | Yes |
| Email | No |
| Phone | No |
| Mail | Yes |
| In person | No |
Let DoNotPay Handle the Tedious and Complex Item Return Process for You!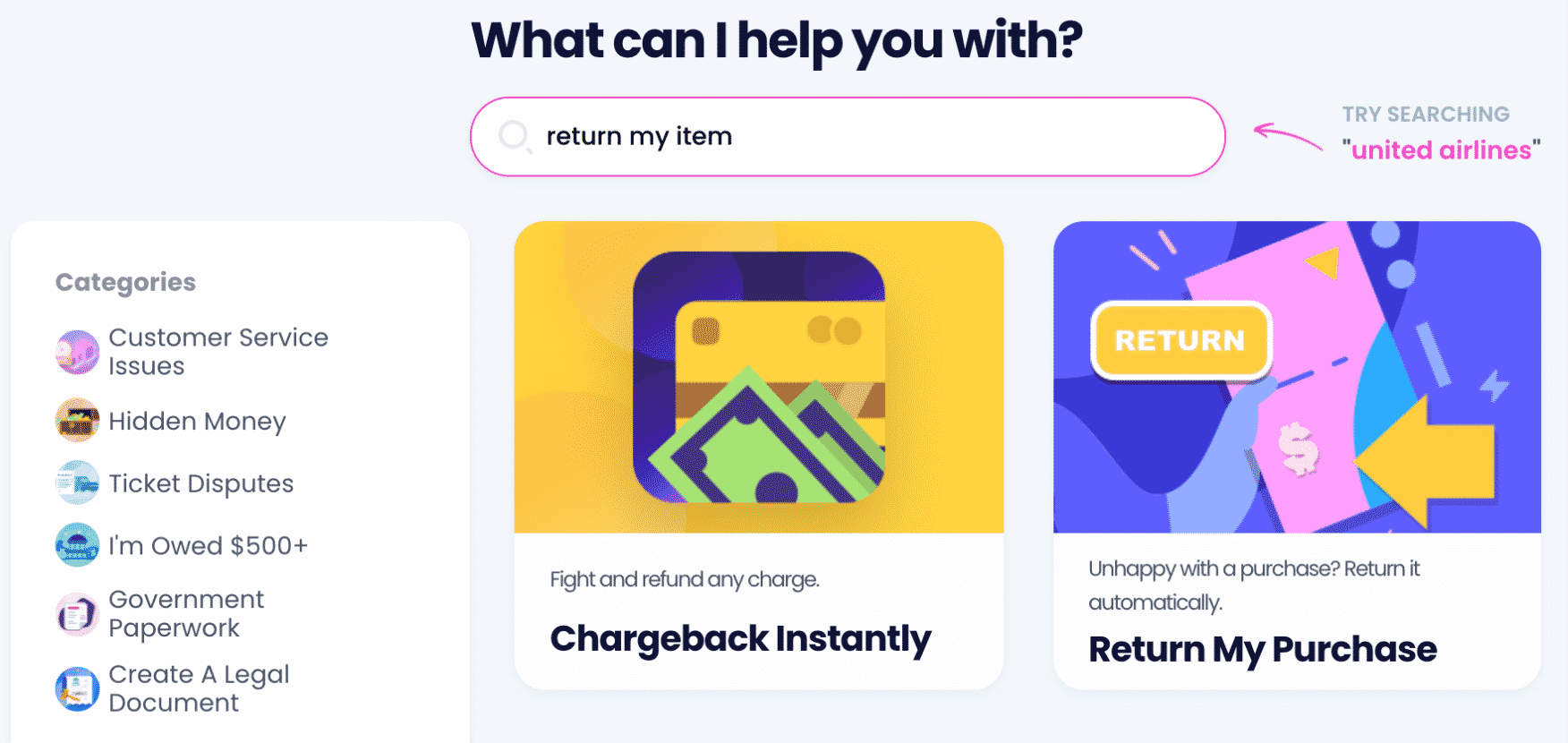 Let our AI-powered app step in and help you navigate the return process with ease.
All you have to do is enter a few details about the item you are returning, and we will draft and send the return request letter to the company!
It's as easy as following these four steps:
Open your DoNotPay app and
Select the Return My Purchase feature
Answer a few questions regarding your item and upload its photo
Tap on Submit
Our return request letter will:
State the reason for the return
Inform the company whether you want an exchange or a refund
Set a deadline by which the company needs to respond
Prevent any disputes down the line as you'll have your request in writing
DoNotPay covers way more ground than Away when it comes to vendors you can return items to. Here are some of the companies we can help you with:
Is the Situation With the Merchant Getting Messy? Take Them to Small Claims Court!
If you feel like the merchant has wronged you, our AI-driven app recognized by the ABA Brown Award will help you sue them in small claims court! You don't need to worry about filling out lengthy court forms or collecting evidence for your case—we'll step in and do it for you! You can use DoNotPay to generate any legal document you may need for the lawsuit, add legal weight to it through online notarization, and fax it to the court—all in a matter of mere minutes. Facing any other legal issues? Check out how our app can assist you in:
We Can Help in Many Other Ways!
No matter what kind of assistance you need DoNotPay to provide, you can rely on it to solve any admin or legal issues you may have. You can use our app to jump the phone queue when contacting any support team, skip the line at the DMV, get cash back on gift cards, create a valid passport photo, appeal any banned account, file an insurance or warranty claim, and get in touch with a loved one in prison in a snap.