CompressionSale Return Policy in a Nutshell
Have you made a CompressionSale.com purchase that you're regretting? No worries—we have curated an in-depth guide that summarizes the entire CompressionSale.com return policy for your convenience!
And if that's not enough, we will explain how the completely hassle-free!
The Basics of CompressionSale.com Return Policy
The first thing to note about the CompressionSale.com return policy is that you can return the unwanted products—in their original packaging—up to 180 days after the purchase date.
You can return the products that you have opened and tried on or used only for a store credit or an exchange for another item. You are eligible to do this within 30 days of purchase. Before you send them back, you must also wash the previously worn items as per federal health regulations.
If your purchase is eligible for a return, you need to request a return authorization number from the vendor. Should you return a purchase without this authorization, you may be charged a 25% restocking fee, while the company will refund the shipping charges as store credit.
The return processing may take up to two to three weeks.
How To Request a Return With CompressionSale.com?
The process of requesting a return with CompressionSale.com differs based on whether you initiate it:
Within 30 days of your purchase
After 30 days of your purchase
For returns of items you bought up to 30 days ago, you need to:
For returns of items that you bought over 30 days ago, you should:
Submit an email return request to cs@compressionsale.com
Include your order ID and the items you want to return
If you are experiencing any issues while trying to file a return request, contact the vendor via their Contact Us page or call them at 847-276-2838.
CompressionSale.com Non-Returnable Items
There are certain exceptions regarding which items are covered by the CompressionSale.com return policy.
The following items are non-returnable:
Products damaged due to your negligence
Any Activa items that you have tried or worn
Juzo items that have been opened
Sport socks (these can only be exchanged)
Therafirm products that you bought over 30 days ago OR have worn
LympheDivas, Jobst, Brand Relief, Maternity, Sigvaris, Futuro, and Juzo Basic items can only be exchanged provided they have not been worn
Are There Any Additional Charges You Could Incur?
Some extra costs are associated with CompressionSale.com refund and exchange requests, such as:
25% order processing fee—deducted from refunds
$6.95 shipping charge for the U.S.—applies to all exchanges that originally qualified for free shipping
$9.95 shipping charge is applied to exchanges of three items or more
| Can You Initiate a Return With CompressionSale.com Via | Yes/No |
| --- | --- |
| DoNotPay | Yes |
| Email | Yes |
| Phone | No |
| Mail | Yes |
| In person | No |
File Any Return Request in the Blink of an Eye With DoNotPay!
If the CompressionSale.com return procedure seems a little daunting or intimidating, don't fret—you have a perfect assistant in the DoNotPay app!
You can start any return request simply by following these steps:
Choose the Return My Purchase feature
Answer a few chatbot questions
Click Submit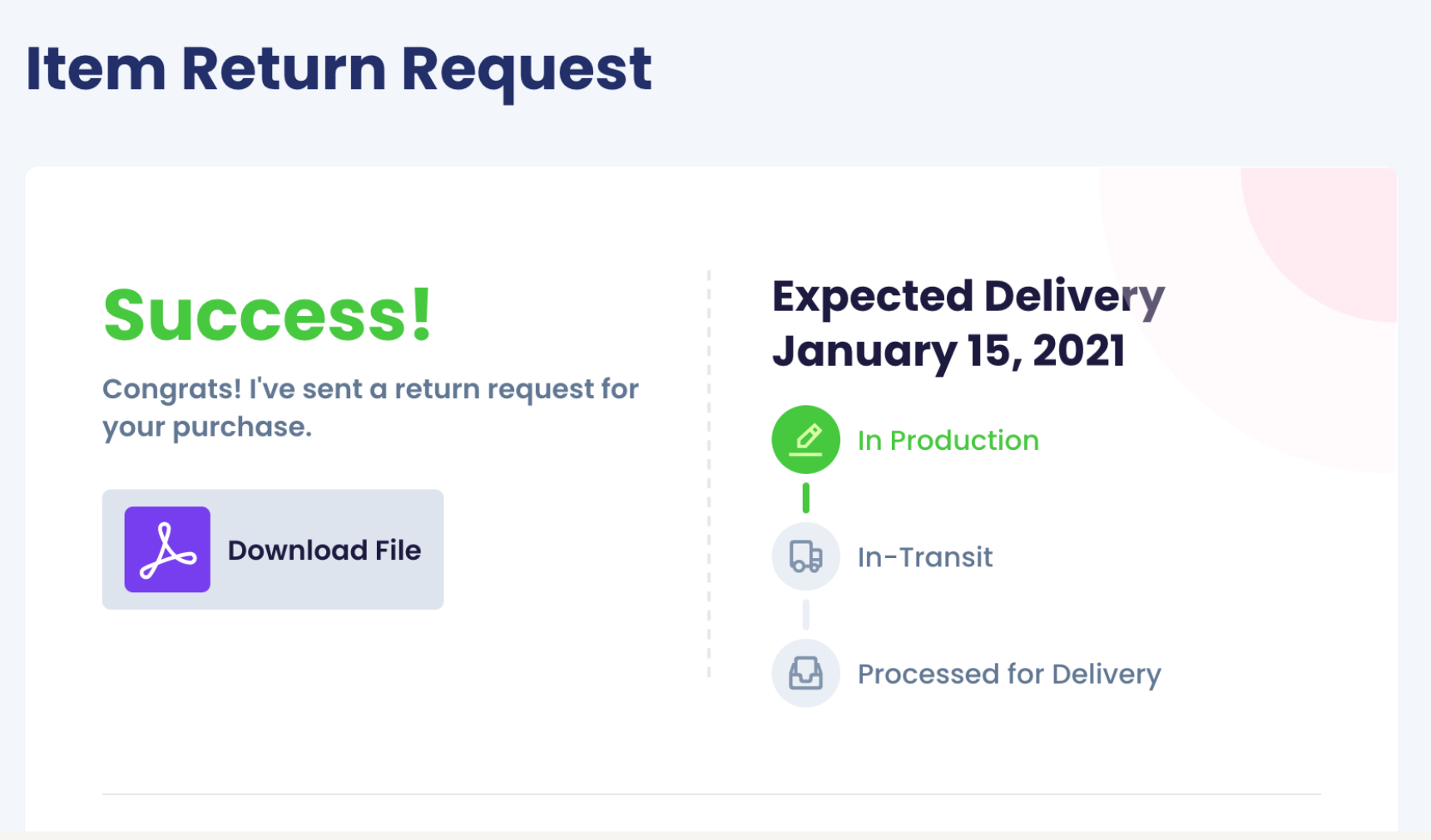 And that's it! Your CompressionSale.com return request is in progress, and the app will see it through until it's happily resolved!
We don't stop there—with DoNotPay, you can return items to numerous vendors, including the ones in the table below:
Is the Situation With the Merchant Getting Messy? Take Them to Small Claims Court!
If you feel like the merchant has wronged you, our AI-driven app recognized by the ABA Brown Award will help you sue them in small claims court! You don't need to worry about filling out lengthy court forms or collecting evidence for your case—we'll step in and do it for you! You can use DoNotPay to generate any legal document you may need for the lawsuit, add legal weight to it through online notarization, and fax it to the court—all in a matter of mere minutes. Facing any other legal issues? Check out how our app can assist you in:
We Can Help in Many Other Ways!
No matter what kind of assistance you need DoNotPay to provide, you can rely on it to solve any admin or legal issues you may have. You can use our app to jump the phone queue when contacting any support team, skip the line at the DMV, get cash back on gift cards, create a valid passport photo, appeal any banned account, file an insurance or warranty claim, and get in touch with a loved one in prison in a snap.