Ways To Check Your Land's End Gift Card Balance Swiftly
Did you get a Land's End gift card from a dear friend, use it once, and forget that it even existed? Many cards end up collecting dust because people often don't know that they may still have a few dollars left.
The good news is that it's not too late to reclaim the gift card funds, but what's the best way to check your Land's End gift card balance? In this article, you will learn how to find out about the unused card credit and put the remaining money to good use or turn it into cash in a snap with DoNotPay.
Land's End Gift Cards in Brief
You can get or purchase two card models:
Wallet-sized physical gift cards
Digital gift cards
Both types can be redeemed at all Land's End retail locations, in the Land's End online shop, and by placing phone orders with the merchant.
These cards can't expire as long as there are funds remaining on them, but they are single-loaded. This means that you won't be able to add value to them once you spend all the credit.
Land's End doesn't charge any transaction or maintenance fees related to card use.
Besides the desired denomination ranging from $10 to $500, you can choose among seven available designs and add a personalized message to your card.
How To Check the Balance on a Land's End Gift Card by Yourself
You can perform a Land's End gift card balance check in five ways:
Online
Over the phone
In person (in store)
Via live chat
Via an email form
Check out the details in the table below:
Option
Instructions
Online balance checker

Open the official Land's End website
Scroll to the bottom of the page and pick the Gift Cards section
Click on the Gift Card Balance hyperlink
Input:

The 16-digit number from the back of your card
The eight-digit security code

Hit Check Balance

Phone

Call Land's End customer support at (888) 816-7040
Disclose your gift card details

In person
Another method for finding out how much money is left on your gift card is by visiting the nearest Land's End retail location. Bring the card there and let the store manager or any other staff member scan it. They should be able to see the exact remaining amount on the screen
Live chat

Navigate to the Customer Support section at the bottom of the Land's End homepage
Click on Help Center
Select Live Chat
Tap on Chat Now
Type in your query and send it

Email

Compose an email including the query in question
Add your gift card details
Send the message to landsend@landsend.com
Let DoNotPay Do a Gift Card Balance Check in Your Stead
Most of the available balance check options involve direct contact with the retailer. This may be stressful, especially if you keep being put on hold when you call them or wait for too long to get an answer.
With DoNotPay, you can inquire about the remaining gift card credit without even entering its ID number or PIN code!
Here's how you can do it:
Search for the Check Gift Card Balance service
Take a photo of both sides of your gift card and upload it
Enter your email address
Once you submit the images, we will contact the merchant in question and find out how much money is left!
What Should You Do With a Used Land's End Gift Card?
You have just realized that there are still a few bucks left on your Land's End gift card—so, how should you use them? You have various options to choose from, such as:
Spending the rest of the funds during your next purchase—Why not get a tiny discount on the next shirt you buy in this store? The retailer also allows you to combine your gift card with other acceptable payment methods, such as credit cards or PayPal
Selling the card at specific locations in your vicinity or online—Some other people may be glad to give some cash in exchange for a used gift card
Exchange the card for another one of your choice—If you prefer to have a gift card from Target, Amazon, or Starbucks, trade yours for one of them online or in person
Return the card for cash if possible—Land's End accepts gift card returns for cash only if it's required by law—i.e., when the state you live in has a cash back policy. For now, you can request it at 12 locations only while making sure you don't break the cash back limit, which ranges from $1 to $10. Note that this option doesn't apply to free or donated gift cards
Give the card to someone who needs a discount in Land's End—Some of your family members or friends may be thrilled to receive the card as a present
DoNotPay Will Request Gift Card Cash Back in a Jiffy for You!
Do you want your money back without dealing with customer support or risky sales/exchanges? DoNotPay is the way to go! We developed a special feature called Gift Card Cash Back that generates a return request letter and sends it to the company in question.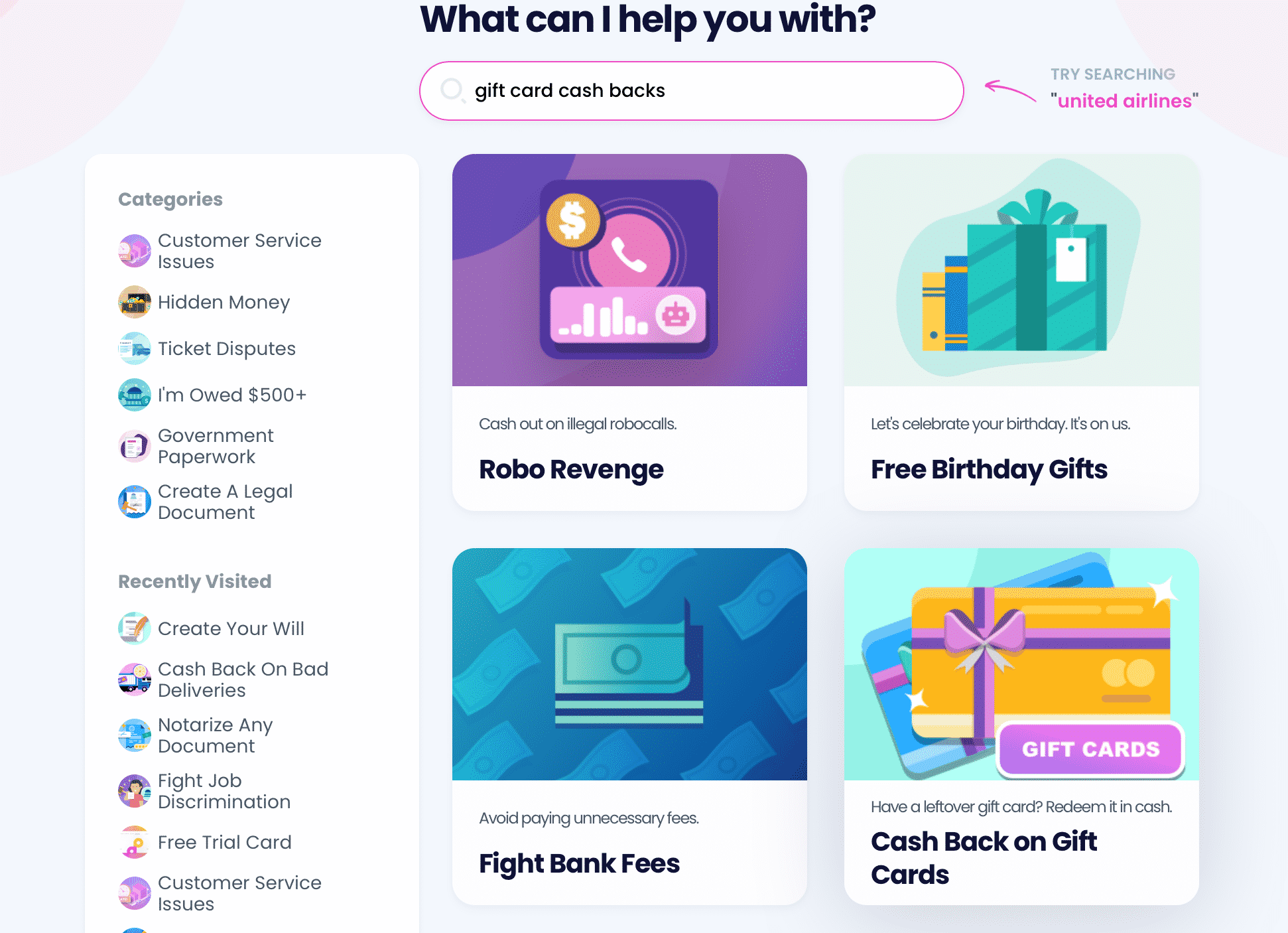 Here's how it works:
Go to the Gift Card Cash Back section
Provide the required gift card details
Our system will do further research and check if the cash back option is available in your state. If yes, we will compose a request in your name in a snap and forward it right away.
If not, we will find a company's branch in one of the states that approve cash back and direct your claim to it.
The money should arrive at your home address by mail within 14 business days!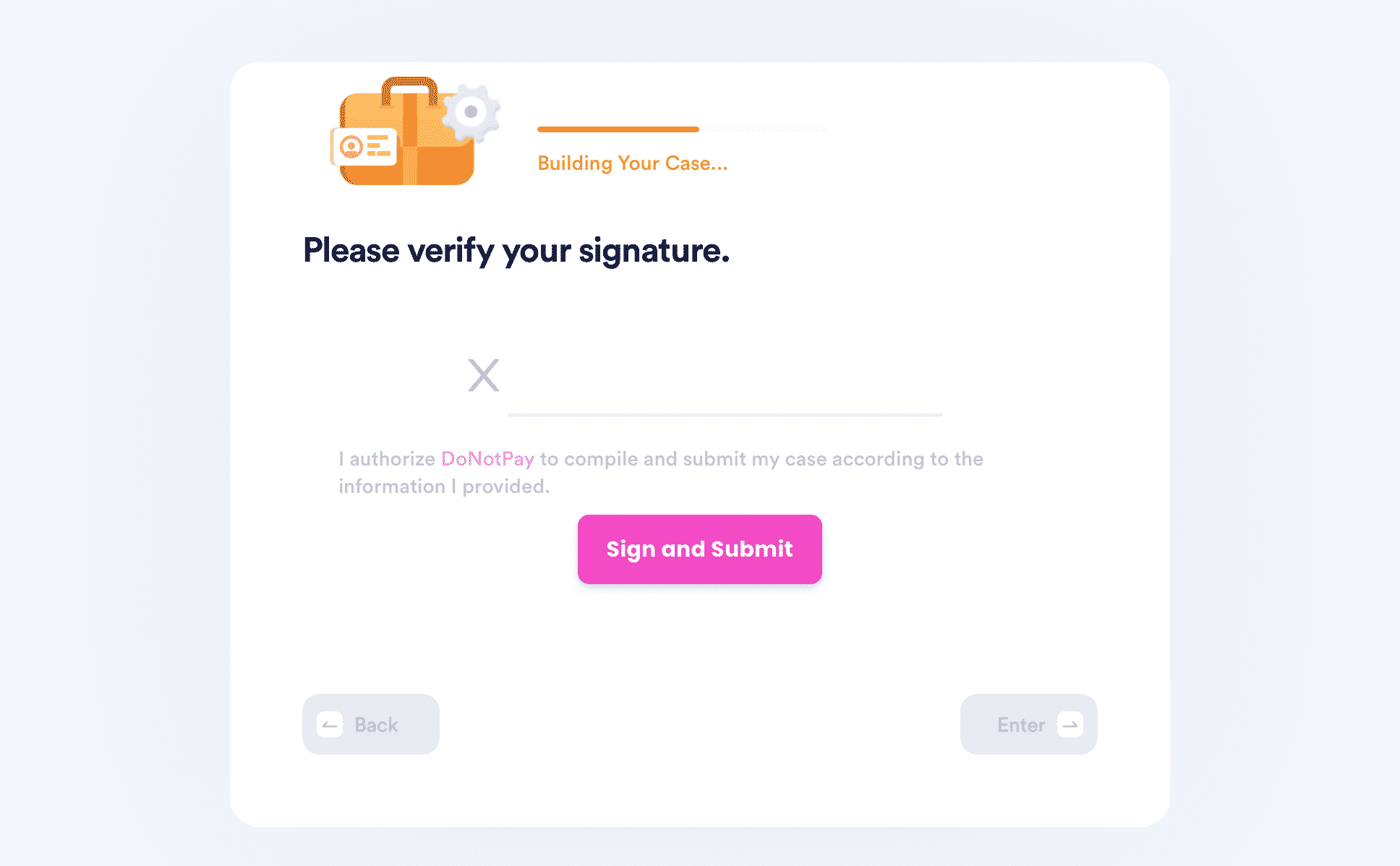 Read the rest of our gift card guides and find out how to demand cash back from various local and renowned companies, including:
You Can Count on DoNotPay To Resolve Any Issue
Are you stuck in the never-ending subscription cancellation procedures? Do you want to demand a refund once you finally reach a customer support rep? Is the company refusing to cooperate? No need for stress—your personal assistant can lend a helping hand.
Is there anything else we can help you with? You bet! Once you sign up, we can resolve a number of issues in your stead. Count on our app if you're struggling with:
You Don't Have To Suffer in Silence
Have you been experiencing workplace discrimination lately? Do you have a real-life stalker or harasser that you're too scared to confront? Do you want to get rid of robocalls and text and email spammers once and for all? You're not alone—DoNotPay is by your side and will help you deal with all of these issues.
As soon as you subscribe to our app, you'll be able to use our products to your advantage and fight for your right worry-free!