All the Ways You Can Check Your Einstein Gift Card Balance
Have you decided to go on a diet but still have that old Einstein Bros. Bagels gift card in your wallet? Even if you decide to give up on delicious bagels, mouth-watering burgers, or super creamy shmear, there's still a way to use the remaining bucks from your card. Read our guide and find out how to check the Einstein gift card balance in three ridiculously easy steps! Once you do it, we will introduce you to all the ways to redeem the rest of the credit and show you how to turn it into cash fuss-free!
A Few Words on Einstein Bros. Bagels Gift Cards
Einstein gift cards—perfect presents for passionate food lovers—come in two shapes:
Plastic gift cards that can be bought in a store or ordered online to arrive at your home address
eGift (digital) cards that can be ordered online and emailed to the recipient
To get familiar with other basic features, refer to the table below:
Features
Details
Can be used

For online orders on the official Einstein Bros website
In most participating Einstein Bros. Bagels retail locations
In any participating Noah's store

Can't be used

In restaurants within:

Hospitals
College campuses
Airports

Can be combined with

Visa
Discover
MasterCard
American Express

Available denominations

$5.00
$10.00
$25.00
$50.00
$100.00

Can these gift cards expire?
No
Are there any maintenance/inactivity fees?
No
Can the cards be reloaded?
No
Does the company replace lost or stolen gift cards
Yes, but only if you have the original purchase receipt
DoNotPay Is the Best Way To Check Your Einstein Bros Gift Card Balance
Finding out how much credit is left on your Einstein gift card always involves entering the card details yourself or communicating with customer support. In most cases, you have to wait until a customer care agent picks up your call or answers your message, which can be quite frustrating. To avoid this, turn to DoNotPay and have your gift card balance checked before you know it!
Here's what you should do:
and sign in to your account
Pick the Check Gift Card Balance service
Take a photo of the back and the front of your gift card and upload it
Enter your email address
You don't even need to type in the card info! We will detect all the gift card details ourselves and reach out to Einstein Bros. Bagels to check the amount left.
Other Ways To Inquire About the Current Einstein Gift Card Amount
Einstein Bros. Bagels also offers four other ways to see or check the leftover sum on your gift card. You can do it by:
Entering your gift card details in their online checker
Going to a nearby store and having the card checked with a price checker
Calling the company's customer care line at (800) 224-3563 and asking the rep to see the balance via their software
Submitting an email form via their official website
Can You Return the Einstein Gift Card for Cash?
Gift card returns for cash usually aren't possible unless the local gift card statute says differently. Each state has a specific law that permits or forbids gift card cash back. For now, you are entitled to redeem the unspent credit only if you live in:
Maine
New Jersey
Oregon
Rhode Island
California
Vermont
Missouri
Colorado
Massachusetts
Connecticut
Washington
Puerto Rico
These locations have an active cash back policy, which means that customers are entitled by law to get reimbursed for used gift cards. The only exception is free or donated gift cards.
You should also consider the maximum cash back amount determined by local law. It ranges from $1.00 in Vermont or Rhode Island to $10.00 in California.
Don't Sell the Card—Get Cash Off It Swiftly With DoNotPay
There's always a possibility of selling or exchanging your gift card if you don't want to use it anymore, but these options are quite risky, especially if done online. If you want to convert the leftover funds from your gift card to cash and spend those few dollars for something else, we have got your back!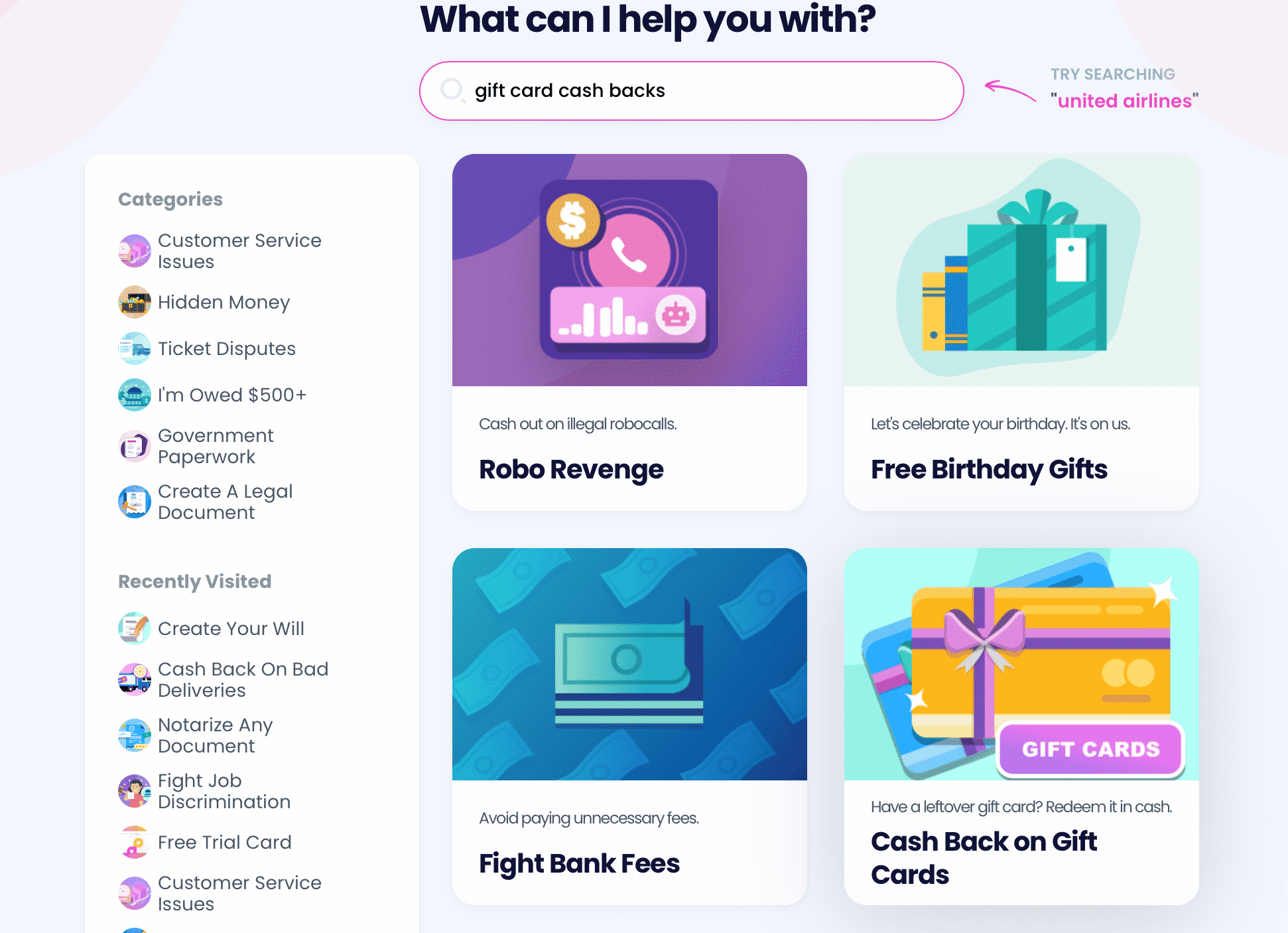 DoNotPay features an amazing tool that can check your local statutes and see if you are entitled to get gift card cash back. We will then compose a request to claim the remaining credit and submit it to the retailer in question.
Here's how the tool works:
Go to the Gift Card Cash Back option
Tell us a bit more about your gift card by answering a few brief questions
Even if you aren't that lucky to live at a location that has a consumer-friendly law, we can help you reclaim what's yours. DoNotPay will run further checks and find the merchant's office in one of the states that approve gift card reimbursement, and your request will be sent to that branch. You can expect the cash to arrive at your home address in up to 14 business days!
Check out the table below to see some more retailers we can help you get cash back from: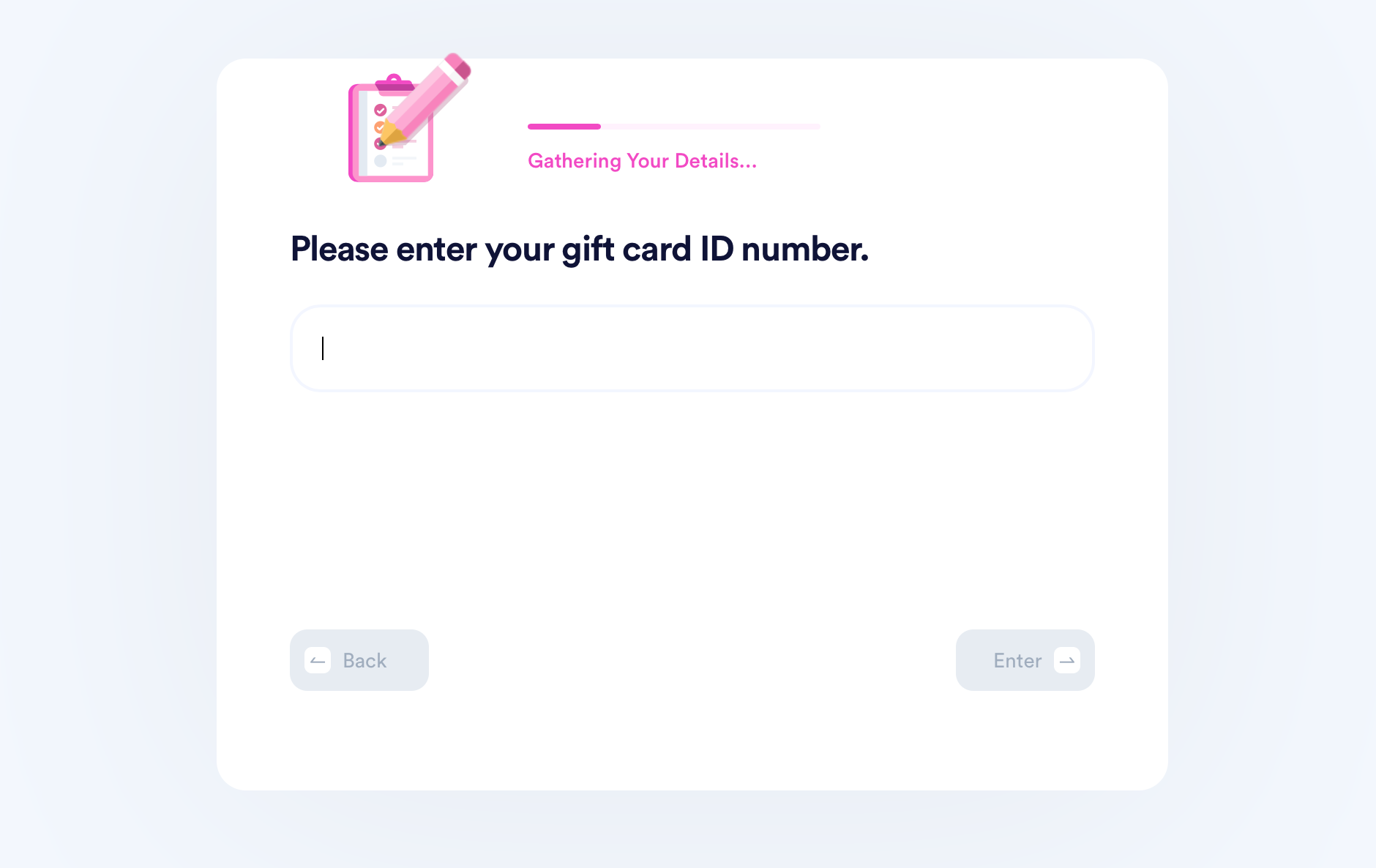 Only the Sky Is the Limit for DoNotPay
DoNotPay has an insane number of features that keeps growing. Our platform can help you:
Say Goodbye to Spam Mail With DoNotPay
DoNotPay has designed a feature that will put a stop to the flood of junk and spam mail into your inbox! We can help you join a class action against a spammer or take any person or company that's wronged you to small claims court!
Need a virtual credit card number or a fake phone number to protect yourself from scammers? We've got you covered! We can help you fight text spam or even assist you in sending mail without any chance of error.
Our users' safety is our number one concern, so we've developed a feature that will protect you from cyber stalking or harassment!