Want To Get a Brown-Specific Fee Waiver? DoNotPay Can Help
Like most colleges, Brown University expects prospective students to pay a fee during the application process. It's understandable that many students want to avoid paying this fee, as college tuition and books are expensive enough. 
There are ways to waive the application fee, but going through the official channels to do so can be challenging. If all else fails, DoNotPay can help you simplify the process and get you a college application fee waiver as soon as possible. 
Why Do Colleges Require Application Fees?
Colleges like Brown University receive countless applications from prospective students from all over the world. Processing these applications takes time and money, which is why college administrations pass this cost on to the students. It may be a way to dissuade too many candidates from applying and overloading the system.
While the individual fees might not be too costly, they can pile up easily if the student wants to apply to multiple colleges at once. It's the reason why fee waivers are crucial for many students. 
How Much Is the Brown University Application Fee?
Students looking to apply for Brown University should know that they must pay a $75 fee along with their application. The fee is non-refundable, but you may submit a fee waiver instead. 
What Are College Application Fee Waivers?
Students who wish to avoid paying an application fee can request a fee waiver from the college. These waivers exist to provide students from low-income households with the opportunity to partake in higher education without impacting their finances. 
While it's possible to apply for a college application fee waiver, not every student will receive one, even if they meet the necessary criteria. Some colleges give out a limited number of fee waivers, while others make the process convoluted enough to dissuade most students.
Colleges will frequently grant waivers to students that have received financial assistance for other parts of their education. If the student received an SAT or ACT fee waiver when applying for these tests, the college they apply to would likely provide them with an application waiver as well. 
Many students use services such as the Common App for fee waivers to speed up the process, but they often get mixed results. If you want to set the seal on getting a college application fee waiver, use DoNotPay's aptly-titled College Application Fee Waiver feature. This tool will streamline the process and increase your chances of receiving a fee waiver.
How To Receive a
Brown University Application Fee
Waiver Using DoNotPay
The process of requesting a college application fee waiver can be too complex and time-consuming for students preparing to start studying at a university. 
This unnecessary hassle is the main reason why DoNotPay has created a College Application Fee Waiver feature that simplifies the process significantly. 
Our app will help you send a Brown University application fee waiver request in minutes, saving you precious time that could be better spent on improving your college application. 
Follow these steps to request a Brown University fee waiver using our app:
Access DoNotPay from your

web browser

Navigate to the

College Application Fee Waiver

feature 

Choose the type of fee you want to request a waiver for

Search for Brown University, select it, and answer questions about your finances

Choose whether or not you want DoNotPay to request a counselor's signature when sending the request and press

Submit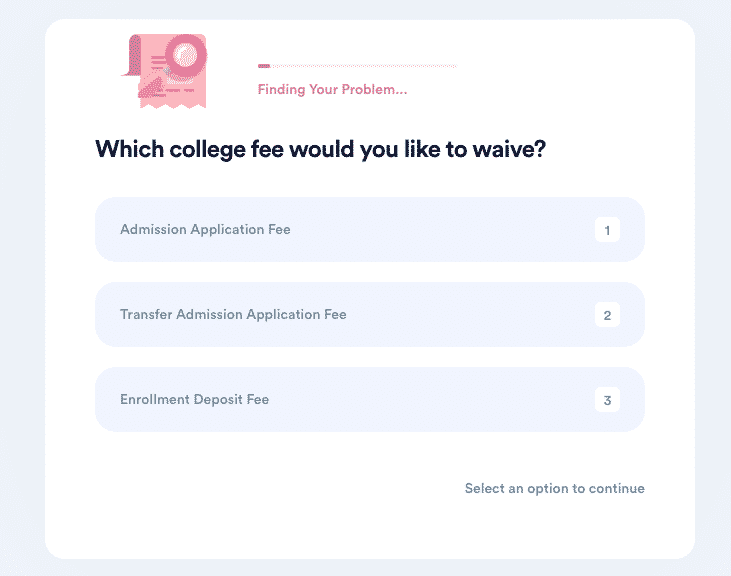 After you complete these steps, DoNotPay will send the fee waiver request to Brown University's financial aid office. If you need to choose the counselor's signature option, we'll make sure the request reaches the counselor first. A signature can boost your chances of receiving the application fee waiver. 
Besides getting you a waiver for application costs, DoNotPay can also help you out with other college fees, such as:
Transfer admission application fees

Enrolment deposit fees
Do I Qualify for a
Brown Application Fee
Waiver?
You must meet specific criteria to be eligible for a Brown University application fee waiver. Students that can prove they come from low-income households may qualify for a fee waiver as long as they provide adequate documentation of their financial hardship. 
Brown University will grant an application fee waiver automatically to certain student categories, including:
Students that are enrolled in or eligible for the Federal Free or Reduced Price Lunch program

Students who are enrolled in federal, state, or local programs that provide aid to low-income families
Getting a
Brown University Fee Waiver
on Your Own
To request a fee waiver from Brown University, you must:
Go to the online

application form

on the Brown University website

Complete the

Application Fee Waiver Request

Submit relevant financial documentation

Explain your financial situation in the text box

Complete the application
Students must submit their application 14 days ahead of the application deadline to be eligible for a fee waiver. The university will process your fee waiver request and notify you via email if it's approved. 
Students that wish to request an application fee waiver can use any of the following documents to prove their financial hardship:
Free Application for Federal Student Aid (FAFSA)

A letter from a university financial aid office

A receipt of the GRE fee waiver

Verification of unemployment

Other documents that provide information about economic hardship
It's not possible to use copies of tax forms to confirm the financial status of a student. 
You need to send digital copies via email to Graduate_Admissions@brown.edu and include them in the waiver request form. 
Here's an overview of the methods you can use to request a Brown University fee waiver:
| | |
| --- | --- |
| Can I Request a Waiver With | Yes/No |
| DoNotPay | Yes |
| Brown University Application Fee Waiver Request | Yes |
| Phone Call | No |
| Third-party Fee Waiver Apps | Questionable |
| Letter Request | No |
Let DoNotPay Solve Other Day-to-Day Issues
Once you receive a Brown University fee waiver through our College Application Fee Waiver feature, you can use our app to minimize fees when applying to other colleges. We'll show you how to obtain a fee waiver from a college that is part of the American Association of Colleges of Osteopathic Medicine and plenty of other universities. 
If you want fees waived for Harvard Law, Georgetown Law, or Stanford Law, we can make it happen. 
Open DoNotPay in your web browser and check out other features we have to offer. Our rich portfolio includes convenient and easy-to-use solutions to various bureaucratic problems that trouble you on the daily. With our help, you will be able to:
Fight speeding tickets

Dispute traffic tickets