Save on Your GSU Application Fee—Learn About Application Fee Waivers
Applying for colleges is expensive as it is stressful. The process can cost hundreds of dollars, and some people can't afford it. Application fees are a big part of college expenses.
That is why college application fee waivers present such a relief—obtaining them will take some of the financial burdens off your back.
Most colleges and universities require paying an application fee, and Georgia State University is no different. DoNotPay will explain how to get an application fee waiver and reduce the costs of applying.
The Breakdown of College Application Fee Waivers
Application fees cover the expense of reviewing every student's application. The application fee price is different for every university and can depend on many factors. Some high-profile universities charge a lot for a fee to make sure that students who apply are serious about attending.
College application fees create a financial barrier that limits the number of students who are willing to take the risk of applying. That is why more and more universities are willing to grant fee waivers to students who meet their criteria.
By obtaining an application fee waiver, you will be able to explore more options and increase your chances of getting in.
Many colleges allow you to apply for a fee waiver using third-party apps, such as the Common App, but you must first verify that the university you are interested in is one of them.
Keep in mind that most schools require a confirmation from your guidance counselor that you are eligible for a fee waiver.
How Much Is the Georgia State University Application Fee?
The price for a Georgia State University application fee is $60. The regular decision deadline is the first of March, and the early action deadline is the first of November. You can apply online via GSU Undergraduate Admissions Application.
GSU application fee price is considered average. Some Ivy-League colleges charge around $90 for an application fee. Here is a table of colleges with high application fee prices:
If you request an application fee waiver, Georgia State University will not review your application until they receive complete approved fee waiver documentation.
What Are the General Criteria for Obtaining Fee Waivers?
Students with financial hardships are qualified for applying for a fee waiver.
Qualifying for a fee waiver means having to meet any of the following criteria:
Being an orphan or a ward of the state

Having an income that falls under Income Eligibility Guidelines set by USDA Food and Nutrition Service

Living in a foster home, being homeless, or being a part of a public housing program

Participating in any state, federal, or local program designed to help students with low-income

Receiving public assistance regarding food, housing, or child care

Being an army veteran or on active duty in the U.S. Military

Receiving a free or reduced-price lunch at school
In case you cannot handle college application expenses but don't fit into any of these categories, talk to your guidance counselor. Most colleges will allow you to explain your particular situation and accept your reasons as long as your counselor can verify your eligibility.
Students who got fee waivers when taking the SAT and ACT are automatically granted a college application fee waiver.
How To Apply for a Georgia State University Fee Waiver on Your Own?
Georgia State University grants application fee waivers for students who submit fee waivers from the ACT, CollegeBoard, or National Association for College Admissions Counseling (NACAC).
You can submit your approved CollegeBoard or NACAC fee waivers by uploading a scan through your admissions Status Check or sending the original document to:
Office of Undergraduate Admissions
Sparks Hall, Suite 200
P.O. Box 4009
Atlanta, GA 30302-4009
If you want to submit your ACT waiver, you need to speak to your guidance counselor first.
Check out a more detailed description of how to obtain a NACAC or CollegeBoard fee waiver.
Applying for a Fee Waiver With a NACAC Form
To complete the NACAC fee waiver form, you need to follow these steps:
Download the document

Write

Georgia State University

on the line

Fill in the

Student

section of the form with personal information

Check the boxes next to the statements that are true in the

Economic Need

section

Check the

Other Requests

and explain your financial situation if none of the statements apply to you

Have your school counselor or principal complete the

Authorized Official

section and confirm your eligibility
Obtaining a CollegeBoard Fee Waiver
You can access College Board application fee waivers by:
Navigating to the website

Creating the account

Clicking on the

Get Your College Application Fee Waivers

link

Choosing one of the available options

Sending the fee waiver
Get Your Georgia State University Fee Waiver With the Help of DoNotPay
DoNotPay is here to ease the burden of applying to colleges. Thanks to the extensive database that covers all colleges across the U.S, our app will help you get a fee waiver from any university in America.
We offer three types of fee waivers:
New Student Application Fee Waiver

Transfer Student Fee Waiver

Enrollment Deposit Fee Waiver
Applying for a fee waiver with our app is simple. We will fill out the form on your behalf as long as you complete a few easy steps. All you have to do is:
Access the app from your

Go to

College Application Fee Waiver

Choose the type of fee you would like to waive

Select

Georgia State University

and answer a few questions

Indicate if you will need a counselor's signature
DoNotPay takes care of the rest. The secondary feature DoNotPay offers is designed to obtain your counselor's signature. We will email the form to your school counselor, along with the explanation of your financial hardship, and you will get the signature in no time.
If you don't require one, the form will be sent directly to your university.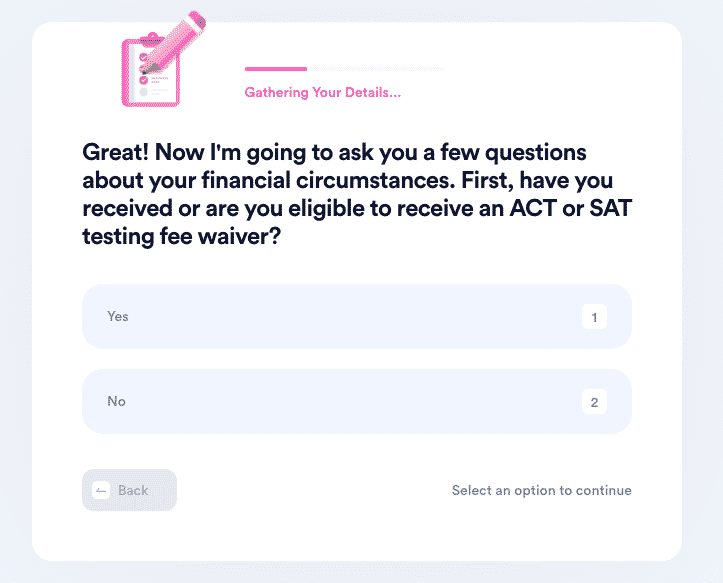 Allow DoNotPay To Send Your Bureaucratic Issues Far Away
DoNotPay can help you solve all kinds of everyday problems. If you need an extension for paying light bills in Georgia because of the Coronavirus outbreak, we are here to provide assistance.
We handle all kinds of cancelations for different subscriptions and memberships, such as for the Atlanta Journal-Constitution. We have a way of blocking the annoying Road to Power robocalls on your phone and limiting them in spreading hate and bigotry. You can also avoid paying for your parking tickets in Savannah and Atlanta with our help.
Open DoNotPay in your , and allow us to help you if you want to:
Dispute speeding tickets in different states

Fight traffic tickets