Save Your Money by Applying for the Emory Application Fee Waiver
Emory University in Atlanta, GA, is a leading private research university in the U.S.
Besides having one of the nation's most comprehensive academic health care systems, it is home to great liberal art colleges, graduate, and professional schools.
When applying to Emory University, you will have to pay a college application fee. Many find these charges unnecessary and over the line, considering the amount of money prospective students already have to pay for other college-related expenses like:
Test preparations

SAT and ACT exams

Travel costs when visiting university campuses
To help you avoid excessive college fees, DoNotPay developed the College Application Fee Waiver, and we are here to show you how to use it.
What Exactly Is a College Application Fee Waiver?
Most universities offer to waive their application fee for some students, usually those with financial difficulties. Most of the time, a fee waiver is a form that students have to fill out, either on their own or with the help of their schools' counselors or other high school officials.
There are multiple fee waiver types, and they all revolve around the same goal—proving the student's financial hardship.
Paying for one college application fee is doable, but why would someone apply for one college?
Assuming you are like most students, you are probably considering more options, even if they're only safety schools. To apply for multiple colleges, you will have to set aside hundreds of dollars and make a noticeable dent in your college savings.
The
Emory University Application Fee
—Everything You Need To Know
To apply to Emory University, you will have to submit the following:
The Common Application or Coalition Application

Application fee or a fee waiver

Counselor's recommendation

Two letters of recommendation from core academic teachers
The Emory University application fee is $75, and it is not refundable.
Do I Qualify for the
Emory Fee Waiver
?
Not everyone can qualify for fee waivers. The process can vary from one college to another, but the eligibility criteria are more or less the same. You are eligible for a college application fee waiver if you:
Veterans and active members of the U.S. Armed Forces can use the Armed Forces Fee Waiver when applying to Emory University.
How To Apply for the
Emory University Fee Waiver
on Your Own
To learn how to apply for the Emory fee waiver, consult the following table:
How To Use the College Board or NACAC Fee Waivers to Waive the Emory University Application Fee
The College Board enables you to waive unlimited college fees automatically if you took the SAT exam with a fee waiver.
Whether you obtained the College Board fee waiver or you have a fee waiver from the NACAC, you should upload it via the applicant portal on the university's website.
How To Apply for the
Emory Fee Waiver
Using the Common or Coalition App
The official website of Emory University states that they process all fee waiver requests online, through either Coalition or Common Application.
Here is how you can file an application fee waiver request using either of these apps:
Click on the link leading you from the university's website to the desired app

Select

Create the Account

Go to the

Profile

section

Answer questions about your financial situation

Check if you are eligible for any of the programs that offer fee waivers

Sign using an online signature maker
Your high school counselor must go through your request thoroughly and confirm if all of the information is correct.
The admission office does not require any additional documentation.
If you have any questions about the application fee waiver, you should contact them at admission@emory.edu.
Choose DoNotPay—The Easiest Option To Apply for the
Emory University Fee Waiver
To ensure you did everything in your power to acquire the Emory application fee waiver, use the help of the most reliable AI assistant—DoNotPay.
We offer you an easier, simpler, and more reliable way to eliminate the Emory University application fee—the College Application Fee Waiver feature.
How Does Our Product Work?
When you're applying for multiple universities, you have to check how they're processing fee waivers since not all of them use the same methods or third-party apps.
All colleges and universities in the United States accept fee waiver requests submitted via DoNotPay, thanks to our extensive U.S. university database.
That enables you to file fee waiver requests for as many colleges as you want from one place, without having to check each website for instructions.
What Can We Do for You?
If you use our College Application Fee Waiver, we ensure that you get the necessary financial aid in the most effortless way. We make that happen by:
Filling out the form on your behalf

Taking care of the entire mailing process

Sending your request to your high school counselor if you choose that option

Mailing the completed fee waiver form directly to the financial aid office of the selected university
How To Use DoNotPay To Apply for the Emory Fee Waiver
After accessing DoNotPay from your , here's what you should do:
Open the

College Application Fee Waiver

Choose the type of fee you want to waive

Select the college you are applying to

Answer some questions about your financial situation

Specify if you would like us to get your counselor's signature
We will take care of the rest and notify you once the admission office reviews your request.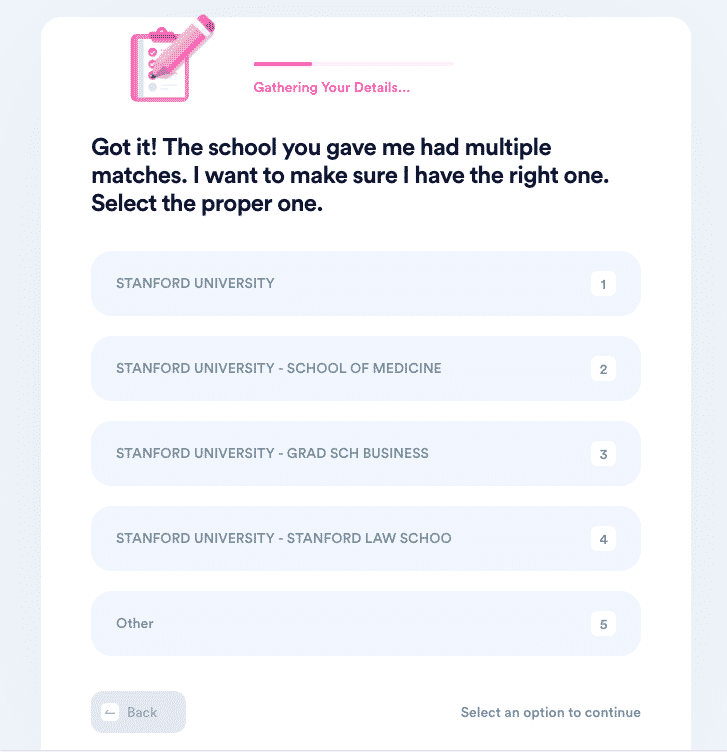 DoNotPay Can Take Care of the Mundane Administration for You
Are you applying to other colleges in Georgia? You can waive college fees for Georgia Tech, University of Georgia, or Georgia State University by using our app.
DoNotPay can assist you in requesting fee waivers for graduate school tests and graduate school applications.
We can help you apply for Ivy League colleges by showing you how to obtain fee waivers for Harvard Law, Columbia, or Brown University.
Access DoNotPay from a preferred and get our assistance.
We can make your everyday life more simple by helping you with daily tasks like:
Appealing traffic tickets

Fighting speeding tickets