Get a Georgia Tech Application Fee Waiver in Minutes
Georgia Institute of Technology, or Georgia Tech as it's better known, is an Ivy League public school in Atlanta, Georgia. Getting into this university is not easy. You need to have an average GPA of 3.95 to be considered, and it's no secret that tuition is expensive. DoNotPay can make it a bit easier on your budget by helping you get a waiver for your Georgia Tech application fee.
Why Do You Have To Pay an Application Fee?
An application fee is supposed to cover the administrative costs surrounding the application and admission process. Technology has made the process easier but can't replace the people who read your essays and conduct interviews. These people have to be compensated for their input. The fee also goes toward maintaining the website, where you can find more information on the application process and download the forms.
Some schools use the application fee as a barrier, expecting only serious students to apply. These universities believe that if a student is willing to pay the application fee, they are more likely to attend the school upon acceptance.
Application fees for most colleges range from $20 and $100. It may not seem like much, but these fees can quickly add up if you apply to multiple schools.
Georgia Institute of Technology Application Fee
You can expect to pay an application fee of $75 before the admissions committee considers your application. To receive a Georgia Tech fee waiver, you must prove that you need the waiver. Application fees represent one of many fees you have to pay before actually starting classes.
What Is an Application Fee Waiver?
Since college fees can add up so quickly, many schools offer an application fee waiver to students. It means that you won't have to pay for your application if you meet the university's criteria.
Not all schools charge a fee when you apply. Some universities have window periods where you can apply without paying the fee, but the Georgia Institute of Technology requires students to apply for an application fee waiver.
Who Can Apply for a Fee Waiver?
To apply for the fee waiver, you need to show that you can't afford to pay the application fee. The following student categories can avoid this expense:
Students eligible for a reduced-fee or free lunch program

Applicants from families whose income falls under the USDA Food and Nutrition Service

income eligibility guidelines

Students who are homeless or in foster care

Applicants receiving public assistance, such as food or housing

Veterans or candidates on active duty in the U.S. Military

Participants in a local, state, or federal program that assists students from low-income families
You'll have to submit documentation to prove your financial need. If you want to apply for the fee waiver, you need to indicate it in your application form.
Use this table to see if your family income meets the minimum requirements:
| | |
| --- | --- |
| Number of People in the Household | Income |
| One person | $12,760 |
| Two people | $17,240 |
| Three people | $21,720 |
| Four people | $26,200 |
You can add an extra $4,480 for every additional person in your household. If your family's income is lower than the numbers in the table, you are eligible for a fee waiver. These income guidelines are valid for most U.S. states and territories, including Puerto Rico and Guam. They are not applicable to students from Alaska or Hawaii.
How Can You Apply for a Georgia Tech Application Fee Waiver on Your Own?
If you are eligible according to the necessary criteria, you can apply for an application fee waiver from Georgia Tech using one of these methods:
| | |
| --- | --- |
| Method | Yes/No |
| DoNotPay | Yes |
| Email | No |
| Common App | Yes |
| Website | No |
Georgia Tech accepts applications submitted via the Common App. One of the steps in the application process offers you the chance to request an application fee waiver based on your financial circumstances.
A Georgia Tech fee waiver only covers the cost of the application fee. It does not cover:
Tuition fees

College admission tests

General living expenses

Books and learning material

Reports of your standardized test scores

Travel expenses to and from the school
Early application will not guarantee an application fee waiver, but if your application is late, you won't be considered at all. Make sure that your application reaches the school before these deadlines:
| | | | |
| --- | --- | --- | --- |
| | Application Deadline | Document Submission Deadline | Decision |
| Early Action 1—for Georgia students | October 15 | November 2 | December 4 |
| Early Action 2—for non-Georgia students | November 2 | November 16 | Mid-January |
| Regular Decision | January 4 | January 25 | Mid-March |
Let DoNotPay Help You Apply for a Fee Waiver
DoNotPay makes it easy to apply for a Georgia Tech application fee waiver. Whether you're applying to one or more colleges, you can answer a few quick questions online, and we will send the fee waiver request to every school on your list.
Follow these steps:
Log on to DoNotPay in your

Click on

College Application Fee Waiver

in the menu

Select the fee you want to waive

Choose the college you're applying to and answer the questions about your financial situation

Indicate whether you need your counselor's signature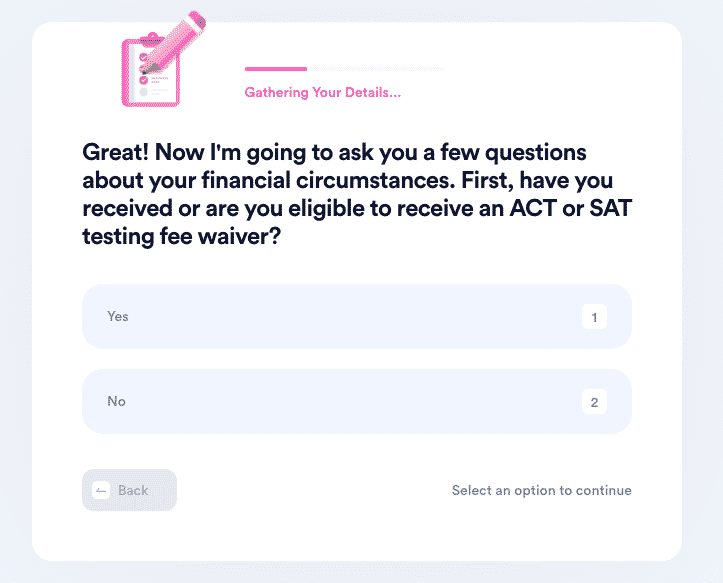 Some schools want your guidance counselor to sign your request for an application fee waiver to strengthen the petition. Due to the COVID-19 pandemic, many colleges no longer need your counselor to sign the fee waiver application. Find out if you need your counselor's signature, and if you do, DoNotPay can send the application to your counselor before sending it to the college you indicated.
What Else Can DoNotPay Do for You?
DoNotPay can make your life easier. If you're interested in saving money on student loans or getting free trials as a student—Amazon Prime Student free trial, for example—DoNotPay can help.
Our platform is great for saving money by managing subscriptions and memberships on your behalf. You can cancel streaming services that may be too expensive, like Netflix or Amazon Prime. If you're no longer going to use your Mathway or Study Edge subscriptions, let us help you cancel the services. You can even use our services to get refunds from Grammarly or Adobe.
American Bar Association has honored us with the Louis M. Brown Award for Legal Access, which attests to our competence.
We offer tons of tips and tricks that you can use to save time and money. Access our platform from any and explore all of our useful and easy-to-use services, including:
Contesting traffic tickets

Disputing speeding tickets