Applying to Fordham? Here Is How To Waive the Fordham Application Fee
Fordham University is a private research university in New York City, named after the neighborhood in the Bronx, the original campus location.
Like with many other colleges and universities, candidates have to pay the college application fee when applying to Fordham.
As if going to college isn't pricey enough, people now have to pay up to $90 for each application fee. Many future students find these costs problematic and, as a solution, apply to as few universities and colleges as possible.
There is a silver lining here since Fordham University allows students to waive their college fees under certain circumstances, but the process of applying for a fee waiver can be burdensome. Many students give up for that reason.
Worry no more, as DoNotPay can help you apply for a fee waiver stress-free.
What Is a College Application Fee Waiver?
Universities and colleges can grant application fee waivers to some students, allowing them to apply without paying. Fee waivers are usually granted to students with low income. They are even more useful considering that many students apply for more than one college.
One college application fee is manageable, but several college applications can cost you a decent amount of money, especially including other university-related costs, such as:
Everything You Need To Know About the
Fordham Application Fee
The average college application fee is $50, but there are some colleges that have free applications. Fordham University is not one of them.
The college application fee for Fordham University is $70.
It is somewhat pricier than the fees for most other colleges, but you can get exempt from paying that fee, and we can show you how.
Why Do Colleges and Universities Have Application Fees?
There are two main reasons why application fees exist. Most of the time, they are used to cover the work of admission staff in charge of reviewing application forms, which is not an easy task. Another reason why colleges charge application fees is to make sure that students applying for their institutions are serious candidates.
Who Is Eligible for a
Fordham Fee Waiver
?
Fordham University participates in several fee waiver programs:
To select the NACAC Fee Waiver option on the Common Application, students must meet at least one of the following eligibility criteria:
How To Apply for a
Fordham University Fee Waiver
If you took the SAT with a fee waiver, you qualify for a college fee waiver automatically through the College Board. If that is not the case, you can find alternative ways of requesting a Fordham fee waiver in the following table:
| | |
| --- | --- |
| Can I Apply With | Yes/No |
| Fordham University common application | Yes |
| DoNotPay | Yes |
| Phone | No |
| In person | No |
| Third-party apps | Yes |
Apply for a
Fordham Fee Waiver
Through the College Board
Fordham University accepts College Board's SAT-to-College application fee waivers. To waive your application fee when applying to Fordham, add all the relevant documentation along with the general application paperwork, and the board will waive your fee after they review your application form.
How To Request a Fordham Application Fee Waiver Using Third-Party Apps
The most commonly used apps for waiving college application fees are:
While using these apps is a faster option, people in charge of reviewing application forms will require proof of the fee waiver eligibility.
Apply for a Fee Waiver Through the Fordham University's Common Application
If you are eligible for some of the programs they support, you should state that in your application form. Don't forget to add the mandatory documentation proving your eligibility. Once they review your application form, they will notify you via email.
Apply for a
Fordham University Application Fee
Waiver Using DoNotPay
The website of Fordham University offers little to no instructions about applying for fee waivers, leaving students uncertain on how to avoid unnecessary application fees.
DoNotPay offers an easy solution—the College Application Fee Waiver feature. We use a database covering all universities in the U.S., which means that our feature works for any college in America.
With our help, you can get the financial aid you need without worrying about filing forms and mailing the right people. We will do that on your behalf.
To improve your chances of getting a fee waiver, we offer another useful feature that sends your application to your school counselor who will provide their signature and attest to your financial needs.
Access DoNotPay from a and apply for a fee waiver following these steps:
Choose the

College Application Fee Waiver

feature

Select the fee you want to waive

Pick the college or university you are applying to

Answer some questions about your financial situation

Tell us if you would like to obtain your counselor's signature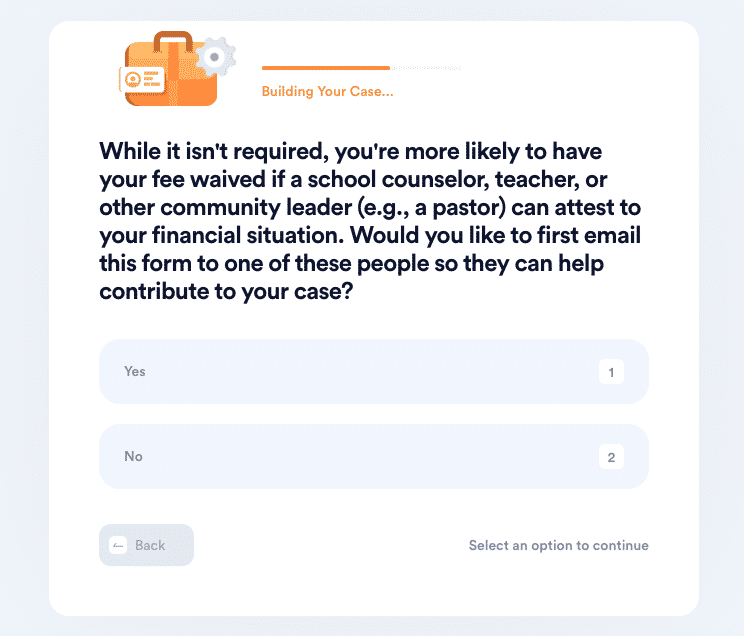 Once you provide all the requested information, we will automatically fill out a form and either send it to your counselor or mail it to the university's financial aid office.

Another outstanding characteristic of our app is that you can use it for other college-related fees. There are three types of fees we can help you waive:
New Student Application Fee

Transfer Student Fee

Enrollment Deposit Fee
Can DoNotPay Help With Other Stress-Inducing Tasks?
Thinking about applying to other universities? We can help you with other colleges' fees as well. Use DoNotPay to waive fees for Columbia or the City University of New York.
In case you are considering getting a law degree, you can apply to Harvard Law, Stanford Law, or Georgetown Law, and we will help you waive their application fees. Learn which colleges accept ACT fee waivers or how to obtain the fee waiver for the Advanced Placement (AP) exam.
Having other issues? Access our app from your , and we will be happy to assist you.
If tedious day-to-day tasks are causing you headaches, see how we can help you with: