Everything You Need To Know About the Brooks Brothers Return Policy
Is your new Brooks Brothers blazer bursting at the seams? Check out our deconstruction of the Brooks Brothers return policy and turn your fashion disaster into a financial win. We'll (cat)walk you through the entire process and let you know which Brooks Brothers items are returnable. Sign up for DoNotPay and get your money back in no time.
The Summary of the Brooks Brothers Return Policy
If your latest shopping spree left you feeling like a fashion victim, the Brooks Brothers return policy offers a solution. You can send back unwanted items within 60 days after the purchase.
Brooks Brothers will only process your request if the item is:
Undamaged
Unworn
Returned with the original receipt
Covered by the Brooks Brothers return policy
After you receive the RMA, you can either get a refund or ask for an exchange. You'll also be charged a return fee in the amount of $7.
Note that the Brooks Brothers return policy currently doesn't allow direct exchanges. You can only replace your initial order with the same product but in a different size or color.
How To Return Brooks Brothers Items
You can return unwanted items to Brooks Brothers in one of two ways:
Through the official website (online purchases)
Via mail (in-store purchases)
If you finalized your purchase using PayPal or Amazon Pay, you cannot return the item to a regular store. You must send it to the Brooks Brothers returns center instead.
How To Return Products Bought Online
For online purchases, the Brooks Brothers return policy enables customers to start a return process using their website. Here are the steps:
Go to the Brooks Brothers Return portal
Enter the first eight digits of your order number
Type in the email address you used to seal the deal
Create your return label and print it out
Pack the item along with the original receipt
The Brooks Brothers Return Policy for In-Store Purchases
Store-bought items can be sent back to Brooks Brothers via mail like so:
Go to the Brooks Brothers Returns and Exchanges web page
Find the link for generating a FedEx return label
Print the label out and place it on the package
Bring the package to a FedEx drop-off location
If you'd prefer to use a different shipping service, you're free to do so. Use the label from your invoice to address the package or send it to the Brooks Return Center. The address is:
107 Phoenix Ave, Enfield, CT 06082.
How To Start a Return for International Orders
Customers who reside outside the United States can return unwanted items to the company's distribution center in Connecticut. Follow these steps to complete the process:
Pack the item along with the order confirmation
Go to your local post office and purchase a return label
Use the address written on the order confirmation for the shipment
Drop the parcel off at the post office
Brooks Brothers will notify you via email if your request has been granted. You can print it out and take it to the local customs office to get reimbursed for the taxes
Start a Return at the Drop of the Hat With DoNotPay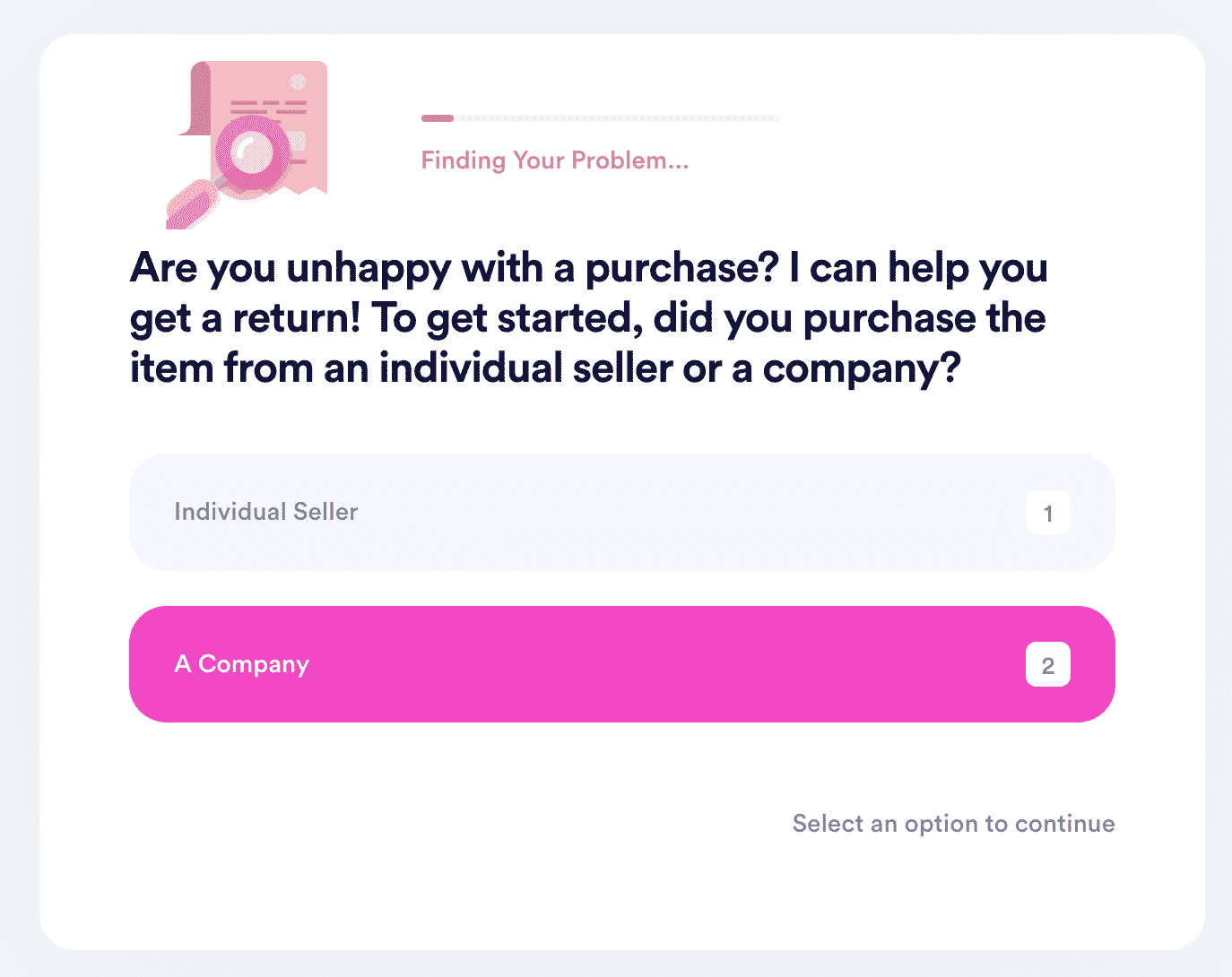 You don't have to tackle the Brooks Brothers return policy alone—DoNotPay is in your corner. With our cutting-edge Item Return Request product, you can initiate a return with a few simple steps:
Choose the Item Return Request product
Provide the requested info about your purchase and include photos where needed
DoNotPay will take mere minutes to create and send a demand letter to the store. We will make sure the Brooks Brothers process your request with utmost efficiency. You also won't have to cover any shipping costs since we can provide you with a free return label.
If you're interested in the return and exchange policies of other established companies, check out our other articles:
Are All Brooks Brothers Items Returnable?
The Brooks Brothers return policy doesn't apply to all items. You won't be able to start a return if your initial order included the following:
Final or sample sale items
Merchandise bought using a 70% discount
Items with monograms or other types of alteration
Any merchandise from Head of the Charles
What Is the Brooks Brothers Outlet Return Policy?
If the item is included in the Brooks Brothers outlet return policy, bring it to the nearest Brooks Brothers Factory Outlet store. You'll also need to show them the receipt as proof of purchase.
Customers who find it bothersome to return the product in person can send it back via mail. Address the package using the FedEx return label you can create via the Brooks Brothers website.
How Long Until You Get a Refund From Brooks Brothers?
It can take 3–5 business days for Brooks Brothers to issue a refund, depending on the bank. You'll receive reimbursement via the original payment method minus the return fee.
The only instances when customers won't have to pay the $7 fee are:
When they purchased the item using a Brooks Card or Premium Mastercard
If Brooks Brothers mixed up the order
When the merchandise was damaged upon arrival
If they want to exchange the item instead
DoNotPay Is a Master at Getting What's Rightfully Yours
Are you dealing with a company that refuses to approve your return? Once we submit a refund request in your stead, we can also prepare all the paperwork you need to sue the merchant in small claims court and win your case.
Need a legal document for the lawsuit? Draw it up with our handy tool. Want to get any document notarized and fax it to someone? We have products that can do that for you as well.
Has an airline rescheduled your flight, or is your package damaged or missing? Demand compensation with DoNotPay!
Do you believe that you may have some unclaimed assets? Count on us to find and get them for you.
It Doesn't End There!
Use DoNotPay whenever you need to tackle any sort of mundane task. If you're sick of wasting your time in long phone queues or the ones at the DMV, we'll help you skip them. Do you want to apply for a college fee waiver or clinical trial? Are you looking to enter a sweepstake or get a passport photo or a tourist visa? We'll do it all in your stead!
If you want to send a letter of warning to a persistent harasser or loud neighbor or want to get compensation for victims of crime, workplace discrimination, or robocalls, let us know and we'll tackle the issue momentarily.