Managing Your Betabrand Returns—What, When, How?
Do you need to deal with a few Betabrand returns? That's to be expected as not all yoga pants are the right fit or style. Consult our guide to find all the information you need—or, better yet, and keep your inner balance intact.
Understanding the Betabrand Returns Process
The Betabrand return policy details both the terms of eligibility and the process for bringing items back for refunds or exchanges. The following are the basics you need to know:
Returned clothing must be unworn and unwashed
Purchases may be brought back up to 60 days from the date of purchase
How To Execute Betabrand Returns—Domestic Customers
Betabrand offers three ways for domestic customers to manage a return. Before selecting a method of return, start the process by following these steps:
Consult your order history, order confirmation email, ship notice email, or invoice to find your order ID
Visit the online Return Center
Enter your order ID (the first nine digits only)
Input your zip code
Specify which products you wish to return
Select the reason for returning the merchandise
Choose whether you want a refund, 110% store credit, or exchange
Select your return method
The return instructions will be emailed to you. Once you get them, you can proceed with one of the following three methods.
Returning Items in Person with Happy Returns
Betabrand facilitates a specific in-store return process they call Happy Returns. This method is unique because it does not require any of the following:
A receipt
A return label
A shipping package
To process a refund or exchange through Happy Returns, follow these steps:
Initiate the process with Betabrand's online Return Center
Save the Express QR return code provided by the customer service representative
Visit a nearby Betabrand location that offers Happy Return service
You should receive an immediate refund or exchange.
Returning Items by Mail
You can also ship your items back to Betabrand. Do so by following these steps:
Initiate the process with Betabrand's online Return Center
Print the provided free return shipping label (available for domestic orders only)
Pack the merchandise carefully
Take it to a local shipping drop off center
The company should send a confirmation email with further details shortly.
Returning Products in Person at Betabrand
If you prefer to handle the return directly and have no Happy Returns locations in your area, you can visit the flagship Betabrand location instead. Follow the initial four steps and then take the items you wish to return to 780 Valencia St, San Francisco, CA 94110.
How Do International Returns Work?
The return process for international customers differs slightly from the domestic procedure:
Betabrand only offers refunds for international purchases
Merchandise can only be returned by mail
Customers may ship the items with a carrier of their choice or use a prepaid shipping label provided by Betabrand (the cost of which is deducted from the refund)
How Do Exchanges Work?
If you need to exchange an item, please note that you can only change the size. Betabrand does not offer exchanges for different colors or styles.
How Long Do Betabrand Returns and Exchanges Take To Process?
The timeline for refunds and exchanges on returned Betabrand merchandise differs slightly:
Refunds—three to ten business days
Exchanges—up to 14 days
Are There Limitations to the Betabrand Return Policy?
Yes—keep the following considerations in mind when managing your return:
Betabrand only credits refunds to the original method of payment
You cannot return worn or washed clothing
All sales of products on the Last Chance page are final
Shipping charges are non-refundable
If you choose store credit in the Online Return center process, you cannot change it to a refund later
Is the Betabrand Return Policy Different for Affirm Purchases?
Yes—Affirm Orders are subject to different terms than other Betabrand products:
Affirm items cannot be exchanged for store credit
Betabrand offers refunds as a credit against your loan
Partial refunds will be credited against the final month's payment, then the penultimate month's payment, and will continue in that order until all the credits are used
Expedite Your Betabrand Returns With DoNotPay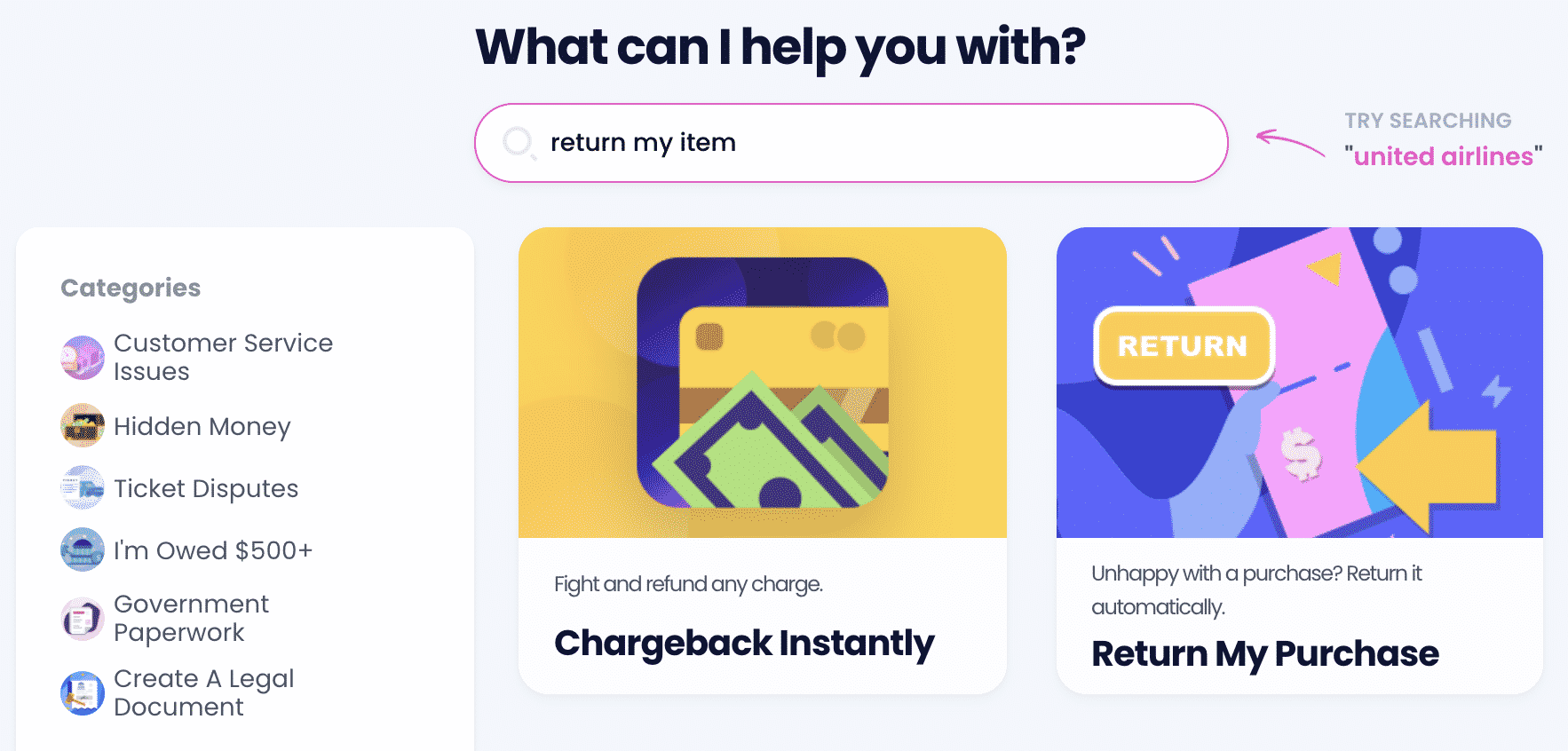 Not amused by the idea of going through all the steps listed above? That's OK because there's a much simpler method available to you. Let DoNotPay manage the procedure! DoNotPay offers an Item Return Request tool which includes a response deadline feature, ensuring the process is fast and effective.
Follow these steps to initiate your return request:
Select the Item Return Request tool
Answer the requisite questions and upload a photo if necessary
Submit your request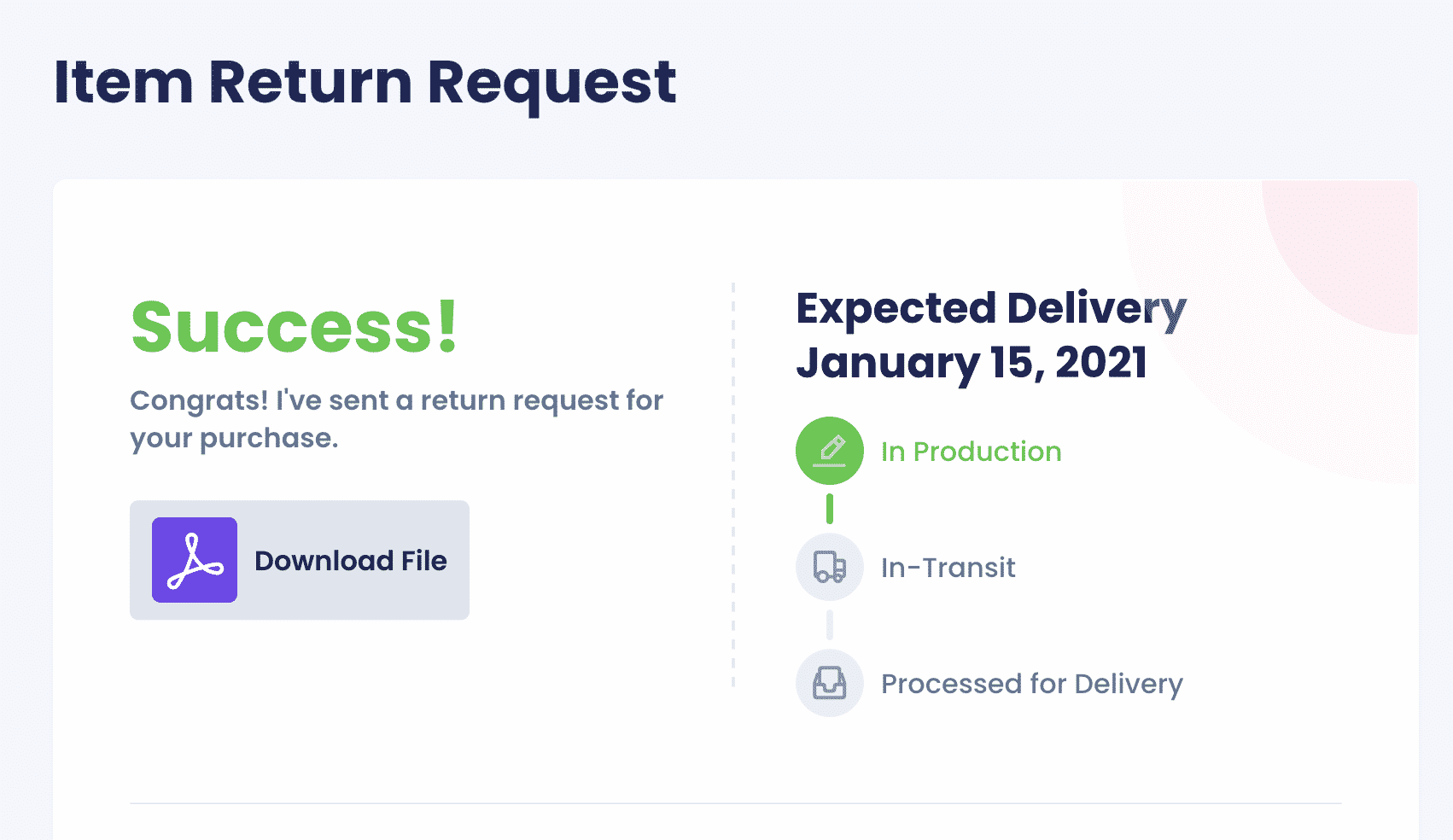 Need help managing returns to other popular retailers? Review our comprehensive guides to save yourself a lot of time and money:
Wasted Your Money on a Non-Returnable Purchase? There Are Other Methods To Earn It!
Don't feel down if the item you got isn't returnable—DoNotPay has many more tricks up its sleeve that will help you earn some money!
From helping you enter sweepstakes, decrease your property taxes, and lower your utility bills to assisting you in earning off email or text spammers and robocalls, waiving your college application fees, submitting a college financial aid appeal letter, and getting a refund from any company or airline, we can do it all!
DoNotPay Is Always at Your Disposal
Our app's mission is to take everyday admin and legal tasks off your plate so you don't have to waste any of your precious time. If you want to appeal your parking tickets, draw up a legal document, get any agreement notarized, get a tourist visa, keep a sex offender at bay, mail anything without waiting in line, or get in touch with a loved one in prison, DoNotPay will resolve any of these with ease.
Too busy to track your memberships? You don't need to worry about canceling your free trial on time before it turns into a paid subscription if you use our virtual credit card.
With DoNotPay, you can tackle any otherwise annoying chore stress-free.