A Breakdown of the Best Buy COVID Return Policy
Wondering how to return faulty or unsatisfactory merchandise to Best Buy? The retailer's return policy can be confusing to understand, so this guide explains everything you need to know about the Best Buy COVID return policy. If you want to simplify the process and initiate your return request stress-free, !
What Is the Best Buy COVID-19 Return Policy?
Best Buy initiated a new process of picking up orders and returning unwanted items, known as the contactless curbside pickup, in March 2020.
It requires you to park your car in a designated area near the store, and an employee will serve you from there. The service is aimed at reducing the number of people in the retailer's stores to employees only.
Any other return requirements in the Best Buy return policy remain the same.
When Can You Return a Purchase to Best Buy?
Unwanted items must be returned to Best Buy within the designated time period, as presented in the table below::
Item
Return Window (From the Date of Purchase)
Cell phones, cellular tablets, and cellular wearables
14 days
Major appliances
15 days
Any other products

15 days for regular customers
30 days for Best Buy Elite members
45 days for Elite Plus members
Best Buy COVID Return Policy—How To Return Your Items
In light of the Coronavirus public health crisis, you can return Best Buy merchandise in the following two ways:
In store
By mail
How To Return Best Buy Items In-Store
To return an item to a Best Buy store, you should:
Navigate to their website
Check up the store's hours and status
Pack your items and bring them to the store
Call the store when you arrive or check in at the front door
You should carry your:
Receipt or packing slip
Credit card used to make the purchase (if applicable)
Valid photo ID
How To Return Best Buy Items by Mail
If you purchased your items online or at a store that is currently closed or not accepting returns, you can mail your return by following these steps:
Log in to your Best Buy account
Select the Return by Mail option
Download your return form or print a blank form and complete it
Pack your items and include the return form
Stick the return label and mail the product using a carrier of your choice
Best Buy Return Exceptions
Best Buy does not accept returns for the following items:
Items marked as final sale
Prepaid cards
Opened consumable items, such as batteries, ink, and 3D printer filament
Gift packaging
Downloadable digital content, such as software and games
How Long Until You Get Your Best Buy Refund?
When you return an eligible Best Buy item, you can get:
A refund to the same method of payment used to make the purchase
A replacement with a similar item
You will get a refund for items you return in store instantly. If you choose to return the item by mail, it will take anywhere from three to five business days for the store to issue a refund (after receiving the package).
Depending on your bank, the amount can take up to seven days to reflect on your account.
If you made a cash purchase of more than $800 or you paid more than $250 by check, you will get your refund by check within ten business days.
If you have lost your gift card, call customer support at 1-888-237-8289 and ask for a replacement.
Keep in mind that Best Buy charges a restocking fee for some items that were opened—as follows:
15% of the item purchase price for DSLR cameras and lenses, drones, projectors, rideable, and special order products
$45 flat restocking fee for smartphones
Initiate Your Best Buy Return With DoNotPay
While retailers promise easy returns, any attempt to send the eligible items back can be exhausting. Don't waste your time going through numerous complicated steps and engaging in endless back and forth with customer support. DoNotPay can initiate a return request on your behalf and increase the likelihood of getting a refund or replacement for your item.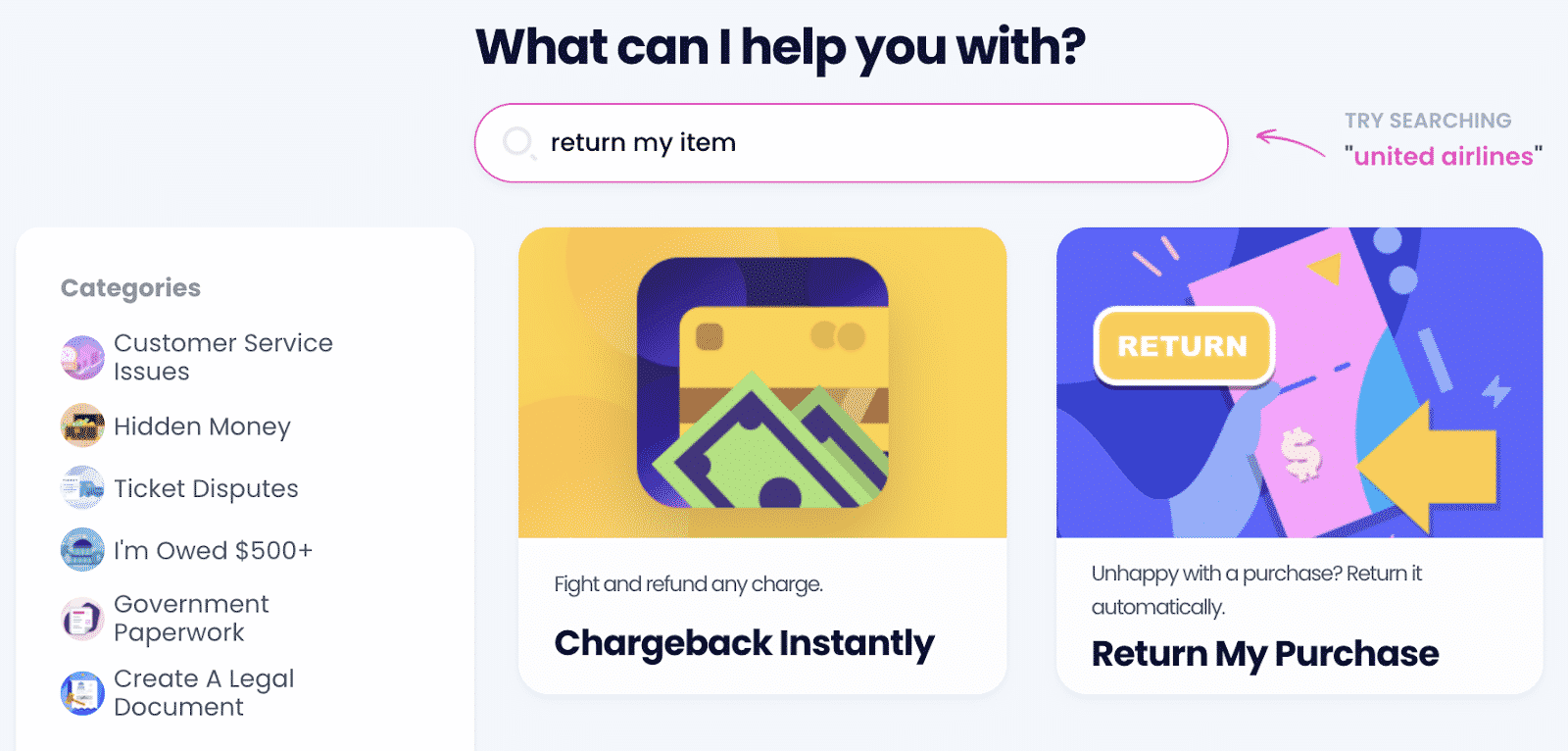 You only have to:
Select the Return My Purchase tool
Answer our chatbot's questions regarding your purchase
Your return request letter will be generated automatically and sent to Best Buy in your stead.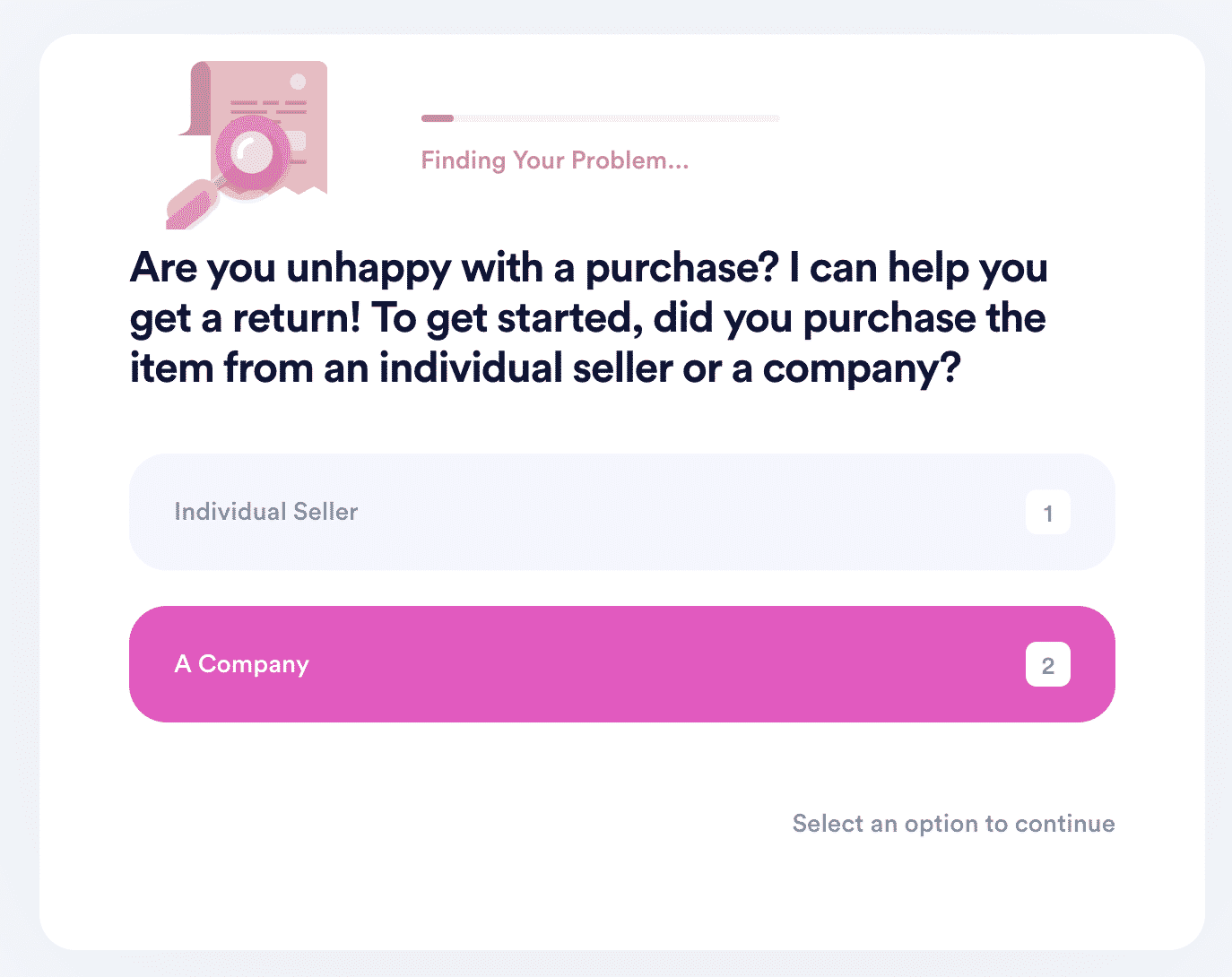 Check out the return policies of other popular companies in the table below:
The Company Doesn't Want To Refund the Damaged Item? We'll Help You Get Money in Other Ways
If the company you're dealing with refuses to issue a refund, you can take it to small claims court with your personal robot lawyer assistant. We'll create any legal document you may need for the lawsuit, have it notarized remotely, and fax it to anyone you specify in our short questionnaire.
Is there anything else you'd like us to help you with? No problem—rely on our AI-powered products to save the day:
Draft a divorce settlement agreement

Create a power of attorney document
Our Array of AI-Driven Products Doesn't Stop There
You can count on DoNotPay to lend a helping hand no matter what kind of struggle you're dealing with. Need financial assistance? Check out how our app can lower your utility bills and property taxes, appeal your parking tickets, get you a refund from any company or airline, find your unclaimed money, get you free raffle tickets, check your gift card balance and turn it into cash, and so much more!
Dealing with a noisy neighbor or a creepy stalker? Report them using our app! Want to get a refund for a late or missing parcel? Say no more—we'll help you get what's rightfully yours in mere minutes.