All-In-One Allstate Extended Warranty Guide
If the manufacturer warranty for your car expires soon, learn what you can get from Allstate extended warranties.
With Allstate Extended Vehicle Care, you can extend your car warranty and provide your vehicle with extra protection. In case you already have Allstate extended warranty, DoNotPay can help you file a car warranty claim in no time.
What Does
Allstate Extended Car Warranty
Cover?
After your original car warranty expires, you can extend it for up to seven years or 100,000 miles with the Allstate warranty. The warranty involves a $50 deductible. The Allstate Extended Vehicle Care Plans consist of:
Allstate Vehicle Service Contract
Allstate Tire and Wheel

—tire and wheel replacements without a deductible

Allstate Windshield and Dent Repair

—repairs of windshield chips and cracks and paintless ding without a deductible
Allstate allows you to customize your warranty protection. Here is what the Allstate Vehicle Service Contract covers:
Plan
Coverage

Powertrain

Engine—cylinder blocks and heads, oil pan, and intake manifolds

Drive Axle—shafts and bearings, universal joints, and all internally lubricated parts

Transmission/Transfer Case—transfer case body, torque converter, and all internally lubricated parts

Comfort & Tech

AC and heating—control head, condenser, and evaporator

Convenience tech—keyless entry, power windows, cruise control, and audio system

Safety tech—camera, collision, and blind-spot systems

Core System

Brakes—calipers, hydraulic lines, master and wheel cylinders, and electronic control unit

Suspension—struts, control arms, and ball joints

Steering—power steering pump

Electrical—wiper motors, alternator, and control module

Engine cooling—fan blades, radiator, and cooling pump

Fuel system—throttle body, fuel injectors, and oxygen sensor

Roadside

For up to $100 per occurrence:

Emergency roadside assistance

Lock-out service

Towing

Alternate Transportation

Up to $40 for a maximum of seven days:

Car rental, rideshare, or taxi while your car is being fixed

Trip interruption

Reimbursement for up to $500 in case your car breaks down more than 100 miles from home
What Else Should You Know Before Purchasing Allstate Extended Warranty?
Before you buy the Allstate extended warranty, you should know that it does not cover cars that:
Are more than four years old

Have an odometer showing more than 50,000 miles

Have a snow plow or suspension modification

Are used for racing or commercial purpose

Are used as a taxi or public transportation, excluding Uber or Lyft

Are declared a total loss
You can't purchase Allstate extended warranties in California or Massachusetts.
In case you want to sell your car, you may transfer the Allstate warranty to the new owner.
You can cancel Allstate extended warranty any time and get a pro-rated refund. In case Allstate refuses to cancel your extended warranty, use DoNotPay to solve the issue. If you need to claim your Allstate warranty, DoNotPay can help you with that too.
Claim Your
Allstate Auto Warranty
in No Time With DoNotPay
DoNotPay is the fastest way to file an Allstate extended warranty claim. You only need to answer a few questions, and we will do the rest. To file a warranty claim via DoNotPay, do the following:
Set up your DoNotPay account in any

Click on

Claim Warranty

Choose

Car Warranty

Tell us what problems you are experiencing with your car

Tap

Submit
We'll use the info you provide to write a claim letter and send it to Allstate. The company should contact you with more details about your claim.
If you already have the extended warranty that your car manufacturer provides, DoNotPay can help you claim it too. With our app, you can submit warranty claims for Jeep, Ford, Honda, Porsche, or Cadillac.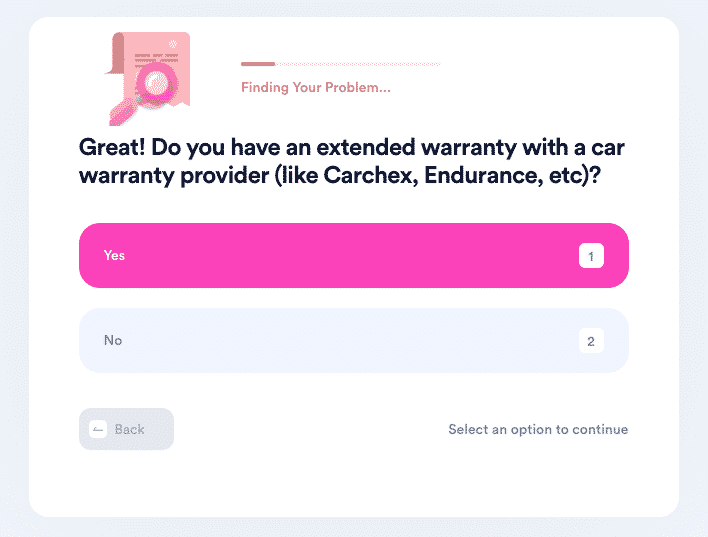 Besides car warranties, DoNotPay deals with home warranties as well. If you want to find the top home warranties in America, make sure to check out our home warranty reviews.
How Can You File an Allstate Extended Warranty Claim by Yourself?
If you opt to claim your Allstate auto warranty on your own, note that it will take you a lot of time. You will have to call the Allstate specialists at 1-888-251-6441 to start the warranty claim process.
The specialist should inform you about the nearest authorized services. You should take your car to the service and provide the first page of the Allstate Vehicle Service Contract to the repair provider. The repair provider will contact Allstate, give the company the information on what needs to be fixed, and agree on payment authorization.
Did Allstate Deny Your Warranty? DoNotPay Can Help!
Allstate might reject your warranty claim to save money on your repair. If that happens, don't despair! With DoNotPay, you can appeal Allstate's decision fast and easily. Here is what you need to do:
Use any

to access DoNotPay

Open the

Claim Warranty

option

Select

Appeal a Denied Warranty Claim

Give us a few details about your original claim

Click on

Submit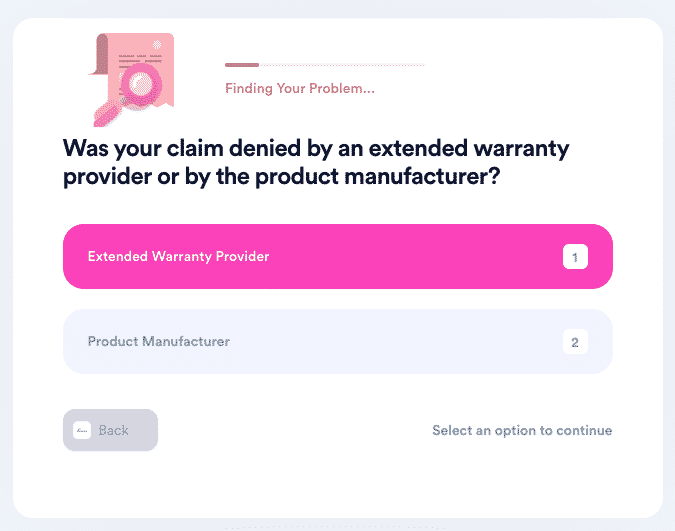 When we receive your request, we'll write an appeal letter and forward it to Allstate. We'll strengthen your claim by including the implied U.S. warranty laws. You can expect Allstate to reach out to you and tell you the outcome of your case.
Outsmart Scammers With DoNotPay
Are you troubled every time you think about subscribing to a service because you fear your personal information will leak and your privacy will become invaded?
There's no need to fret anymore as DoNotPay has come up with a way to shield you from hackers, scammers, and identity thieves alike.
Check out how you can use DoNotPay and browse the internet care-free:
Open DoNotPay in your web browser

Locate our

Virtual Credit Card

generator

Use the made-up card number to sign up for any

free trial

Move forward to our

Burner Phone

product

Use the temporary phone number to verify any online account

Enjoy the trial without worrying about

canceling it

—the service will do it on its own
Signing up for services with DoNotPay's hacks frees you from ever falling victim to a serious crime, such as identity theft, and liberates you from the bothersome and never-ending spam calls, texts, and emails that you never explicitly agreed to receive.
What Else Is Hot About DoNotPay?
DoNotPay does wonders in protecting your online privacy, but it can do so much more for you!
With our assistance, you can claim compensation for canceled or delayed flights, request refunds and chargebacks for unsatisfactory purchases, file warranty claims for defective products, and even overturn unjust parking tickets!
Our app can locate unclaimed funds that exist under your name, the best clinical trials for your needs, and public records that you couldn't identify on your own.